---
Home on the range.
You may love to cook outside, but it's tough not to miss the convenience of your stove top range back home when you're trying to boil water, fry veggies, and cook noodles all at once. The Jetboil HalfGen Base Camp Stove won't do all of that at once, but it will give you the ability to add an additional heat source to other JetLink compatible stove systems, so you can step up your backcountry chef game when you're cooking for a large group. And if you do want to keep things simple, the stove works as a standalone for simple tasks like boiling water or cooking a freshly caught trout with low heat.
Details
A modular camp stove ideal for car camping and base camp
Operates as a standalone or additional burner with JetLink stoves
Built-in lever ignition and simmer control
Operates in temperatures down to 20F
Stove, frying pan, windscreen, and fuel regulator included
Compatible with 5-liter FluxPot (not included)
Item #JET001C
Fuel Type

propane, canister

Boil Time

3min 15sec/L

Heat Output

10,000BTU/h

Simmer

yes

Includes

9in fry pan, carry bag, windscreen, fuel regulator

Dimensions

9.4 x 3.9in

Claimed Weight

3lb 8oz

Manufacturer Warranty

1 year

Activity

camping
Reviews
Q&A
Overall Rating
4.5 based on 28 ratings
What do you think about this product?
View
Selecting an option will reload the available reviews on the page
5 out of 5 stars
November 29, 2023
Jetboil - HalfGen Review & Feedback
The Jetboil HalfGen exactly fit the bill for my use case. The Genesis which is the two burner big brother, although a great product in it's own right, was more than I needed as well as twice the price. I love that Jetboil provided this offering at a much more affordable price point. You get all the same functionality with just one less burner. We need more companies to take this approach!
Originally reviewed on ExpertVoice.com
4 out of 5 stars
November 23, 2023
If you need a pan but can't build a fire.
It's big. Takes up a lot more space in gear bags than a cast iron, but has a low weight. There are ups and downs for this style of cooking. It has more versatility than a classic jetboil (cup) or a cast iron skillet alone, and it is a little easier to cook with in camp, and a lot easier to clean than most camp cook gear. If I were going camping and had no concerns about storage space and in a condition where open fires are not allowed or convenient, this is the pan I would bring.
Originally reviewed on ExpertVoice.com
5 out of 5 stars
November 12, 2023
The new go-to option
I've had the base camp stove for a while and I was excited to find out they had a single burner model. The half gen is slightly smaller in diameter as well so the large pot and skillet from the base camp are not the same size. The skillet with half gen is smaller. That said, this is the best single burner I've used when considering propane stoves. Cold weather performance doesn't seem to miss a beat either. It's definitely heavy for backpacking, but this thing simmers like nothing else on the market. If you've got limited space in a vehicle, this is a great option.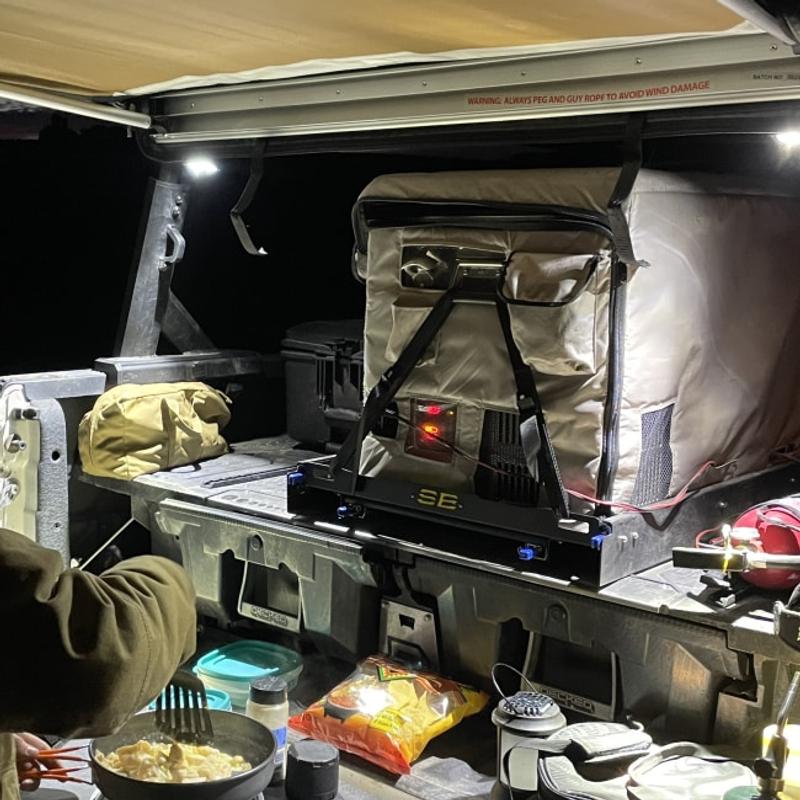 Originally reviewed on ExpertVoice.com
5 out of 5 stars
November 3, 2023
Fast Boil
Great little single burner car camping stove and fry pan
Originally reviewed on ExpertVoice.com
5 out of 5 stars
October 26, 2023
Works like a charm! Makes food prep easy when we camp. Had an issue with it but JetBoil was fast to resolve. They went above and beyond on their Customer Service. I will buy more products and recommend!
Originally reviewed on ExpertVoice.com
4 out of 5 stars
October 23, 2023
Ok but not perfect
The pros are obvious ones for this product, compact, easily storable, lightweight, in that sense it's amazing. Unfortunately, the cons are starting to increase the more it's used. The pan is great that it is included, but the coating is not the best and scratches easily. I would recommend only using silicone or plastic cookware on this. Although obvious, sometimes you only pack a small backpack spork on trips. The wind guard is nice to have, but pretty cheap. The regulator is great on paper but maybe a bit too much adjustment if I were going to be picky.. Other than that, for a light use item, a fun cook station for a vehicle camping trip or an all in one coolness factor, the Halfgen is good! Im glad I didn't go with the dual stoves as I would recommend a more sturdy option.
Originally reviewed on ExpertVoice.com
5 out of 5 stars
October 31, 2022
HalfGen review
Very impressed with the control and how much or how little heat you can produce. Also, I love the dual fuel hook up options.

Originally reviewed on Johnson Outdoors
5 out of 5 stars
July 19, 2022
Half gen
Compact, powerful, quality build. Included fry pan performs very well.

Originally reviewed on Johnson Outdoors
5 out of 5 stars
April 26, 2022
Half Gen
Perfect! Works without any flaws! So compact! Also got the full base camp Gen.

Originally reviewed on Johnson Outdoors
4 out of 5 stars
July 17, 2021
Works great but …
Had it for a month or so. Love it, works great. Perfect for my small space. Stores away neatly. The storage bag is the weak point. Ripped at the seams. I would have given it 5 stars but the storage bag ripped apart even before I used it.

Originally reviewed on Johnson Outdoors
Need Expert Advice?
Our Gearheads Can Help