Free 2-Day shipping on orders over $50*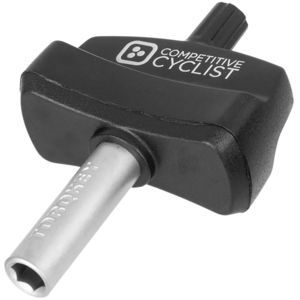 Free gift with purchase!
Torque Tool
Details
Simple, durable, convenient.
Feedback Sports started as an offshoot of Ultimate Support Systems, the company known the world over for its speaker stands (big speakers, concert-sized). So it should probably come as no surprise that the three-legged design of the Pro Elite Bicycle Repair Stand is rock solid. What was a surprise, though, is just how useful, strong, and simple the clamping mechanism is.
Throw the seatpost in between the jaws of the clamp, push it in, and give the wheel a few turns to tighten it down completely. When you're done, back it off a hair to relieve tension on the threads, slap the spring-loaded quick-release, and voila! After years in bike shops using the old-style clamps, this was a surprising revelation.
The Pro Elite Stand folds up small, so you can take it to a race, keep it in a closet, and generally not mess with it until you need it. This one even comes with a tote bag to make transporting it easier.
Three-legged design
Quick-clamp jaws
Collapsible
Includes tote bag
Item #USS0001
Tech Specs
Clamp Height
1067 - 1803 mm
Folded Dimensions
152 x 203 x 1168 mm
Recommended Use
bike maintenance
Manufacturer Warranty
3 years