How to Get into Splitboarding: Essential Gear
Backcountry.com athlete and pro snowboarder Forrest Shearer spends a lot of time in the backcountry on his splitboard. We asked him to give us the rundown on what you need to get into splitboarding:
Each year, it seems like more and more people are skipping the lift lines and tracked-out runs to ride in the backcountry. There's endless terrain out there–you just have to use you own two feet to get there. The scenery is amazing, the snow is usually great, and the freedom to roam the mountains on splitboard can make for a truly wild adventure.
Here's is a list of the gear you'll need  to head out on your first splitboard adventure. But remember—it's beautiful out there, but it can be very dangerous, too. So number one, before you do anything else, get yourself educated on how to stay out of trouble by evaluating snow conditions and terrain, make sure you have all the right safety equipment, and know how to use it really, really well.
Splitboard
What's better than hiking in the backcountry? Splitboarding in the backcountry! Getting the right splitboard makes your day that much more enjoyable. There are a lot of options available so you should first consider what conditions you plan on riding. If you're getting your first splitboard, I recommend an all-terrain board that's good for both deep powder and all-mountain conditions.
As for profile, most splitboards are going to be either cambered or flat underfoot, with rocker at the tip and maybe a touch at the tail. A full rocker board may be great for deep stuff, but will be hard to manage on an icy skintrack.
You will notice that most splitboards come with hardware that connects the two parts of the board together—tip/tail clips and splitboard clips (sometimes called S-hooks). The two main options come from Voile and from Karakoram. The brand of hardware the board comes with pretty much dictates the brand of binding interface you can use.
The Voile system comes on Voile, K2, Venture, Never Summer, Salomon, Rossignol, and Burton boards. You can use the Voile Lightrail splitboard bindings, or any pair of snowboard bindings attached to a Voile adapter plates ("pucks").
The Karakoram system comes on Jones, Rome, Gnu, Roxy, Arbor, and Lib Tech splitboards. You can use Karakoram bindings as well as Voile pucks with these.
Here's my review of the Jones Ultracraft, which is made for the deep stuff:
It's not so common anymore, but some people will just make their own splitboards by sawing a solid board in half. It may sound like a good idea, but there are plenty of ways you can screw this up. So be sure to read up, watch some videos, and maybe practice on an old board before you try it for real. Or, you can get one of the new idiot-proof boards like the Capita Charlie Slasher, which comes as a solid but has an ABS sidewall down the center of the core so it's good to go if you decide to take a saw to it. Once you do split a board, you can pick up a splitboard DIY kit from Voile or you can choose to use Karakoram tip/tail hooks and board clips.
Skins
Climbing skins are one of the most crucial parts to your backcountry touring system. They are used on the bottom of your board when in tour mode, providing traction to access the goods. Making sure that they're functional and working properly is a priority. I use Black Diamond skins, but you can also find skins from G3, Jones, Voile, and Backcountry.com. Whatever you get, I suggest a pair of skins that come with a tail clip that will prevent your skins from peeling up on the tail; if it doesn't come with that clip already, you might want to pick one up. Keep them dry and don't leave home without them!
Splitboard Bindings
You can use your regular bindings with Voile plate adapters, but for a more solid board feel I suggest going with a splitboard-specific binding. The models currently available are innovative and game-changing. They are lighter than splitboard binding setups in the past and will make it easier to climb to the top as well as provide confidence and control of your board on the way down.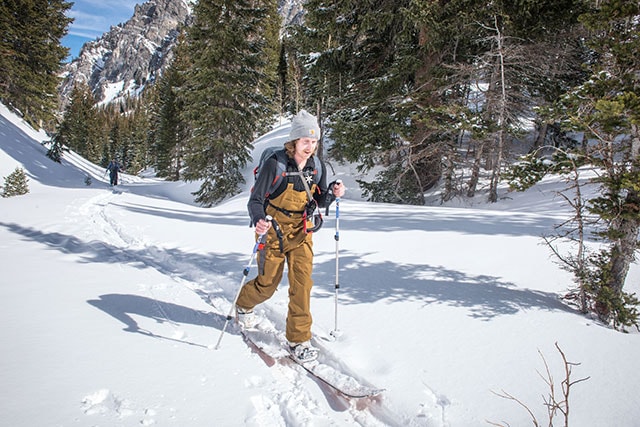 The two main splitboard binding offerings come from, once again, Karakoram and Voile. You can find either the OG Karakoram, the Split 30 binding, or the new generation of Prime splitboard bindings. One reason I like the Primes is that they're solid, easy to use, and get you down the closest to the board for better board feel. The tradeoff is that they cost more than other options. Note that they can only be used on boards with Karakoram clips, and you'll have to make some adjustments to get them to work with boards using the Channel mounting system.
Installing Prime bindings:
Karakoram Prime Bindings: Box to Board Installation from Karakoram on Vimeo.
Voile's splitboard-specific binding is called the Light Rail binding. It slides right onto the pucks in the Universal Splitboard Harware Kit. Here's a pro tip: be sure to bring along an extra slider pin or two in case you drop one in deep snow.
Boots
As a snowboarder you should already have boots that work well with your current snowboarding kit. But if you're looking for something more splitboard-specific, boots that have more support are the way to go. There are a lot of backcountry-oriented boots currently on the market so now's a perfect time to explore the options and get into splitboarding.
Look for a model that is comfortable and has a medium to stiff flex. I like something that has a lot of tread on the bottom of the boot (a Vibram sole is ideal). This extra traction is good for traveling in steeps, gripping to icy snow, and scrambling across rocks. The Deeluxe Spark Summit and Spark XV are good examples of backcountry snowboard boots. But a good, stiff, maybe all-leather boot like the Burton Ion boot is also good. But there is no right or wrong answer here. I ride splitboards with the same boot I wear inbounds.
Collapsible Poles
Using adjustable or collapsible backcountry ski poles for splitboarding is key. You can adapt them to changing terrain and store them easily before switching your board to ride mode when descending. My favorites are three-piece poles like the Black Diamond Compactor Pole, which folds down small enough to fit inside my pack.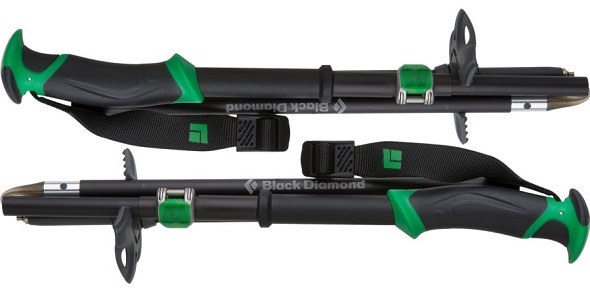 Avalanche Beacon
Your avalanche beacon is one of the most important backcountry gear that you carry. It sends out a signal that your friends' beacons will pick up in case you are buried in an avalanche. Likewise if one of your buddies is buried, your beacon will pick up their signal. Look for a beacon that is user friendly and easy to use. It's also great to consider purchasing one of the newer 3-antenna beacons, which helps in pinpointing the strongest signal. I highly suggest purchasing a newer model avalanche beacon if your current one is a couple years old. Your backcountry riding buddies will be thankful.
Shovel
This classic winter tool is a necessity in the backcountry as well—it's not just for building kickers and digging your car out. A good shovel is a multifunctional tool that allows you to dig your partner out in the event of an avalanche, and is used to create snow pits to check snow. Also you never know when you might need to build a shelter in emergency situations. A shovel with a collapsible design and heavy-duty metal construction is the way to go here.
Probe
An avalanche probe is part of your three requirements (beacon, probe, and shovel) when traveling in the backcountry. A good probe pole is lightweight and durable, and folds up small. When in doubt, go with something longer. The last thing you want is not being able to reach your partner buried deep underneath the snow because your probe is too short.
Backcountry Snowboard Pack
When looking for a touring backpack, look for one that has plenty of room, is easy to carry, and is made from durable fabric. You need to fit everything you need for a day in the backcountry in there, so one with a well-designed pack layout is great. It should have easy access to your shovel and probe, plus room for skins and poles, snowboard gear, etc. I like to carry my poles inside my pack instead of strapping them to the outside, to prevent dangling or lost poles. Also make sure you get a pack that has a good snowboard carry. Another plus is ice axe loops and additional straps to tie down gear if needed.
Your backpack should give you quick and easy access to your shovel and probe, but some backpacks may help save your life. The first avalanche packs to hit the market with survival features were Black Diamond's Avalung packs. These have a system that lets you breathe under the snow and give your partners more time to dig you out. Since then, a lot of companies have come out with airbag backpacks. If you get caught in a slide, you pull the oh-sh*t handle and an airbag pops out to help you stay on top of the snow. Neither of these backpacks will guarantee you survive being caught in an avalanche, but they're much better than nothing.
Emergency Kit
The items in your emergency kit will come down to personal preference, but here are some ideas to start building your own. A basic first aid kit is great to have. You can include a splint or other medical essentials. A multi-tool with a knife is awesome, I always carry a headlamp with me, duct tape is good, a lighter or matches for survival situations, and a couple adjustable straps are some of my favorite items that always come in handy.
Warm layer
Even if you're not planning on wearing it, having a good insulated or down jacket or even a fleece in the bottom of your pack is always a great idea. They don't weigh much or take up much space. Weather can change quickly, so it's good to be prepared.
Gloves
It's nice to have a mid-weight glove or mitt that's waterproof and built well. Leather gloves are my favorites—they are comfortable and work in nicely. Bringing a thin fleece pair for skinning up is a good idea; also think about throwing an extra pair in the bottom of your pack for storm days or in case your main ones get wet.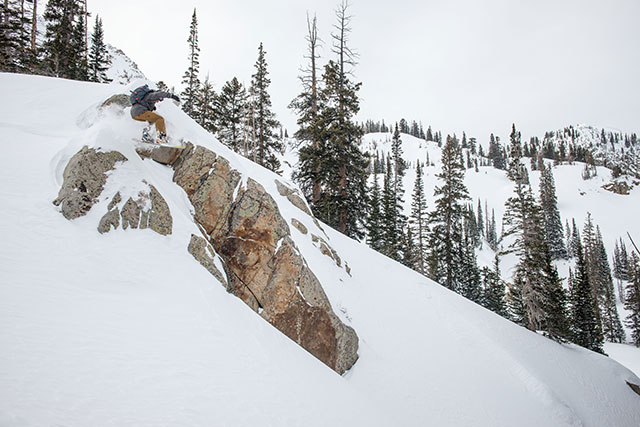 Splitboarding is about earning your turns. When you get to the top every step will feel gratifying. Remember to stop, look around, and enjoy the wilderness. Expand your snowboarding, trying new things is rad. You'll thank me for it.
See you on the skin track!
Forrest's Kit
I ride a lot of setups, but this is my standby:
Splitboard: Jones Solution 161
Bindings – Karakoram Prime Straightline
Boots – Salomon Synapse
Skins – Black Diamond
Poles – Black Diamond Compactor Pole
Jacket – Patagonia Powslayer Jacket
Pants – Patagonia Powslayer Bib
Mid layer – Patagonia Nano Air
Glove – Hestra fall line glove
Goggles – Zeal forecast
Helmet – POC fornix
Face mask – Backcountry.com buff
Pack – Patagonia Ascensionist Pack
Shovel – Black Diamond Evac 7 shovel
Probe – Quickdraw Carbon 320cm
Avalanche Beacon – Pieps DSP pro beacon 
Related
Shop