How to Choose an Alpine Ski Boot
Selecting a new pair of ski boots can be difficult, to say the least. Backcountry Expert Gearhead Wally Phillips, a former bootfitter, offers some guidance to help you select just the right pair of boots.
Every year, ski companies roll out their shiny new boots in a myriad of styles, sizes, flexes, and widths. If you're wondering what it all means and how these correspond to your specific skiing needs, here's a little guide designed to help you make sense of this dizzying array of choices.
Your skiing style
The first thing you'll want to consider is the type of terrain that you'll be skiing and how you'll be skiing it, because these will affect your boot selection. Like skis, boots are roughly divided into the following categories:
All-Mountain
Most all-mountain boots have a good blend of carving and freeride characteristics while maintaining a bit of a softer flex. These boots can run a bit to more than a bit roomy in the fit and are meant for on-piste use. In general, an all-mountain boot is usually a versatile boot with a lower price point.

New all-mountain boots for 2017 (L to R): Technica Cochise 100,  Lange XT 100, Women's Salomon QST Pro 90
Freeride
Freeride boots usually take their flex and fit cues from carving and racing boots, along with a more upright stance and more anti-shock features, since freeride skiing often includes high speeds and big airs. Though not as burly and expensive as a race boot, freeride boots are seeing a bit more popularity among skiers looking for a bit more beef that what's available in all-mountain boots.



New freeride boots for 2017 (L to R): Dalbello Sports Krypton Pro ID, Lange XT 130, Women's Rossignol AllTrack Pro 110
Alpine Touring
Also known as AT boots, these feature a walk mode that allows the cuff to pivot freely for a better range of motion when you're hiking or skinning. They usually feature an aggressively lugged rubber sole and special steel inserts at the toe and heel that make them compatible with pin-style AT bindings. Extremely lightweight materials like carbon fiber and minimalist buckle designs make them ideal for gaining elevation, but several newer models also flaunt great downhill performance. These boots are not generally compatible with traditional alpine ski bindings.


New alpine touring boots for 2017 (L to R): Fischer Travers Carbon, Tecnica Zero G Guide Pro, Women's Scarpa F1
Park & Freestyle
Park and freestyle boots have a more roomy fit, a very upright stance, light weight, and as much shock absorption as possible since they will see a lot of takeoffs and landings. Since there is such an upright stance and a softer flex, a carved turn is more difficult to pull off in these boot; skidding turns provides a better comfort level. Park and freestyle boots are usually the easiest boot to fit and the cheapest, but if you're looking to get a lot of use out of them outside of the park, you'll have to head to the top-of-the-line park and freestyle boots.



New park & freestyle boots for 2017 (L to R): Dalbello Sports Il Moro Team I.D., Full Tilt Drop Kick, Women's Full Tilt Plush 6
How Stiff Should Your Boot Be? Boot Flex Explained
Once you start looking at specific models, you'll notice that they have different versions of the same boot, usually distinctions between different levels of flex. When you're wearing a ski boot, as you move your knee forward, the boot will move some, too. How easily the upper shell hinges forward is measured using a numeric flex index scale. This scale usually ranges from around 50 to 130, with the softest, most flexible boots (generally, kids' boots) measuring around 50 and the stiffest race boots measuring around 130+.
Determining the right flex for your boot involves an honest self-assessment of your skiing ability. This will help determine the how stiff your boots should be. To simplify things, we'll go with the standard classification procedure: Type I represents a beginner skier, Type II is intermediate to advanced, and Type III is expert. Of course this can be fine-tuned, but it provides you with a starting point to help determine how stiff your boots should be.
An adult male Type I (beginner) skier should look for a boot with a flex less than 85. A Type II (intermediate-advanced) will be most comfortable in a boot with an 90 to 110 flex index, and a Type III (expert) skier will get the most out of a boot with a 110 to 130 flex index. For a woman, simply reduce these numbers by 20 (e.g. an intermediate woman skier will benefit most from a boot carrying a 65-90 flex index). It's also good to remember that height and weight factor into boot flex—a taller woman will be able to flex a boot more efficiently than a shorter woman, regardless of ability.
It's important to note that there is no standardized flex index across manufacturers, meaning that Rossignol's 100 flex will not be quite the same as Tecnica's 100 flex. The reason for this is that shell materials, buckle positioning, and different hinge locations all factor into a boot's flex, making a universal flex index nearly impossible to calculate. But it's good to know that once you determine your flex range, you'll be able factor it into your boot selection accordingly. The proper flex will not only let you maneuver the ski as it was intended, but it will also be more comfortable than being stuck in a boot that's too stiff for your strength or ability level.
Last Width
Manufacturers measure the interior of a boot's shell in millimeters at the widest part of the forefoot. This number will be expressed as "last width." And while you don't need to have an exact forefoot width measurement, it's good to know that a 100mm last width is fairly standard (race boots usually feature last widths ranging from 95-97mm, while 104mm is considered "wide"). If you usually wear wide, "EE" tennis shoes, for example, it's a safe bet that a 104mm last will be an appropriate match. If you wear a standard "D" width shoe, then a 100mm last will most likely fit your foot the best.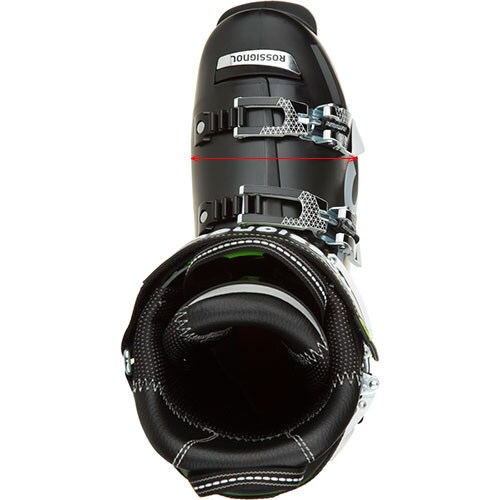 To some degree, last width will also affect performance. Regardless of foot size, racers prefer the narrow lasts because that close (to the point of painful) fit delivers the instant response that they need. At the other end of the spectrum, wider last widths may be preferred even by average-footed skiers who are more focused on all-day comfort than performance.
Volume
Often, ski boots will come in different volume options, generally low-volume and mid-volume. If you have a high arch or wide, thick feet, a mid-volume boot may be for you. On the other hand, if you have flat and/or very narrow feet, you may look for a low-volume version; Lange and Tecnica offer "LV" lines specifically for this purpose.
Men's vs. Women's Boots
The differences between men's and women's boots aren't just the colors. Boots were generally unisex in the neon '80s before carving was introduced and ACL tears in women began to rise. Boot companies figured out that if the cuff height were lowered it would allow a woman's knee to flex more naturally, due to a women's lower center of gravity.
Women's boot sizes are a bit on the smaller size as well, since women generally have a skinnier forefoot (Women average a B-C width while Men are more like C-D width) and have sizes that range down to a 21.0 Mondopoint for the smaller lengths. The stock liners are different as well, with the upper rear splaying out earlier since women's calf muscles extend a bit further down the leg.
Other Features
Walk-Ride mode
What started out as a staple feature on alpine touring boots, 'walk mode'—a switch, usually in the rear of the boot, that disengages the lower shell from the upper shell—is now showing up on many all-mountain and freeride boots as well. This allows for more ankle articulation, which is great for when you have to hike a boot pack. When you're ready to ski, lock it down into ride mode.
Number of buckles
Over the last decade we've seen the prevalent number of buckles decrease on a ski boot from four to three and even to two. The fewer buckles the boot has the less weight the boot carries; also, buckle placement can help with heel retention and a more progressive flex. Does this mean four-buckle boots are on their way out? Heck no. Four-buckle boots still have the best traditional hard snow feel along with a stiffer flex and better responsiveness.


Thermomoldable liners
There are some higher performance boots than come with custom thermomoldable liners. All stock liners are thermomoldable to a small degree, but these liners last much longer (250 days in comparison to 2 weeks) and retain their shape much better. Most boot companies license the liner company Intuition to supply their liners for them so they are of very good quality and well worth the price if you are looking for a higher performance custom fit.
Interchangeable Soles
Most alpine boots come with one-piece soles, referred to as alpine/DIN soles. They're mostly flat and are used with 'regular' alpine DIN bindings. But as I was saying before, we're getting further and further out there when it comes to going from resort to the sidecountry and backcountry, so certain lines of all-mountain and freeride boots do have interchangeable soles. These are usually switched out through loosening a few allen bolts underneath the toe and heel of the soles. There are two main types that are compatible with alpine boots: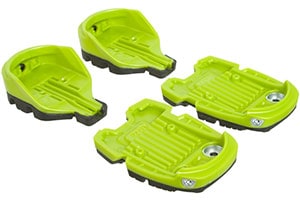 Alpine Touring – a less flat, more lugged design to these soles give the boots extra grip for hiking on rocky or icy surfaces, as well as the ability to use in alpine touring bindings with a frame design.
Tech – these soles have a similar lugged design of the Alpine Touring soles, but they have tech fittings as well for tech bindings such as Dynafit Radical and Marker Kingpin bindings.
Size
Now that you're zeroing in on your model, and are ready to buy, you need to make sure you're getting the right size. Ski boots use an international foot measuring system called Mondopoint, which is the length of your foot measured in centimeters. You'll often see boots marked with this number on the toe and heel lugs, expressed in whole (alpine touring boots) and half sizes.
While many manufacturers often include a size conversion chart for their boot shells, you can simply determine your Mondopoint size by tracing your foot on a piece of paper. Then, measure from your heel to the end of your longest toe, in inches, and multiply by 2.54 to convert to centimeters. Round this number to the nearest half centimeter, and this is your Mondopoint size. For example, a foot measuring 10.5 inches is 26.67 centimeters long, or 26.5 Mondopoint. I recommend using this method over checking a size conversion chart for a more accurate fit.
Nowadays most alpine ski boots are generally offered in half sizes (26.5, 28.5, etc.). Alpine touring boots are usually available in both full and half sizes. Note that for these boots, shells are made in full sizes only with varying liner thicknesses making up the difference. This means that a 26.0 and 26.5 shell will have the same boot sole.
Once you have your new boots in hand, how do you know you have the right size? Here are a few tips:
Final Suggestions
Everyone's foot is different, so it's rare that a boot is going to fit perfectly right out of the box. Taking the boot to a bootfitter for the final customization—heat-molding, 'punching out' the shell, getting a custom footbed—can make a huge difference in how the boot feels and performs.

You can also pimp your ride with a few extras, such as:
Related
Shop