Iron Ranger 6in Boot - Men's
---
Why We Like The Iron Ranger 6in Boot
The Iron Ranger Boots have been protecting the feet of miners for more than a century, so we feel good about them protecting ours, too. Oil-tanned leather comprises the upper for added protection, while the leather insole conforms to our foot's natural shape to become more comfortable over time. A steel shank increases both stability and support for long stretches on our feet, and Vibram's 430 mini-lug sole won't crack and lose durability after a few years like all-rubber soles sometimes do.

Details
Workhorse boot for any part of your life
Oil-tanned leather upper is water-resistant
Leather insole assures conformed comfort
Steel shank ensures day-long stability
Vibram 430 sole provides long-lasting durability and grip
Red Wing Shoes makes boots in the USA since 1905
Item runs large, so we recommend sizing down for best fit
Item #HTG000Q
Upper Material

leather

Closure

lace

Footbed

leather

Midsole

steel shank, cork

Sole

Vibram 430

Shaft Height

6 in

Claimed Weight

[single, size 10.5] 1lb 15oz

Manufacturer Warranty

limited
Reviews
Q&A
Overall Rating
4.5 based on 620 ratings
Fits Large
Screen reader users: the following list provides a visual scale to illustrate the product fit. Please refer to the heading above for the fit type in text.
Runs small
True to size
Runs large
What do you think about this product?
View
Selecting an option will reload the available reviews on the page
5 out of 5 stars
November 18, 2023
Made me a fan for life!!
Absolutely in love with these boots and have been since I picked them up and took them out of the box. I'd be a liar if I said they were comfortable right out of the box but after some tough love and wear they've started to mold to my feet fairly quickly. The Hawthorne is rugged and looks amazing with little upkeep and I'm stoked to see how it patinas with age, the Vibram 430 mini-lug sole is a little rigid than what I'm used to but offered great grip and plenty of support when hiking recently which impressed me given the low profile!! All in all, I could keep blabbing on but I think half the fun is wearing them yourself and seeing where you can take them! 100% Recommend without a doubt, USA MADE BABY!!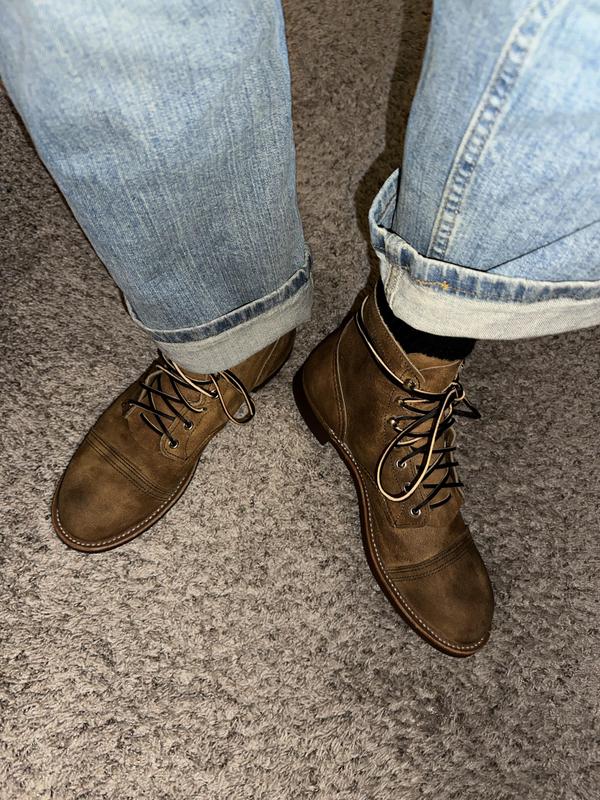 Originally reviewed on redwingheritage.com
5 out of 5 stars
November 3, 2023
Comfy but ruggid
You start to put them on and they feel like a stiff bulky boot. Based on this I was expecting blisters until they were worked in. Not the case for me, so comfy, actually feel smooth and comfy, with that rugged leather. Already planning another pair in black

Originally reviewed on redwingheritage.com
5 out of 5 stars
October 21, 2023
wowing me right out of the box
I just received these yesterday and even though I am just starting to "break them in" I feel the need to comment on how these boots are when fresh out of the box. I got them in my normal size instead of going down a half because I have sensitive toes on my right foot and want plenty of room for them. There is no heel slip, my feet don't move around in them, and my toes are about 1/2 in. from the tip, so I think that was the right choice. The workmanship and feel of the boot in your hands screams quality, and the leather smell is intoxicating. The thing that surprised me most is how they felt when I put them on and when I walked the dog in them this morning. I have read and watched quite a few reviews on these boots and so many have said they are a bear to break in, but compared to other boots I have, these are a literal and figurative walk in the park. They are very comfortable while breaking in compared to all of the other boots I have. My Docs, Solovairs and Dingos have all been WAY harder on my feet when breaking them in. The only area where I would give the Docs and Solovairs a slight edge over these is in their looks. Don't get me wrong. I love the looks of the Iron Ranger, but you just can't beat the look of a classic 8 eye British boot. Or can you? I bet if Red Wing came out with a USA made Red Wing quality boot in that style they would sell like hotcakes.

Originally reviewed on redwingheritage.com
5 out of 5 stars
October 20, 2023
My favorite boots by far
I've now owned these boots 4 years. I wear them all the time especially in rainy Vancouver weather. They are completely water proof. Absolutely great in rain and snow. I coat them with mink oil every year to maintain them and I hope to have them for a very long time. Absolutely love these. Get yourself a pair.

Originally reviewed on redwingheritage.com
4 out of 5 stars
October 20, 2023
They were great…until they weren't.
My 8085's were the first pair of "expensive" boots I ever bought. I heard all about their quality and I thought there was still a lifetime guarantee. I've worn my Iron Rangers almost daily for 4 years and was beginning to look into having the soles replaced when I noticed the heel of the right boot was separating from the sole. In addition, the leather just started cracking out of nowhere a few weeks ago. I always followed the care instructions recommended by Red Wing, so I'm not sure what is going on there. I'd thought of getting a new pair, but after reading numerous reviews I'm scared to buy another pair because quality has taken a nosedive recently.

Originally reviewed on redwingheritage.com
4 out of 5 stars
October 17, 2023
Cute, well made boot, slippery sole
I have had these boots for a couple years now and was looking for something to wear in the winter for errand running. I don't know if is just me, but I find the soles incredibly slippery and have felt I'm going to break a hip at times in the winter. Wondering if anyone has any ideas?

Originally reviewed on redwingheritage.com
5 out of 5 stars
October 17, 2023
Great from first step.
Where my MOC toes took a little to break in these felt perfect from the first step. The easy on and off nature of the lacing is another plus. Not to forget to mention the boot is stunning.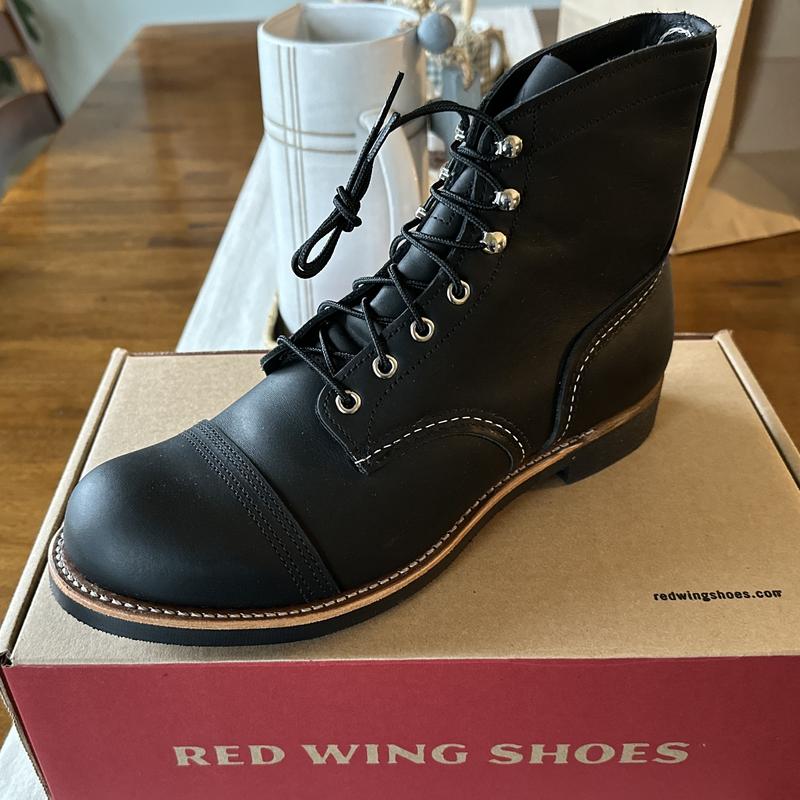 Originally reviewed on redwingheritage.com
5 out of 5 stars
October 16, 2023
Worth every penny from a Woman.
I bought my Iron Rangers in 2019, I work in millwork and am always out at new build and remodel jobsites. These were a beast to break-in but once I did... So much better than things that are tailored to Women. I'd take the durability and longevity any day over immediate comfort. I am a firm believer in buying things to last and these fit the bill!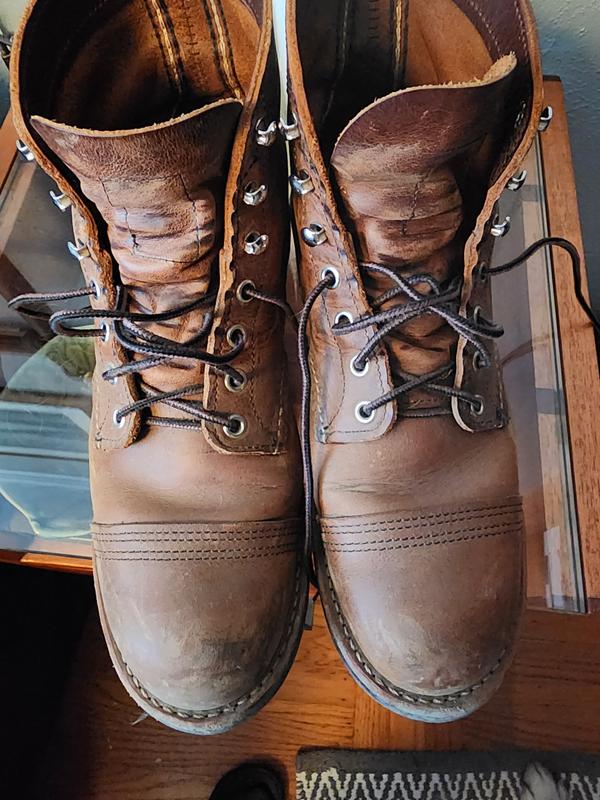 Originally reviewed on redwingheritage.com
5 out of 5 stars
October 2, 2023
The best
Currently I have 3 pairs of IR's in my closet. Amber harness, copper rough & tough, and slate muleskinner. Love the quality of the leather they use… it's just amazing quality. The fact that they own SB Foot tannery means they only use the best of the best AAA quality leather hides, & this really shows when trying competitors. Only thing I can think of that will improve product is for Red Wing to add a leather midsole (there is no midsole on the IR) & get rid of that fabric liner under vamp & use leather (even if lighter) liner like on all moc toes.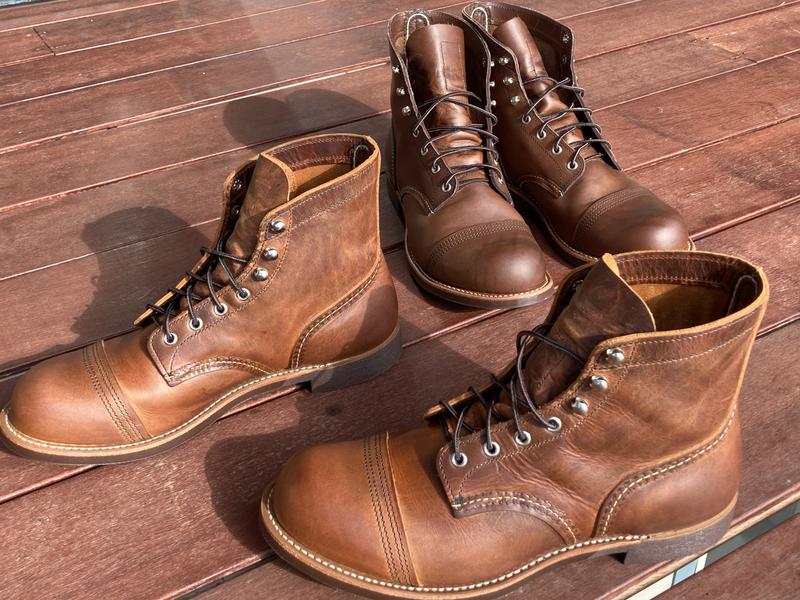 Originally reviewed on redwingheritage.com
5 out of 5 stars
September 28, 2023
Great boots, I recommend sizing in a store
I love my pair of Iron Rangers. They fit really well, with room for my toes to move around. I haven't found the break-in period to be too bad, my feet are sore at the end of wearing them the first few times, but it hasn't been terrible. They are getting more and more comfortable as I wear them. The build quality is very high, the boots look and feel very nice. All that said, I was very surprised by the sizing. I am glad that I went to a store that had a scanner device to size my feet. The salesperson came out with a pair after doing the sizing, and they fit perfectly. Then, I found out they were 1.5 sizes lower than my normal shoe size! In every other shoe, I wear a size 11, but in Iron Rangers I wear a 9.5 EE and they fit really well. If I hold the 9.5 EE Iron Rangers up against my size 11 Birkenstocks, or my size 11 Solovairs, the Iron Rangers are actually longer than them. I highly suggest using the sizing scanner in a store for an easy fix to the larger sizing.

Originally reviewed on redwingheritage.com
Need Expert Advice?
Our Gearheads Can Help