Free 2-Day Shipping on Orders Over $50 Order by 12/20*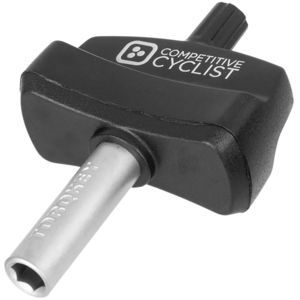 Free gift with purchase!
Torque Tool
Details
Two-in-one.
Kuat spent the last 3 years overhauling its NV 2.0 Bike Hitch Rack and fine-tuning it to perfection, so you'd better believe that it's ready to shuttle your treasured two-wheeled baby to and from the trailhead safely. Kuat managed to find room to improve just about every feature of the NV 2.0, all of which contributes to a stabler, more reliable tow than the NV 2.0's already solid predecessor. Carry up to four bikes on the NV 2.0, using the adjustable cradles to accommodate different sizes, and enjoy peace of mind from this year's reinforced individual bike cable locks. Kuat wisely gave the NV 2.0 plenty of staying power in a world of ever-increasing tire size by giving it compatibility with 4.8in tires, and it beefed up the pivot design to give it serious staying power. The entire rack installs via a simple tool-free installation knob, and it even converts into an impressively solid workstand for race-day wheelset swaps and other on-the-go maintenance.
Accommodates two bikes for transport and travel
2in size carries two additional bikes with NV 2.0 add-on
Rotates on a dependable pivot for on-the-go trunk access
No-tool installation with rotating knob
Includes hitch lock and individual bike cable locks
Includes Trail Doc
Item #KUA000O
Tech Specs
Bike Capacity
[1.25in] 2, [2in with add-on] 4
Compatibility
up to 48in wheelbase, up to 4.8in tires
Manufacturer Warranty
lifetime
What do you think about this product?
Have questions about this product?
Nice Rack!
Familiarity:

I've put it through the wringer
I know but it was hard to resist at this like these. You have found the safest and most sturdy bumper rack on the market. The 2.0 has update tid bits that really did not need updating in my opinion. I own the first version as well. The lock was made stronger and easier to use. The latch to swivel the position of the unit so the bike fold away for the rear of the car has been beefed up. Over all the entire unit is much beefier than the original. It is the whole package. The 2 inch receiver unit can take the add on also give you 4 bike capacity. Not available on the 1.25 unit. Worth the money!
These is a phenomenal option for a tray mount system. Very solid, extremely well built and design. We've all seen those sketchy wobbly bike racks, this is not that. Very good quality
Truck Saver, Van Killer, Bike Holder
Familiarity:

I've put it through the wringer
In addition to being an amazing rack. This thing saved my truck when someone decide texting was more important that paying attention to the road. I was at a dead stop when a women rear ended me going around 40 mph. The rack took all of the impact. My truck was untouched and her van was destroyed. Three of the four bike slots were still in perfect condition. I was shocked to see the thing still in tacked after how hard I was hit.
Kuat is amazing! Their warranty department is top notch.

If you want a bullet proof rack that will last forever, this is your rack!!!

If you have any questions about this or any other gear shoot me an email at jasjones@backcountry.com or give me a call at 801-523-4053
Rack N Roll
Familiarity:

I've used it several times
I've had this rack for just over a month and love it. The out-of-the-box set up was pretty easy and it's extremely stable. With two bikes on it I haven't noticed any movement once they're strapped down. I love the ability to lower it with the bikes still on it so I can access my trunk easily. I always forget something in back after I think I'm all set. My only small complaint is sometimes the handle lever gets stuck and takes extra force to get it to move.
Nice Rack!
Familiarity:

I've put it through the wringer
I've had the rack for 3 months and it works great! The first week I used it while running SAG for our club's annual ride event. Put on 300 miles that day and had the rack up down, up down probably 50 times while loading and unloading signs, sweeping the gravel at turns, and even hauling a couple of riders back to the start. Worked great. Last month we took it on a 1,100 mile round trip. Everything worked fine. As an added bonus the grey metallic color is a perfect match for my Subaru Outback!
It's great that the rack is rock solid and doesn't rattle. That's a huge thing in that it locks tight to the hitch by tightening the adjustment knob. We had a basic rack previously that fit under the top tube with 2 arms. We purchased a new bike for my wife and it was close to impossible to get it to fit. If you have a decent investment in bikes, it makes sense to protect them while traveling. The only thing I would change is adding a cable lock solution for the front wheels. The cable works fine for the rear wheel and frame triangle. I would have more peace of mind if the front wheel was locked also. It seems too easy to grab a front carbon wheel by a motivated thief. I use a basic cable lock that I'll throw on if stopping to eat when on the road. Not an inexpensive product; but it works great. Lots of positive comments from those who see it!
A suggested hack. After inserting the rack into the receiver hitch and aligning. Wrap some tape around the rack next to the receiver hitch. That way you can insert it the correct distance every time and the pin will slip right in.
Great Rack
Familiarity:

I've put it through the wringer
I have been nothing but impressed with this rack so far. It is really easy to assemble and takes around 10 minutes or so. The rack itself is pretty heavy duty and feels really solid when in the hitch and does not rattle around. Getting the bikes on and off is really easy as well as tilting the rack down to get into the back of your car. The only thing I would watch out for is driving with the trail stand on. They can fall out easily so I just use a voile strap to hold it in place while driving, or you can take it out and not worry about it at all.
Really Good
Familiarity:

I've used it several times
This is my first trailer hitch style bike rack, and I couldn't be happier with the ease of use and security features. It is heavy, so I recommend a two person setup or takedown. There is an adjustable front-wheel tray to avoid any bike to bike contact and it has three different positions allowing you to lower, angle or raise the tray in order to avoid handle bar or saddle contact. It is really user-friendly and I have complete confidence in the build and security.
Awesome
Familiarity:

I've used it several times
Love this bike rack. Set-up was a breeze (although I agree it's easier to have an extra set of hands), and it feels very secure. I love all the extra features: the stow-away locks, the trail-mode bike stand, and the three rack positions (up, normal, and down for trunk access). Overall, I've been very pleased and would recommend to a friend.
KUAT
Familiarity:

I've used it several times

Used this bike rack a few times so far. The assembly wasn't bad, would recommend having two people. Awesome that it can fit a range of tire widths. Wish that there was a feature to lock the mounting arm, the cable locks are great though. The rack is feels sturdy driving down the highway with two bikes on it. The only complaint is that the tailgate of my truck hits the wheel tray (even with the platform dropped) when opening it - not a deal breaker but just have to be careful when accessing the truck bed. Overall, bike rack looks great and works like expected!

Awesome Rack
Familiarity:

I've put it through the wringer
This rack is awesome. They quality is second to none. New beefy construction is solid and the assembly was a simple. Once installed it is solid and does not move at all.
Best rack you can buy!
Familiarity:

I've put it through the wringer
After being rear ended last year and having my old rack destroyed I decided it was finally time to upgrade to the Kuat with my insurance payout, and I am beyond impressed. Great quality, looks great, and the adjustability to different bike sizes and tire sizes is amazing (may have to get a fat bike now...). I also got the add on so I can carry four bikes which helps with shuttling. Have put 4 downhill bikes on with no issues and felt very secure
Awesome updates!
Familiarity:

I've used it several times
I had the NV 2 Rack for two years, and I loved it! I decided to upgrade to the NV2.0 after reading all of the details of how Kuat has upgraded this rack that I loved already. I wasn't sure if it was going to be worth spending the extra cash to upgrade my rig, but after using the new one for a week I am pretty jazzed I did! Literally every detail of what Kuat upgraded from the old NV to this new one is clutch! I love that each bike will have its own lock now, as it was much the struggle to get the old lock to connect with two bikes on. I also absolutely love the lever to adjust the rack, it is so much easier to move up and down if my hands are full. Even the arms are easier to open and close, seriously this new version is amazing! So hyped I grabbed one!
Kuat NV 2.0 Bike Hitch Rack
Familiarity:

I've used it once or twice and have initial impressions
Some co-workers recommended this bike rack to me and I ordered it without reading the description. I thought it was a bit pricey but after installing it and learning about all the special features I understand why. The bike cable locks are a nice feature that gives you peace of mind when leaving your bike on the rack. There is also a bike stand feature built in if you need to do work on your bike. Assembly definitely takes two people but overall not too bad.
Superb quality and construction
Familiarity:

I've used it once or twice and have initial impressions
We couldn't be happier with our hitch rack. We put it through it's paces on a road trip through Utah and Arizona and it performed flawlessly, held our bikes securely, the included bike stand attachment was nice to have along.
Exceeds Expectations
Familiarity:

I've used it several times
This rack fits all my bikes and I love it. I wasn't expecting is to come with a lock for the hitch mount so that was a nice surprise! I'm confident this rack will last several years. The only complaint I have is the cable locks it comes with, not being long enough - they barely reach my bike frame. Next generation should have a feature to lock mounting arm.
So far so good
Familiarity:

I've used it once or twice and have initial impressions
I have owned a an assortment of racks over the last few years, Yakima, One Up, Rocky Mounts, Kuat. This is hands down one of the best I have had. Very sturdy and durable. This rack came with extender straps for phat bikes which was really nice. I haven't but it through the wringer but have some longer distance trips planed out that will really test its limits. When setting this up you may want a second set of hands. The platforms are a pain to set up solo but can be done. The hitch knob is also a major game changer, there is no sway when driving and feels like its part of the vehicle. You should get this rack, you wont be disappointed.
Game Changer!
Familiarity:

I've put it through the wringer
Absolutely LOVE my Kuat rack. It's incredibly well-made, rock solid (no bike wobble and no rack-receiver wiggle), and super convenient. Not that it matters, but it also looks great. Yes, it's pricey (and we also incurred the cost of adding a trailer hitch to our Subaru Outback...), but worth every penny. We previously had fork-mount roof racks, and I don't know what is better--not having to lift bikes up to the roof, not having to take the front wheel off every time you put your bike on the car, or not having to scrape a million bugs off the bikes after even a short road trip!
Built-in cable locks are plenty long and add a little peace of mind, but they obviously would not deter a determined thief with the right tools and a little time. So I wouldn't leave my bikes on the rack overnight in a hotel parking lot, for instance.
Assembly was straightforward and relatively quick, and a pair of helping hands made the process much easier. Installing the rack on the car is a breeze, and we do that fairly often, as leaving the rack on the car when not in use can make access to the rear of the car a little awkward. When the rack is in the UP position, the Outback rear hatch clears the top of the rack by less than 1mm as it opens. Don't know if this is by design or just dumb luck, but it makes me smile (and hold my breath) every time I open the hatch! Tilting the rack and 2 bikes down to open the hatch is a little unwieldy, but certainly not a problem as long as you are careful.
Front wheel cradle is perfect for our needs (accommodates 25mm road tires and 3" mountain bike tires equally well), and can be adjusted to fine-tune position of mountain bikes if handlebar of one bike is bumping against saddle of the other. Have yet to use (or install) the included workstand, but I'm glad to have that option.
Definitely a great purchase and a rack I would recommend to anyone. Finally, backcountry's service was, as always, awesome... FREE 2-day delivery and then a phone call from Sarah a few weeks later to check in and find out how the rack was working for us.
Love it
Familiarity:

I've put it through the wringer
Most stable rack on the market. Sold me right there. plus integrated locks, plus the adjustable front tire tray (which I never would have though of but is so useful) and the trail doc bike stand has made many weekends much easier.
Best rack I've owned
Familiarity:

I've put it through the wringer
I love this rack! Bought it for my Outback, its perfect! The tilt feature on the rack is awesome as I need to get into the back of my car often, not having to take the rack off is key! I ride a 27.5 and it feels locked in and very secure. Very happy with this purchase!
Best Rack on the Market
Familiarity:

I gave it as a gift but have feedback to share
Gave as a gift:
"The is by far the best tray style bike on the market. This thing is VERY well built and when you unpack it you quickly see why is costs what it does. The hitch lock system, cable lock, repair stand capability, glossy paint finish and other features quickly bring value to this sturdy rack. Kuat as a company seems to be pretty dialed on what their customer wants and they also have great customer service. Love this thing!"
I have a Yukon and on my current Yakima Holdup 2 my tail gate can't open even when I tilt the bikes down. Will this rack tilt more than the Yakima to give me enough clearance that I can open my tail gate while I have my bikes on the rack?
Unfortunately not Brian. Most car manufacturers do not recommend opening your trunk/tail gate with a bike rack installed for various safety reasons. Thus Bike racks are usually not built to accommodate this feature when its in use.
Unanswered Question
Besides the TrailDoc, what else is different between this rack and the NV BASE 2.0?
Does anybody know the official weight of the NV 2.0? I have seen multiple listed weights depending on retailer. Thanks!
Hi Joshua, The NV 2.0 weighs 52lbs. Please reach out to me directly with any other questions that you may have and I'll get you taken care of. - Matthew Pizza - Expert Gearhead