Kohana 6 Tent: 6-Person 3-Season
---
Why We Like the Kohana 6 Tent
For every tent occupying valuable space in your garage, be sure you've got one with plenty of room like Eureka's Kohana 6 Tent. Its spacious interior sleeps up to six campers in comfort and style, ensuring you've got enough room for the wife, kids, friends, and even a four-legged companion through three seasons of outdoor adventures. Internal pockets stash headlamps, books, or a cold brew when you want to lie down after a day of endless activity. Once sleeping bags and pillows are properly positioned, store your excess gear under the two vestibules to keep it safe, dry, and out of the way.
Details
A spacious 3-season tent for you and your outdoor crew
Six-person capacity fits you, family, and even friends
Two vestibules add secure storage for all your gear
Internal pockets store your camping essentials
Aluminum poles offer lightweight, durable strength
Side panel vents boost airflow on warm summer nights
Two doors make it easy to get in and out
Item #ERKR13C
Material

[fly] 75D polyester, [walls] 75D polyester, [mesh] 40D polyester, [floor] 150D polyester, [poles] aluminum

Capacity

six-person

Season

3-season

Wall Type

single-wall

Freestanding

yes

Poles

aluminum

Pole Attachment

clips

Number of Doors

2

Number of Vestibules

2

Vestibule Space

[front, rear] 16sq ft

Ventilation

side panel vents

Floor Dimensions

10ft x 8ft x 4in

Floor Space

83.3sq ft

Packed Size

9 x 27in

Footprint Included

sold separately

Trail Weight

13lb

Packed Weight

13lb

Manufacturer Warranty

limited lifetime
Reviews
Q&A
Overall Rating
4.5 based on 18 ratings
Fits True To Size
Screen reader users: the following list provides a visual scale to illustrate the product fit. Please refer to the heading above for the fit type in text.
Runs small
True to size
Runs large
What do you think about this product?
View
Selecting an option will reload the available reviews on the page
1 out of 5 stars
May 16, 2023
Not waterproof
I've had this tent for a while and really like the features, the space and the ease of setup. But I finally used it in the rain last weekend and it was a disaster. It started raining a little before midnight and rained off and on until 2pm the next day. It wasn't torrential but steady with short breaks. By the morning, the tent was leaking in multiple spots, all of them where something was sewn to the fly, like the toggle for the vestibule door or the velcro straps to hold fly on. This is clearly a design flaw. I m really disappointed because it means I can't use this tent in the rain and where I live and camp, rain is always a possibility.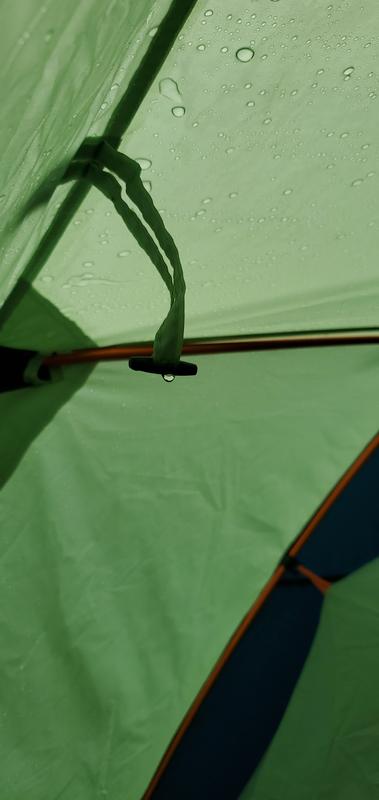 Originally reviewed on Johnson Outdoors
5 out of 5 stars
February 19, 2022
Great Tents
On February 14, 2022 I received my Eureka Kahona 6 Campaign Tents. On February 18, 2022 I first use the Tents. In its aerodynamic form it is excellent. Withstand the winds. In all aspects it is excellent. The only thing I regret about the tents is that it doesn't have a compartment for E-port and the others is that the guide lines are not reflective, as I have in other tents that I have that came with tents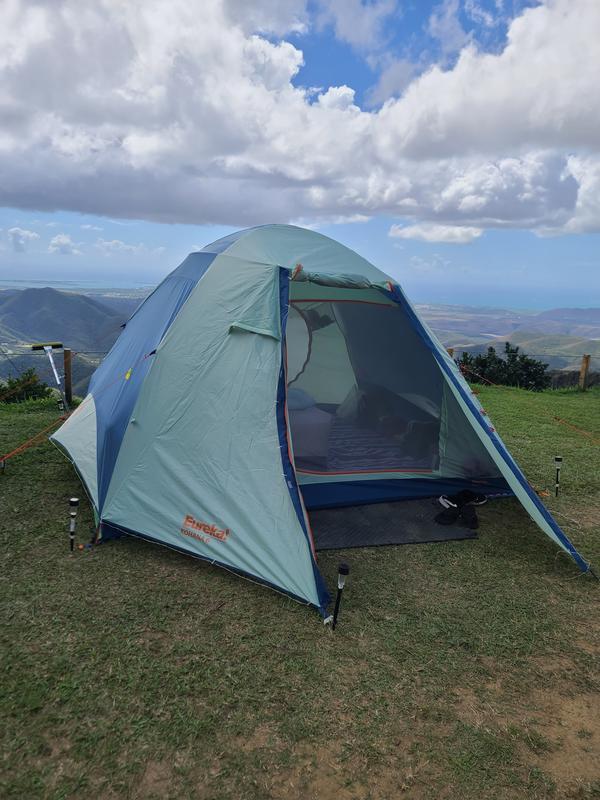 Originally reviewed on Johnson Outdoors
5 out of 5 stars
July 29, 2021
Perfect Tent!
After doing much research online for a new 6 person tent, I decided on the Kohana 6. My decision for this tent was: 1) Wanted a tent with a full fly. Tired of tents with the fly not going down all the way on the sides of the tent and water leaking in. Kohana has a full fly. 2) With the full fly, I still wanted ventilation on a hot night when it is raining and I have the fly closed. The Kohana has great ventilation with it's two vestibules and it's two fly vents. Can breath in the tent even in a down pour. 3) Easy to set up. Very easy for one person to set up. I watched the video and did a practice run in my yard before my camping trip. Once I went camping, I had it set up in 20 minutes by myself and that was taking my time. So I went camping with it the third week of July 2021. After I got it set up, the rain was brutal. Continued for 24 hours. The inside of my Kohana was totally dry. Very impressive. And I was still able to breath in it due to the great ventilation. About 2 am, I heard a large noise and my tent collapsed on me. My first thought was "I can't believe that my new tent collapsed from the weight of the rain". Wrong. A massive tree limb broke right above the tent and fell on it. And me. The tent held and the limb touched me at first but the tent "pushed" it back a foot off of me so I was able to push it off from the inside. Basically the tent kept me from getting crushed. I checked the next morning, and it was a BIG tree limb. No tears in the tent but one of the poles was slightly bent. The pole did it's job. It bent but didn't break so I did not get hurt. I called Eureka when I got home and told them what happened and asked if I could buy a new pole. Customer Service paid for me to ship the whole tent back and they sent me a brand new Kohana 6 for the cost of a new pole. A tree falling on the tent is obviously not covered under warranty so this was Eureka Customer Service going above and beyond. Obviously, I recommend both the Kohana 6 and Eureka Customer Service to my fullest with all sincerity.... Thanks...H.

Originally reviewed on Johnson Outdoors
5 out of 5 stars
July 29, 2021
All Around Superb Tent
I normally don't write reviews but after a 6 day camping trip, must say, this tent deserves some love. For the money, it's really fabulous. Some excellent features: 1. Well-placed interior pockets that are edge banded (not purely mesh like on my Big Agnes tent). 2. 2 large doors with D zipper pattern. 3. Great vestibule. Symmetric design with front & back vestibules. Large vestibules areas when fully zipped - could hold a ton of gear under the rain fly. Nice open entryway with extension poles. (see photos with custom poles from broom handles.) 4. Exterior pocket on both front and back! At first I thought an exterior pocket was weird. I was wrong. It's extremely handy as a staging area to collect items you want inside the tent at a later time, but perhaps you don't want to let bugs in or wear down the zipper for each item. 5. Color. The orange - mint - dark turqoise combo is gorgeous. 6. The carrying bag is unique. It has separate zipped compartments for the main tent and rain fly and smaller interior compartments for the stakes + guylines. I would have preferred two handles for carrying, rather than the single strap, but it's a cool idea overall.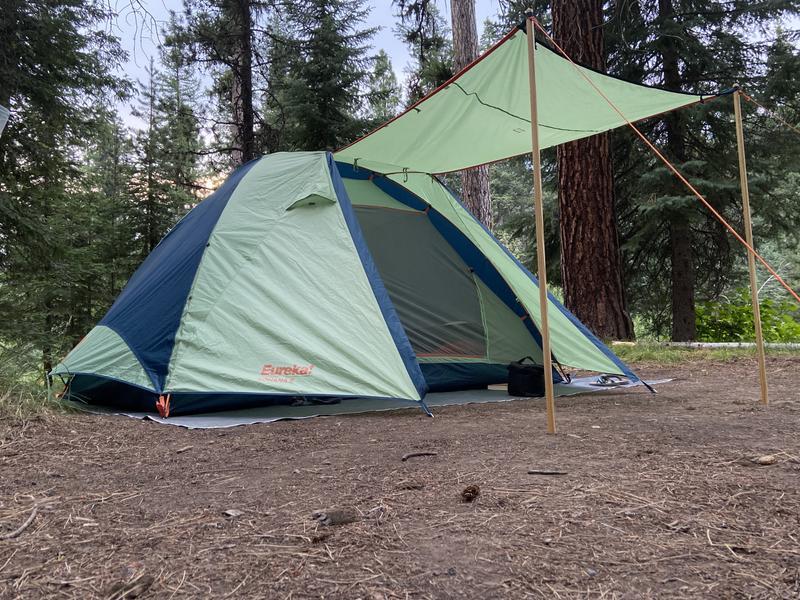 Originally reviewed on Johnson Outdoors
5 out of 5 stars
July 22, 2021
Well-designed tent.
I found this tent to be superior to competitors in it's design characteristics for a tent this size. Great airflow, thicker material, light weight for the size, easy to set up, good sized vestibules, good gear pockets, and nice room for 5.

Originally reviewed on Johnson Outdoors
5 out of 5 stars
July 10, 2021
well constructed for a light tent
I was a little disappointed with how sharply the sides slant in which really cuts down on the standing and living space. Two people can just live comfortably. The top center height is actually less than 72 inches and that is right in the center. there is about a 36 by 36 head area for standing and it is less than 72 inches. I have been use to camping in the past with people in the past with larger and higher conditions. I bought this tent for mainly now camping alone, since my camping people have passed. So I was not aware of the dimensional conditions of this style. nevertheless, it is easy to put up and the design of the fly should keep me dry. I love that I can put up the front and back vestibule flaps on poles. There are plenty of pockets inside for storage. Over all it is a superb tent worth the price.

Originally reviewed on Johnson Outdoors
2 out of 5 stars
April 25, 2021
I like the design but it leaks.
Familiarity:

I've used it several times

Height:

5' 7"

Weight:

195
So far I like what I see. Full double wall ventilation seems pretty good as long as you can keep the doors partly open. It guys out in a way that I think it'll be sturdy in the wind. I was able to put it up by myself for the first time in under 30 min. That includes attaching the Guy lines. The steaks are trash but all steaks that come with tents especially car camping tents are trash. They'll be fine for soft ground, I will probably upgrade to some heavier steaks. There are 2 doors so you don't have to climb over each other and vestibules on both sides to keep you gear out of the rain. There is no footprint that comes with it so I might make one out of tyvek or trim down a tarp. Something to protect the bottom and make it so the ground under the vestibules stays dry. Also, there is not a ton of interior storage. It has 4 pockets 1 in each corner. Update: Used this today in the rain for the first time had about 8 leaks. Seam sealing is no good wherever there is an internal Velcro loop or tie it leaks like crazy. My first impressions but what use is a tent that doesn?t keep you out of the rain?
5 out of 5 stars
April 17, 2021
Misleading pictures
The tent is great but the pictures are misleading. The higher pockets on the wall (near the doors) are not inside but on the exterior.

Originally reviewed on Johnson Outdoors
5 out of 5 stars
January 27, 2021
Easy set up roomy tent
[This review was collected as part of a promotion.] The Kohana tent has a very easy set up. The grandkids and I can set up our Kohana 6 tent and be ready for camping fun in no time! The room inside allows for space for myself and all 5 grandkids. The awning over entrance keeps rain out on those wet camp days. Perfect for our family.

Originally reviewed on Johnson Outdoors
2 out of 5 stars
January 20, 2021
Poor Quality Assurance
[This review was collected as part of a promotion.] The tent has potential, but overall fell short in the quality department. Additionally, the instructions were difficult to find attached in the bag. The construction of the vestibule's calls for two poles to run parallel on the sides of the tent. Not that it's bad, just never owned a tent with that design so it threw me off. The bug netting is good. Kept out the bugs deep in Big Cypress. I also think the additional ventilation in the rain fly and the design of the tent ventilation are good. The bottom of the tent seemed lacking in thickness, but it stayed dry on a damp ground without a tarp. The material used on the bottom roll up the sides about 12" or so. I thought this was a nice touch, and the four pockets in each corner are welcome. However, one of the main tent poles were broken at the male/female insert area. See picture. I had to use duct tape and a zip strip to make it work. Luckily, it was not windy or the tent might have collapsed. The stress of almost a ruined camping trip due to poor quality control of the most important part of a tent, and a tent that is now pretty much trash without a new pole warrants less than two stars, but I think some of the features were good, so two stars it is.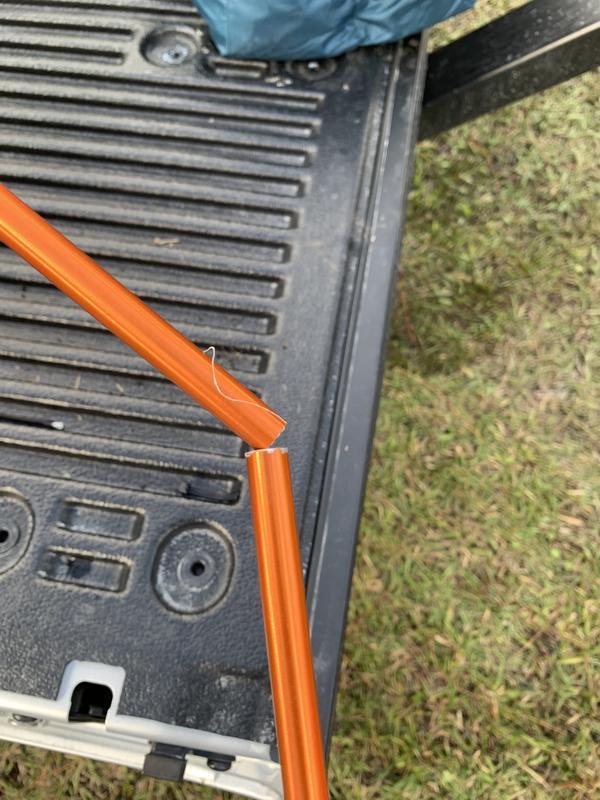 Originally reviewed on Johnson Outdoors
Need Expert Advice?
Our Gearheads Can Help