Northern Nova Propane Lantern
---
Why We Like The Northern Nova Propane Lantern
The dark of night can never overcome the Coleman Northern Nova Propane Lantern. With luminosity powerful enough to reach over 30 feet, we see all in our way. Utilizing a large fuel canister, it can provide light for up to 4 hours while fully lit. If the light of a star is not what we need, we can use its adjustable brightness to lessen its radiance and extend its lifespan.
Details
Bright propane stove for weekend camping trips
Porcelain-coated ventilator resists rust and corrosion
PerfectFlow optimizes 16.4oz canister burn time up to 9 hours
Push-button igniter makes lighting up easy
Globe is crack resistant and metal reinforced
Collapsible base makes storage easy
Bail handle for easy toting
Item #CMNK13E
Fuel Type

propane

Canister Included

no

Lumens

3000

Distance

[high] 32.5ft

Burn Time

[low] 9hr, [high] 4hr

Piezo Ignition

Instastart

Recommended Use

camping, weekend camping

Manufacturer Warranty

limited lifetime
Reviews
Q&A
Overall Rating
4 based on 15 ratings
What do you think about this product?
View
Selecting an option will reload the available reviews on the page
4 out of 5 stars
October 13, 2023
A premium product with a premium cost of operation
As advertised, this lantern throws out a lot of light, and it burns a lot of fuel and pumps out a lot of heat to make that light. There are definitely lighting options out there that will light things up for less money and trouble, but if you need one bright light, this will do it for you, and there are tricks you can use to make things run better. For setup, above all else you must ensure that you secure the top of both mantles firmly to the grooves in the burner tubes and the bottom of both mantles firmly to the grooves in the lower mantle supports. The lantern box says that the lantern comes with #95 Instaclip 2 mantles, but when I opened the box, I found #95 Instaclip 1 mantles. Instaclip 1 mantles attach by twisting a wire around the burner tubes or lower mantle supports. I found that the mantles tend to pull themselves off when the mantles shrink during the initial burn. If I had to do it over again, I would use needle-nose pliers to give the wire another twist. I replaced the Instaclip 1 mantles with Instaclip 2 mantles, which seem to hold tighter. Ensiure the wires are tight around the grooves and the mantles aren't twisted side to side, and run the lantern for fifteen minutes or so to ensure the mantle is completely burned in. Before installing the globe, ensure that the Instastart electronic ignition throws a spark when you press the button. If it does not, push the igniter toward the tube and try again. I found that the lantern consumes 100 grams of fuel for each 30 minutes of operation at full power (temperature of 60 degrees Fahrenheit, breezy, disposable propane bottle is half full). You can substantially increase your fuel economy by 10% or more by reducing the brightness by a barely perceptible amount. Owners of this lantern should look into refillable options for more economical operation (such as Flame King refillable 1 lb bottles or bulk propane bottles). The tripod makes the lantern relatively stable compared with other propane lanterns. All the same, you definitely don't want to put too much force on the legs or be too rough with the glass glove. The lantern runs extremely hot, and you will burn yourself if you touch the ventilator during operation. It is noisy, but not substantially nosier than other mantle lanterns. In the end, it is what it is. There are other options that throw out an acceptable amount of light more economically and with greater safety, but if you want to light your campsite with a mantle, this is the brightest choice I know of.

Originally reviewed on coleman.com
5 out of 5 stars
June 27, 2023
Great lantern IF you can get the mantles to work.
The Northern Nova is absolutely amazing! I love it for it's light output. The only thing I don't like is that Coleman has redone their #95 Northstar Tube Mantles and made them so cheap that it took me 5 packs of mantles just to get 2 mantles burnt in without tearing on the lantern. If you can ever get the mantles to work right get ready for some amazing light. I would suggest getting on ebay and finding older packs of #95 mantles until Coleman fixes the issue. I have written Coleman about the problem and submited pictures of the failed mantles. If you experience the same issues please take photos of the mantles, the package barcode, and the receipt and submit it to Coleman. The more we come together on this issue the more likely they are to fix the problem.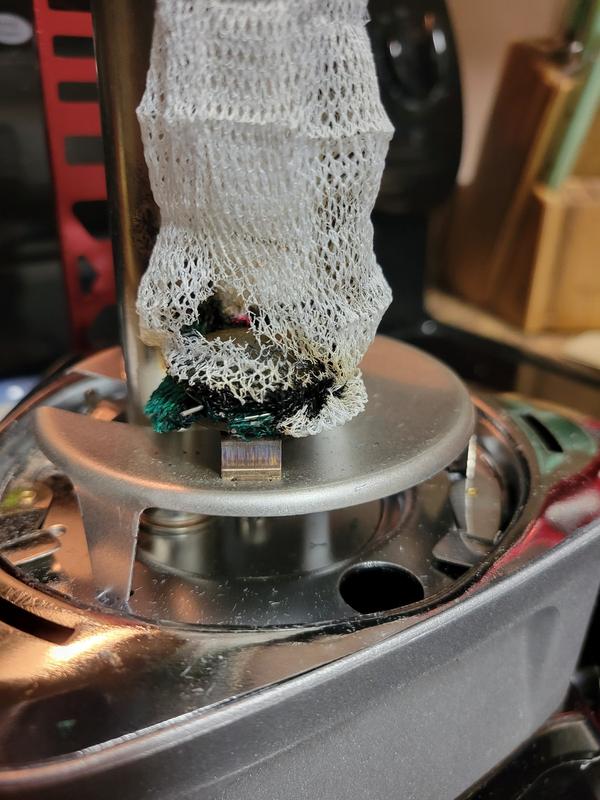 Originally reviewed on coleman.com
4 out of 5 stars
February 1, 2023
Great Light - Cannot find a Globe
I used the lantern a few times and it gave out a great amount of light. However, I accidently had it drop and broke the globe. I have been looking for a replacement and cannot find one. Wish I could find a replacement globe and use it more.

Originally reviewed on coleman.com
1 out of 5 stars
August 1, 2022
Northern Nova disappointment
I collect vintage lanterns, most of which are Coleman's. I decided that I would like to have one propane lantern, and that it might as well be the brightest and best that Coleman has. So far I have been very disappointed with the build quality vs the vintage lanterns. However the worst part is that I have went through 5 packs of mantles, and have yet to have them stay together through even one lighting of this lantern. To say the least I wish I hadn't purchased this particular lantern. I should have gotten another 639 kerosene as they are a great lantern. Very disappointed.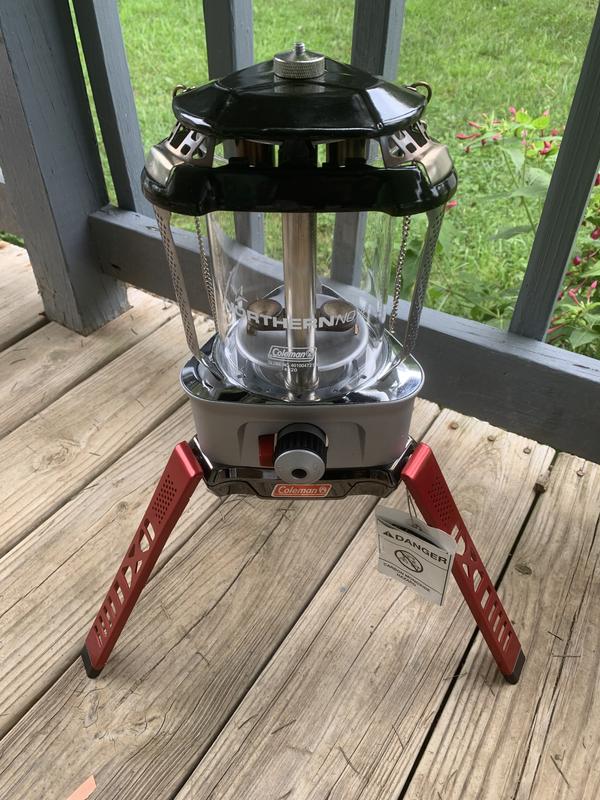 Originally reviewed on coleman.com
5 out of 5 stars
June 7, 2022
The Crème of the Crème-the Rolls-Royce of lanterns
[This review was collected as part of a promotion.] Introducing the Coleman Northern Nova Propane Lantern, the official lantern of the National Park Foundation. The Coleman Northern Nova Propane Lantern is the tank of propane lanterns. This lantern is built to last and take a beating like no other. Unlike other typical propane lanterns that will offer something in the 150-350 lumen range or higher end lanterns that reach 1000 lumens, the Coleman Northern Nova Propane Lantern produces a whopping 3000 lumens of brightness. This lantern is perfect for campsite camping, night time family gatherings, Boy Scout outdoor adventures, Base Camp lighting, and Search & Rescue operations. At 3000 lumens this lantern shines light over 32.5 meters (approx. 106 feet) vs high end propane lanterns casting 15.25 meters (~50 feet). Pros" Very bright boasting 3000 lumens Extremely well built (it's a Tank) Carrying case provided Uses Insta-Clip mantle (no tying) Push to ignite button Can be attached to a full size propane tank using convertor Cons: Heavy weighing at ~ 7 lbs. Short burn time on high Mantles are expensive to replace Mantles more fragile then others Cost of lantern $$$$ Noisy on high settings Never before, in the decades that I have used lanterns, have I seen or used one as bright as the Coleman Northern Nova Propane Lantern. This lantern is built like an Military Tank with a high temperature and crack resistant globe and a heavy duty metal globe guard that will provide extra protection from impacts (trust me it is durable, as I have accidentally dropped one of mine and it came out without a scratch). The Coleman Northern Nova Lantern is truly in a class of its' own when it comes to how much light it dishes out, sadly, this extreme brightness of 3000 lumens results in short burn time. This is not a manufacture defect or something that was overlooked, but a limitation of the size of portable propane tanks (think of a classic '60s Ford Mustang with a lot of horsepower that used up a lot of gasoline). Using a BBQ grill's large propane tank and a converter would allow for a much longer uptime for this lantern for those of you using this at family gatherings. Although this Lantern is not suited for backpacking, unless going in a large group, the Northern Nova is the most durable, reliable and brightest of all of the many many lanterns that I own, and should be the only Lantern that one buys for hosting any outdoor part or gathering. There really is nothing out there that can hold a candle to this lantern, no pun intended...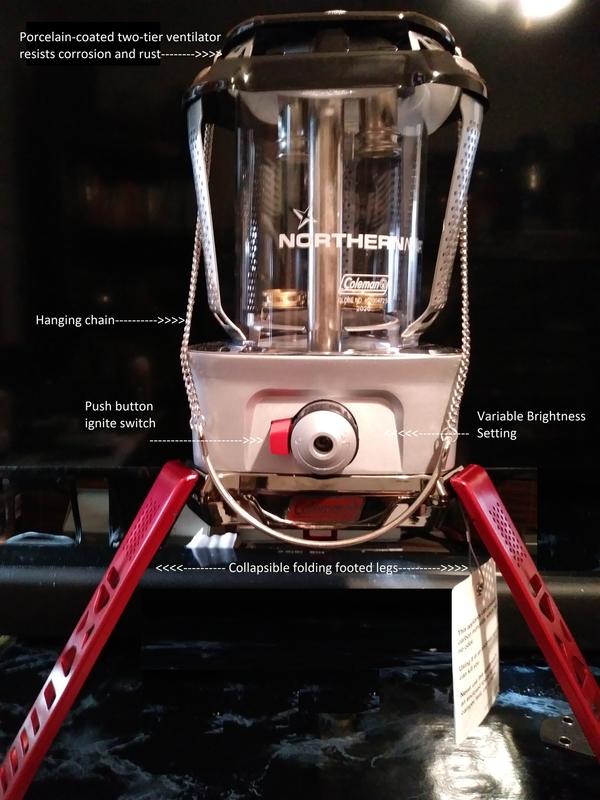 Originally reviewed on coleman.com
4 out of 5 stars
May 24, 2022
Brightest but no replacement help on globe?!
I bought two for our cabin and they are great when they work. Soft side case is not even as good as the box it come in. I have tried for a year to buy a replacement globe to no avail!!!

Originally reviewed on coleman.com
5 out of 5 stars
January 4, 2022
Works on Dark Alaska hunts
Bought two and gave the other one away because one is all you need. Mantle is tricky the first time only. If you can't figure it out after the first time get an LED. Carrying case is handy and so are built in hanging or stand options. Great job on this one.

Originally reviewed on coleman.com
1 out of 5 stars
November 22, 2021
Flimsy. Poor Mantle Design. Noticeably brighter
Flimsy. Poor Mantle Design. Noticeably brighter. The Mantles are your Achilles Heal. Hard to find. Expensive, and quite difficult to put on correctly. If you twist the mantle it will pull apart from the base as you prime it. The Mantle base is not flush. The lid is very frustrating to put back on. The heat gaurd is flimsy and you have to work in each guard but they dont fit properly until really pushed in. Its very expensive.

Originally reviewed on coleman.com
3 out of 5 stars
January 15, 2020
Incredible light output, but expected more value
At 3,000 lumens, you'd be hard pressed to find any other lantern that could put out that much light; the coverage area is fantastic. However, I expected a bit more from the brand name and price point. I don't feel that this is as well constructed or rugged as any of the other Coleman lanterns that I own, especially the NorthStars. A lot of the reviews that I read talked about the noise, I assumed that they meant the typical sound you get with a gas lantern, magnified by the fact that there were two mantles--not so--mine seems to suddenly hit a high pitched acoustical resonance when you dial down the gas valve to the midpoint (about the sixth detent) and becomes a screeching 150 decibel siren by the time you reach the lowest setting. To me this is a design flaw that kind of renders the dimming feature useless. Bottom line, would I recommend it? Probably, if you can find one at a really good discount.

Originally reviewed on coleman.com
4 out of 5 stars
February 6, 2019
This lantern is so bright you need sunglasses
[This review was collected as part of a promotion.] Works great and it will light up most of my back yard.

Originally reviewed on coleman.com
Need Expert Advice?
Our Gearheads Can Help