Current price:

$159.20

Original price:

$199.00
---
Why We Built The Ski And Snowboard Boot Bag
You've probably heard it before: boots are the most important piece of gear you can own, no matter your skill level. So while you can easily rent skis upon arrival, we built the Ski and Snowboard Boot Bag to haul the most valuable item of all. Our durable boot bag cradles our personally fit, oh-so-comfortable boots in a lined bag that's easy to carry through airport terminals or locker rooms, with both a removable shoulder harness and webbing handles for quick grabbing off the baggage carousel. And even better, this boot bag attaches to our Backcountry Double Ski And Snowboard Bag for an all-in-one snowsports solution.
Details
Modular carry boot bag for flying with your ski boots
Durable tarp materials can handle busy travel adventures
Tear-resistant lining defends itself from your gear
Opens flat into changing mat for added parking lot convenience
Internal goggle pocket features a fleece lining to protect lenses
Ventilation eyelets help your boots dry out during travel
Zippered side pocket crafted to stash cozy apres-ski slippers
Integrates with the Backcountry Double Ski and Snowboard bag
Item #BCCZ2DY
Material

[face fabric] 100% PVC, [lining] 100% nylon

Volume

38L (2319cu in)

Capacity

1 pair ski/snowboard boots

Backpack Carry

stowable straps

Pockets

[external] 1 slip, 1 zippered side, [internal] 2 zippered

Closure

zipper

Dimensions

13 x 24 x 11in

Claimed Weight

2lb 12oz

Activity

travel, skiing, snowboarding

Manufacturer Warranty

lifetime
Reviews
Q&A
Overall Rating
3.5 based on 10 ratings
Fits Slightly Large
Screen reader users: the following list provides a visual scale to illustrate the product fit. Please refer to the heading above for the fit type in text.
Runs small
True to size
Runs large
What do you think about this product?
View
Selecting an option will reload the available reviews on the page
2 out of 5 stars
November 22, 2023
Wanted to love it but too many minuses..
Great design and definitely durable looking, wanted to pair up with backcountry ski bag. However, the bag was too big for carry-on, and the bag couldn't stand on it's own. Hated to return but it didn't fit the purpose I intended and that is to keep your boots/helmet smaller personal items with you.
4 out of 5 stars
November 3, 2023
Amazing bag, needs a more inclusive fit
Familiarity:

I've used it once or twice and have initial impressions

Height:

5' 1"

Weight:

null
The bag itself is absolutely incredible. It's intentionally designed with every detail well thought out. There is a place for all of your ski/snowboard needs and it fits comfortably in the overhead storage. My only complaint is that the shoulder straps need to be able to adjust to a shorter length for a more inclusive design. I wonder if this was fit on an average height woman? I am a 5'1 woman with a short torso, and completely understand that I am not the average wearer, but carrying it on longer walks through the airports puts a little unnecessary stress on my back because I can't get it to sit high enough.
2 out of 5 stars
October 27, 2023
Too Big, Not Durable
Familiarity:

I've used it once or twice and have initial impressions

Weight:

null
Bought this intended as an overhead bin bag, and quickly found it was way too big. We travel with a fully loaded double ski bag, so checking skis + boot bag as one bag doesn't work for us. Hard to pack given the lack of structure, and not durable. Took it on one trip, and the backpack strap already started to rip. Won't be using again, which is unfortunate given the price.
3 out of 5 stars
February 17, 2023
Unique, But Way Too Large
Familiarity:

I returned this product before using it

Weight:

null
I must say this bag is absolutely stunning. However, it turns out to be waaaaaaay too larger than I thought. I was looking for a bag to carry a pair of boots, a work laptop, some clothing as padding, and other accessories. My intention was to use it as a carry-on, or more ideally as a personal item, on a flight. But my rough measure on this bag is 25 x 17 x 11, which exceeds the carry-on limits of most airlines. This means that if it is checked at the gate, it will undoubtedly get soiled, which is not ideal for a backpack. In my opinion, this bag seems to be designed to fit everything in it, including helmets that may be carried by hand. Carrying boots in a backpack on a flight is not a common practice, because there are numerous options of boot bags that can be checked together with ski bags on the market. The only reason for doing this is the weight limit on the combined ski and boot bag. In my case, I have two pairs of skis and one pair of boots in the ski bag, which is close to the 50lb weight limit. This is why I need a backpack-like boot bag to complement my checked ski bag and carry-on suitcase. But this bag overkills, too much. Better paddings are also needed for protecting laptop. If a smaller version of the bag is available in the future, I would definitely look into it. But for now, DB Strom 25L or 30L may be a better option for my needs.
3 out of 5 stars
January 27, 2023
Good Bag, Not Great
Familiarity:

I returned this product before using it

Weight:

null
If you haven't watched the YouTube review by Backcountry you'll want to watch it before reading this review. This bag is a great idea but the overall execution is just good. Which is not what I'm wanting at the $200 price point. The outer bag material is durable, the buckles for the shoulder straps could use some more heff, and the interior mesh could have been more stout. First thing to understand is that the bag is big, slightly bigger than the size of a carry-on, so if you were thinking about gate to gate airport travel with this on your back I would explore other options. All the separate compartments are nice and the initial reason for my purchase but the goggle pouch is to small and they could save some space on the helmet compartment by allowing the goggle compartment to sit inside the helmet. If you have your boots laying in the bag nice and tidy and try to close it, the helmet is going to rearrange your boots for you. The helmet compartment portion hangs lower than where the top of your boots would be causing interference. Some straps to hold your boots in place would go a long way to help the bag. The main compartment has 2 sets of double zippers which was a surprise and something not show in their video. It gives you access to either side with out unzipping the bag the whole way around if you want it. Nice in theory but probably won't see a lot of use in practice. Also not shown on the video is that the organizing panel shown in the back compartment zips out to make a pass through to the boot compartment for an even larger main compartment. The backpack straps are not something you'd want to have to use for an extended period and the strap storage feature is not good. You have to fold the straps in half and force them into an elastic pocket which will then protrud about an inch from the bag instead of laying flat. The bottom attachment points also tuck behind the lumbar pad but again the pocket is shallow for what you're putting in it (4" depth) so the buckle and strap is bunched up instead of laying flat. Overall if you're only taking your gear a short distance from the vehicle or if the airline will let you get away it saying this is a boot bag to accompany your skis or board it could be a good option. If you're looking for a nice backpack that organizes your ski gear and can free up space in your carry on this is not the solution. I like Backcountry gear and really wanted to like this bag but it didn't fit the use I needed it for.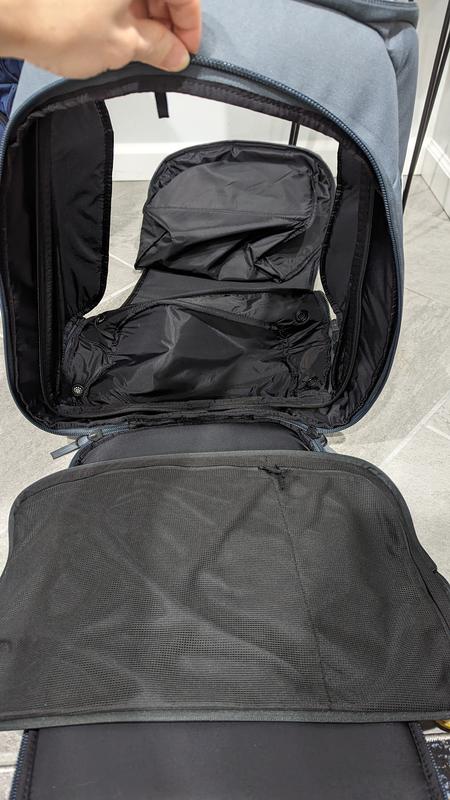 5 out of 5 stars
January 12, 2023
LOOK NO FURTHER
Familiarity:

I've put it through the wringer

Weight:

null
Stop looking for something better because you won't!!!! This is the BEST and ONLY bag you'll ever need for all your mountain activities. I love all the pockets that it has, everything has a place, such as helmet, goggles, extra layers, socks, and smaller items. I saw this bag on Backcountry's tiktok and I IMMEDIATELY purchased and haven't regretted it. My whole family wants one but they need more colors so we're not all matching! It's durable, easy to carry, looks so clean, lays nicely and has vents for your boots. I never thought about it before but they have this zipper system that you can open the main compartment from any side which is cool. Overall, this thing is amazing and you really don't need to know anything more.
5 out of 5 stars
January 5, 2023
BUY THIS BAG
Familiarity:

I've put it through the wringer

Weight:

null
I was hesitant to get a boot bag- but let me tell you, this is one of the best purchases I have made this season. Easily one of the most thoughtfully designed products I own. The main compartment is big enough for my boots, bib, fleece and shell with plenty of space, and then helmet & goggles fit easily in upper compartment. This leaves other stuff pockets for warm socks, snacks etc. The water bottle pockets are also suprisingly helpful. Love that I can unzip it in the parking lot as a changing mat. I flew with this through Europe with boots, laptop in the back pocket, all my travel things in the helmet pocket and had no issue fitting in to overhead bins. Was comfortable to carry around airport, and honestly just chose to use this as a duffel on another 4 day trip instead of my usual duffel. Also love that it integrates in with the ski bag, although did not use this function much, because very comfortable as a backpack with the front strap clipped. Without a question- buy this bag.
3 out of 5 stars
December 29, 2022
Good bag but easy to break
Familiarity:

I've used it once or twice and have initial impressions

Weight:

null
One of the shoulder strap buckles broke the second time I used it. Otherwise it fits a lot of stuff which was nice.
5 out of 5 stars
October 31, 2022
You NEED this you just don't know it yet
Familiarity:

I've put it through the wringer

Weight:

null
Really didn't think I needed this but after using it last season I'm hooked! Dedicated pockets for boots, helmet and goggles. The stash pockets on the outside are great for my slippers that I wear while driving to the resort. The reason I love it though is because after a day of skiing I can throw everything back in the bag and take it all back into the house in one go. Too often I have left my boots in the truck overnight and paid the price the next day. The boot bag also integrates perfectly with the Backcountry Ski Travel bag which makes getting through the airport a breeze.
5 out of 5 stars
September 9, 2022
Just got this, haven't used
I was looking for a bag that fits in an overhead bin that would hold a pair of ski boots and a helmet, +/- other stuff. This is a large backpack that seemed larger to me than it's stated 38L. It feels larger than my nominally 42L 21" wheeled carryon, and will probably hold more. It easily fit my Mondo 24.5 boots in the front pocket and my helmet in the top pocket, with PLENTY of space leftover for soft goods like ski pants, base layers, etc. I'm confident I could everything I need to ski except for skis and poles in this bag. I don't think it would fit official carryon dimensions if it were completely stuffed full, but would probably still fit in an overhead on most flights. It does have little clips above the shoulder straps that clip neatly onto the webbing loops of the matching Backcountry ski bag roller, which really should be noted in the description because it's a nice feature. It's not a hiking backpack, and the straps aren't thickly padded or particularly comfortable. But that's not why you buy this. You buy this for the purpose of carrying your boots and helmet onboard a plane, and for that I think it will work well.
Need Expert Advice?
Our Gearheads Can Help