---
SUP Taxi XT Surf Rack
It's no wonder why Thule's SUP Taxi XT Surf Rack is one of the most popular SUP carriers available today, what, with its cutting-edge tech and striking good looks. The newly designed push button lock system allows for quick and easy locking strap operation and security when you're short on time, while the heavy-duty, steel reinforced webbing and easy-to-use locking cams deliver unrivaled security for your boards when you need to make a pit stop. Exclusive to this model, the telescoping design delivers a custom fit for your board (up to 34 inches wide), allowing you to adjust easily for a snug, locked-in fit. This rack carries SUPs that go all the way up to 55 pounds, and even features soft, weather-resistant padding to protect your boards from debris on the road.
Details
Leader of the pack when it comes to roof racks for your SUP
Exclusive telescoping design customizes the fit
Push button lock system secures your boards for quick stops
Soft weather-resistant padding protects against damaged
Heavy duty steel-reinforced webbing and cams are unbreakable
Item #THU007H
Board Capacity

1 SUP

Locks Included

yes

Compatibility

[Thule] AeroBlade, SquareBar, Xsporter Pro

Part Number

810001

Manufacturer Warranty

limited lifetime
Reviews
Q&A
Overall Rating
3 based on 34 ratings
What do you think about this product?
View
Selecting an option will reload the available reviews on the page
5 out of 5 stars
August 6, 2023
EASY to use!!!
Received product within days. I've used it to carry 2 sups and it works perfectly mounted on our 2019 Honda hrv. At 100km/hr, we barely noticed any difference while driving. The instructions should mention that the 3rd blank key is for installing the locks, so that part was a pain. Now that it's all set up, I'm very satisfied with the functionality and ease of use of our Thule SUP Taxi XT. Thank you!!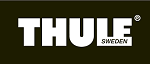 Originally reviewed on manufacturer
1 out of 5 stars
June 19, 2023
You will need a drink after installing this one
I'm glad they provided an opportunity to review because to keep your sanity you will need it. There are several steps the "instructions" do not cover and it will take your best McGyver or Sherlock Holmes impression to figure out. It involves the keys and the straps. Can't wait to actually try to attach a surfboard. I might go study engineering at MIT first.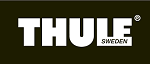 Originally reviewed on manufacturer
5 out of 5 stars
February 6, 2023
Easy to use - works GREAT!
I've been using the Thule SUP Taxi now for a few months. It's easy to put on, and works so well. I feel so confident driving with my paddle board on the roof of my car on the highway and love being able to take my paddleboard all over FL.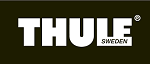 Originally reviewed on manufacturer
3 out of 5 stars
November 14, 2022
Easy Install, Not secure enough for surfboard
This product is very durable and easy to install. However, if you are using this to carry anything less than a big longboard, it is not secure. I have a 7'6 surfboard and I could not get the straps tight enough to secure the board in place. I do not recommend getting this unless you have a board that is thick or are transporting multiple boards.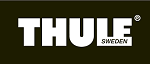 Originally reviewed on manufacturer
5 out of 5 stars
September 6, 2022
I was nervous about setup, but I was proven wrong.
So there were a lot of mixed reviews I read on here and other sites about feeding the straps through in order to secure the boards but I was nervous to try cheaper products and I needed a taxi for two boards. The more recent reviews were better than the original. I traveled about 100 miles with the boards on the carrier and they didn't move at all and I have larger paddle boards. We had no issues with the straps except for when I actually took the boards off and ran the straps back through the carrier to secure them, it was a little tougher then but I was able to get it within three tries. My take aways though for other buyers. The directions are horrible! The last page shows an image that I had no idea what it was and I had called Thule and it took 3 people to finally figure out that it's an outline of a blanket that you can use provide and use to cushion between the two boards. Also, this is my first Thule product and I had no idea about the locking bolts and that you have to use the master key in order to insert them and remove them. Would have been nice to have that listed in the directions. I found a video on youtube for a totally different product that helped me with this. There's also two black caps that come with the product and if you don't look closely, you'll miss where they come into play in the directions. I had watched a video from etrailer that goes over the setup of this product on youtube and watched it several times before I installed. Note they installed it backwards compared to Thules instructions but it gives you a good sense overall on how to install the product.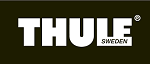 Originally reviewed on manufacturer
5 out of 5 stars
July 1, 2022
Awesome fit
The fit onto my factory cross baes was awesome, now I can take my SUP anywhere I go with ease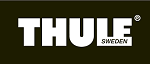 Originally reviewed on manufacturer
5 out of 5 stars
June 23, 2022
Awesome roof rack for surfboards!
We got this a few years ago and it is the easiest thing to use. We can get two surfboards strapped in super easy. Nice snug fit, straps are easy to use and the leftover strap tucks back into the unit. Would recommend to anyone who needs a surfboard or paddle board rack!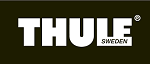 Originally reviewed on manufacturer
2 out of 5 stars
May 15, 2022
The 1st version worked fine, but they ruined that
the strap on the 2nd version has a soft, floppy end to the strap which is very difficult to pass through the locking cam. The earlier version has an openable gate, plus a hard rubber end to the strap which made it easier to store the extra strap in the rack frame. Bring needle nose pliers if you use this new version and lots of bug spray......you will be fussing with it for quite a while!!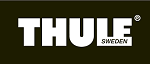 Originally reviewed on manufacturer
5 out of 5 stars
May 7, 2022
Perfect for my paddle boards
I have been using it since 2017 to carry my paddle boards to Arizona lakes and Mexican beaches. It's perfect for my needs. I also own a trailer to carry more paddle boards.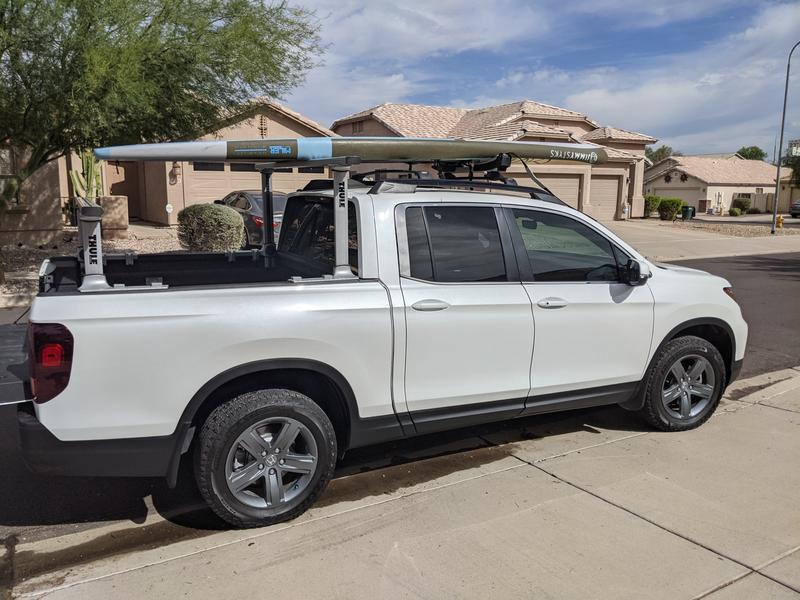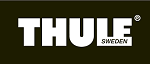 Originally reviewed on manufacturer
1 out of 5 stars
July 9, 2021
V2 is worth then V1
I thought getting this version will be an upgrade... Boy was I wrong. The new strapping system need nose pliers to feed the strap into. The strap end is so flimsy it doesn't even go through the buckle attachment. Very disappointed I shouldn't have sold my old sup taxi, ho wait parts to repair the flimsy attachment was unavailable.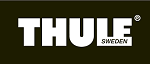 Originally reviewed on manufacturer
Need Expert Advice?
Our Gearheads Can Help
The Thule website says this rack hold 2 SUP boards. Backcountry site says 1 board. Do you k ow which is true?