Quasar 3D Insulated Double Sleeping Pad
---
Why We Like The Quasar 3D Insulated Double Sleeping Pad
We pack our Quasar 3D Insulated Double Sleeping Pad when we're sharing space with a friend or simply want to spread out more on camping trips. Thanks to the generous insulation and body-hugging design, we're kept warm throughout the night while staying centered on our pad. Though it's lightweight and takes up minimal space, the durable material is abrasion-resistant and ready for the long-haul.
Details
Packable air mat to share with a friend or spread out on
3.3 R-value makes it a great choice for spring to fall
Primaloft insulation maintains warmth and packs down
Body mapping curves keep you centered as you sleep
Adjustable valve to customize firmness or quickly deflate
Item #NEMK02A
Material

[face fabric] 30D polyester ripstop, [insulation] Primaloft

Style

inflatable

Shape

rectangular

Thickness

3.5in

R-Value

3.3

Pump

Vortex pump sack

Stuff Sack

included

Packed Size

9.5 x 6.5in

Dimensions

76 x 52in

Claimed Weight

3lb .6oz

Manufacturer Warranty

lifetime
Reviews
Q&A
Overall Rating
4.5 based on 11 ratings
What do you think about this product?
View
Selecting an option will reload the available reviews on the page
3 out of 5 stars
September 13, 2023
Regular too narrow
Comfortable, keeps you off the ground, long enough (but in only 5'6"), but NOT wide enough. I invariably fall off one side or the other.

Originally reviewed on nemoequipment.com
5 out of 5 stars
August 21, 2023
Really nice
Comfortable and easy to inflate. Well worth the purchase

Originally reviewed on nemoequipment.com
4 out of 5 stars
August 14, 2023
NEBO 3D Sleeping bag
The mattress itself is very nice. Used on the famous RAGBRAI bicycle adventure in Iowa and slept well. The accompanying filler bag was useless. Popped on the second, literally, second bag full of air. Bring an electric or pedal pump.

Originally reviewed on nemoequipment.com
5 out of 5 stars
June 15, 2023
Awesome Double Sleeping Pad
My wife and I love this sleeping pad so far! It is fairly nice and compact, and we have taken it on a number of camping trips ranging from the Rocky Mountains to Great Sand Dunes with good results. We did wind up putting a couple of foam pads under it for the Rocky Mountains since the night was going to get down into relatively cold temperatures (mid 30s, F). We did wind up getting a small hole in it (likely due to a cactus from Great Sand Dunes), and that was a bit of a pain to track down, but we were able to patch it and the pad is back to good as new now. The vortex air bag it comes with is great at filling it, and it normally only takes me 8 or 9 breathes to get it fully inflated. The top of the pad gives a bit of extra loft which helps keep your head up, and also makes it a little harder for a pillow to slide off (I haven't had to worry about strapping my pillow to the pad yet). It is nice that it is a doable pad for longer treks without having to strap multiple single-person pads together.

Originally reviewed on nemoequipment.com
4 out of 5 stars
May 30, 2023
Happy Camper.
Wow we have come a long way from foam sleeping pads for those who want comfort and need to carry light. This is a great sleeping pad. I'm not light, but it holds me well and I don't bottom out. I love the options for size and insulation. Went with the wide non-insulated. Im bike touring Nova Scotia and so far it's been a great choice. A few things I'd like: more curvature on the sides for us side sleepers. There's some but more would be better. And to be very fussy, I'd like to chose what side to inflate it from.

Originally reviewed on nemoequipment.com
5 out of 5 stars
May 10, 2023
Great pad for couple hikers
Worth the money if you want a good nights rest while backpacking, its worth the money and weight especially when your hiking in tandem.

Originally reviewed on nemoequipment.com
2 out of 5 stars
March 23, 2023
Feels great, pain to inflate
It's extremely comfortable, and while it lasts, it keeps its inflation for weeks. However, like the previous double pad we got from Nemo, this one acquired a slow leak after about 18 months (and maybe 50 nights sleeping on it). The Vortex inflation bag is a terrible idea. It's very difficult to inflate past 80% desired firmness without popping the valve off (the valve literally pops out, still attached to the inflation bag). Do not recommend.

Originally reviewed on nemoequipment.com
5 out of 5 stars
July 13, 2021
Finally my hips don't hurt!!
This is the first pad of many tried that my hips don't dig into the ground while sleeping on my side. You do need two people on it or you will still sink through. We also noticed ours was the only one that didn't make a lot of noise when your resting around before bed.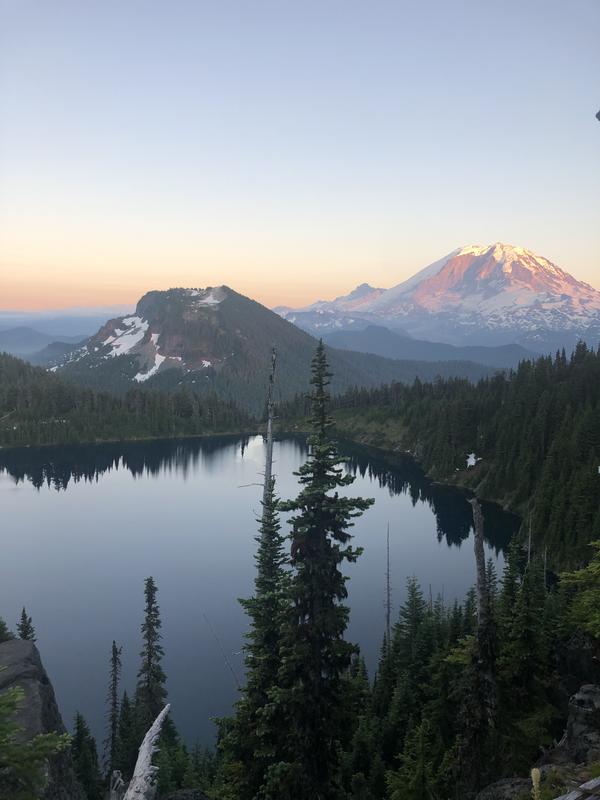 Originally reviewed on nemoequipment.com
5 out of 5 stars
July 6, 2021
"Great Pad for Two"
My girlfriend and I have used this sleeping pad on several occasions and have been very happy with the purchase. It's large enough for two adults to sleep side by side comfortably and Is well constructed. I've had no issues with it holding air and it provides a nice level of insulation during colder nights. I probably wouldn't take it backpacking just because of weight and size, but it's highly recommended for car camping and such. I paired it up with the NEMO Aurora, (2P) and it's been perfect. Highly recommend!

Originally reviewed on nemoequipment.com
5 out of 5 stars
June 1, 2021
Love it!!
I'm so happy with my purchase! My large dog has slept on top of me when camping in the past and this gave us plenty of room to sleep comfortably in the tent. Also, as a side sleeper I was very pleasantly surprised with how comfy this was for multiple nights. Highly recommended!

Originally reviewed on nemoequipment.com
Need Expert Advice?
Our Gearheads Can Help