---
Alpine StowAway Pots
Easy to pack, light to carry, holds up to heavy use, the Alpine Stowaway Pots make the perfect companion for your weekend in the mountains, offering the essentials you need to keep yourself fueled with good, hot food at the campsite, without breaking the bank.
Details
A packable set of cookware for feeding yourself at camp
Stainless steel construction holds up to heavy use
Hinged, easy-lift handle flips over lid to lock in place
Versatile and can store gear when you're not cooking
Item #CAS0469
Material

stainless steel

Recommended Use

camping, backpacking, cooking

Manufacturer Warranty

limited 3 years
Reviews
Q&A
Overall Rating
4 based on 38 ratings
What do you think about this product?
View
Selecting an option will reload the available reviews on the page
5 out of 5 stars
July 24, 2023
Best camping and boating pots
Best camping and boating pots I have used in my lifetime. I have bought them for my kids and grand kids! I found my first small pot at an old campsite and with heavy cleaning it is still in use today! Thanks!!!

Originally reviewed on a Cascade Designs brand site
5 out of 5 stars
March 12, 2023
Best pots there are
Owning all 4 of them; 1600 Can store a complete kitchen inside. 1100 Is my favorite. It just fits the sides of a 10L Berghauss side pack. 775 Is a solid 1 person pot. 475 Never took it out. It spends its life at the windowsill. Overall: ++ Wide base, good handle, secure lid, bombproof, usable on every heat source, usable with every food, dishwasher safe. + Reasonable non-stick if oiled correctly +- None - Some nesting polypropylene bowls would be a nice addition. A slightly wider and lower/sloped 2 liter version would be great, to better flip pancakes/eggs :) -- None Favorite stands for the 1100 and 1600 pots, with a Trangia B25, are: A Trangia Triangle: Low profile. Full simmering control. Windproof. Light weight. A Firebox Nano: A nice wood & alcohol combi. Some simmer control. Light weight. A Bushbox LF: The perfect wood & alcohol combi. It weighs more, but is enables grilling and bbq. And is a very stable platform. Overall the pots weight, is more than worth it due to the functionally that they give.

Originally reviewed on a Cascade Designs brand site
4 out of 5 stars
January 27, 2023
its very good and it
its very good and it will not tip over if you have it filled and try to pour out the contents. Also if you pour the fluids out at a faster speed it wont dribble over the sides. These were the 2 complaints I kept hearing about. I could see an improvement on the second issue with maybe an indent area on the edge where you can pour the contents and it wont dribble. One last thing that can easily be corrected is to have at least 2 volume markers on the pot. While your at it how about adding a canvas or nylon carrying bag for it.

Originally reviewed on a Cascade Designs brand site
4 out of 5 stars
December 18, 2022
775ml stowaway pot
I just recieved my 775ml sized stowaway pot and have to say it is built very nicely. The complaints I heard was it doesnt pour out cleanly and runs down the side. Thats true IF you pour slowly. If you pour it out a little faster it does not dribble. Second, the handle isnt sturdy especially when you pour out the contents the pot can collapse on the tilt. That is not true either. I filled it all the way up and with the locking tab slid close to the pot the handle held straight and the pot did not collapse over. I havent cooked anything yet to see if the handle gets too hot or if theres uneven heating so i will have to get back on this .But overall its compact size and stainless metal seems it will work excellent out in the field.

Originally reviewed on a Cascade Designs brand site
2 out of 5 stars
September 26, 2022
It's ok but…
I have used the 1.6l pot for a little over a year now while camping in the uk; together with the pocket rocket. I've found heat transfer across the bottom of the pot very poor, meaning unless you are only using this to boil water, you get a hotspot on the bottom that burns almost anything even at low stove temperatures. Pouring out is also tricky as the handle isn't stable. The only use where I'd say this would excel is for melting snow in the winter or only boiling water, not cooking. It seems well made and the lid locking handle is a nice feature, but I've found it's not that versatile.

Originally reviewed on a Cascade Designs brand site
5 out of 5 stars
November 8, 2021
Alpine stowaway pots
Good solid pots. Handles are a great feature, no more lost pot grippers. I would purchase again.

Originally reviewed on a Cascade Designs brand site
4 out of 5 stars
October 17, 2021
Great Design but Heavy
I absolutely love this pot design. I'd just really like to see it in titanium. The latching lid is my favorite feature. Being able to latch the lid down not only enables it not to rattle around in my pack but I can also store leftovers inside of it. Just wish it was a fraction of the weight. I'd love to see this classic design made in titanium.

Originally reviewed on a Cascade Designs brand site
3 out of 5 stars
August 2, 2020
Great pot unless you want to pour water
Use for backpacking and home use. Great durable little pot but I always loose a great deal of water to the floor or counter.

Originally reviewed on a Cascade Designs brand site
5 out of 5 stars
April 15, 2020
775ml after 13+ years
I was putting together a survival kit as a Boy Scout and needed a pot that latched. I wanted durability and I found it. It has gone everywhere with me, 48 States and 9 other countries everywhere. At over 3/4 a liter, the size I got is perfect for one person meals and storing the bear necessities. It has one dent and has traveled 43,000 miles with me by sea. My 1 year old Titanium pot scorches fast and has a few dents already. The Stowaway has protected everything I've put in it. It's not so much my survival kit anymore as a small things catch all. If I lose something small it's usually because I squirreled it away in the pot. Or didn't keep it there to begin with. It doesn't have bells and whistles like graduated markings and a pour spout. I can definitely tell those could be useful, but as I've never poured water from the larger ones, I can't say. The 775ml pours into a nalgene well enough. I don't see the point in carrying a silicone spout, but they exist and slip on over the wall of most pots. Weight is and is not a concern when it comes to equipment, if it's worth the weight you carry it. I go for rugged stuff and then look at weight. Haven't noticed any wear in the pocket of my pack where the pot sits, but some items have an odd shape that you want to pad with something. My hat goes on top of my pot and pads my bag from it, much like I pad the tent poles that I can feel through the end of my rolled tent. Take care of your gear and it will take care of you.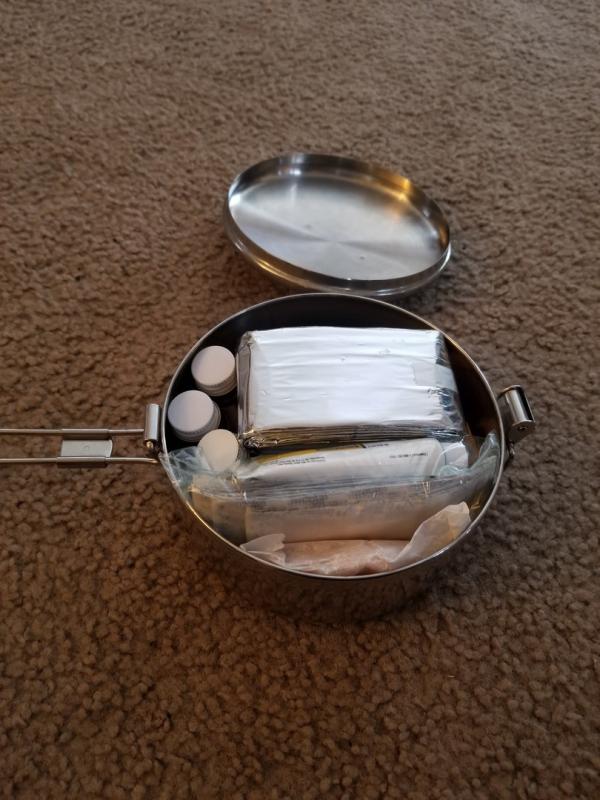 Originally reviewed on a Cascade Designs brand site
2 out of 5 stars
March 16, 2020
Water runs down the side
MSR does so many things so well. I'm very disappointed that this pot just doesn't work. I want to carry one pot. I want to make coffee and pour it into a cup. I can't do that with this pot. Oh well

Originally reviewed on a Cascade Designs brand site
Need Expert Advice?
Our Gearheads Can Help