The Slip-On Rubber Slipper
---
Slip On Rubber Slipper
When you get home from work or wake up on Sunday morning, slip in to the cozy Glerups Slip On Rubber Slipper and enjoy the peace and quiet you've longed for all week. This slipper is made entirely out of wool which is not only incredibly warm and breathable, but also naturally odor-resistant to help maintain freshness. Alternative to Glerups standard slipper, this slipper features a natural rubber sole that gives you better grip on slippery wood floors.
Details
Casual slipper for Sunday mornings
Wool material keeps your feet warm and cozy
Wool is naturally odor resistant to help freshness
Natural rubber sole provides a nice grip
Item #GLE000C
Material

100% pure wool twill

Insulation

wool

Closure

slip-on

Sole

natural rubber

Claimed Weight

[single, size 37] 7.6oz

Manufacturer Warranty

1 year
Reviews
Q&A
Overall Rating
3.5 based on 12 ratings
Fits True To Size
Screen reader users: the following list provides a visual scale to illustrate the product fit. Please refer to the heading above for the fit type in text.
Runs small
True to size
Runs large
What do you think about this product?
View
Selecting an option will reload the available reviews on the page
2 out of 5 stars
December 25, 2022
Defective 2nd pair
Familiarity:

I've used it once or twice and have initial impressions

Weight:

null
I bought a pair of these from Backcountry over 3 years ago and they have been absolutely wonderful...warm and very comfortable...best slippers I've ever had. I thought it might be time for a new pair so I ordered another pair from Backcountry. The left slipper of the new pair has a VERY uncomfortable lump in the sole near the ball of the foot. I tried wearing them for short periods for a couple of days thinking it might just need to be broken in. But the left slipper remains unbearably uncomfortable to the point of causing foot pain. It's an obvious defect in the slipper. I've never run into anything similar in any type of footwear. I'm returning them and may try my luck at re-ordering...and will hopefully get a pair without a factory defect.
5 out of 5 stars
April 15, 2022
The best!
Familiarity:

I've put it through the wringer

Size Bought:

39

Height:

5' 7"

Weight:

139
Love these slippers. Got the rubber sole version. Can wear them outside doing chores, hauling in wood etc. super warm and cozy. I usually wear a size 9 in most shoes, but sized down to 39. Perfect fit. Want more of these!! Highly recommend.
1 out of 5 stars
December 12, 2021
Horrible - waste of money
Save yourself the waste of money. These slippers look nice and are warm but they shed like crazy. These won?t last more then 1 season and I am already seeing the back heel completely wasted. Almost gone from the shedding of the wool
2 out of 5 stars
March 13, 2021
Disappointed, expecting better next time
Familiarity:

I've used it once or twice and have initial impressions

Size Bought:

44

Weight:

235
I did a TON of research on Glerups (vs. other wool clog products) and hoped that my search for house slippers was over. I work from home, live in MN (very cold winters and warm summers), and wanted a house slipper/shoe that is comfortable, breathable, naturally odor-inhibiting, and something that feels great when sitting at a desk, lounging on the couch, or when walking...all year. After spending $115 on slippers (after using the 15% first-time discount) I was expecting exceptional quality, fit, and function. What I experienced left much to be desired. After researching and hearing that I should order one size smaller° by some and to °°order true to size°° by others, I was confused. But I opted for true to size.° First the positives: A) They fit true to size...like a glove. B) They were VERY comfortable when sitting still. C) The wool color combined with the honey rubber sole was very pleasing to the eye. Now for the negatives: 1) The back area was cut much lower than the photos I had seen on several sites online. Most online photos show about 1 inch of exposed felt at the back (above the sole material). Mine had 1/2 inch, but that difference meant that the heel area just felt awkward and constantly slipped when walking. Sort of like wearing a wool flip flop, not a wool slipper. 2) The left slipper° wool thickness was VERY uneven, over 1/2 inch°° thick at about the 11 AM position of the opening but less than .25 inch° at the 4 PM position. In the official Glerups video they demonstrate how they measure for evenness. 3) The extra piece of felt sewn into the heal area of the left slipper was shifted very off center to the right making it look weird. 4) The person who trimmed the foot opening was sloppy, making the side profile of the foot uneven. 5) There was excess glue on two spots of the heel, making it very shiny. I rubbed hard and eventually got it off. By this point I was second guessing my purchase. This pair missed a Quality Control check. 6) Finally, when walking in the slippers, my feet/ankles turned out, making me feel somewhat unstable. I knew about the rocking sole° effect by reading reviews on other sites, but thought that perhaps the issue was overstated and that the rubber might compress and hug the ground more when standing/walking. Not so. If your ankles naturally turn in our out, or if your heel wears unevenly on normal shoes, I would highly recommend that you avoid the rubber sole versions and opt for the leather sole (which, based on logic, should conform more to the floor)...and consider an insole from the Glerups website to level your foot. Additionally, I am at a loss as to why they designed and make a rounded bottom slipper or shoe (rubber or leather sole). Yes, our natural heel profile is rounded when in the air, but the heel/sole of our feet naturally flatten to create optimal surface contact for stability. The Glerups? rubber sole inhibited my stability. It seems like a design miss. I am sincere when I ask who is helped by a rocking sole design? I ended up calling Backcountry customer service and found them very helpful. They quickly sent me a return label for my rubber-soled SLIPPER and helped process an order for the Glerups leather-soled SHOE. I am really hoping for higher quality and a better fit and feel on my second Glerups pair. I think Glerups has a great product concept with a lovely family-owned business story, along with lots of glowing reviews on high profile websites. I want to add a positive review to the mix...if my next pair appears and functions better. I truly hope this review helps other consumers as well as helping the Glerups company succeed by considering an improved rubber-sole design and better consistency with Quality Control. PS - You might also find it helpful knowing what Glerups model numbers mean: A is shoe, B is slipper, G is boot, and R means rubber sole. So, AR means a shoe with rubber sole, B is leather slipper, GR is rubber sole boot, etc.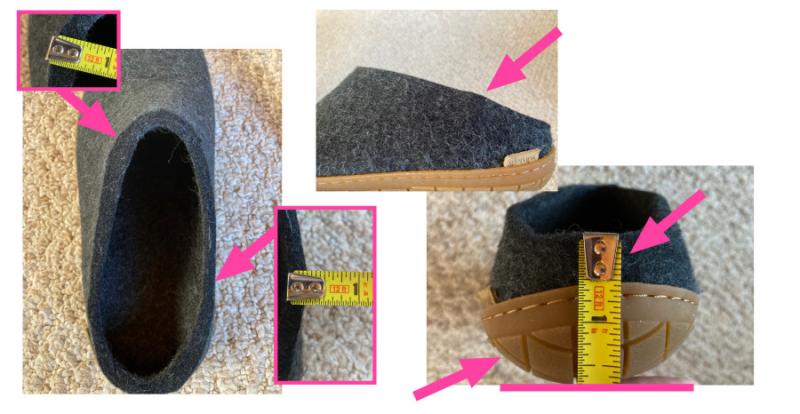 3 out of 5 stars
November 27, 2020
Ok but Inaccurate Color
They fit and look okay, but the color I got looked different compared to the picture.
5 out of 5 stars
November 24, 2020
Ludicrous. And awesome.
Familiarity:

I've put it through the wringer

Weight:

null
Nobody needs a $134 slipper. The idea of the glerups is insane just on the face. And yet, these slippers have solved a life-long problem for me. I have cold feet. But my feet sweat in normal, fleecy slippers. The wool on the glerups is so thick that my feet never get cold anymore and so breathable that they never sweat. I feel guilty admitting that I spend over a hundred bucks on a pair of slippers. But they are *so* good that I'd do it again. Absolutely amazing.
2 out of 5 stars
November 10, 2020
Nice, but not durable
Familiarity:

I've put it through the wringer

Weight:

null
I love these slippers and they fit well, but they're just not durable. I found that after wearing them for a few months the stitching at the heel blew out on both feet. I took them to my tailor to be restitched, but now they're separating *again* just past the repaired stitches. For the price, this lever of quality is just unacceptable. Do not buy.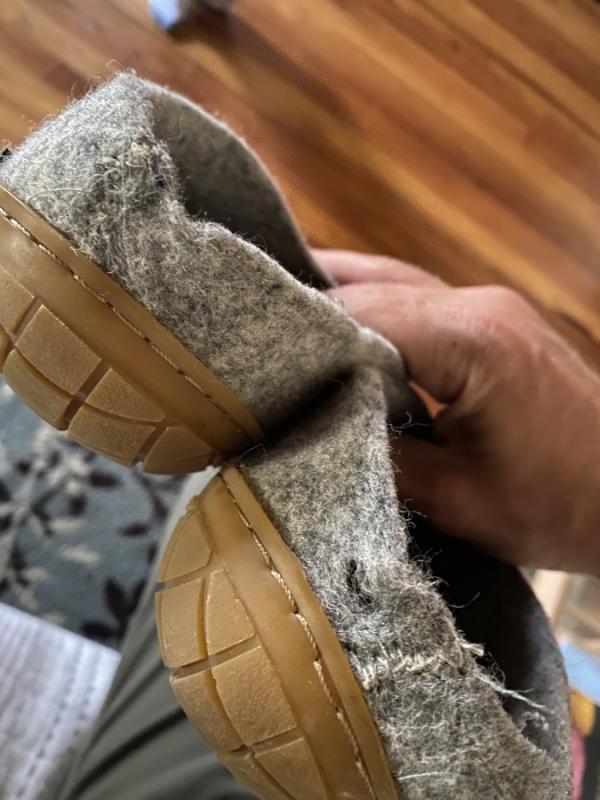 3 out of 5 stars
October 5, 2020
Phenomenally Comfortable, not so durable
Familiarity:

I've used it several times

Height:

5' 10"

Weight:

null
I'd heard good things and as soon as I had them on I found them exceptionally comfy. They're warm but breathable; snug but have good grip. My one gripe, within a few months they began to fray and holes opened up around the toes. I still wear them and I might get another pair but I expect for slippers that cost over $100 to hold up for more than a single winter. I'm a little disappointed they haven't been made to a higher standard, given the cost and reputation.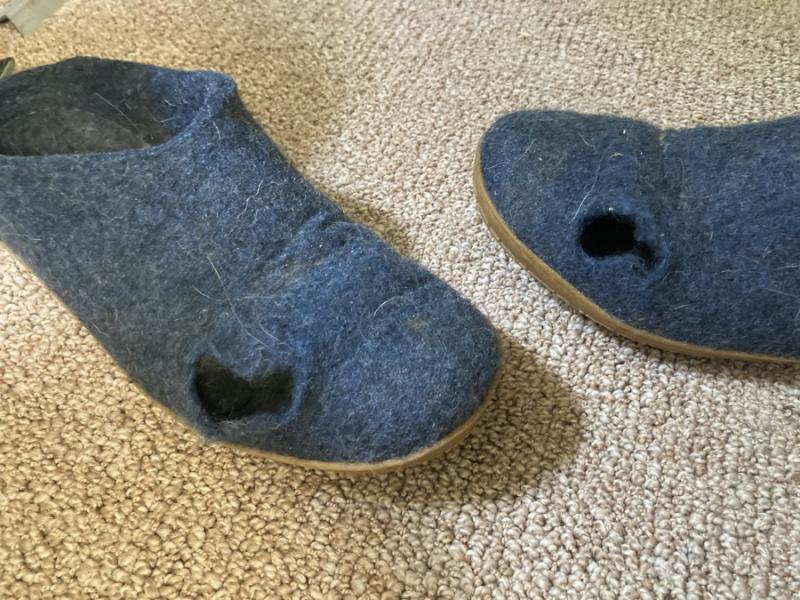 5 out of 5 stars
October 4, 2020
Ordered a second style within 30 minutes
Familiarity:

I've used it once or twice and have initial impressions

Size Bought:

40.0

Weight:

null
Received the charcoal Glerups slip on (low back), rubber sole today. 30 minutes after putting them on and walking around, I came right back and ordered the cranberry shoe with higher backs so I would have options. My regular shoe size is women's 9.5W. The 40.0 fit perfectly with a thinnish smartwool sock and a little loose when barefoot. If I planned on wearing thick socks then maybe a 41 would be better but these are perfect for me as-is.
5 out of 5 stars
September 29, 2020
Pricey But Worth Every Cent
Familiarity:

I've put it through the wringer

Size Bought:

36

Height:

5' 3"

Weight:

124
This is my second pair of Glerups and they still are the best when it comes to slippers. The first pair I had were bought from a different place of business and I bought the suede bottoms in a women's size7/37., figuring I would give myself rooms for socks. They lasted me two years with a few little fixable blow outs until the I went to pull a wool blob off the insole and it all came off. they also stretched out a lot. And the soles got very dirty, despite having a clean house and never wearing them outside. They were also not very form fitting. So it was time to get another pair which lead me to these and I love/prefer them to my original pair. I decided to size down to a 6/36 so I wouldn't have to schlep around in big slippers, I was concerned that I wouldn't be able to wear socks with them but it wasn't an issue at all. These are form fitting, true to size, the soles don't get filthy ( and if they do I can very easily clean them due to the rubber) Still,no sweaty feet as with typical slippers. I am very happy with my choice. The only downfall was that I would have loved to have seen purple as an option. I highly recommend them to anyone looking for a good pair of slippers.
Need Expert Advice?
Our Gearheads Can Help