Ice Climbing Essentials
I have been rock climbing since I was about 10 years old (I'm 31 now) and am absolutely addicted to the sport.  However, up until a couple years ago, I limited myself to rock because, well, ice scared the crap out of me.
All the crazy variables—the cold, the foreign surface, odd equipment, and who knows what else—always kept me away. Fortunately, I have friends who pointed out the error in my logic; all those things are what make ice climbing awesome!  Seriously, the cold is alleviated by wearing the right clothing, the ice surface is really freaking neat, and everyone enjoys swinging an axe! In fact, the skills used on ice are not all that different from the ones used on rock; the variables are somewhat different, but they can be negotiated using good judgement (albeit gained from experience). Anchor building can be a bit more complicated, using tools and crampons is a bit foreign, and dodging ice and snow-shed takes more awareness, but you will adapt.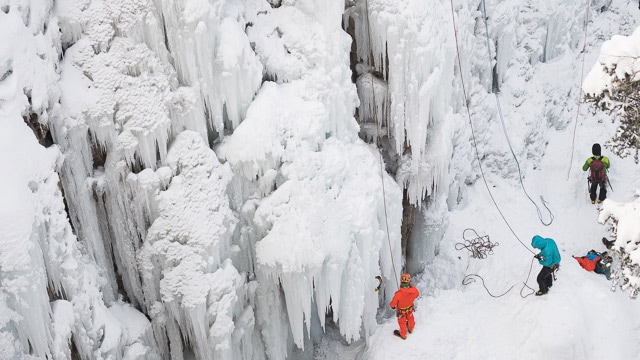 Ice climbing is not really a sport to try and teach yourself, and the transition from rock to ice is best made in a safe environment. If you're interested in giving ice climbing a go, I recommend heading down to the magical town of Ouray, CO and enlisting the services of one of the guiding outfits such as San Juan Mountain Guides or Peak Mountain Guides. The ice park in Ouray provides the perfect environment to top rope your heart out and your guide will teach you the technique and skills to progress quickly.  Falling on ice is a serious thing and being able to prevent one will take time and practice.
Expert tip: After your smile is permanently frozen on your face from a day in the park, head to Wiesbaden Hot Springs Spa and Lodgings to lounge in the vapor cave and soak in the pool.  It's an amazing experience your worn-out body and mind will appreciate.
Essential Equipment for Ice Climbing
As might be expected, much of the equipment you're using for rock climbing can be used for ice climbing, with some variations.
Helmet
For ice, a general climbing/mountaineering helmet will do the trick. I prefer in-mold foam construction with a polycarbonate shell (as opposed to an ABS hardshell) that offers a good amount of easy adjustability so that it fits over a beanie or balaclava comfortably and is easy to adjust with gloves on. Besides looking better, this construction is lighter, much more comfortable, and offers more ventilation. My favorite is the Camp USA Speed 2.0—perfect for everything from ice and rock climbing to general mountaineering.
Read more about climbing helmets
Harness
A harness is one of the most important pieces of gear, since you sit in the thing all day long; as with the helmet, almost any climbing harness will do.  However, there are some advantages to going with an ice-specific option. Unless it's a minimalist model, ice climbing harnesses will feature more adjustability to fit over multiple layers, ice clipper slots to help carry screws & holster tools, and padding that's designed to shed snow (typical mesh constructions tend to collect  moisture).
In my opinion, the Arc'teryx AR – 395a is the bee's knees of harnesses. Unlike most low-profile harnesses, this one is actually comfortable. It allows for a full freedom of movement, the clipper slots and gear loops are well positioned, and it packs away nice and small. For an even more streamlined option, check out the FL-365.
Boots
Boots for ice climbing need of course to be super warm, as well as pretty stiff (¾ or full-length shank), waterproof, and crampon-compatible (ideally step-in). You will also want a boot that offers adequate ankle flexibility for walking and comfort. Modern mountaineering boots offer all this and more which makes them the ideal choice for your ice climbing excursion.
I climb in the Scarpa Phantom Techs—there's a reason these are the most popular ice climbing boot everywhere from the Canadian Rockies to Ouray. They are lighter, more comfortable, and warmer than anything else around. I got a chance to demo them last season before they were on the market and immediately picked up a pair as soon as they were available. Scarpa's NAG last is slightly more narrow than previous iterations and combined with SockFit technology, you get a fit that is secure, comfortable for walking and sensitive when front pointing. Once you put these on and zip up the FlexSeal zipper, your feet will be warm, dry, and ready for a day of getting after it. For a traditional leather option, check out of the Scarpa Mont Blanc Pro GTX, which features the same last and fit, an amazing lacing system, and an integrated gaiter.  Both will work with any crampon but I find Petzl, followed by Grivel, fit best.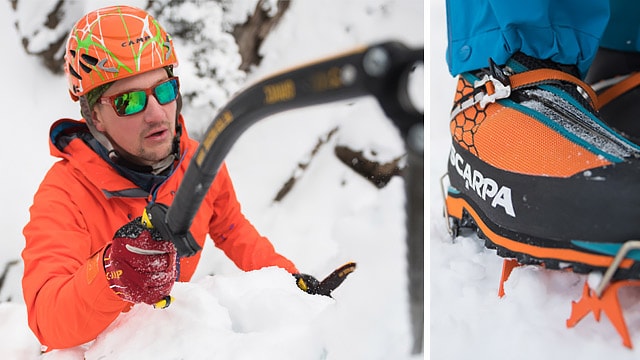 Crampons
Crampons are designed either for general mountaineering or for technical pursuits like ice climbing, so you want to make sure to get the right kind. The main differences between them is the materials they're made from and the shape of the front points. Crampons for ice climbing will have steel points, especially in front—aluminum may be lighter, but it's too soft for ice climbing. They're also oriented vertically so they look like ice axe spike sticking out of the front of the crampon; this vertical design allows the climber to kick the front-points into hard objects to get a grip.
Most ice climbing crampons offer dual front points but there are some instances where a mono-point is preferable, such as in mixed climbing.  Most manufacturers offer at least one modular model that can be adjusted for either dual or a mono point.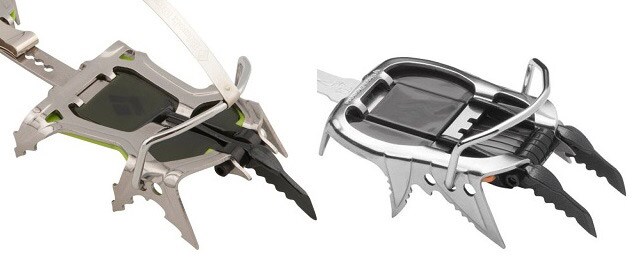 Mono point vs. dual point crampons
Read more about how to choose a crampon
I climb in the Petzl Dartwin crampon, a lightweight (1 pound 11 oz), dual-point option that offers awesome ice penetration and excellent holding power. My favorite thing about Petzl is that their crampons are modular and you can easily customize them depending on your needs. For example, if you want to go from a dual point to a mono point for some mixed climbing, you can purchase the Dart front separately and throw it on the heel piece (which is the same on all of Petzl's steel crampons). If you are doing a technical mountaineering pursuit, throw on the Sarken front section. Pretty awesome.
Tools
Ice tools, those meant specifically for ice climbing, shouldn't be confused with ice axes, which are generally used for mountaineering, The latter tend to have a long, straight shafts while ice tools are shorter and have curved shafts. You'll also notice a different shape to the pick; ice tools usually have what is called a 'reverse curve' shape, a protrusion at the end of the curve that makes it easier to pull the pick out of the ice. Mountaineering axes generally have a simple curved pick, since in general you're a lot more interested in it grabbing and holding during a self-arrest!
I use the Camp USA Cassin X-Dream Ice Tool —  it's all about the swing and nothing quite compares to the X-Dream. This tool is well balanced and produce an amazingly natural swing. It may be a high-end tool, but it's not just for advanced climbers; the X-Dream will turn novice climbers into veterans and transform seasoned climbers into experts. It really excels on delicate ice and the angle of the handle (which is adjustable for dry tooling) greatly reduces fatigue. It comes with a Mixte pick, which is a great all-around option. The Ice pick excels at ice and alpine, and the Race option is for those people who do competitions or train on plastic.
Rope
For ice, you'll need a dry-treated option and for the purpose of the climbing we're talking about in this article, a single rope. Diameter and length choice is based on the routes and end use, but if you're doing a lot of top roping (like in Ouray), I'd go for something in the 9.5-10.2 range and 70m.
I own the Blue Water Lightning Pro Double Dry 9.7mm –  it fits the bill, comes in a bi-patterned option, and is a delight to climb on and belay with.
Belay Device
Not every belay device is ideal for ice climbing. For sheer versatility and affordability, it's hard to beat a tube style, auto-blocking device such as the Black Diamond ATC Guide for ice. I highly recommend an auto-blocking option such as the Guide version, as it's pretty common to have to belay the second from above off a solid anchor. I'm not a fan of using an assisted locking device, such as the Petzl Grigri 2, for ice climbing. It's common for the rope to ice up during a climb and it's much harder to deal with that on a Grigri than with a tube style device.
Headlamp
When choosing a headlamp for ice climbing, you'll want something with a bit of power to it. For active pursuits, I always turn to Petzl headlamps. The Petzl Reactik offers reactive lighting, which automatically and instantly adjusts brightness to the need of the user. This means that you don't have to handle the Reactik nearly as much as you would a regular option. It also comes with a rechargeable battery or can be switched out for standard batteries for those longer excursions.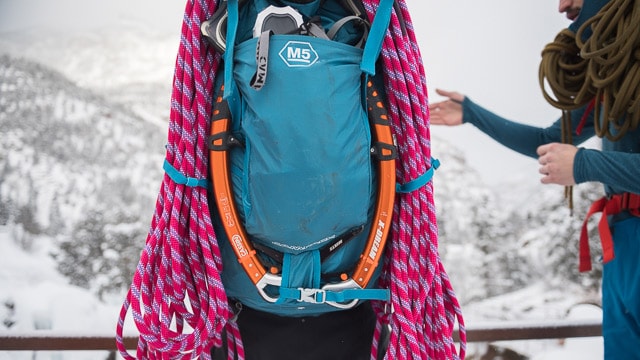 Pack
When choosing a pack for ice climbing, you'll probably want something in the 50 liter (3000 cubic inch) range since you are carrying in a bunch of gear. For more alpine-oriented pursuits, you will want to lean towards a lighter-weight option as opposed to a more burly and durable construction. Additional things to consider include rope, helmet and ice tool carrying systems, as well as the ability to carry crampons on the outside of the pack. In Ouray, you are moving from one area to another constantly, so being able to strap these items on the outside versus having to stuff them back in your pack is ideal.
The Camp USA M5 backpack is a great size for ice climbing, it carries tools, crampons, and rope on the outside, and it has a rear entry panel for easy access.
Ice Climbing Rack
Like building a trad rack, building a rack for ice climbing requires a commitment to some gear, even if you're just sticking to top-roping for the time being. You still have to build all of your anchors, which is what most of the rack is for, and you'll want at least a couple ice screws to use as directionals on some routes.  The ice holders are also nice to have for racking your tools when you are ready to be lowered or if you are rappelling.
Basic requirements include: ice screws, holders, quickdraws, slings, locking carabiners, cordelette or webbing, a V-thread hook, and a knife.  Even if you're only top roping, I would still bring a couple ice screws in various lengths to use as directionals, along with a couple quickdraws.  A V-thread hook isn't necessary in a place like Ouray, since everything can be set up off chains or natural anchors. Following are some of my recommendations:

Clothing
Choosing what to wear for ice climbing is the same as with any cold weather pursuit, layers are key. Having a layering system that is versatile for any weather situation will ensure that you are always dry and comfortable. Your approach will be the same as layering for any cold weather activity, except that you will want an additional belay jacket (usually a big puffy) to throw on over everything else while you're standing on belay. Your choice of gloves will also be pretty important. Here's what I like wearing:
Related
Shop