10 Things Every Camp Chef Needs
Cooking away from home can get tricky, but it's a very rewarding experience.
Cooking for a group of folks brings everyone together for a common need: nutrition. A good camp chef needs to be resourceful and creative. No matter the length of the trip or number of people, there are a few things that should go in your camp kit every time. Here are 10 essentials that are worth turning around for.
Utensil dopp kit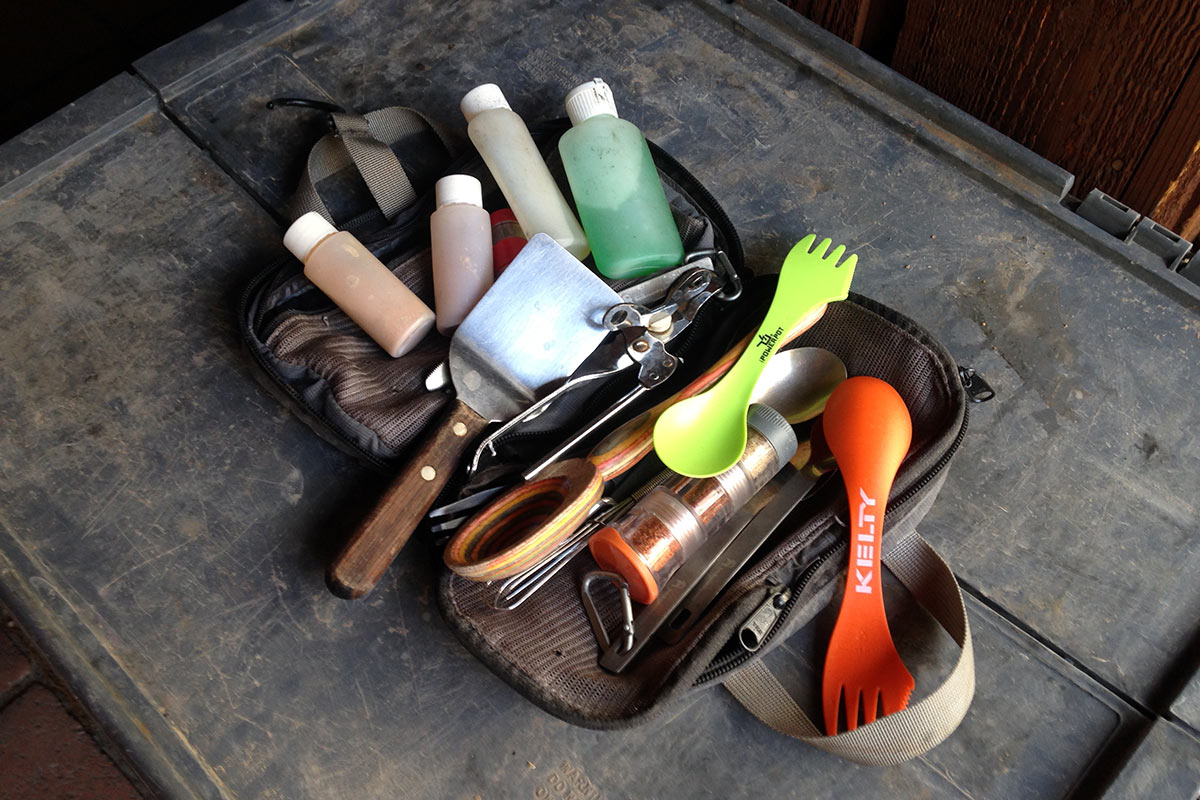 There are dedicated kitchen organizer kits, or you can repurpose a dopp kit or toiletry kit. Either way, your kit should include the following utensils: a spatula, mini whisk, can opener/cork screw/bottle opener, knives, forks, spoons, a pocket knife, seasoning, oil, soap, and a sponge.
Egg holder
Bringing eggs on a road trip can be difficult. The last place eggs want to be is in the back of a truck going 40mph down a dirt road in a cooler, holding on for dear life. Do yourself and the eggs a favor. Get a plastic egg holder (a cardboard carton will turn into a soggy mess).
French press or percolator
Every cook needs a good cup of coffee. I purchased this percolator a few weeks back and I will have it for life. I even use it at home now. In my opinion, a percolator is the way to go for a few reasons: first, it lets you know when its ready—it's such a happy moment when you see it "perking!" Second, it seems to make better/cleaner coffee with fewer grinds in your cup. And lastly, it just seems more classy than coffee in a plastic container. But then, I know plenty of people who are more into the convenience of a press-style coffeemaker. Most camping-specific presses are made from plastic and/or metal, so they're more durable than the glass ones many people use at home.
The truly dedicated coffee aficionado might bring a hand grinder along, but an airtight container for grounds is less time consuming and complicated.
Two-burner stove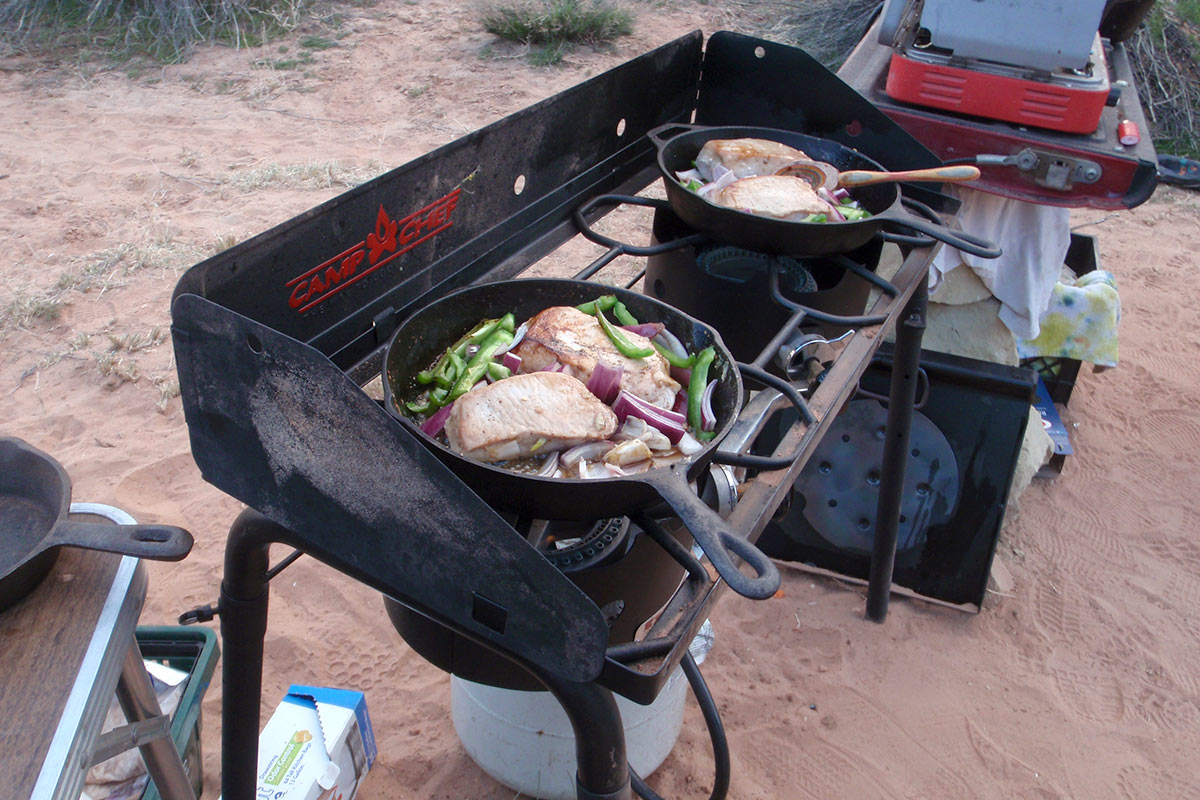 Backpacking stoves are great when you're packing in all your gear, and firepits will cook hot dogs and hobo dinners to perfection, but when you want to whip up something more gourmet for your crew, a two-burner stove pays off big time. Cook dinner's main course and side dish at the same time, or place a griddle across the burners to fry up a big mess of breakfast. Get an adapter to hook up to a full-size propane tank or a one-gallon tank that you can refill and reuse—those little green bombs are wasteful.
Cast iron
Bring a cast iron dutch oven and pan. Well-seasoned cast iron cookware has excellent heat-retention properties, heats food consistently and evenly, and provides a low-maintenance non-stick surface. It's also easy to clean after meals; just use some dirt and water. Dirt don't hurt (it gently scours), it just sucks to eat, so make sure you rinse well.
Over-the-fire grill grate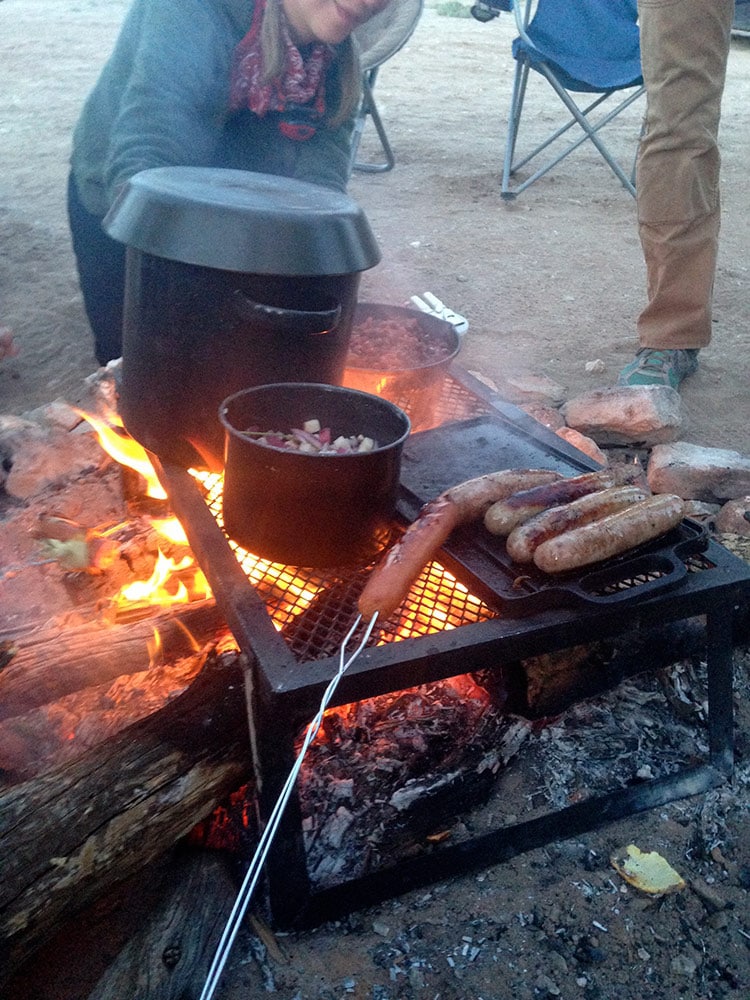 This Camp Chef Lumberjack over-the-fire grill is a relatively new addition to my weekend trips. It's awesome when you want to keep a meal warm or want to cook something slowly for an extended period of time. It saves on propane, and cooking over a real fire always tastes better.
Water jug
If you've been camping for several years, you've probably gone through a few water jugs. A square, blue jug probably comes to mind, right? When packing for a trip, you definitely can't bring too much water. Plan on seven gallons for two people for two nights, and scale from there.
Collapsible table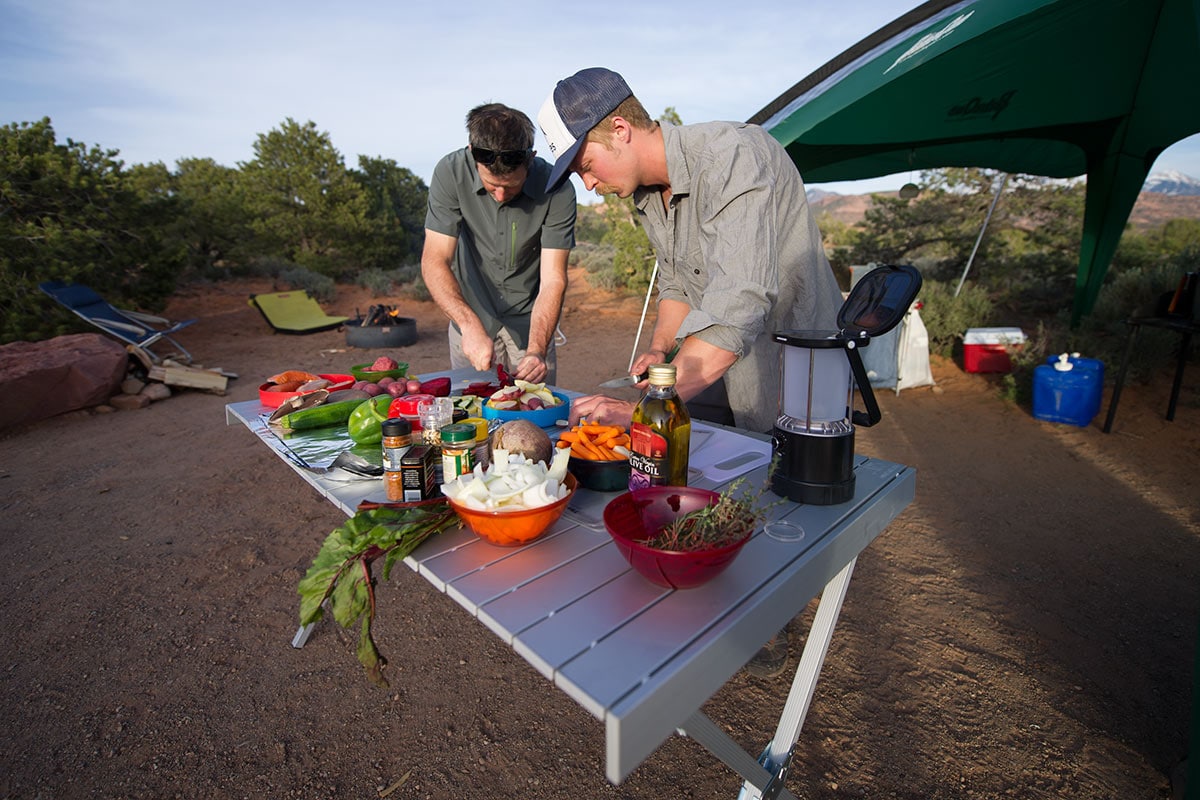 When car camping, I prefer spots that are impacted but not established, meaning groups have already been to the spot and created a fire ring, but a government agency hasn't come in and put in amenities such as picnic tables. However, it's always nice to have a table to spread your kitchen essentials on when you're cooking up a feast, and a collapsible table is a packable, convenient solution.
Cutting board
You know, to chop things on. Bringing a cutting board will help protect your knife and keep your camp kitchen easier to clean up.
Wash bucket
Some of your kitchen items are going to get dirty, so make it easy to clean them. If you're used to washing your mess kit with your Nalgene, a wash bucket with change your life.
Throw these essentials into the truck the next time you hit the road, and cook up (and clean up) your meals with ease. And remember: simpler is better, so bring what you'll use and leave the rest at home.
Related
Shop