---
Why We Like The Evolv Shaman Climbing Shoe
Both a fighter and a lover, the Shaman gives us top performance without completely sacrificing comfort. The increased rubber on the upper secures our toe hooks, and the aggressive profile finds and sticks to micros with ease. With the Knuckle Box relieving pressure on the big toe and the split outsole delivering flexibility through the arch, our feet no longer cry on multi-pitches.
Details
Versatile climbing shoe …performance and comfort
Aggressive curvature and downturn deliver max performance
Hardwearing Trax SAS rubber provides optimal friction
Synthetic upper reduces stretch to just a half size
Variable Thickness Rand reduces pressure points & boosts durability
3 hook-and-loop straps for a secure fit and easy on-off
Love Bump eliminates dead space under your toes for better edging
Inset front strap allows for improved medial side toe scumming
Item runs small, so we recommend sizing up for best fit
Item #EVLZ04N
Upper Material

Synthratek VX (synthetic)

Lining

unlined

Closure

3 hook-and-loop straps

Midsole

soft, MX-P (1.6mm half length), Love Bump

Rubber

4.2mm Trax SAS

Manufacturer Warranty

limited lifetime

Activity

bouldering, sport climbing

Claimed Weight

[size 9] 9.5oz

Asymmetrical Curvature

aggressive

Profile

aggressive downturn, Knuckle Box
Reviews
Q&A
Overall Rating
4 based on 14 ratings
Fits Small
Screen reader users: the following list provides a visual scale to illustrate the product fit. Please refer to the heading above for the fit type in text.
Runs small
True to size
Runs large
What do you think about this product?
View
Selecting an option will reload the available reviews on the page
5 out of 5 stars
November 8, 2023
Perfect all-around shoe
Got the Shamans over 3 months ago and I love them. Don't have too big experience in climbing shoes as this is only my second pair but after using Kronos in the beginning, this is a definite step up in terms of possibilities on the wall. I'm climbing in the gym only so far and they work perfectly fine no matter if we're talking about pushing from the small edges or smearing on hi-angle volumes - I haven't yet found a scenario in which these shoes would limit my ability of completing the climb. Edging, toe- or heel hooking, smearing, everything seems to work just as it should in Shamans. I'm wearing size 8.5 US with my street size being 9 US and after a bit painful break in period they fit my foot perfectly and are super comfortable without any loose spots inside. The overall quality is great, the only thing i'm slightly worried about are the velcro straps that look like the weakest spot of the shoe - they already show some signs of usage and small fraying, but I'm using them pretty intensively and so far there's no serious damage to them. I've also used the front part of the rubber way faster than expected but I'm pretty sure that's due to my sloppy footwork. Overall, the Shamans feel so good for me that I don't think I'm looking for another model anymore, I plan to resole them as long as possible and probably just buy another pair when the first one is too worn out.

Originally reviewed on Evolv
5 out of 5 stars
October 12, 2023
Great all-rounders!
These are the first all-around shoes in my climbing journey. I am very lucky because it suits me very well after a short break-in period. I have an Egyptian foot shape with narrow to medium width and it is very comfortable for me like the second skin. Shamans are not stiff and not soft, they have a great combination of sensitivity and precision with performance. Good toe hooking and heel hooking ability as well as grabbing and smearing (love bump is a small obstacle here but for my 83kg it is not a problem to smear it). Long story short, great all-arounders who can help to progress with different routes and angles in any discipline. One more thing is the edging ability, it is good, not perfect but you need experience and strength in your toe for that. Highly recommend.

Originally reviewed on Evolv
5 out of 5 stars
September 27, 2023
Comfortable All-Around
I only use the Shaman's! They're so comfortable and the best all-around gym shoe for long training days. Great shoe.

Originally reviewed on Evolv
5 out of 5 stars
September 23, 2023
Feels great on any rock inside and out!
I love this shoe! It has been my new everyday shoes for about a year now. I have used it not every type of rock and it preforms great on all. It also does extremely well on technical overhangs as well as delicate face climbing. They are extremely comfortable for climbing shoes as well. I think that these are a great shoe for anyone from a beginner climber at the gym to an expert climber craging every chance they can get. All in all an amazing shoe!
Originally reviewed on ExpertVoice.com
5 out of 5 stars
July 31, 2023
I feel great on overhung boulders, I feel like I can really weight my feet
Originally reviewed on ExpertVoice.com
4 out of 5 stars
May 30, 2023
Comfortable and high performance
Familiarity:

I've put it through the wringer

Size Bought:

8

Height:

5' 9"

Weight:

156
My climbing buddy turned me onto the Shaman several years ago when he noticed me bouldering in a slipper strictly for comfort. (My high performance shoes were too painful to drop to the ground in). Enter the Shaman. I didn't realize how much performance I'd been sacrificing. After break in period I got best of both world's. High performance and I could drop without cursing. I'm now on my 3rd pair. This new style is pretty much the same as the orange/blue (minus the padded tongue)... My only complaint is the stink. By far the stinkiest climbing shoe I've owned. Even the pair that never climbed outdoors.
4 out of 5 stars
February 22, 2023
Great shoes, but had a big problem.
I purchased a pair of the shamans in early November of last year and have worn them somewhat regularly since then. They have been great shoes and although breaking them in was a challenge. I have thoroughly enjoyed using then the entire time up until yesterday. As i was putting on my right shoe the middle leather strap snapped off just before the velcro starts. I have inspected all the other straps and they appear to be ok, which leads me to believe that I received a faulty product perhaps? I dont think it was my misuse as all the other straps are still strong. Has anyone else had this problem? Is there anything evolv and provide to help with this?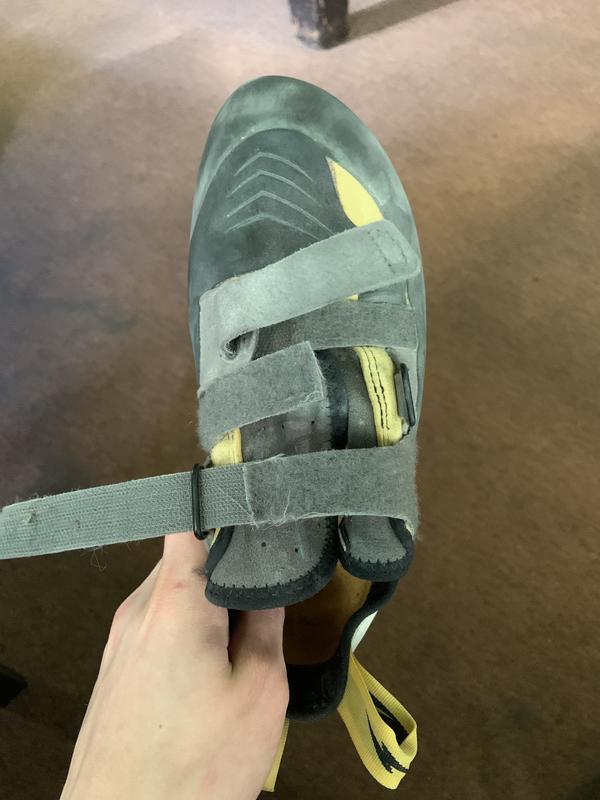 Originally reviewed on Evolv
1 out of 5 stars
January 3, 2023
Evolv Ruined It
Familiarity:

I've put it through the wringer

Size Bought:

42.5

Height:

5' 9"

Weight:

140
The blue/orange Shaman was co-designed by Chris Sharma. His influences we're all over that shoe with the 3 Velcro strips and the cushioned two-tongue system and the famous "love bump" for your toe. The design was perfect and it quickly became one of the most popular shoes at an MSRP of $160. The times have changed. Shoe companies have been pushing for newer designs and better aesthetics and have sacrificed quality for the design and higher profit margins. I'm looking at you So iLL and Give Ten (Adidas). Well, it seems like Evolv is no different now. The new model retails for about $190. So what do you get for that price hike? The new differences include the color change (what is it with climbers and black/yellow/white colors like on the Solutions and Tarifa's?), It also includes a zero-cushion tongue for the shoe, and they've changed the Velcro strips to a cheaper, narrower design that doesn't have the stitching to hold it together for a long time while you REALLY put these through the gauntlet. But the biggest change is probably the decision to go synthetic. Pros: the synthetic material will not change over time no matter how much you wear them. They won't stretch or shrink. They will be the same tightness in a year that they are when you first get them. Cons: you lose the custom-fitted break-in that happens with the old Shamans. After a couple weeks, you could feel the old shoes stretch and give you more and more comfort and the feel felt more like a sock than a shoe. The level of sensitivity after this change is drastically different and that's going to cause you to misjudge your foot placement and how much weight is on that tiny foot chip you're trusting your life with. Lastly, some anecdotal evidence here but it might be significant. A guy I climb with had his new Shamans blow throw the toe already after 3 months of climbing. He's got pretty good footwork. Climbs 5.12 and can flash v5. I think Evolv says they put 4.5mm of rubber on these shoes, so it's just mind-boggling that a climber could blow through that after just 3 months. These changes plus my own observations make me concerned that Evolv has sacrificed too much quality and the price hike still makes their "premium" new shoe look like a good option compared to some of the other $210+ premium shoes. For all this, this will be my last time buying Shamans. I'm expecting to retire my last pair any day now. My new Tenaya Indalo shoes are supposed to arrive next week. If Evolv ever makes the old orange/blue model again I'll buy five pairs, but this new redesign is just not it.
5 out of 5 stars
August 12, 2022
Brilliant!
Picked up a pair about a month ago, and my goodness these shoes do now disappoint! Immediately out of the box it felt really tight but snug and after a couple sessions it really formed to my foot. The "love bump" is surprisingly helpful in terms of comfort and also performance! It is kinda like an assist for your toes to be curled and downturned without having yourslef do it. Which means standing on edges or toeing down on over hang foot holds made me feel strong!

Originally reviewed on Evolv
5 out of 5 stars
August 5, 2022
Just like the old Shaman
Feels just like the older blue and orange Shaman, edges the same, but the thinner tongue is a nice little upgrade from the previous Shaman

Originally reviewed on Evolv
Need Expert Advice?
Our Gearheads Can Help
What size should I wear for a snug fit? My street shoe size is 11.5 US Men, I've been climbing for a few good months now and I want a shoe that'll give me a bit more performance but won't kill my toes
I own a pair of Supras in size US M 8 and they fit amazing. Do you recommend getting the same size for the Shamans?
Hi!! Can you help me to choose he wider climbshoe you have? The shaman 2022 it's for extra wide foot? I can't find any climbshoe for my siper wide toe box. It's wider shaman lace than velcro?  Thank you!!
I have 2 different sized feet and want to find out if I can order shoes of 2 different sizes..Left 11.5 and a Right 10.5.
How would you compare the width and volume of the shaman to the phantom? 
How do the 2022 Shaman fit compared to the original 2012 Shaman?
Do you recommend a true fit for the new shamans? I wear a street size of US M 8. I got the same size for the shamans and boy they are tight tight on the toes. Any ideas on how to stretch them (if any) a bit? Not a fan of the ice method.
what's the difference between Shaman and Shaman LV?
How is the toebox of the new shaman 2022 compared to the oracle ones? the oracle's are my fav shoe that fit me very very well, and i heard you are going to discontinue the oracle( is this true?)
What is the difference between this newer model and the previous blue and orange Shaman?