---
Why We Like The Coleman 316 Series 120QT Cooler
Whether we're into weekend soccer tournaments, family barbeques, or bluegrass festivals, Coleman's 316 Series Cooler holds up to 102 cans with 60 pounds of ice to keep our food safe and our drinks cold. It's easy to carry with easy-grip handles and can handle up to 250 pounds on top of the lid—letting the cooler double as a seat. The cooler cleans up quickly with a stain-resistant liner and EZ-Clean lid while the tethered drain plug releases melted ice, resists leaks, and won't get lost.
Details
Large capacity cooler for families, groups, and teams
Templock FX insulation made for multiday ice retention
Have-A-Seat-Lid supports up to 250 pounds
4 cup holders hold up to a 30-ounce tumbler
204 can capacity without ice
Item #CMNK18C
Material

plastic

Volume

120qt (113.5L)

Closure

lid

Dimensions

37.9 x 19 x 18in

Weight

24lb

Manufacturer Warranty

1 year

Activity

casual, camping
Reviews
Q&A
Overall Rating
4 based on 43 ratings
What do you think about this product?
View
Selecting an option will reload the available reviews on the page
1 out of 5 stars
November 9, 2023
The lid isnt durable
I use this to bleed meat, it worked throuout winter just fine but as soon as it started to warm up the lid warped and now wont seal. Decent side walls cheap lid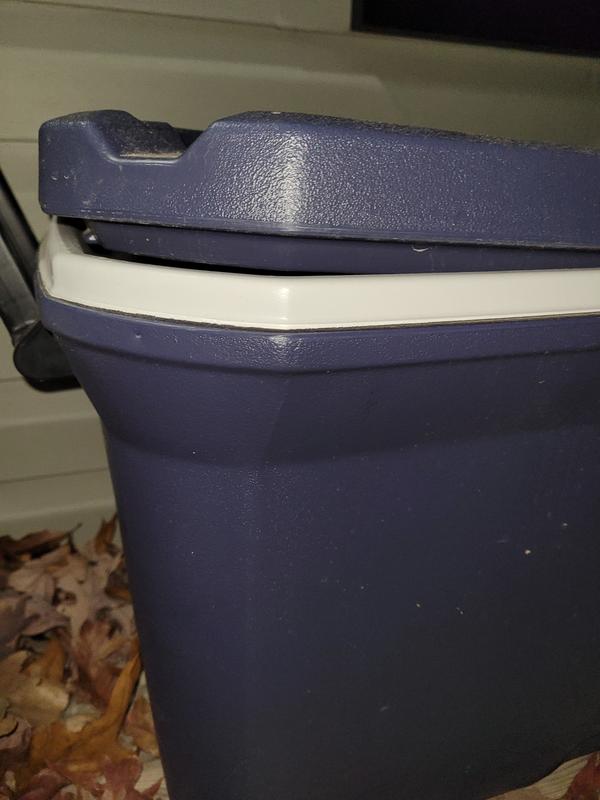 Originally reviewed on coleman.com
3 out of 5 stars
September 21, 2023
Cheaply Made
OK cooler, looks good, light, but flimsy and the lids doesn't seat well. After sitting on the lid and opening and closing it on a 5-dayrafting trip. The hinges started bending and coming loose. I don't think the lid seats down far enough into the cooler to prevent it from slipping around if someone sits on it and opens and closes it a lot. I have an "Xtreme 5 coleman cooler" and the lid seats a lot better and has much better cup holders.

Originally reviewed on coleman.com
5 out of 5 stars
July 19, 2023
Super Product!
Great product and shipping! On-line ordering was easy and quick. Product quality product was what I expected and received.

Originally reviewed on coleman.com
1 out of 5 stars
January 2, 2023
Not built for the Rough
Bought this to carry extra meat in. Lid leaks and wont seal and plastic is super fragile and thin. From the shelf to the woods and not good from the start.

Originally reviewed on coleman.com
5 out of 5 stars
October 1, 2022
Great shelter for feral cats!
I purchased 4 of these to use for feral cat winter shelters. Put a 6 inch hole in the bottom corner and half filled with fresh straw. These coolers are the very best shelters for my 30+ feral cats over the cold snowy winters in Wisconsin. I began 12 years ago with two of these and decided (due to the expansion of my little colony) that it was time to add a few more. The two older ones have lasted well and when scrubbed clean look almost new. I would say once several cats get inside they keep nice and warm. My cats love them!!

Originally reviewed on coleman.com
1 out of 5 stars
August 25, 2022
Lid warped sitting in direct sunlight..
Bought this cooler and used it twice.. Set in direct sunlight for several days and the lid warped up on both ends.. Looks like something heavy was left sitting in the middle but no one even sat on it..

Originally reviewed on coleman.com
1 out of 5 stars
June 2, 2022
Lies about keeping cold
I bought this cools as it says that it will keep ice for 5 days. We add 20lbs of ice every 1 1/2 days!!! would not recommend. Bought a Coleman cooler years ago and worked great, must be cheaping out on this product in production now days. So sad!

Originally reviewed on coleman.com
4 out of 5 stars
April 5, 2022
Solid cooler
Only issue I have is that the lid doesn't stay propped up that well. You have to push really hard on the lid once you open the cooler to get the strap that holds the lid to the cooler to stretch out and thus keep the lid open. Otherwise, for the money, cooler works great.

Originally reviewed on coleman.com
1 out of 5 stars
September 7, 2021
Awful and will not hold ice
We purchased 2 coolers for a recent hunting trip. We had a total of 5 coolers (4 different brands) and this was the only one that absolutely would not hold ice. We had to add ice to only the Coleman 2-3 times each day.

Originally reviewed on coleman.com
1 out of 5 stars
July 7, 2021
CHEAP PRODUCT
We bought this cooler last year 2020. Because of Covid-19 we were unable to used it until this year 2021 for 4th of July and it was horrible. My husband and brother could not pick it up without the handles coming off. The top would not stay shut. With 111 heat at the river our ice melted extremely fast and spoiled our meats and condiments. Now we are left with a useless cooler

Originally reviewed on coleman.com
Need Expert Advice?
Our Gearheads Can Help