Reversible Grill/Griddle - 1 Burner System
---
Why We Like The Camp Chef Reversible Grill/Griddle
The Camp Chef Reversible Grill/Griddle allows us to set up our camp cookout area with confidence. Its sturdy steel construction is easier to carry to and from our campsite compared to its cast iron peers, while the reversible design allows us to cook on either a flat or ribbed side for sizzling versatility. Equipped with molded side handles, this pan gives us a secure grip when lifting off the flames.
Details
Versatile grill/griddle for weekend camping
Constructed with durable, quick-heating steel
Reversible design offers a flat and ribbed side
Molded-on side handles provide a secure grip
Non-stick out of the box with a true seasoned finish
Item #CCF0015
Material

steel

Compatibility

16in 1 burner systems

Dimensions

14 x 16in

Claimed Weight

12lbs 8oz

Activity

weekend camping

Manufacturer Warranty

limited
Reviews
Q&A
Overall Rating
4 based on 11 ratings
What do you think about this product?
View
Selecting an option will reload the available reviews on the page
5 out of 5 stars
October 21, 2022
Works great!
Used the griddle for the first time this weekend. Very happy once I figured out the heat distribution from the 2 burner Camp Chef. Paid attention to seasoning it before use and it paid off as it cleaned up good!

Originally reviewed on campchef.com
5 out of 5 stars
June 17, 2022
Excellent piece of iron!
Used on dozens of camping trips over 7+ years and honestly, I could easily feed 6-8 people with this thing. As a person who loves to camp and cook, my flat top griddle paired with a wok is all I need to cook just about everything. Heavy duty, easy to clean, even heat, and 10/10. Wish I had one in my kitchen!

Originally reviewed on campchef.com
4 out of 5 stars
June 13, 2022
Don't hesitate to add this to your Kit.
This is an indispensable tool for cooking for many. I used this to cook gyros for 200 folks with great success. Heat dispersed well, and it stays hot for radiant heat and continuity. It gets hot so plan to sweat! If you cooking. A grease trap is offered as an accessory but should be standard. Grease will flow out and all over the leg of the stove/floor. Placed a cup in the provided hanging holder but the cup melted quickly. Also, a carrying bag should be standard.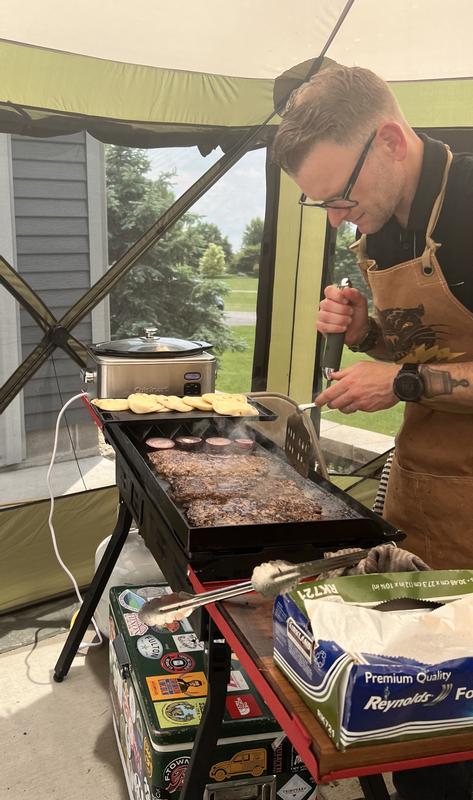 Originally reviewed on campchef.com
5 out of 5 stars
May 27, 2022
Love the griddle
Works great, easy to use and clean up fairly easy.

Originally reviewed on campchef.com
5 out of 5 stars
June 17, 2021
Great Griddle
This works perfectly for us! We can fit 4 burgers on the griddle no problem. It cooks well and cleans up nice. This has made our camp stove multi-purpose by allowing us to grill.

Originally reviewed on campchef.com
2 out of 5 stars
January 25, 2021
Grease runs off to the sides
If you want to cook something that doesn't need oil, then it works ok, but for eggs and pancakes the grease runs to the sides too quickly. And that's after getting the leveling legs and making sure it's perfectly level. Also, like another poster said, the surface is really rough and very difficult to clean compared to a regular cast iron skillet. The grease trap is hard to clean as well. Would be much better if it was designed to run off into a hole with a grease can under it. Wish I had bought the stainless griddle instead.

Originally reviewed on campchef.com
1 out of 5 stars
July 12, 2020
Cracked!!!!!
I love cooking in cast iron skillets. Bought this griddle expecting happiness but was disappointed. After only a few uses a small crack began to open up. Had to discontinue use because it allowed grease to drip into fire and on the concrete below stove. Very disappointed!

Originally reviewed on campchef.com
2 out of 5 stars
June 19, 2020
Optional and Available
Purchased to accompany when rving to cook outside. Liked the idea of being reversible cast iron. Have used cast iron before easy to cook off residue, however. This unit is difficult to clean. First use was unable to burn off residue, not easy to wipe down or use of scrubbing brush. Unit developed rust after cleaning it. Second use, cooked over the rust spots, used grilled plastic brush to clean it. Rust spots stayed. Almost like the cast iron had a coating and when it got heated, the coating vanished. Had prepped the unit by oiling it up as I have previously done cast iron pans, no instructions in box to identify prepping.

Originally reviewed on campchef.com
5 out of 5 stars
June 7, 2019
Campy
Great lil griddle, no grease fire, food did not test like gas!

Originally reviewed on campchef.com
5 out of 5 stars
February 28, 2019
Reversible 16" Griddle
Fantastic. Either side is just great. It takes 1 burner to heat this lil fella, but once seasoned to your liking it exceeded all expectations. big enough to cook breakfast for a family of 4 at one time (bacon, hash browns, and then the eggs afterward). Con: No way to drain the fat or grease from it unless you scoop it with a spoon or anything like that from the grease tray. Other than that is just great. I will consult Camp chef to see if drilling a small hole at the end of the grease tray will affect it in any way or compromise the material is made of. I Highly recommend this product.

Originally reviewed on campchef.com
Need Expert Advice?
Our Gearheads Can Help
I have an Explorer 3X, 14" deep, which 3-burner griddle should I use?
Your Support is confusing a lot of folks. Per Costco Web, the Tundra 3 with the griddle includes is the Reversible Griddle/Grill (CGG16B). Why are you telling folks that this will not work on the Tundra 3?
Do they make a silicone mat to protect cooking surface when not in use?
Can I put this on my gas grill to use it instead of th grates?
Will this fit my Big Gas Grill Model # SPG90B-2 TB90LW? If not which griddle will? Also, which case would I get for the correct griddle for my grill. Thank you
Does this work with a Coleman 2 Burner camp stove? ??
will this fit on the Escape? thank you!
where is the griddle made?
Are they warranty for cracks?
Can the reversible griddle/grill fit on the Ranier griddle/ 1 burner camp stove.