Pro 90X Three-Burner Stove
---
Fire away.
Fuel up for your all-day hike with some veggie-and-cheese omelettes, then fire up some freshly-caught trout along with some asparagus to satisfy your appetite when you get back to camp in the evening. It's all possible when you bring along the Camp Chef Pro 90X Three-Burner Stove on your next adventure. It offers all the heating power you need to grill, saute, and fry just about anything you want when you're miles from civilization.
Details
Cook like a pro in the great outdoors
30,000 BTU burners let you cook like at home
Three-sided windscreen maintains efficient heating
Folding side shelves keeps ingredients organized
Built-in leg levelers for uneven terrain
Matchless ignition makes it a breeze to start
Camp Chef offers a better way to cook outdoors
Item #CCF001O
Material

alloy steel

Fuel Type

propane

Heat Output

30,000 BTU

Piezo Ignition

yes

Fuel Bottle/Canister Included

no

Dimensions

[front-to-back] 16 in

Claimed Weight

59.5lb

Manufacturer Warranty

limited
Reviews
Q&A
Overall Rating
5 based on 39 ratings
What do you think about this product?
View
Selecting an option will reload the available reviews on the page
5 out of 5 stars
July 19, 2023
Summer cooking - soup, pizza, BBQ, grilling
We use this all the time, but especially in the summer so that our kitchen doesn't get any more heat, thus saving money by lightening our a/c burden. Natural gas conversion made this convenient for our patio. In our second summer and we are using this with gratitude that it is such a great item that puts out BTUs adequate for pizza and wok cooking.

Originally reviewed on campchef.com
5 out of 5 stars
January 20, 2023
Pro 16
Awesome product grill covers that can be used for tables are not to sturdy burns extremely hot will burn food fast if not monitored and burner not ajusted

Originally reviewed on campchef.com
4 out of 5 stars
August 22, 2022
Great stove in every way
Love this stove. Lots of BTUs and space for multiple big pots and pans. Small problem though. Chrome plating is coming off the grill after a single use. Is there a fox for this!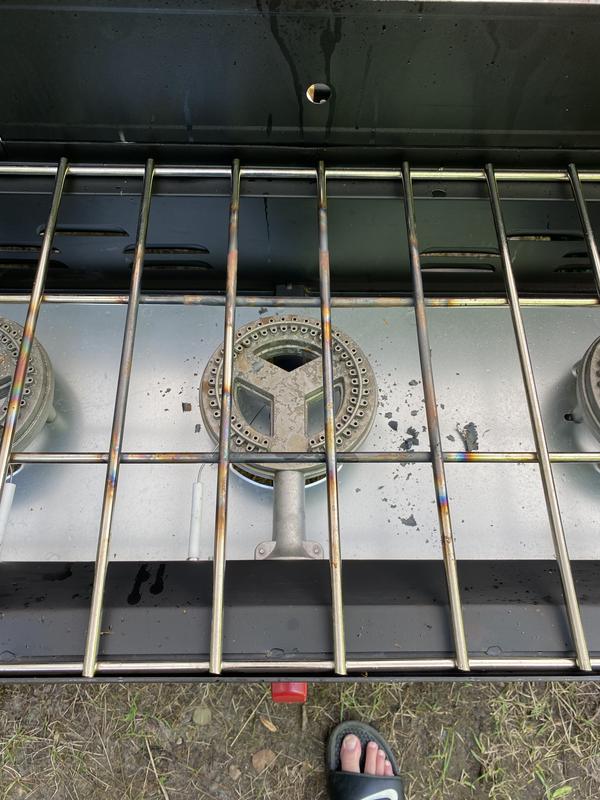 Originally reviewed on campchef.com
4 out of 5 stars
July 26, 2022
Side shelfs
Great grill overall but the side shelfs do not lay flat more like on an angle not a big fan of that layout and there are no adjustments for them so not Happy with that

Originally reviewed on campchef.com
5 out of 5 stars
July 25, 2022
Great
Great, really enjoy using it. better than expected

Originally reviewed on campchef.com
5 out of 5 stars
June 25, 2022
Grill problem (1095) tarnished & peeling off coat
Purchased Denali Pro 16 one month ago, used once and found the grate tarnished and silver coating peeling off, is this normal or a fault? 2 pics included, please advise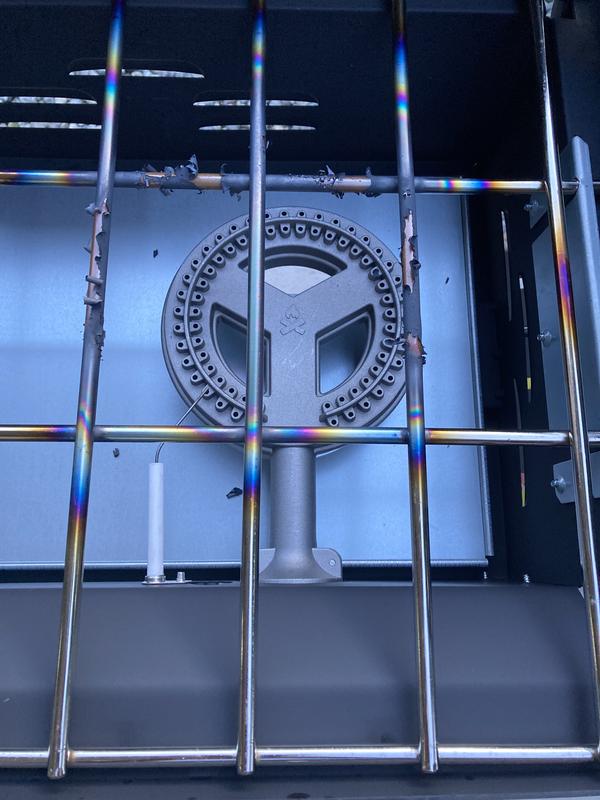 Originally reviewed on campchef.com
5 out of 5 stars
June 9, 2022
Amazing!
I bought this camp stove last year. With three burners I am able to BBQ and have two additional burners. I love the fact that it can be folded down and moved for storing. While it is heavy, the wheels help to move it. This year I'll be canning outside using all three burners.

Originally reviewed on campchef.com
5 out of 5 stars
December 7, 2021
I love em!....can't get enough of em!
When Tamale steaming gets a bit out of hand, it's always nice that I can count on Campchef!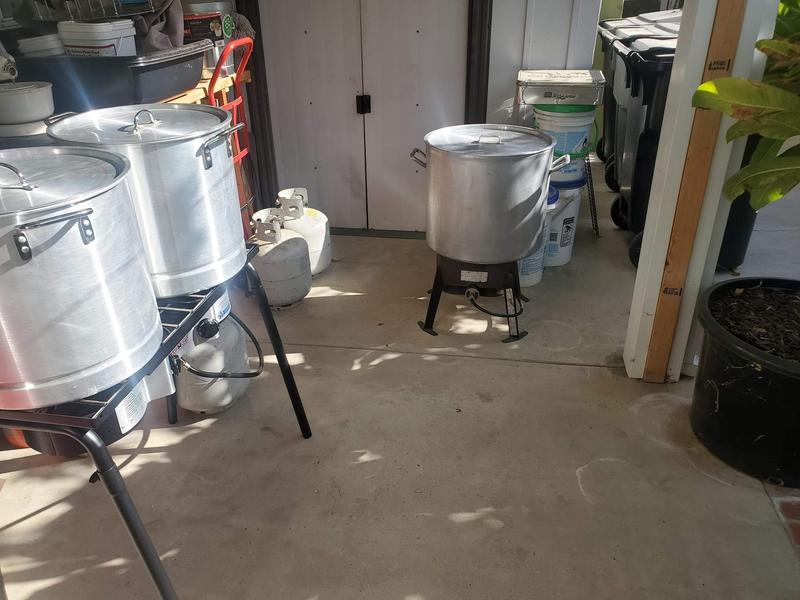 Originally reviewed on campchef.com
5 out of 5 stars
May 12, 2021
Power and Control
The grill is well built and easy to setup/tear down. Comparing it to other grills its got everything you need any nothing you don't. Simplicity is king with less things to break or replace over time. I was surprised how powerful the grill is and that the adjustment allows for a lot of finesse when cooking. Usually you get one or the other but this one has both.

Originally reviewed on campchef.com
5 out of 5 stars
May 9, 2021
Really like it
This is a great unit. I decided on this for the portability. I initially purchased the 2 burner griddle, but soon got the full size 3 burner. It's so nice having a large cooking surface, and having the mess outside. I love cast iron so this was an easy transition. It's not light, so take that into consideration. There are only a few minor complaints. First I live in a pretty windy area and I do have days the burners get blown out. I try to put up barriers, but there are days I'm relighting a lot. The fold out shelves are not real sturdy. They have the small fold out handles that support them, but those don't stick out very far and the shelves flex. So far I've always had a place to set stuff other than them, so it hasn't affected me. And when the shelves are folded in, they have little clip things on the sides which are supposed to keep them from opening while carrying, they don't work all that well. I have to find some kind of strap or latch. But overall I recommend this.

Originally reviewed on campchef.com
Need Expert Advice?
Our Gearheads Can Help
I'm looking for a single burner bbq box for the 3 burner tundra pro 16 what one would I need I ordered a grill box 30 but it says it is for a 14" stove not a 16" stove 
Will I be able to use the 14inch pizza oven with the two burner flat griddle on this 3 burner set up ? 
will bbq box fit on grill with windscreen in place
Do the burners on the Pro 90X have a simmer setting (or a low that is low enough to simmer)? I currently have the Explorer model, and the burners on that do not go low enough to simmer.
What is the difference between the expedition and the pro 90? Can you use all 16" accessories on both? Is there a reason I would want to have a griddle like the camp chef 4 burner instead of the expedition or the pro 90 and a full 3 burner griddle?
Can I hook this up to my RV's propane system via a quick connect?
Can the pro 90x be used on picnic table top with legs folded up or does hose connection get in the way?
Does CampChief have a flat top griddle that will fit across the entire grill. We want a bigger grill than the one that comes with it. 
Can I place/use on a wooden table (without leg extensions) ... or must I use the legs due to heat/flames.
when you recieve the pro-90x, what do you get?
California Proposition 65
This product can expose you to chemicals including Lead which is known to the State of California to cause cancer and birth defects or other reproductive harm. For more information go to www.P65Warnings.ca.gov.