---
Explorer 2 Burner Range
The Camp Chef Explorer 2 Burner Range is a burly, rugged stove that is great for family camping when you need a lot of cooking power. Heavyweight construction makes this outdoor stove tough enough for everyday use, so feel free to plant it on the patio all summer and cook alfresco, then pack it up (the legs are removable) and haul it to the hills when you are ready for camping.
Details
Two 30,000-BTU burners heat things up fast so you can boil water quickly or get a big dinner going in a jiffy
Micro-adjust valves let you get the perfect temperature; your camp food might even turn out better than your at-home food
The 15 hours of cooking time from one 20-pound tank means you'll be able to churn out gourmet delights all day without needing to refuel (tank not included)
Removable legs gives you setup options
Three-sided windscreen helps conserve fuel
Regulator and three-foot hose included
Item #CCF0008
Material

[burner] aluminium

Fuel Type

propane

Burn Time

(20lb tank) 15 hours

Simmer

yes

Dimensions

32.6 x 14 x 32in

Claimed Weight

31lb

Manufacturer Warranty

limited 1 year
Reviews
Q&A
Overall Rating
4.5 based on 32 ratings
What do you think about this product?
View
Selecting an option will reload the available reviews on the page
5 out of 5 stars
September 14, 2023
7 Years and going!
I have had my Explorer for 7 years now and it is going strong! We went from tent to Pop-up to Travel Trailer now and have only cooked on our CC. My Father-in-law and 2 brothers-in-law also have them. Have almost all of the accessories. My only issue is that it seems to get heavier every year?! LOL It IS the only thing we cook on, period! I also bought a CC WW smoker and the 600FTG as well!

Originally reviewed on campchef.com
5 out of 5 stars
September 13, 2023
Scout Approved!
I volunteer heavily with both the BSA and the GSA and needed something to be portable and have the ability to cook a decent amount of food. I bought the Explorer 14 2 Burner Stove And the full size griddle for it. It was easy to assemble, Easy to clean, and I was able to cook two breakfasts and a dinner with ease for a troop of hungry Girlscouts this past weekend. It also heats up water for dishes and cocao pretty fast! Looking back I wish I had also purchased the single burner griddle and the leg levelers. Overall a great stove. It is going to go with me on all future camp outs!

Originally reviewed on campchef.com
5 out of 5 stars
March 17, 2023
EXPLORER 14
I bought my Explorer 14 3 years ago to add to my new RV. The RV has an outboard 1/2psi propane quick connect. I fabricated my own 3' quick connect hose from a store bought 3' long, 3/8" female flair hose. I fitted 1 end with a 1/4" male quick connect. A cupla extension hoses later , and I was in business. Have used it boondocking for 3 years. Love it!! Boils water in minutes for dishes. Cooks anything like a home gas stove easily and with good heat control.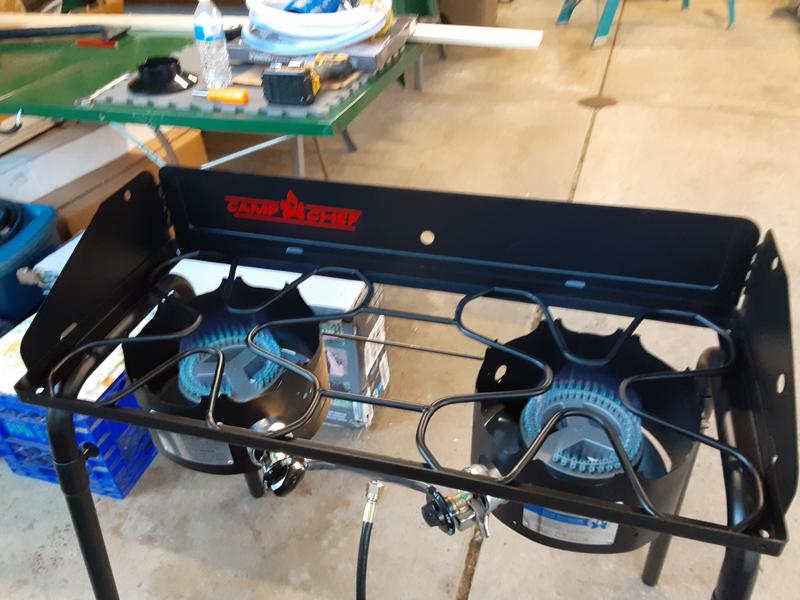 Originally reviewed on campchef.com
5 out of 5 stars
February 6, 2023
Cooker
Haven't used yet but will be using for canning. I'm sure it will be 5 stars!

Originally reviewed on campchef.com
5 out of 5 stars
February 3, 2023
A great cooker for camping and even at the House
I have taken this cooker out camping and it's great! it's a little bigger than the compact cooker but the heat definitely makes up for the extra size. You can boil water quicker and cook for a larger group. I really do like this setup.

Originally reviewed on campchef.com
5 out of 5 stars
December 1, 2022
15 years
I've had mine for 15 years. I've got the BBQ BOX the griddle the Hot pot, leveling legs, professional grease cup side tables... e everything they have and have made, and a full set of cast iron. This is the center point of my Wall Tent camp. And I can haul it all in on horses

Originally reviewed on campchef.com
5 out of 5 stars
October 10, 2022
Great
Only thing is need to change out hose and regulator. Wont allow both burners to flow at full capacity. Need adjustable regulator

Originally reviewed on campchef.com
5 out of 5 stars
April 25, 2022
A Great System!
A great, versatile system that is a grill, griddle, pizza oven and dutch oven. Still learning how to use all the attachments the best way but it is great to have so many options. The cast iron is terrific, cleans up very easily. Not the lightest in weight which might be a problem for some but, luckily, our RV can handle it.

Originally reviewed on campchef.com
5 out of 5 stars
September 29, 2021
Convenient
This is such a nice grill, so easy to set up and pack away. I am going to add wheels to one side to make it easier to move around. I am also getting an 8 ft. gas line so I don't have to move the gas tank from the front of the camper.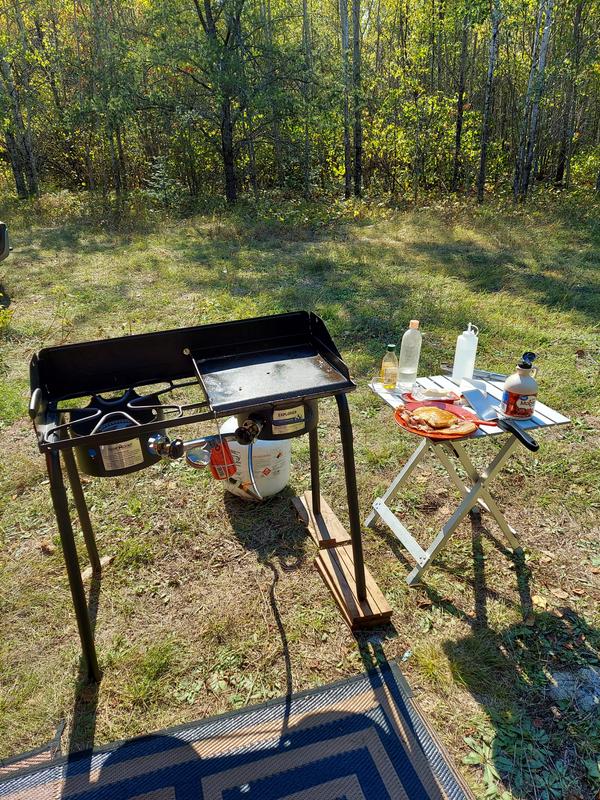 Originally reviewed on campchef.com
5 out of 5 stars
July 20, 2021
Two burner cooktop
Bought mine about a month ago. Used it a hand full time times. Love it so far.

Originally reviewed on campchef.com
Need Expert Advice?
Our Gearheads Can Help
Where can get some help the burnners no longer change the flame when I turn the knob. I am unable to get more flame then low. Whe I turn the setting to higher I get a burst of flame then it goes back to low flame. I use a 20 pound propane tank.
Where can I purchase extra knobs. One of mine is broken so I am unable to use one burner 
Can I pressure cook/can with this?
Can this unit be used inside
Can you sit this on a table to use.
I have the pizza oven, flattop and bbq box that i bought with my sidekick. Wind storm blew off my sk and it was destroyed. I have the WW24 pellet grill, would this be a good replacement for the sidekick?
Do you guys offer a low pressure adapter so I can connect it to my RV with a quick connect?
I have the 16" pizza oven, would it be compatible with the 14"? I realize there is a difference in size but hoping it wouldn't affect the use . Thanks 
What size pot and how much weight will the Explorer hold
can you fry a turkey with this unit?