---
Camp Table
Compact, portable, and easy to store, the Camp Chef Camp Table is the missing link that you need to tie together your home-away-from-home kitchen. Whether you use it as a food-prep station, a platform and windscreen for your grill, or as a stand for two 14-inch-diameter dutch ovens, this handy-dandy table keeps your tasty morsels off that grimy campground picnic table that hasn't been cleaned since 1987.
Details
The missing link of campsite cooking and food preparation
Steel construction ensures durability for Dutch ovens
Adjustable legs remove for compact storage
Three-sided windscreen protects food from the cold
Fits folding side shelves (sold separately)
Item #CCF0045
Material

steel

Height

23.75in

Dimensions

[table top] 14 x 32in, 16 x 38in

Claimed Weight

[14 x 32] 27lb [16 x 38in] 28lb

Recommended Use

dutch ovens, prep, serving

Manufacturer Warranty

limited
Reviews
Q&A
Overall Rating
5 based on 13 ratings
What do you think about this product?
View
Selecting an option will reload the available reviews on the page
5 out of 5 stars
June 19, 2023
Great Table
I used this a couple of times for Dutch oven cooking, worked great. Now, I am using it for my propane forge and it is working even better. I don't have to worry about forge heat and I have room for the end cap bricks. I can even place hot steel on it for cooling.

Originally reviewed on campchef.com
5 out of 5 stars
February 22, 2022
Versatile, heavy-duty table
I was surprised at the heavy-duty construction of this table. The wind shield is rigid and should last, the legs are sturdy and should be a very stable base for our two Dutch ovens we use on a daily basis when camping or out back when home. I added slip on rubber ends for the base of the legs to make cleanup easier after camping use. Now we just need spring to get here so we can go camping! Great product. You need to make a carry bag for easier transporting. Leg and shield bag are great but a large bag to put the whole unit in would make it a perfect purchase.

Originally reviewed on campchef.com
5 out of 5 stars
January 27, 2021
Camp Table for charcoal cooking.
Great for charcoal cooking with camp ovens. Great.

Originally reviewed on campchef.com
4 out of 5 stars
November 22, 2020
Camp Table with 32" Legs
Very sturdy. Worked great for my Japanese Konro grill and firing up charcoal. Only wish there was a better way to store it as it comes with a bag for the legs. Windscreen is ok.

Originally reviewed on campchef.com
5 out of 5 stars
September 25, 2020
Sturdy Built
Great platform for a portable grill or multiple Dutch ovens. Well built, easy to assemble and very sturdy. A must for anyone that does any outdoor cooking.

Originally reviewed on campchef.com
5 out of 5 stars
February 9, 2019
10 Stars!
The Camp Table is one of the best investments I ever made for my outdoor cooking hobby. Makes Dutch Oven cooking SOOO much easier and much-more manageable and much-more enjoyable – I don't know what I'd do without it!
Cn
ChiefCook n BottleWasher

Originally reviewed on campchef.com
5 out of 5 stars
September 9, 2018
Met my expectations
I was using a small plate with short unstable legs and finally decided to buy this table. It met my expectations and some. Very stable on the grass and plenty of room on the table. No issues with warping and no issues with clean up. I like the handles on the side to hang my toung's and my lid lifter. It fits 2 charcoal chimneys, my 14" and 12" dutch oven just fine. And with a bad back it is lite enough I can load it and unload out of my truck with no worries. I am 6'1" and it is the perfect hight making the ovens very accessible without bending over. I will get something to store it in like the bag for my Camp Chef cooker to make it easier to keep everything together. I highly recommend this table.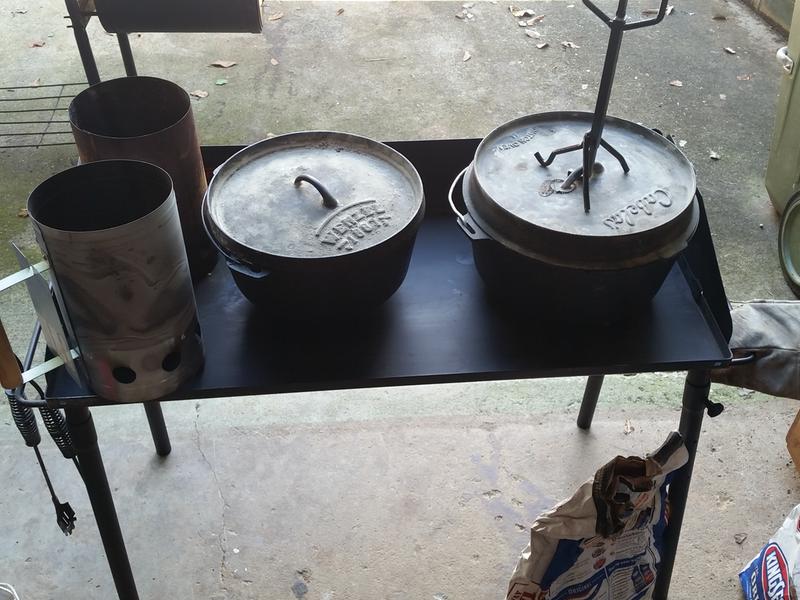 Originally reviewed on campchef.com
5 out of 5 stars
August 17, 2018
Camp Table and Camp stove
I bought two burner camp stove and a camp table. Both are good products, work as advertised. Table assembly is easy. Stove fits on the table well, with some spare space left over to keep other things.

Originally reviewed on campchef.com
4 out of 5 stars
June 11, 2018
great table but...
The tables great but theres NO carry case for it included nor in the catalog?????

Originally reviewed on campchef.com
5 out of 5 stars
December 25, 2017
Excellent product
I go camping with the scouts monthly year around. I use the camp table for Dutch oven cooking. The legs are adjustable so your surface is always flat. The windscreen is not as high as others on the market, which for me makes cooking easier.

Originally reviewed on campchef.com
Need Expert Advice?
Our Gearheads Can Help
So why is there no carry bag for the 38" table?
Since Camp Chef was purchased by Johnson Outdoors, I noticed that the black section above which used to be packed with useful specs regarding exact product dimensions, weights, bag recommendation model numbers, etc., is now awash in marketing tags. Why?
Why do you have a Question section if nobody at Camp Chef is going to answer the questions?
Will the 38" table ever be back in stock?
how far do the legs drop down. need a table to hold camp chef oven stove combo
Will the stand alone pizza oven fit on top
If the site says that the table weighs 28 lbs, why is it that when I put the entire box on a house scale it weight 45 lbs. There is no way that the shipping carton weighs in at 17 lbs. Unless it is a misprint.
Where is the camp chef dutch oven cooking table made
Was curious if it was ok once down to spray off with water hose, is there anything special I need to do afterwards. Thanks 
I have a dutch oven table that I got about 14 years ago. It still works as well as the day I bought it except for one thing. Over the years and too many scout troops I have lost the wind screen. Is there any way I could buy just the screen?