---
18in Smoke Vault
Take a journey into flavor country with the Camp Chef 18in Smoke Vault. This simple smoker allows you to infuse meats and other food with that delicious smoke flavor you just can't get from a grill or an oven. Fully adjustable heat-control dials, three damper valves, and a door thermometer help you keep and control internal temps between 160 and 400F, so you can get the perfect results every time.
Details
Compact smoker built to help you create tasty dishes
Temperatures from 160-400F so you can cook to your ideal texture
Easy-to-read door thermometer provides accurate control
Two adjustable smoking racks accommodate multiple dishes
One jerky smoking rack lets you create tender snacks
Matchless ignition allows for effortless and safe usability
Water pan and steel wood chip tray add flavor and ease cleanup
Item #CCF000V
Fuel Type

propane

Heat Output

18,000 BTUs/Hr

Piezo Ignition

yes

Stand Height

44in

Dimensions

[body] 18 x 16 x 30in [door] 16 x 28in [racks] 15 x 14in

Claimed Weight

65lb

Manufacturer Warranty

limited
Reviews
Q&A
Overall Rating
4.5 based on 18 ratings
What do you think about this product?
View
Selecting an option will reload the available reviews on the page
4 out of 5 stars
August 21, 2022
Great small backyard smoker
I just smoked ribs for the first time on mine. They were spectacular. 6th smoke since I bought it. The door handle cannbe wonky but overall it's a great buy.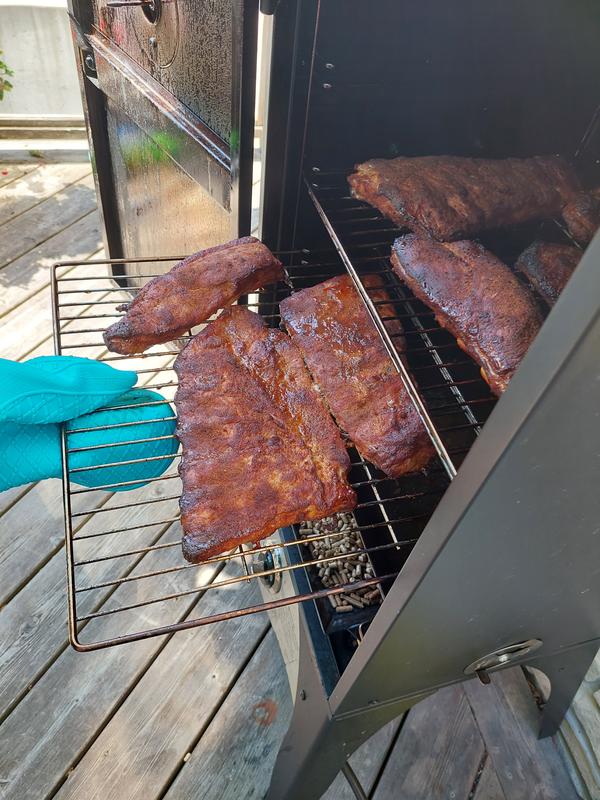 Originally reviewed on campchef.com
3 out of 5 stars
August 3, 2021
Needs a better burner and/or control
I had this for a number of years now. Maybe smoke a couple times a year. I have other Camp Chef products that I like, so I went with this because I thought being propane it would be set and forget. However, like my other Camp Chef products none of them have precise burner controls. It's not so bad when cooking a meal, but trying to smoke something low and slow over hours in this smoker requires constant attention to keep it at the correct temp. I even added a second valve in the line to try to control the heat. as the built-in one doesn't go low enough. Personally I think the burner is too big for the smoker. Try to keep the flame low enough to keep the temp low and it goes out.

Originally reviewed on campchef.com
5 out of 5 stars
June 29, 2021
Amazing
I highly recommend this smoker. We are going on our 6th year with the 18". Salmon to Boston butt, beer can chicken to mac & cheese there hasn't been anything bad come out of this smoker (except when I fell asleep on a late night cook which was operator error). Extremely fuel efficient I have done 3 separate cooks at 6-10 hours each on one tank. The first 3 years of this smoker lived outside only covered by the Camp Chef cover. There is zero rust. I live in NC which had high humidity and It has seen a lot of rain and some snow. The cover is still holding up but is on its last leg as it's sun bleached and starting to get rips in it. Well worth the money for the cover. One recommendation I have is don't smoke Thanksgiving turkeys, hams, or bbq unless you plan on doing it at every family function from now on because it produces amazing food which I don't mind one bit. It is also pretty portable to load in the truck and take on vacations or to a friends house for a cookout.

Originally reviewed on campchef.com
1 out of 5 stars
May 31, 2021
Worked only twice
When we tried to set it up the first time, the regulator wouldn't line up correctly and we went back and forth with customer service for 3 weeks before they agreed to send a new one. Worked great twice after that then wouldn't go above 150 degrees the third time even after resetting the regulator 5 times and checking everything else (water, gas, etc.). Waste of money.

Originally reviewed on campchef.com
5 out of 5 stars
August 24, 2020
Overall smoker review
Easy to put together, excellent quality smoker and holds temperature nicely.

Originally reviewed on campchef.com
5 out of 5 stars
May 21, 2020
Longevity? Check!
This is my TENTH year cooking on the same unit (18"). I want to upgrade to the 24", but I still feel I have many miles on this smoker. How many grills, smokers, etc. are still going after 10 years? And the ignition switch still works, which is just incredible! I live in Northern MN and have smoked from 90 above to 20 below--this thing just gets the job done, period. A+ product.

Originally reviewed on campchef.com
5 out of 5 stars
January 10, 2020
Love our new smoke vault!
We just got this Smoke Vault for Christmas and couldn't be happier! I meal prep for our week every weekend anyways, so this vault has made my cooking life AMAZING!! All the different types of meat are absolutely scrumptious!! HIGHLY recommend :)

Originally reviewed on campchef.com
3 out of 5 stars
December 25, 2019
Smoke vault
Great smoker, used it for 2 years until temp adjustment stud broke Christmas morning. Hopefully they have parts to replace. Would have given 5 stars if it wasn't for that.

Originally reviewed on campchef.com
5 out of 5 stars
July 14, 2019
Great smoker/great value
I received this smoker as a Christmas gift probably 4-5 years ago and use it often. This smoker has been through a lot! Getting blown over several times in our back yard wind tunnel, left uncovered several times and rained on, cover blew off during a wicked winter storm and left for days buried half way up with snow and it still keeps on producing delicious meat! The only thing we've replaced was the cover in all these years. It still fires right up and seems to just sip on propane, a 20lb bottle seems to last us well over a year and we use it probably 5-10 times a season. Cant say any bad about this smoker.

Originally reviewed on campchef.com
4 out of 5 stars
December 2, 2017
Great smoker
I have had mine about a year. Easy to assemble and easy to use. Grest for smoking deer and I made the best turkey I have ever cooked.(including frying one) Only issue was the thermometer. It was off by several degrees. Had to get a dual thermometer. Once I figured out how to adjust the controls, it does a great job.

Originally reviewed on campchef.com
Need Expert Advice?
Our Gearheads Can Help
One more question. Bottom line which Smoke Vault cooks more food on all of it's meat racks?? The 24" or the 18"???
I need a new knob for my Smoke Vault 24.  I cannot seem to find anyone who carries them.  Can you tell me how I can get a new knob?
Will a smoke tube work in a smoke vault smoke
I am considering buying the Camp Chef Smoke Vault 24" Vertical Smoker on Amazon.  The picture has a propane regulator but the description says "power source: electric".  I want propane. Is it electric or propane? Does Camp Chef even do electric?
Is there any reason we couldn't use hardwood pellets in the Smoke Vault? Any suggestions for doing this, or would it be better to get some chips to use?
Can I use wood chunks for the smoke vault 18
Can the smoker be converted natural gas?
Is it possible to buy a replacement door for this item?
Can the smoker also be used for regular grilling?
What is the actual foot print of this smoker with the legs on? (depth by width)
California Proposition 65
This product can expose you to chemicals including Lead which is known to the State of California to cause cancer and birth defects or other reproductive harm. For more information go to www.P65Warnings.ca.gov.