Provision 6 Running Shoe - Men's
---
Why We Like The Provision 6 Running Shoe
Altra introduces the Provision 6 Running Shoe, our continued go-to daily road runner. These kicks offer when-we-want-it arch support by combining an inner mesh wrap that makes our arch naturally engage, discouraging overpronation, but should our foot start to turn inward, the flexible Guide Rail fights against full collapse. Meanwhile, the contoured footbed also stuck around to continue to provide increased sensitivity, letting us respond quicker to ground feedback.
Details
Road running shoe for long training runs and every day miles
Slimmed down mesh upper provides increased breathability
0mm drop encourages natural gait for a healthy stride
High cushion for shock absorption and energy response balance
Grippy rubber provides traction on both wet and dry terrain
Roomy toebox allows natural toe splay for a powerful toe-off
Item #ATRQ035
Upper Material

breathable engineered mesh

Closure

lace

Footbed

contoured

Midsole

Altra EGO (EVA), Guide Rail

Sole

FootPod Outsole

Support Type

neutral/light stability

Cushion

high

Heel / Forefoot Height

28mm / 28mm

Drop

0mm

Claimed Weight

10.1oz

Manufacturer Warranty

300-500 miles

Activity

road running
Reviews
Q&A
Overall Rating
3 based on 44 ratings
What do you think about this product?
View
Selecting an option will reload the available reviews on the page
5 out of 5 stars
March 13, 2023
Best shoes ever! Just the right support and room to breath!
I got my first pair and then got these second ones. I am now a true convert. Best shoes and great support.

Originally reviewed on altrafootwear.com
4 out of 5 stars
January 14, 2023
It's a GOOD shoe, but it's not all cupcakes and rainbows.
It's good,has good support,though don't tighten it too much.It's breathable, the toebox/lace meetup was bothering my foot.It's grippy but insanely loud,like there's syrup on my shoe! Size 10 gel venture-Size 9 Altra Provision 6

Originally reviewed on altrafootwear.com
2 out of 5 stars
January 2, 2023
Sending them back
I'm an avid Altra fan and liked the two previous versions of the Provision. The tall and stiff tongue on the back of the shoe is a really poor design. It digs into the back of my leg every time I push off. I think it would be a good shoe otherwise.

Originally reviewed on altrafootwear.com
4 out of 5 stars
December 23, 2022
Great shape but needs better inserts.
Nice shoe with a great shape but the sole inserts are really, really thin and you can feel the stitching through the instep. It started aggravating my feet after running a couple miles. I love the shape of the shoe so I got some other inserts to put inside. But for the price you'd think the shoes would have better inserts.

Originally reviewed on altrafootwear.com
3 out of 5 stars
December 22, 2022
Uncomfortable for me and sole design flaw
I found the arch started too far to the rear of the shoe so would dig into my instep. The design flaw for me was the design of the sole outer surface. It has tons of small holes in the pattern so that gravel picked up on the run sticks in there and sits higher than surface height. So you're scratching anything you walk on inside your home or a gymnasium. Think scratching your hardwood floors even after wiping your feet on the mat at the door. The pic is after I had picked a lot of it out but would have needed a pick or something to get the rest of it. Gave up at that point.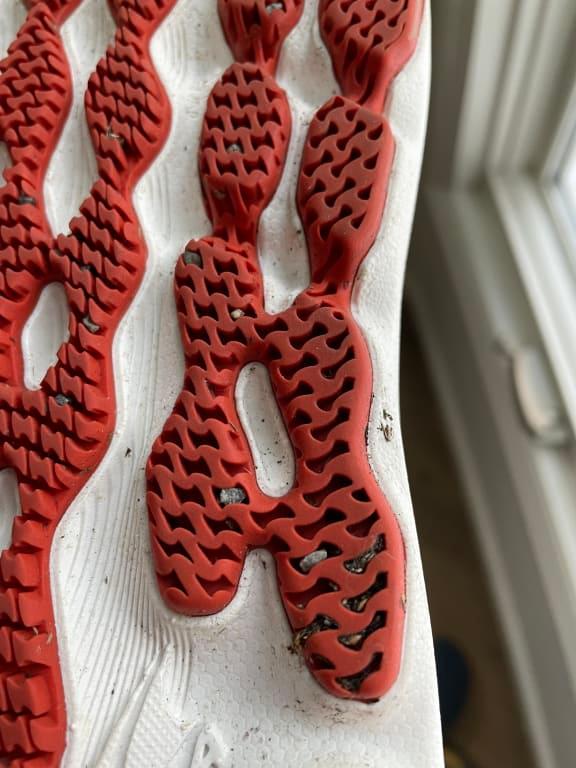 Originally reviewed on altrafootwear.com
4 out of 5 stars
December 20, 2022
Sizing runs smaller than for trail shoes
Got new pair after return (still waiting on credit for return). The fit is good now. I take a 14 in Lone Peak and a 13 in Provision. So far so good. Wish you could still give 50% discounted price!

Originally reviewed on altrafootwear.com
4 out of 5 stars
December 8, 2022
Comfortable fit from the start.
I marked width as to wide because I normally wear a 2E but the shape of toe box allows me to wear normal width. Still transitioning to a zero drop shoe but very comfortable from the start.

Originally reviewed on altrafootwear.com
5 out of 5 stars
November 16, 2022
Favorite Altra shoe so far
I ran in the Escalante(which I loved) for the past five years, but I always struggled with shin splints any time I ran more than 25-30 miles/week. I decided to look for something with a touch of stability to take the pressure off of my shins(I tend to over pronate), and the Provision 6 has fit the bill perfectly. It's everything I loved about the Escalante, but feels secure enough--especially in the midfoot--to put lots of miles on. Perfect amount of cushioning, thin and secure upper material, and sick look. 10/10 recommend to someone who loves a neutral shoe but needs a little bit of support for higher mileage.

Originally reviewed on altrafootwear.com
2 out of 5 stars
November 15, 2022
They ruined a great shoe.
Please bring back the old Provision!!! Like other reviewers, this version is very disappointing compared to the older Provisions. These feel like they actually CAUSE me to pronate instead of reducing my pronation. The outer raised edge of the sole feels so rigid and puts pressure on the outer part of the sole of my foot, forcing pronation, and the arch support is nothing compared to old provisions. Two plusses: these are the best looking Provisions they've ever made, and they got rid of the awkward 3-finger lacing design that was really difficult to use. Unfortunately, I can't wear these shoes because of the pain from pronation. I will stock up on old models when I can find them or have to switch back to the Brooks Beast (a great shoe but inferior to the old Provisions, which are lighter and have a more comfortable toe box).

Originally reviewed on altrafootwear.com
3 out of 5 stars
October 21, 2022
Good quality construction but needs some revisions
In addition to the Provision 6, I've owned one pair of the Torin 5, two pairs of the Paradigm 6, and two variations of the Lone Peak 6. I think Altra is making good progress in bringing their whites mainstream, especially in styling and maintaining high quality construction. The upper on the Provision 6 is my favorite of all models I've owned, it's lightweight, flexible and gently hugs the foot slightly better than the Paradigm 6. I also find the blue colorway to be one of the more handsome stylings across the lineup. But there are a few cons that I hope will find revision in the next update. First, the little ridges in the outsole are dirt and pebble magnets, I think the outsole style of the Paradigm 6 is much better in this regard. Also, the heel is very narrow, much narrower than the Paradigm 6 although they're both marked as "standard" width. Third, this is more of a personal preference, but I think Ego midsole feels a bit stiff, I personally would like to see the Ego Max come to the Provision lineup. Finally, I think the different shoes with different widths is hard to follow. I might suggest Altra move toward just one standard width across the lineup and make wider and narrower options for certain models, especially its most popular models like the Torin, Provision and Paradigm.

Originally reviewed on altrafootwear.com
Need Expert Advice?
Our Gearheads Can Help