Lone Peak All-Weather Mid 2 Hiking Boot - Women's
---
Why We Like The Altra Lone Peak All-Weather Mid 2 Hiking Boot
The Lone Peak All-Weather Mid 2 is the mid-cut, water-resistant version of Altra's most popular trail running shoe. Made for soggy and snowy trails, the mid keeps out muck, snow, sticks, and pebbles without using a gaiter while a water-resistant bootie protects us against rain and ice melt as it breathes steamy moisture vapor away from our sweaty feet. That added protection makes a difference on our wet weather hikes and winter trail runs while letting us enjoy Altra's balanced cushioning, women-specific fit, and wide, Footshape toe boxes that leave extra room for our feet to swell and our toes to wiggle.
Details
Mid-cut trail shoe for foul weather hikes and trail runs
Water-resistant bootie for wet and snowy weather protection
Over-the-ankle cut keeps out more mud, moisture, and trail debris
Original Footshape Fit is Altra's first and widest last
Zero Drop from heel to toe encourages mid-foot landings
25mm stack height for moderate cushioning
Fit4Her fit is designed for the unique morphology of women's feet
Mid-cut, water-resistant version of popular Lone Peak trail runner
Item #ATRQ045
Upper Material

synthetic

Waterproofing

water-resistant bootie

Closure

lace

Last

Original Footshape Fit

Midsole

Altra EGO

Sole

MaxTrac rubber

Shaft Height

over-the-ankle

Claimed Weight

[single] 12oz

Activity

hiking, ultralight backpacking, winter trail running

Manufacturer Warranty

300-500 mile
Reviews
Q&A
Overall Rating
3.5 based on 24 ratings
What do you think about this product?
View
Selecting an option will reload the available reviews on the page
2 out of 5 stars
December 3, 2023
Not waterproof
Love the shape of this boot. Roomy toe box for wide feet like mine. Nice and light with ankle support. They simply aren't waterproof and are mislabeled as all-weather. I've gone on a handful of hikes wearing these. Hiked over packed snow and with some puddles and water went straight through my socks. Bummer!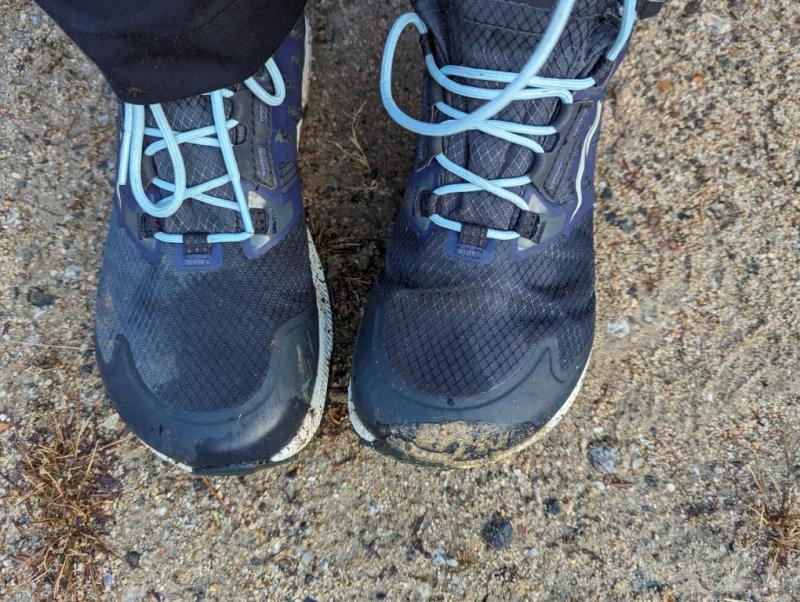 Originally reviewed on altrafootwear.com
2 out of 5 stars
November 28, 2023
Odd sizing and stiff
Stiff around the ankle and heel, a lack of cushioning, and despite ordering my normal 8, there's way too much extra space, even with thick socks. A shame, as they're otherwise visibly cute. Returning.

Originally reviewed on altrafootwear.com
4 out of 5 stars
November 27, 2023
I would buy again..
Lone peak is my favourite shoe and boot. I have 4 pairs..I bought the all weather boot for hiking the El Camino de Santiago in Spain..I had them about a year and they were fantastic..until 4 days before the trek.. I was training when suddenly I got a big hole in the seam! I was pretty devastated..I was in the Uk at the time and could not find the receipt..fortunately I found the last pair in my size in a small shop an hours drive away..they held them for me and I bought them..full price plus's 20%VAT! But they felt amazingly comfortable what a relief..no break in period..4 days later I started the hike..75 miles in 5 days..one blister on the last day..because they were not waterproof..my feet were soaked even though they are "all weather" and we got a ton of rain on the last day..and pretty much everyone else's feet in our group got wet as well

Originally reviewed on altrafootwear.com
5 out of 5 stars
November 25, 2023
I LOVE these winter boots!
Not only are these boots comfortable, but they keep my feet sooooo warm and toasty in this cold weather. I LOVE them. Although I was at first hesitant with the navy blue color (I'm more of a traditionalist for hiking boots preferring a dark brown color), I've gotten used to them and think they're quite pretty as well as being functional. I really, really love them.

Originally reviewed on altrafootwear.com
4 out of 5 stars
November 20, 2023
Love them... with one critique
These feel great with my terrible feet. I do wear orthotic arch support insoles due to my flat feet. I remove the Altra insole. This works fine for me. I just got back from a week of walking and touring in Iceland. I found them to be decently warm with good socks and sneaker comfortable. My only gripe was while walking in an extended rain, like 1.5-2hrs of walking in rain, I think the water resistance reached its tipping point. It did seem to that it took being totally water logged for a long time for my feet to feel some moisture. However I was completely dry the rest of the trip which was varied terrain and weather. Puddles, hiking, etc. I struggle to find hiking boots. I have been using Altras for running for years. I'm hoping they continue to improve their hikers and maybe I have finally found my boots!

Originally reviewed on altrafootwear.com
4 out of 5 stars
November 7, 2023
Good not perfect
Have worn out my first pair of Lone Peaks and bought these last winter for hiking in wet weather - worked perfectly but these are a little snug for me in the forefoot. Cushioning is terrific. Likewise water resistance.

Originally reviewed on altrafootwear.com
4 out of 5 stars
October 22, 2023
I would love to love these, but...
Sole wears out way too fast for the shoe. I love the feel of these but have to get another soon because tread is wearing so fast. Altra should have a service for replacing soles or a new material.

Originally reviewed on altrafootwear.com
4 out of 5 stars
October 22, 2023
Altra should have sole replacement service
My bad feet rarely find a hiking shoe that feels so good.

Originally reviewed on altrafootwear.com
3 out of 5 stars
September 11, 2023
Just Okay
The water resistant feature was great, my feet stayed dry while crossing a small ravine. The fit is true to size and similar to the original Lone Peak. The reason why I only gave it 3 stars was because the heel part of the shoe was incredibly stiff and would hurt after a day hiking (3miles). Tried it on a second hike, same thing and even had . Just want to stick to my original lone peaks which are SO comfortable. Wanted to love these but sadly they're going back.

Originally reviewed on altrafootwear.com
3 out of 5 stars
September 6, 2023
I loved the previous model, but this model doesn't fit well
I love the giant toe boxes of Altra. Last model was great. This model, the metal fastners used to lace the top laces dig into my ankles and really hurt. I was able to get around this by not using one set of the metal lacing bits. Because of this, sometimes the metal laces hooks catch on the sole of my foot as I'm walking (because the shoes aren't laced as tightly as I'd like) causing me to trip. I'm getting a bit of neuropathy in the my foot from the new model, whereas the last model I did not. Seems like the fit changed a bit this time around for the worse. I will still buy the shoe because of the toe box, but hopefully I'm in time for feedback for the next model.

Originally reviewed on altrafootwear.com
Need Expert Advice?
Our Gearheads Can Help