---
Why We Like The Yeti 150 Solar Generator
The Goal Zero Yeti 150 Solar Generator is a savior in a small, portable package. This mini-powerhouse saves the day during an outage or saves our outdoor camping party from being a total bore. Wherever we need power, this baby brings it. With USB, 12V, and AC connections, we have plentiful options for use. We juice up our laptop, tablet, camera, or phone for lights, music, and entertainment, or if we just need to see just what it is we're making for dinner.

Details
Solar generator for use with USB, 12V, and AC powered devices
Power up tablets, laptop, lights, camera, TV, and more
Pop-up handle for convenient portability
Indicator light lets you check the charge at a glance
Display backlight makes it easy to see in the dark
Chainable design increases versatility
Please see size chart for Goal Zero charging information
Item #GZR000D
Battery Type

lead-acid (AGM)

Capacity

12V, 14Ah (168Wh)

Charge Time

[wall charger] 6 hours, [car charger] 8 hours, [Nomad 13 solar] 26-52 hours, [Nomad 27 solar] 13-26 hours, [Boulder 15 solar] 22-44 hours

Input

[8mm charging port] 14-29V, up to 5A (60W)

Output

[AC outlet] 110V, 0.7A (80W), [6mm port] 12V, up to 10A (120W), [USB] 5V, up to 2.1A (10W)

Dimensions

7.75 x 5.75 x 6.75 in

Claimed Weight

12 lb

Manufacturer Warranty

6 months
Reviews
Q&A
Overall Rating
4 based on 99 ratings
What do you think about this product?
View
Selecting an option will reload the available reviews on the page
1 out of 5 stars
September 11, 2023
Sudden expansion and leaking after 4 years of use
Bought this in late 2019 to have something to recharge phones with around the house and while camping. Used it fairly regularly until today. It's capacity had started to diminish but there were no other issues. I had run it low and yesterday plugged it in. This afternoon I smelled something like sulfur and discovered the battery was hot to the touch and hissing. Upon picking it up I noticed it had bulged considerably. The AC port was still powered on and charging a device. I switched it off and ran it out to the garage where it started leaking a clear fluid when tilted. I know these batteries don't last forever but I would have expected it to fail gracefully. It's been a few hours and it's still hot to the touch, I hate to think what would have happened if I didn't catch it when I did. If you have one of these units, please keep a close eye on it or consider replacing.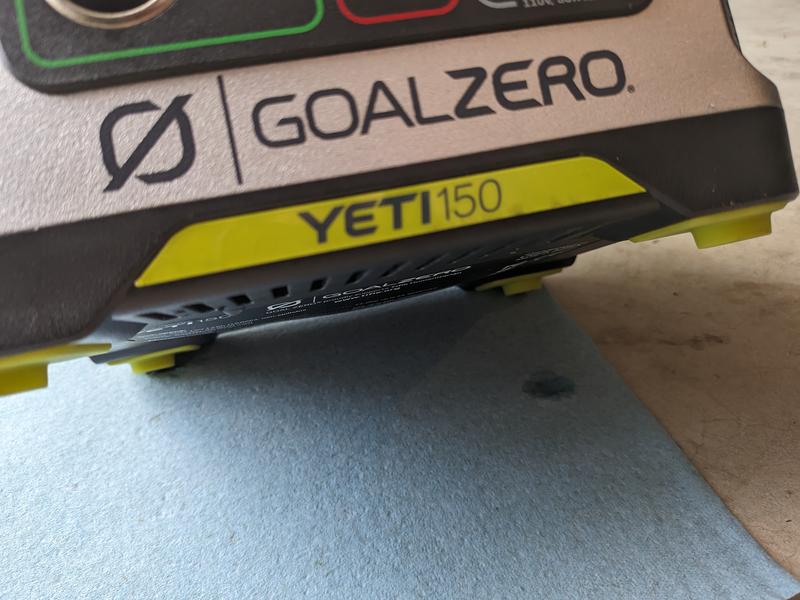 Originally reviewed on goalzero.com
5 out of 5 stars
July 14, 2023
The Yeti 150 for Light Duty...
Although overshadowed by its replacement, the Yeti 200X, for low-power requirements, although discontinued, it is still a versatile and viable option on the second-hand market. I picked up a Yeti 150 "new-in-box" out of curiosity, and I can truly say that, taking its limitations into account, it is a useful 'Smart Battery'. I have recharged my laptop, Smart Phone, and run LED lighting from the USB-A ports, as well as the Light-a-Life 350 lamp from the 6mm output. The AC is at a disadvantage, being "modified sinewave" and capped at 80 watts, but it will accept AC chargers for some cordless power tools, smart phone / laptop "fast-chargers", and low current CCFL lamps. Although not as light as the Yeti 200X with its Lithium NMC battery, and saddled with the limitations of the Lead-Acid AGM battery, the Yeti 150 user can very easily change out the existing battery with a new one, should the need arise. Just remember, that even with Lithium batteries, the Lead-Acid batteries will have a far longer service life if you DO NOT completely deplete them. I avoid taking Lead-Acid batteries down below half charge. It might also be worth pointing out that should Lithium become more of a "strategic metal" than it already is, the Yeti 150 ( as well as the discontinued Yeti 400 & 1250 ) will accept widely available Lead-Acid batteries. For success with any of the Goal Zero Yeti units, it's essential that you understand your power requirements, so that you can intelligently choose the Yeti that will best serve your needs. For "Light-Duty / Car Camping" and minimal Smart Phone / Accessory and Lighting needs, the Yeti 150 might be for you. Recommended Accessories for the Yeti 150: get the Car Charger to top off the battery while driving; at camp, I suggest the Nomad 50 watt Solar Panel or equivalent minimum. I'm also a fan of the Light-a-Life 350 Lamp. If you require a USB-C port for your Smart Phone get an Adapter to plug into the "Cigarette Lighter" plug on the Yeti. I hope these suggestions are useful!

Originally reviewed on goalzero.com
1 out of 5 stars
September 2, 2022
Hunk of junk
My wife bought our yeti 150 about 2 years ago and we've only kept it for emergencies. This is the third time I've charged it. It overheated and made my kitchen stink like burnt electronics. The bottom was bulging and it took 4 hours for it to cool off.

Originally reviewed on goalzero.com
5 out of 5 stars
March 29, 2022
Goal Zero Yeti 150
It was easy to follow instructions and light weight. I feel more secure having it in case of a power outage. I love it

Originally reviewed on goalzero.com
1 out of 5 stars
August 1, 2020
Don't waste your $$$ or time on this AGM trash.
Yeti 150 has not been able to hold a charge, and now won't charge. Bought this replacement, and same thing. I've owned numerous GZ products but this is the worst by far w/zero support. Will go off brand or find a lithium as this AGM is pure garbage.

Originally reviewed on goalzero.com
5 out of 5 stars
May 3, 2020
Perfect for my CPAP APAP machine
I purchased the Yeti 150 to power my CPAP/APAP and other devices, during power outages and emergencies, and while camping. My Equipment: Philips Respironics DreamStation (without humidifier) Power Supply: Shielded DC Cord for Respironics DreamStation My Test Results are below. Note: Before starting the test, I read the instructions for the Yeti 150. Also, I charged the Yeti 150 to 100%. I did not charge my Yeti 150 again until I reached day 4. CPAP/APAP Settings: Min Pressure = 7.0 cmH2O Max Pressure = 20 cmH20 1st night of sleep. 6:23 hours of run time. 90% pressure = 9.0 cmH2O 2nd night of sleep. 10:58 hours of run time. 90% pressure = 8.1 cmH2O On day 3, I charged my iPhone X utilizing the USB port on the Yeti 150. My iPhone's battery was at 5% and I disconnected it when it reached 95%. 3rd night of sleep. 9:27 hours of run time. 90% pressure = 9.6 cmH2O On day 4, my Yeti 150's battery indicator read 20%. I placed the Yeti 150 back on it'a charger (per the instructions).

Originally reviewed on goalzero.com
1 out of 5 stars
January 29, 2020
battery expanded to break case
Yeti 150 started beeping... found case bulged. Openned cased to find expanded battery and corrosion of various metal parts. Very nervous about using it again. Glad it didn't cause a fire.

Originally reviewed on goalzero.com
3 out of 5 stars
May 29, 2019
Not powerful enough for mattress pumps for camping
Just purchased last week and disappointed to find it doesn't have the amp rating to use my DC inflator and not enough watts for my AC inflator. Have to keep my other car jumper battery for the matresses camping. Bummer.

Originally reviewed on goalzero.com
5 out of 5 stars
April 25, 2019
light weight 60 watt surge 8mm port perfect
believe it or not I can power 19 inch tv cell phone tablet and walkies at 57 watts and 60 watts of solar coming in which means battery doesn't die during the day or lose power checkout my youtube channel eclipse entertainment presents for my full review.

Originally reviewed on goalzero.com
1 out of 5 stars
February 21, 2019
Doesn't Work on First Try
I got mine as a catalogue gift for many years of service at my company. I could choose anything from the catalogue and decided on this after weeks of searching.That was 3.5 years ago and I tried to use it for the 1st time after being charged for 3.5 years and nothing. My girlfriend had a power outage at her work and took it as a backup a few days ago. After plugging in a device and tapping the button, the light came on, then turned off. I checked the documentation and did a reset according to the instructions and still nothing.I'm glad I did not buy a second one and glad this was a company gift.

Originally reviewed on goalzero.com
Need Expert Advice?
Our Gearheads Can Help
Can this be used to power a small radio?
If I have a rugged router that requires 10w of power and another device that pulls 12.5w of power can I use an outlet extender to power both with the Yeti 150?
Is the 12V cigarette lighter port regulated? Or is it just tied to the battery terminals?
Can we use this to power an off board electric boat motor?
The details on this product don't indicate it comes with a solar panel or not, yet the title says it's a "Solar" generator. Does it come with a solar panel? Or do you have to buy separately?
Can you use this to jump your car?
Can YETI 150 be put on charge, while it is charging other devices?
I have a Chromebook with a USB-C charger / power supply. Can I charge that Chromebook directly from the USB output or do I have to hook up the USB-power supply to the 110V output? If both works, which will be more effective?
Can I leave it plugged in?
Would this unit supply power for a 10 cup coffee maker?
California Proposition 65
Cancer and Reproductive Harm - P65Warnings.ca.gov