How to Choose Snowboard Boots
The right pair of boots often makes the difference between an awesome day on the mountain and an afternoon spent whimpering in the lodge. With the huge amount of available options, knowing what features you want and how your boots should fit can be a big help in narrowing down your choices.
Flex and Support
When you're choosing a new snowboard boot, the first place to start is to look at a boot's flex. The flex of a snowboard boot refers to the amount of support it provides, and how quickly it transfers energy to your board. Manufacturers generally rate their boots on a scale of 1-10, with 10 being the stiffest; however, keep in mind that the fit and feel of different boots with the same rating will vary from model to model.
How soft or stiff a boot you're looking for will depend on the kind of riding you do and your level of proficiency.
Stiff boots are going to be preferred by advanced/expert riders, those riding bigger lines in the backcountry, and riders looking for lots of response when riding. Stiffer boots offer less side-to-side flex while while providing the rider with a higher degree of response to the terrain and board. They're also easier on your ankles during big landings or in choppy conditions. Typically, boots labeled as "backcountry" or "freeride/all mountain" are going to be on the stiff side.

A sampling of stiff snowboard boots (left-right): Thirty-Two MTB Jones, Burton Ion, Vans Infuse, and the Women's Burton Felix.
Medium-flex boots are great for intermediate/advanced riders and those who want a responsive boot, but one that's flexible enough for occasional jibbing or lap through the park.

Versatile medium-flex boots: Burton Concord, Salomon Dialogue, K2 Maysis, Van's Women's Aura.
Soft-flexing boots are ideal for dedicated park/freestyle riders who like lots of lateral mobility, or for beginning snowboarders looking for an easy-going boot that won't overwhelm them. Softer boots are more comfortable out of the box and give you the lateral mobility needed for grabs and rail tricks (or just mellow cruising). The tradeoff is less weight transfer when you're leaning into turns, and more impact transferred to your feet and legs when you're landing or plowing through choppy snow.
Lacing Options
The various lacing systems are the most visually obvious way in which snowboard boots differ, and each has their pros and cons. We could chat all day about which one is best, but the truth is there are a variety of options. The most important thing is that it suits your preference and riding style.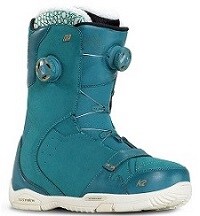 Boa lacing systems feature a super-convenient twist-to-tighten cable reel design that also easily releases tension for quick on-and-off (and more comfortable lunch breaks). Boa dials are easy to operate even while you're wearing gloves, which is nice when you're booting up on those frigid midwinter mornings. One of the drawbacks of lower-cost Boa lacing can be uneven pressure throughout the boot due to the inability to adjust tension in specific areas. Higher-end Boa boots feature multiple reels and lacing zones to address this problem.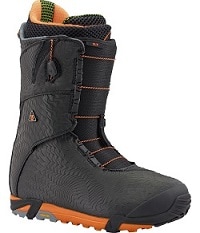 Speed lace systems combine convenience and customizable tension, as most designs feature multiple lacing zones that are individually adjustable. Most speed lacing systems tighten each zone with the yank of a handle, which then locks the lace into place. Speed laces can be tightened just as fast or faster than Boa systems but don't release tension quite as easily when it's time to get out of your boots. They can also be prone to loosening or slipping if the lace isn't properly locked into place.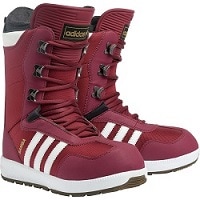 Traditional lace systems are my lacing system of choice. I like to keep it old-school because of the ability to fine-tune lace tension. While traditional laces take a little more time and effort to tighten and adjust, it's tough to top the customizable fit and support they can provide. It's also a lot easier to tie off a traditional lace that breaks out on the mountain compared to the speed systems that can be a hassle to repair or replace if something goes wrong. The main drawback to traditional laces is that they take a bit of time and practice to get the tension right, which can be harder than it sounds in a cold, windy parking lot.
How to Tie your Traditional-Lace Snowboard Boots
Construction and Tech
As you go from entry-level to higher-end boots, or look at boots designed for different functions, you'll find considerable variation in how they are put together and the features they offer. All boot manufacturers offer options to fit a variety of budgets and riding styles, so consider your price range and what you want out of your snowboard boots. Park and freestyle riders may want maximum shock absorption, while a powder junkie who regularly hikes for fresh lines might be more concerned with a supportive liner and a grippy, durable outsole.
Liners
One of the biggest differentiating factors, liners have a big impact on how a boot feels. Liners in higher-end boots will often be made of heat-moldable foam that will give you a more custom feel and better fit. They may also have a better closure system and ankle harnesses or removable "J bars" that can help hold your ankle in place.
Sole materials
The use that a boot will be put to has a big influence on the sole material. Those designed for freestyle and terrain parks will tend to have soles made of lighter materials like blown rubber or EVA. These are lightweight and offer great cushioning. However, if you know that bootpacking up to fresh lines or other situations where traction and durability are paramount, look for a boot with a lugged rubber (often Vibram) sole.
Upper materials
Most snowboard boots are made of synthetic materials, but as you get into the more expensive boots, you might find leather options. It's not all just about looking classy — with proper care, leather will last longer and will eventually offer a more custom-feeling fit.
Insoles
Like other features, insole construction will progress somewhat from just a simple strip of foam to something more supportive. That being said, the insoles that come with snowboard boots are never going to match the performance of an after-market sport insole, and you would do well to replace the stock insoles with a pair that
Keep in mind that boots are versatile, and the "best" flex and features for a particular type of riding are largely a matter of personal preference. You don't have to buy the most expensive pair to be comfortable on the mountain if the boots you choose serve your needs and fit well. Speaking of which …
Fit, Fit, Fit
By far the most important factor in confirming your selection is making sure the boots actually fit properly. The lightest outsole and best shock-absorbing materials in the world won't do much good if your feet are cramped and sore from heel lift or crushed toes. While manufacturers do their best to ensure all their boots fit a variety of foot shapes, they also build them around different lasts, which means boots can fit differently from one company to another (or even within the same company).
First-time boot buyers often make the mistake of buying boots that fit like comfortable shoes, which soon break in end up being too big—just as bad (or worse) than being too small. Many riders end up downsizing a half size from their street shoe size to ensure a properly snug fit. When you're trying on boots on for the first time, make sure your foot is all the way back into the heel pocket—a firm whack on the ground ought to do it—and get the laces nice and tight before evaluating how everything feels.
Once you're laced up tight, bend your knees and flex the boots in different directions, like you would while snowboarding. You should feel firm but comfortable pressure everywhere except your toes, which should be just brushing the end of the boot. As you lean forward into the boots like you would on a toeside turn, your heels should feel secure with no slipping (note that this does not mean intentionally trying to yank your heel out of place, which is possible even with too-small boots). Potential problem signs include pinching, smashed toes, a loose fit, or loss of circulation, all of which may mean it's time to try another size or a different boot altogether.
Your feet will tell you when you've found the right boots. And if the ones you've picked out are telling you something other than what you want to hear, keep trying different boots until you find the right ones.
Related
Shop