How to Choose a Climbing Harness
If there's one piece of climbing gear that gets overlooked all the time, it's probably the harness.
Everyone seems to know which shoes they want, what cam will be best for their project, and the exact weight of their Black Diamond Neutrino Carabiners, but few people think about the tech behind and the thought put into the gear that keeps their rope tied securely to their bodies.
But it's an important decision! As a Backcountry Gearhead I get a lot of questions about what gear you would use in which situation and why to purchase one particular piece of gear over another.  When it comes to helping someone find the right harness (or any piece of climbing gear, for that matter), my first question is always about what kind of climbing you'll be doing, because that will play a big part in your decision. Features will vary on harnesses depending on this; alpine climbers will have different needs and require different features from someone who is simply top roping. The right mix of features will be what ultimately creates the best possible experience for the climber.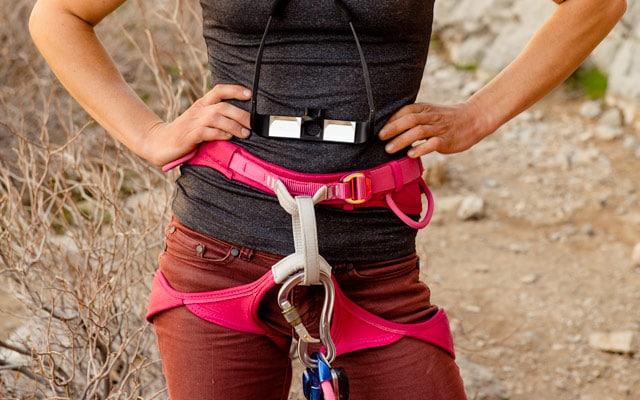 A fairly simple, low profile harness—great for sport climbing and the gym.
The Anatomy of a Harness
Belt
The Swami belt, aka the waist belt, will vary in width and amount of padding based on the type of climbing that the harness is built for. Sport climbing harnesses will often have a smaller, less padded waist belt as you will typically only be hanging in the harness for short periods of time. Big wall harnesses, on the other hand, often have a thicker, more cushioned waist belt to provide maximum comfort on long days on multi-pitch routes with hanging belays. Simply put, the biggest consideration to make based on the waist belt, is how long you plan to be sitting in the harness on a regular basis. If you like to climb a lot of single-pitch sport, a thin waist belt will do. If you like long multi-pitch lines with plenty of hanging belays, go for something a little burlier.
Leg Loops
When it comes to leg loops, there are generally two major options: adjustable and non-adjustable. As is the mantra of this article, the one you choose will depend primarily on the type of climbing that you will be doing. If you're top-roping and sport climbing, there is generally no need for adjustable leg loops as you will generally only be putting the harness on over a single layer. For trad routes, big walls, alpine, and ice climbing, though, adjustable leg loops can come in handy as they can be fitted perfectly over however many layers you are wearing.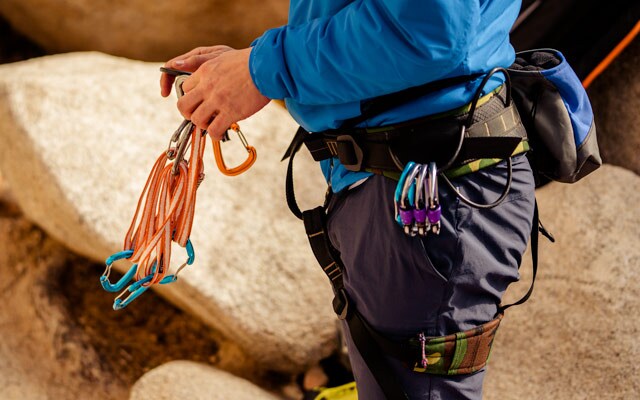 A somewhat heavier belt and well-padded leg loops are often preferred for trad climbing.
As an important note, non-adjustable leg loops do not mean that they will only work for one size or leg circumference. They are made of a material that will stretch to be roughly as wide as you need them to be, within reason. With multiple layers on, it may be harder to fit your legs into non-adjustable leg loops. Generally though, non-adjustable leg loops are a great option to simplify your setup if you won't often be wearing the harness over layers.
A Note about Buckles
There was a point in time when you had to double back your own webbing on your waist belt and leg loops in order to avoid the webbing slipping back through the buckles and opening or loosening during use. My brother used to say that if you could see the inside of the "D" shape on the buckle, that you got a "D" for Danger in Rock Climbing 101. Now, though, most harnesses are made with a system that doubles back the loops for you. It is important to note that some harnesses still require you to manually double back your waist belt and leg loop webbing, such as the Black Diamond Big Gun. It is important to determine what system your harness is equipped with before the first time using the harness.
Gear Loops
A harness' gear loops are where you rack your gear—carabiners, quickdraws, hooks, and/or cams—for easy access while climbing. Often there will be between two and seven gear loops, and the number and layout of the loops will often vary by the type of and how much gear you plan to carry up the route. Top-roping and gym climbing don't require much more than a belay device, so a harness with a limited number of gear loops will work just fine, such as the Petzl Adjama Harness. As you move into lead sport climbing, where you're carrying quickdraws up a climb, four loops will provide plenty of space, like what is found on the Arc'teryx SL -340 Harness. Finally, if you are interested in big wall climbing, you'll want as many loops available as possible, such as the six found on the Misty Mountain Cadillac Women's Harness.
Another consideration is gear loop style. There are many different types of gear loops; some are covered in plastic, some are thicker than others, and they can be placed in different spots on the harness. When deciding on a harness, it is important to try to feel the different types and see what will work best for your climbing.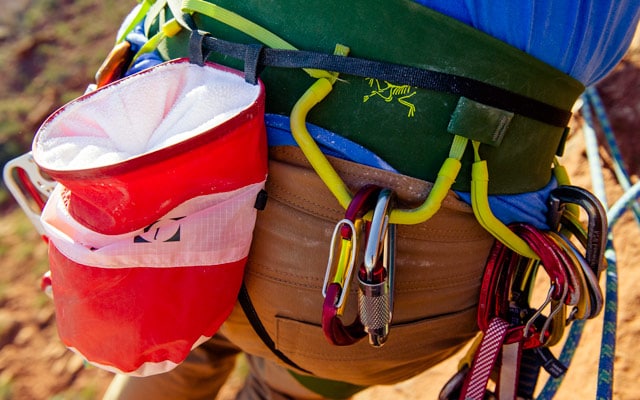 A full-featured harness with plenty of loops for gear.
Haul Loop
The haul loop is loop made of cord, webbing, or plastic on the back of your harness, typically just far enough behind you to make it awkward to access easily. This makes it ideal for attaching items to that you will not likely need to remove at any time during the climb itself but need to take up with you. Usually, it is used as a haul line to bring a second rope up with you on longer routes or routes where you'll need ropes to rappel off. On shorter climbs it's a great spot to carry water, a small pocket knife, a chalk bag, or other gear that you won't need to access quickly. It's important to note that most haul loops ARE NOT rated to hold the weight of a climber. Even if they look strong, or do have a designated strength rating, a haul loop should never be used as an attachment point in any weight-bearing system.
Clipper Slots
Clipper slots are very simple pieces of fabric that are sewn into the harness and look like horizontal belt loops; they're easy to miss if you don't know what they are. This additional gear-carrying feature allows you to attach ice clippers to the harness to effectively rack ice screws. They don't take up space and don't really add any weight, so even if you don't ice climb, it's OK to select a harness with clipper slots if it has all of the other features you're interested in. If you are getting into ice climbing though, clipper slots are definitely a feature you should consider.
Belay Loop
The belay loop is what you will attach your locking carabiner to when belaying someone. It is a fully load-bearing loop on the front of the harness that is run vertically through the two "hard points" or tie in loops on the harness. A handy tip is to remember that generally, when you want to attach something to your harness made of metal (for example, a locking carabiner to use with your belay device), you'll want to clip it to the belay loop. Any other load-bearing piece of equipment (rope, PAS, etc.) will generally be attached to the hard points of the harness. Belay loops are simple, as most harnesses only have one, with the express purpose of use during the belay.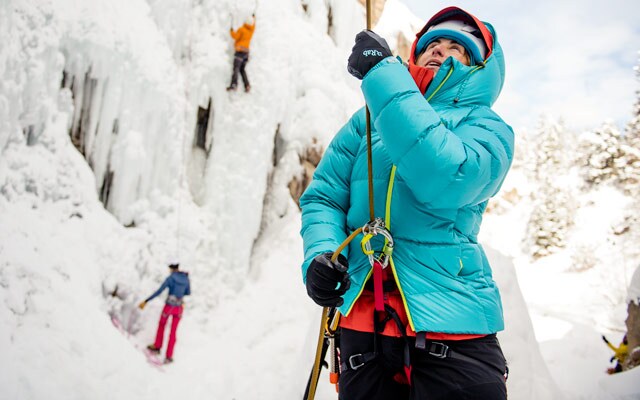 On belay.
The only option you really have for belay loops is whether to go with one or two. For most, a single loop will be more than adequate. Yet, it is worth mentioning that some harnesses, such as the Metolius Safe Tech All-Around Improved Harness, have two belay loops, which can be used to organize ropes and systems when doing long multi-pitch/big wall climbs. They are used in the same manner as when you would use one, but having a second allows you more room to work when potentially bringing up multiple partners or in other scenarios involving multiple rope systems.
The Bottom Line
There are a lot of harnesses out there to pick from, all of which will get the job done. Here's a quick summary of what you should look for, by type of climbing:
Sport: 2-4 gear loops, thinner belt
Trad: 4-6 gear loops, thicker belt
Ice/Mixed: 2-4 gear loops, 2-4 ice clipper slots, thinner belt
Aid/Big Wall: 4-6 gear loops, rated haul loop, thick belt, adjustable/removable leg loops, two belay loops
Mountaineering: 2-4 gear loops, 2-4 ice clipper slots, adjustable/removable leg loops,thinner belt
Kids: Full-body harness
Basically, if you don't know what you're looking for in a harness just remember to ask yourself what type of gear you plan to carry, how much of it you plan to carry, and for how long you plan to use the harness for a typicalouting at the crag. Those three simple questions will begin to thin the field of harness options at your fingertips until you can decide what works well for you comfort wise and what will work with your budget.
You also might want to consider not only what type of climbing you will do in the immediate future, but also the climbing you really hope to do further down the road, and plan your purchase accordingly.
Finally, it's not a bad idea to try a number of different harnesses on before you decide on one. Comfort is king in many cases with climbing harnesses and if you are going to be spending hours in it, it had better not rub you the wrong way.
I hope this helped to shed some light on how to go about the process of picking out your perfect harness, but if it doesn't satisfy your questions, feel free to contact me or another knowledgeable Gearhead at Backcountry.com. We'd love to get you on your way!
Related
Shop