How to Choose a Bike Rack
When you're planning a bike trip, you're probably focusing more on daydreams of digging into a tacky descent, or feeling the speed of the tarmac and finding a little more in your legs than you thought.
What can get missed are nitty-gritty details, like how you're going to get your bike to your destination. Just throwing your bike in the back of your car is appealing, but if you don't have the room, the right car, or the time to clean up after a muddy ride, a rack is indispensable. The right bike rack can make that process painless, while the wrong one can slow things down considerably.
There are two aspects to bike rack design: How the bike attaches to the rack, and how the rack attaches to the vehicle.
Bike Attachment
The two main style of bike racks are hanging racks and tray-style racks.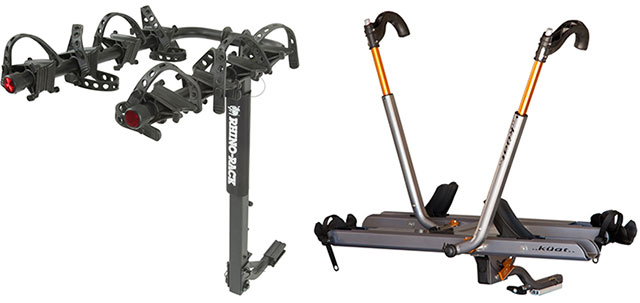 Hanging racks, in which the bike's top tube is held in cradles attached to bars, can be found on hitch-mounted racks, spare tire racks, and rear-mounted racks (more on these later). They can increase your car's ground clearance as compared to tray-style racks, but they can make it challenging to mount bikes with certain frame designs. Basically, they're easier to use with hardtail mountain bikes and road bikes.
Tray-style racks will be found on roof racks and hitch-mounted racks, and for simplicity's sake, we'll consider truck bed mounted racks to be part of the tray-style family. They generally do a better job keeping bikes from moving during transit, and because your bike sits in the tray, they're more accommodating of non-standard frame designs. Aside from the tray, the bike will be held in place with either an arm that clamps the frame, an arm that clamps the front wheel, or as in the case of some roof and truck racks, they'll attach to the fork. This requires removing the bike's front wheel, and for bikes with thru axles, often requires the use of an adapter as well. Those with fat bikes will want to double check that their bike will be compatible.
Attachment to the Car
Roof Racks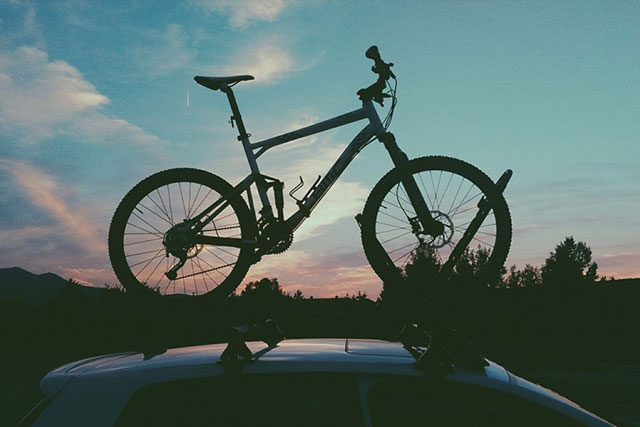 Roof racks are tray-style mounts that go on top of an existing base rack system on the top of a vehicle. It's best to pair the rack to the same brand's crossbar, although it's not always required. Roof racks are a familiar choice that works well for bikes with non-traditional frame designs, but they're not without drawbacks. While they are the easiest to configure and install, they add a considerable amount of height to your vehicle. A smaller, low-to-the-ground vehicle such as a wagon or sports car is best for this type of rack—not only will it be easier to get the bike on and off the top of the car, but you won't run quite as much of a risk of an unfortunate encounter with a low overhang, although garage doors will still be an easily overlooked hazard. So if you're the forgetful type, roof racks are probably not the best option. Also, your gas mileage will take a measurable hit.
Pros: Easiest to set up, relatively affordable, holds bike securely
Cons: Added height may lead to possible damage to bike and car, lower gas mileage, not ideal for taller cars or shorter users (unless you use a wheel step).
Rear-Mount Racks
For the purposes of this article, we'll call rear-mount racks that attach to the rear of a car by a system of straps "trunk racks," to distinguish them from racks that bolt to the spare tire on the back of a car.
Trunk Racks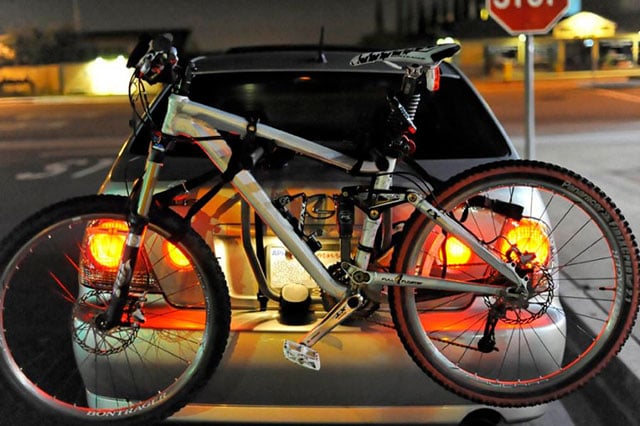 Trunk racks are usually the least expensive and can go on virtually any kind of car, don't increase the height of your vehicle (so low overhangs aren't an issue), and don't kill your gas mileage. But these racks are notoriously difficult to attach (and keep attached–who hasn't had to pull over and tighten the straps on a rack that's swaying alarmingly as you breeze down the highway?) and do limit the access to the rear of your car for storage. Also, I wouldn't recommend this rack if your bikes are relatively expensive, as most trunk racks don't prevent bikes from swinging into each other.
Pros: Least expensive, attaches to back for better bike protection and minimal gas mileage hit, can be used on many different models of car, simple to use after installation.
Cons: Installation can be painful, may require constant adjustment, bikes can swing back and forth, limits access to storage points of vehicle.
Spare Tire Racks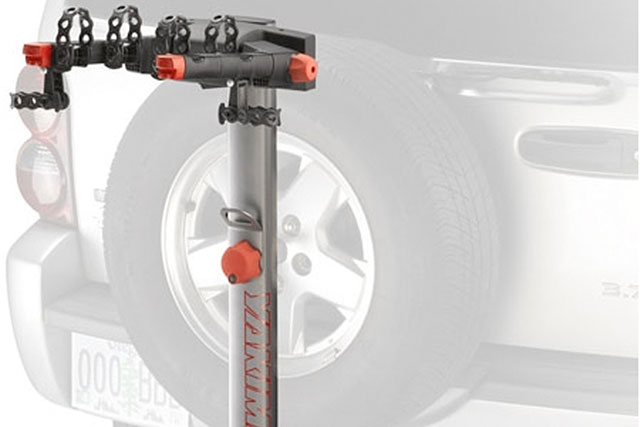 If your vehicle has its spare attached to the outside, a spare tire rack may be a great option. They bolt directly to the tire and, in fact, can serve double duty in locking the spare to the car. They are a good choice if you have the right kind of car (see list here), although they generally can only accommodate two bikes.
Pros: Inexpensive, easy to use once installed.
Cons: Only compatible with a few vehicle models, usually only take two bikes maximum.
Hitch Racks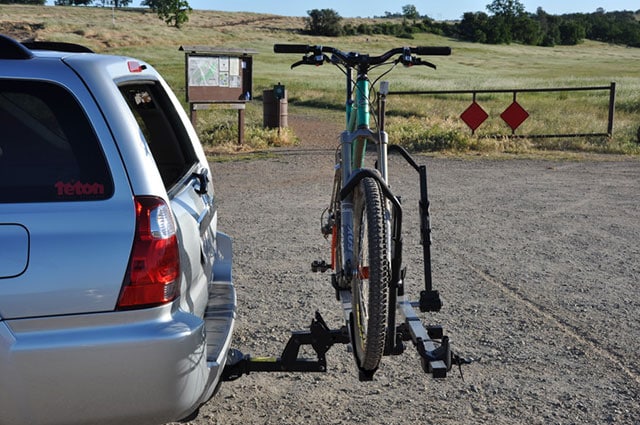 A hitch rack is either a hanging or tray-style rack that attached to the rear of a vehicle using a hitch receiver. These racks are usually the most expensive and obviously require that your vehicle has a hitch receiver, but they do protect the bike very well and they give you the most bike attachment options. You'll want to double-check your hitch size when buying. The industry is going more towards 2in class III receivers, but some 1 ¼in sizes are still out there. Sometimes a rack will come with an adapter, or in two different versions. Also, some higher-end models are hinged to swing out of the way, which gives you access to the interior of the vehicle. They do have a few pitfalls—for tray-style hitch racks, if your ground clearance isn't great, a three- or four-bike model may get hung up on variable terrain. In this case you would want to go with a hanging-style hitch rack.
Pros: Solid mount for your bike, plenty of options, can access whole vehicle with swing types, minimal gas mileage hit.
Cons: Most expensive, need to match up correct hitch size, may hit bottom on variable terrain.
Truck Bed Racks
If you happen to have a truck, you'll have a few added bike carrying options.
Inside the bed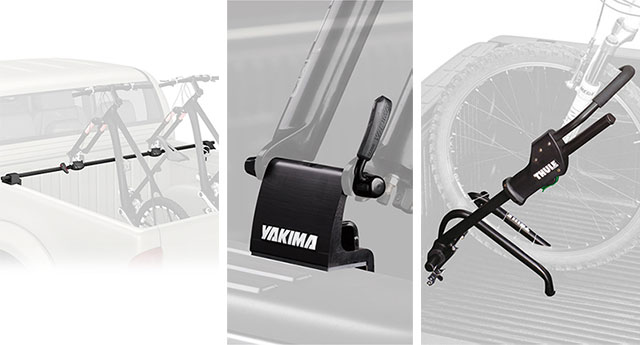 Bikes can be attached to truck beds a variety of different ways.
There are certain mounts out there that can be installed in the bed of a truck for bike carrying. The amount of complexity ranges from a simple fork mount to a front wheel lock similar to what is on a tray style hitch rack. They work best with open truck beds, although extra tall truck caps can work too if you're willing to deal with a slightly more difficult time getting your bikes in and out.
Pros: Affordable, minimal gas mileage hit, added security when used with a truck cap.
Cons: Not the most user-friendly option, sacrifices usable space in the back of your truck.
On the Tailgate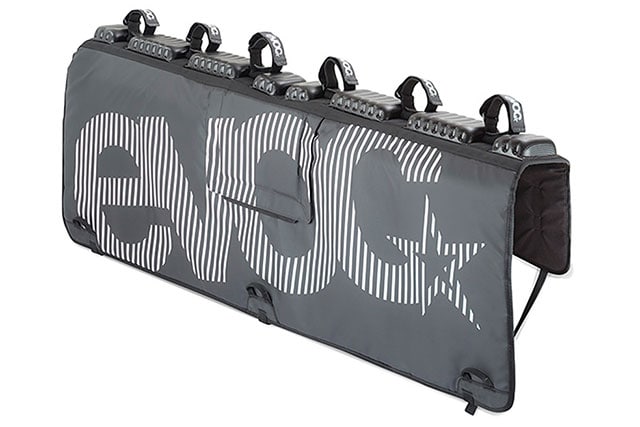 Downhill mountain bikers will probably be familiar with hanging the front wheel over the tailgate of the truck bed and go to the trail. All that is needed here is a tailgate pad for protection, although the designs are getting increasingly specialized. While this is a very easy and fairly inexpensive option, it isn't the most protective, and is most commonly used for mountain bikes.
Pros: Most affordable option, hardcore points at the trailhead.
Cons: Can cause rubbing on your bike's downtube, generally best for mountain bikes.
Other questions to consider
How many bikes?
This is important, as most bike racks have a limit as to how many bikes a rack can safely carry. Applying more duct tape or bungee straps to get that extra bike on is never a good idea.
What type of bike?
Your bikes matter for a few reasons. Some frame designs are especially difficult to get onto hanging racks, which makes a tray-style rack a better option. Also, many modern tray-style racks are designed to accommodate bigger tires, but you'll want to check for compatibility, especially if you have a fat bike in your quiver.
What vehicle do I have?
Not all racks fit on all vehicles, so be sure to double-check the easy-to-use fit guides on the websites of most rack manufacturers. Take full advantage of these resources, they'll go a long way toward preventing unnecessary headaches.
Should I get a lock?
Most of the truck, hitch and roof racks, along with a few rear-mount racks incorporate locks for not only the bikes but the rack attachment itself. Be sure to read up in our tech specs to see if it is an option; if not, lock cores can be purchased separately.
Please Note
Check your vehicle's manual or reach out to the manufacturer directly to make sure that the maximum allowable weight on a vehicle will allow the number of bikes you wish to carry.
In accordance with road laws, your license plate and rear lights should not be obscured by your rack.
If you have any further questions, or would like suggestions as to which rack will suit your needs, don't hesitate to contact me or any of the other Expert Gearheads. Happy riding!
Shop
Related