Backpacking 101: Planning and Outfitting Your Trip
We are all drawn the open trail, our gear on our back and map in hand, searching for some solitude next to a campfire far beyond the lights of the city.
When you decide to leave the campground behind and make the leap to the backcountry, there is a lot to consider. My first backpack was a hand-me-down Gregory and it took me years to accumulate the necessary gear to support me in the wilderness as a bona fide backpacker.
Loading up your pack, leaving the car far behind, and carrying everything you need on your back combine to raise the stakes from your standard day hike or car camping overnight. But with a little planning and preparation, you'll be set for some of the most memorable outdoor experiences of your life.

Where to Go
What to Bring
What to Eat
Downloadable Packing Checklists
How to Pack
In Case of Emergency
Getting Ready to Go

WHERE TO GO
Pick a place that matches your skill set and abilities, fits within your budget and time constraints and most of all is motivating for your group—for example, if you love fishing for trout or want the chance to see a mountain goat and are looking for a moderate three-day trip, the Sawtooth Mountains of Central Idaho are an ideal choice. Outdoor magazines, regional guidebooks, and online backpacking forums can be great resources for choosing a destination and selecting a trail route.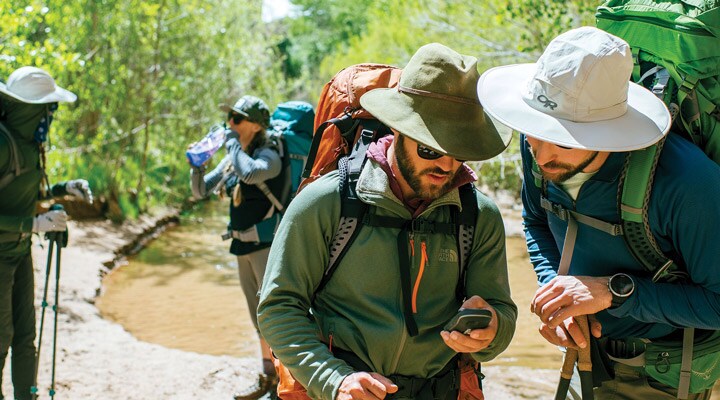 Consider the terrain, realistic abilities of your group, and the goals of your trip. Will your route be a loop? Out and back to a scenic lake for fishing? Point-to-point, including a mountain summit along the way? Will you need to shuttle a car? Depending on where you're going, budget anywhere from three to ten miles a day. Be sure to check local regulations and restrictions before you go. Can you have campfires? Are bearproof canisters required? What permits do you need to hike or camp there?

WHAT TO BRING
What you carry in your pack will be determined by where you go, what activities you plan to do and what kind of weather you'll likely encounter. But no matter what the variables, you're almost certain to be carrying/wearing these items:
Backpack
Choose an internal frame backpacking pack, preferably from a company with a lifetime warranty. For overnight trips, 35-50 liters should be sufficient; multi-day trips will require 50-75 liters. Consider the gear requirements of the activities you plan to do on your trip (fishing, climbing etc.). It is crucial to size your pack based on your torso size, not your height, but most backpacking packs come with some range of adjustability. Expert Tip: Strap your sleeping pad, fishing pole or climbing gear to the outside of your pack if you run out of room inside.
Read more about choosing a backpack
Footwear
Full or mid-height hiking/backpacking boots with a Vibram sole are the backpacker standard, although you may prefer to use hiking shoes or even trail running shoes. The longer your trip and the heavier your pack, the more durable and burlier boot you will need to provide the proper support. The breathability, waterproofing and weight of the boots or shoes are all important factors to consider. Expert Tip: Bring extra shoelaces; they are useful in a variety of situations.
Read more about selecting hiking shoes and boots
Clothing
Cooking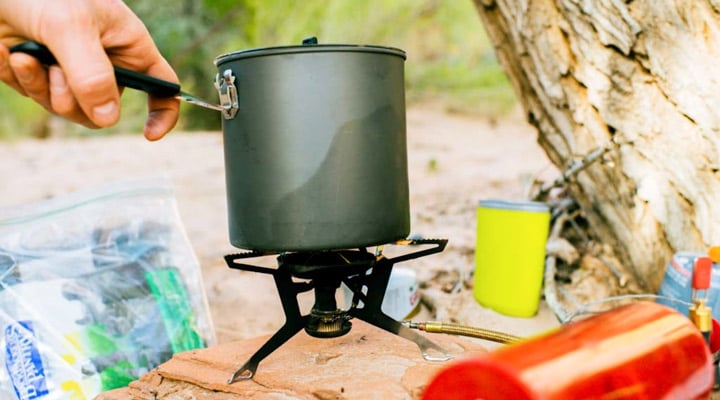 Sleep System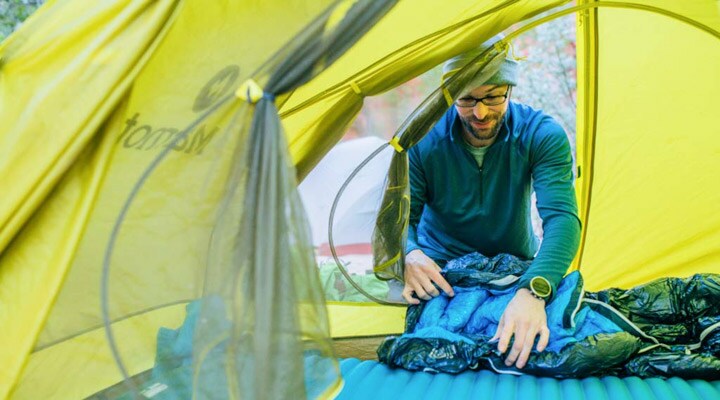 Emergency / Essentials
Optional
Trim the Excess
Lay out all of your gear before your trip. Think lightweight and consider the weight vs. value tradeoff. Lighter gear is typically more expensive, but it will allow you to move faster and more efficiently. Once your entire kit is assembled, think about what you can easily do without, or which items serve multiple uses, and pare down to the essentials. From my experience, the larger your pack, the more you tend to bring.
Read more about lightening your load

WHAT TO EAT
Planning & Shopping
Planning the meals for your trip is all about packing enough calories to fuel your high-output days without toting a ton of extra weight in your pack. Whether you choose to purchase pre-made dehydrated meals that come in a bag or assemble your own, create a meal plan for each day of your trip.
A gallon of water weighs more than eight pounds, so one of the easiest ways to cut a good chunk of weight from your pack is to dehydrate your food. Pasta sauces, vegetables, chunks of fruit, and mushrooms can all be dried in a home dehydrator and reconstituted in camp. Choose meals with dry base ingredients such as oatmeal, couscous, or rice. But even as you're trying to save weight, don't sacrifice the little extras (like a block of cheese, hot sauce, a few fresh veggies, or a chocolate bar) that will help elevate the standard camp meal.
Once you've assembled your food, remove any ingredients from bulky packaging and separate them out for each meal in a zip-top bag. Label them Breakfast #2, Dinner #4, etc. This will help avoid a yard sale once you're in camp and will help keep your food bag or bear canister organized.
Water
Carry at least two liters per person per day, and more in hot weather. Bring a water filter or purification tablets with you and check your maps ahead of time for water sources along your route so you're not carrying more water than necessary. Check with the local ranger station on the status of natural springs, which can dry up in certain locations or times of year.
Learn more about water filtration and sterilization systems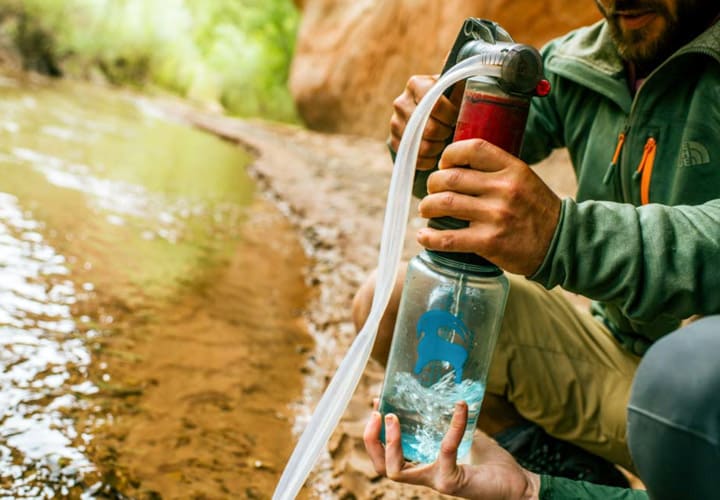 Protection for Your Food
Whether it's chipmunks or grizzly bears, you'll likely need to protect your food from animals. At the very least, store your food in a durable, secure stuff sack, and when traveling in bear country, either hang your food from a tree as high as possible or carry a bearproof canister.

HOW TO PACK YOUR PACK
Packing a backpack properly isn't just about making sure everything fits—where you put things will largely affect how comfortable your pack is to carry. A general rule of thumb is to put water, cooking gear, and other heavy items close to the center of your back and pack lighter weight items around them. This will help you maintain balance by keeping the bulk of the load close to your center of gravity. Keep snacks, maps, and other small items you might need throughout the day in the side pockets or lid of your pack for easy access.
Expert Tip: Split the weight of communal items by divvying up things like the tent and cooking gear among the group. Nobody wants to be the packhorse.
IN CASE OF EMERGENCY
Stay on the Radar
The idea of backpacking is to get away from it all, but that being said, always leave your trail itinerary, including where you plan on camping each night, with a friend or relative and give them contact info for local authorities in case you don't return on time. In very remote or challenging terrain, it can be worth carrying a Personal Locator Beacon (PLB), which can track your progress via GPS and when activated will send a distress signal to local authorities and Search and Rescue teams.
Embark with Proper Skills and Gear
Hitting the trail equipped with a good first aid kit, fire-starting materials, and some basic first aid knowledge will safeguard you from most minor mishaps. Know how to start a fire, where to collect water, and how to build a basic shelter. Expert Tip: Take a basic first aid course or, even better, become a Wilderness First Responder (WFR).

Getting Ready to Go
Take a car camping trip, short overnight trip, or even just camp out in your backyard for a night with the gear you plan to use. Becoming familiar with your gear and making sure it works properly before you leave can save you big problems on the trail.
Strapping on a 50-pound pack and walking eight miles in a brand new pair of hiking boots can turn into a blistery nightmare. Wear your hiking shoes or boots on short day hikes or even to work to help break them in. Your feet will thank you later. Make sure to address 'hot spots' immediately to prevent blisters from forming.
Quick Tips
Prepping for your first backcountry backpacking trip takes some work, but if you do the research and assemble the right gear, it can open the gates to endless travels and a lifetime of epic trips.
Related