Fleece Jacket Guide
Everyone's Favorite Layer
Fleece Jacket Guide
Everyone's Favorite Layer
Introduction
With so many different styles, weights, brands, and colors to choose from, shopping for a fleece jacket can be overwhelming. There are hooded pullovers and ½-zips. Some jackets have pockets, and some don't. And you'll find fleeces labeled with ratings like 100, 200, or 300. With all these options you're probably wondering how in the heck you're going to find the right one for you! 
To clear things up a bit, we put together this fleece jacket guide. Here we explain what exactly fleece is and when you might want to wear it. We also give you the lowdown on fleece warmth ratings and features. So read on. A little info will make it easy to choose from Backcountry's fleece offerings, saving you time, so you can grab one and get out there.  
What Is

Fleece

?

 
Fleece is a soft-napped, insulating fabric made from polyethylene terephthalate (PET), a hydrophobic fiber. 
 Fleece was invented in 1979 by Malden Mills, the company that eventually became Polartec LLC. Malden Mills' former CEO Aaron Feuerstein refused to patent Polar Fleece, which meant similar materials could be widely produced by many different companies.  
 In the early '80s, Yvon Chouinard collaborated with Malden Mills and in 1985, Patagonia released its first Synchilla fleece jacket. It was a mass-produced, synthetic-fiber insulating piece that was quick drying, packable, and lightweight. Synchilla was an excellent alternative to the badly pilled powder-blue-and-tan pile sweaters common in the early '80s or the traditional water-absorbing wool, down, or cotton layers that dominated mountaineering clothing in the decades before. 
 Because Synchilla jackets could be produced in vivid colors and mass quantities, they ignited a trend that reached into the world beyond the mountaineering community. Over the next 20+ years, synthetic fleece jackets developed numerous design features that made fleece the preferred midlayer for mountaineers, climbers, skiers, backpackers, fly fishers, and just about every other sort of outdoor enthusiast. Companies like The North Face and Patagonia were soon selling millions of units a year, and fleece jackets also took hold in markets beyond outdoor sports. 
The Different Types

Of

Fleece

 
To make it easier to choose a fleece jacket, we have broken fleece jackets down into five main categories: Ultralight, Lightweight, Midweight, Heavyweight, and Windproof. While not every fleece will fit neatly into the groupings below, there should be enough information here to set you on the right path.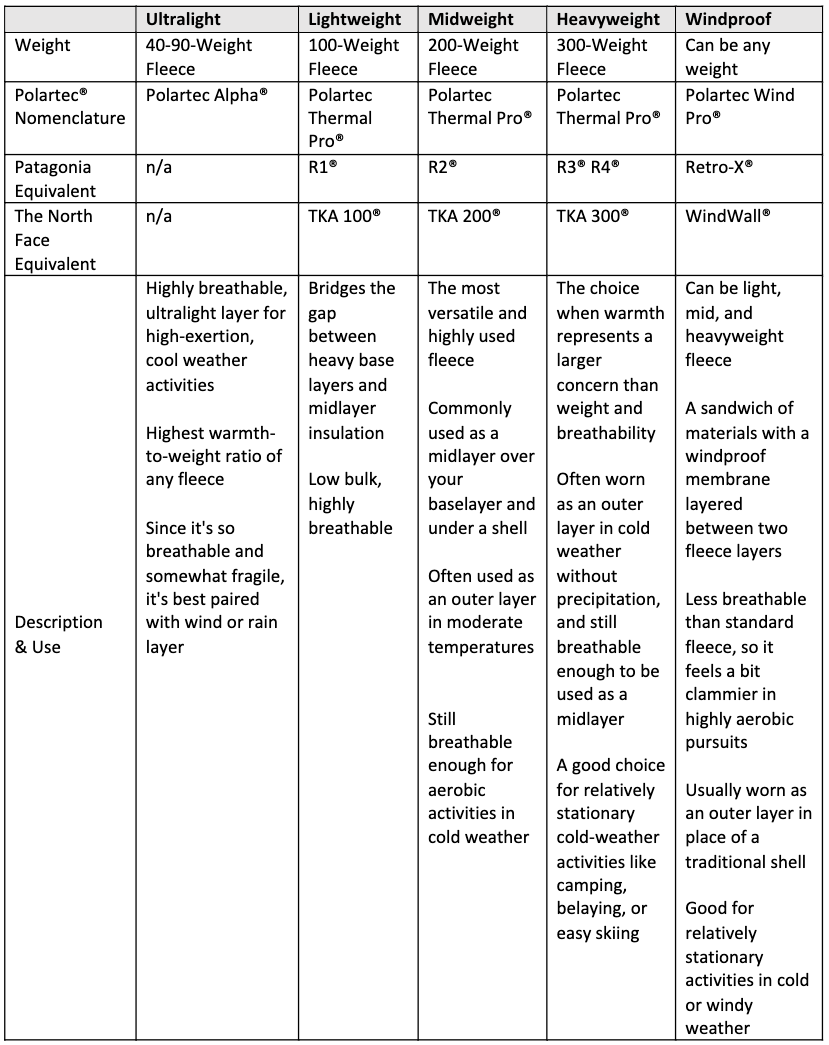 The Advantages of Fleece

 
Hydrophobic fibers repel water, meaning fleece holds less than 1% of its weight in water.

 

When it does get wet it dries quickly.

 

It retains much of its insulating properties even when wet.

 

Fleece is highly breathable.

 

Some fleeces, such as Polartec Alpha, have good warmth-to-weight ratios, meaning they're pretty light for how warm they are.

 

It's machine-washable.

 

Fleece is soft and doesn't itch.

 

Fleece can be produced in almost any color or pattern imaginable and is just as comfortable in the backcountry as on the couch.

 

It's highly durable—a good fleece can last decades.

 
Disadvantages
Because it's hydrophobic, fleece resists soaps and detergents

,

but not bacteria, making it prone to odors. 

 

Fleece has a fluffy texture, so it tends to pill over time, especially after washing. Pilling is the process of fibers clumping into small "pills," which reduce its insulating properties and make the garment look worn or shabby. 

 

Fleece generates a high amount of static electricity, attracting lint, pet hair, and dust. 

 

If it isn't treated chemically, synthetic fleece can melt at surprisingly low temperatures, a potential problem for someone sitting too close to a campfire.

 

Many fleeces have a poor warmth-to-weight ratio, especially when compared to down puffies which are often very light for how much warmth they pack.

 

Fleece is a source of microplastics, releasing fibers into public waterways when laundered. 

 
Fleece

Warmth

And

Weight

Ratings

 
A fleece jacket's weight refers to the weight of the fabric used in its construction. In general, the more the fabric weighs, the thicker it will be. And the thicker it is, the warmer it will be. The exception to this rule is Polartec Alpha, which we explain below. 
Fleece fabric weights are found by measuring a square meter of the fabric. For example, a lightweight fleece might weigh about 100 g/m2. And that's where Polartec gets their fleece weight scale—where 100, 200, and 300 represent the primary three fleece weights. The higher the number, the warmer it will probably be. Most companies use some variation of this scale. 
100-Weight Fleece:
Fleece jackets with 100-weight ratings are lightweight and highly breathable. They offer the wearer a wide range of movement, and work great as light layering pieces for aerobic activities or warmer conditions. 
200-Weight Fleece:

 
Jackets with 200-weight ratings represent the middle ground in fleece. This tends to be the most popular weight due to its versatility and ease of layering under hardshells.  
300-Weight Fleece: 

 
A 300-weight fleece is significantly loftier and heavier, more difficult to layer, and generally designed with cold or extreme weather conditions in mind. 
Grid Fleece: 

 
Grid fleeces feature a grid pattern on the inside face of the jacket that facilitates air circulation, heat entrapment, and moisture wicking. Most grid fleeces have a smooth, bonded or woven outer face that resists pilling, increases wind-resistance, and makes for a versatile compromise between a traditional fleece jacket and a softshell. 
R1-R4 Fleece:
Patagonia developed its own scale for describing fleece weights: R1 to R4. R1 to R3 roughly correspond to the 100 to 300 Polartec scale, whereas R4 is a hybrid fleece combining an R2 grid fleece with a windproof polyurethane membrane. 
Polartec

Alpha Fleece: 
Polartec Alpha is an ultralight, highly breathable fleece with a lattice construction that is becoming more popular because it offers the greatest warmth-to-weight ratio of any fleece. A super warm 60 g/m2 fleece made of Polartec Alpha can weigh as little as 4 or 5 ounces! The only downside of Alpha is its durability—it needs to be treated with care and is best worn with a wind or rain layer over it for protection from snagging.
Synthetic

Fleece

Vs.

Natural

Wool

 
Fleece
Fleece is spun from PET, which is made from stretched strands of plastic. This, of course, means fleece is made of oil. Like other plastics, PET can be made from recycled petroleum derivatives. And for fleeces, recycled PET poses no significant reduction in fleece's desirable insulating and hydrophobic properties. 
Wool
Natural fibers like merino wool offer a more sustainable option for midlayering. Merino wool, from Merino sheep, has soft, curly fibers with excellent insulating properties that don't hold onto a wearer's mountain funk, are renewable, and offer an alternative to suburban fashion trends. A downside of wool is that it is heavier than fleece for a similar level of warmth. 
Fleece Jacket Features

 
Fleece jackets are pullover, ¼-zip, ½-zip, or full-zip.

 

Most fleece have long sleeves.

 

Some fleece have a short stand-up collar, some have a crew neck, and others have a hood.

 

Hand-warmer pockets are standard on many fleece jackets—if you're going to wear your jacket with a climbing harness or hip-belt, make sure the hand-warmer pockets sit above the hips so they can be used even with gear on.

 

Chest, bicep, and interior stash pockets give the wearer plenty of options for carrying electronics and personal items. 

 

Pullover fleeces with non-zip or ¼-length zips save on zipper weight.

 

Hoods that fit under a helmet or shell are popular with backcountry skiers and mountaineers.

 

Longer cuts and thumb loops keep layered pieces tucked in and in place.

 
The Takeaway

On

Fleece

 
A fleece jacket is typically designed to function as a lightweight and breathable midlayer for outdoor activities in a range of weather conditions. Fleece jackets work best when worn over a moisture-wicking baselayer material like polypropylene, Capilene, silk, or merino, and under a waterproof and/or windproof hardshell jacket.  
There is a gigantic assortment of fleeces, but this is a good thing—it means there's something for everyone. If you're cycling in the cold, reach for a 60-weight Polartec Alpha fleece. If you want something versatile for camping, backpacking, and going to the movies, grab a 200-weight full-zip fleece jacket. Whatever your insulation needs may be, there's a fleece out there for you.  
You can find Backcountry's fleece jackets here: 
FAQ
Why would I want a fleece jacket?
Because fleece comes in many different weights, you can find a fleece for summer backpacking, fall trail running, mid-winter skiing, or just about any other temperature and activity you can imagine.
How long does a fleece last?

 
Fleece is highly durable and can last decades, especially if laundered minimally.
Does fleece lose its warmth over time?
Yes, fibers fall out of fleece with every washing, resulting in pilling and reduced insulating ability.
How do you keep a fleece smelling fresh?

 
Fleece, like most synthetic materials, is prone to bacterial growth and odors. To keep it smelling fresh and looking sharp, wash it often in accordance with the instructions on the tag.
What's

the environmental impact of fleece?

 
A study commissioned by Patagonia found that a single fleece garment releases as many as 250,000 fibers into public waterways during laundering. That's significantly more than most synthetic garments, which release about 19,000 fibers each into waterways when washed. A 2011 Study by ecologist Mark Browne had already found that water treatment plants are not capable of stopping all these fibers from reaching rivers and oceans and that laundering synthetic fabrics is a huge source of ocean microplastics. 
Fortunately, many companies are now working hard to find ways to increase the durability of their products so that they shed less during laundering. A recent study found that washing fleece on a gentle cycle can reduce fiber shedding by 70%. If you're concerned about the ecological impact of fleece, wash your fleece on gentle. Or grab a wool sweater or a synthetic insulation layer which won't shed as much during laundering.