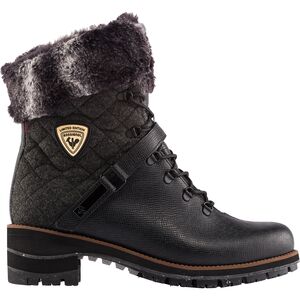 Rossignol

1907 Megeve Limited Edition Boot - Women's
Rossignol

1907 Megeve Limited Edition Boot - Women's
sale
Original price:

$444.95
Current price:
$289.22
Original price:

$444.95
35%
off
About Rossignol
Boasting more than 100 years of history, Rossignol is among the oldest and most highly respected ski brands in the world. Rossignol's story is marked by humble origins, innovative design, and more World Cup and Olympic racing victories than you'd care to count. And although the Rossignol brand has changed and evolved over the last 100 years, it is still actively shaping the future of skiing with innovative boots, bindings, and skis like the award-winning Soul 7.

The Rossignol story began in 1907, when a skilled French woodworker named Abel Rossignol attended an event held by the French Alpine Club to promote the sport of skiing. Abel immediately developed a passion for the sport and began making his own skis. The first Rossignol skis were carved from solid American hickory and European ash. They sold well, and Abel's design was awarded first prize at a trade show in Chamonix in 1909. During the First World War, Rossignol made skis in quantity for the French army.

Following the war, a number of athletes in the 1924 Olympic Games at Chamonix used Rossignol skis, marking the beginning of what would prove to be a long and successful involvement with world-class ski racing. The sport of skiing saw radical change in both ski technique and technology, between the 1930s and '50s—including fixed-heel bindings, parallel downhill turns, and laminated ski construction. Rossignol was quick to develop and adapt to new technologies, and continued to bringing a number of successful products to market. Innovations in the sixties include the laminated aluminum Allais 60 ski that won gold in the 1960 Winter Olympics, and the first fiberglass ski (the Strato) in 1964.

By the early '70s, North America made up nearly half of Rossignol's sales and its skis were dominant on the professional racing circuit. To strengthen its product line, Rossignol struck deals with Nordica and Lange to produce quality ski boots and in '76 it also began producing cross-country skis and equipment. By the late '90s, Rossignol's assortment had grown to include ski boots, ski bindings, Nordic equipment, and snowboards. In 2004, nearly 100 years after Abel Rossignol carved his first pair of skis, the 50 millionth Rossignol ski came off the factory line.

Today, Rossignol continues to expand beyond skis and snow sports, seeking to be a "pure mountain company." While the product line is still built on a backbone of innovative ski technology, it also includes boots, bindings, snowboards, jackets, ski pants, and most recently active wear. It seems Rossignol may well be poised for another century of success in the world of snow sports.