GORE-TEX 6in Moc Boot - Men's
---
Why We Like The Red Wing Heritage GORE-TEX 6in Moc Boot
The GORE-TEX 6in Moc Boot combines Red Wing's USA-made durability with trusted GORE-TEX waterproofing for an everyday boot that's ready for anything. The uppers feature leather sourced from REd Wing's own tannery in Red Wing, Minnesota, complete with their signature Goodyear Storm welt construction and Puritan triple-stitching for maximum moisture-resistance and long-lasting quality.
Details
Full-grain leather uppers provide timeless style and durability
GORE-TEX membrane provides breathable, waterproof protection
Cork midsole molds to foot shape for custom cushioning
Traction Tread soles are slip-, heat-, and oil-resistant
Rubber soles provide reliable grip on wet and dry surfaces
Item #HTGG00T
Upper Material

Russet leather

Waterproofing

GORE-TEX membrane

Closure

lace

Midsole

cork

Sole

Traction Tread ruber

Shaft Height

6in

Activity

casual

Manufacturer Warranty

limited 1 year
Reviews
Q&A
Overall Rating
4.5 based on 19 ratings
What do you think about this product?
View
Selecting an option will reload the available reviews on the page
5 out of 5 stars
November 13, 2023
A great Fall/Winter boot
I bought these last Summer but only started wearing them once the weather cooled off as I was afraid they'd be way too hot. They're warm but not unbearably so, even indoors. The cushioning on the inside of the boot is very comfortable and they fit is more snug as well. Break in is going to take a little while but that's to be expected. An excellent product.

Originally reviewed on redwingheritage.com
5 out of 5 stars
August 24, 2023
Best Boot Ever
I bought this boot two years ago and wear it as my daily work boot. The industrial environment I work in is predominantly concrete and a lot of wash down areas. These boots have held up and look even better with age. I plan on re-soling these boots and hope they last for years to come. At some point, when I need to replace, this will be my only option. In regards to previous reviewers, I have not had any issues with the tongue and gussets. These boots will take some time to wear in, but when they do its like putting on your favorite pair of socks.

Originally reviewed on redwingheritage.com
5 out of 5 stars
January 14, 2023
We need this in EE
Please. Make this in a wide version. I'm begging you. I want to buy a pair in EE and resole them with some lugs, it would be my dream winter boot.

Originally reviewed on redwingheritage.com
5 out of 5 stars
January 6, 2023
Best ever
These boots are phenomenal. Comfortable, warm, waterproof, stylish. I wore redwing sawmills for five years and this, with the poron liner, feels like a natural transition. I am an 11 d brannock, the 11 in this model works perfectly as it did in the sawmills. It should be noted that I prefer to wear thinner athletic/lifestyle socks so if you want to wear thick winter socks it may be a bit snug true to size with the gore tex liner. That said they are very warm so I wouldn't imagine needing a thick sock. Russet Taos is a brilliant color, almost blending oxblood with an burnt orange. Very versatile, it pops and blends great. I've honestly never worn a more comfortable pair of boots. I played hockey my whole life and these definitely have that "wiggle your toes and your heels pops in" great fit. Strong heel counter/crepe soul gives stability and the metatarsal pad on the boot insert is best arch support man could ask for. Your back, knees and feet will thank you. And I, thank you Redwing, that's a win. Let's go.

Originally reviewed on redwingheritage.com
1 out of 5 stars
January 2, 2023
Sebastien
very disappointing. the inner leather tongue has a crease which makes the boot uncomfortable and the coulter, visible on the outside, is completely uneven. From 1/2" from the edge of one side to 1/8" from the edge of the other side. I do not understand that boots of this price are left the factory without having been inspected...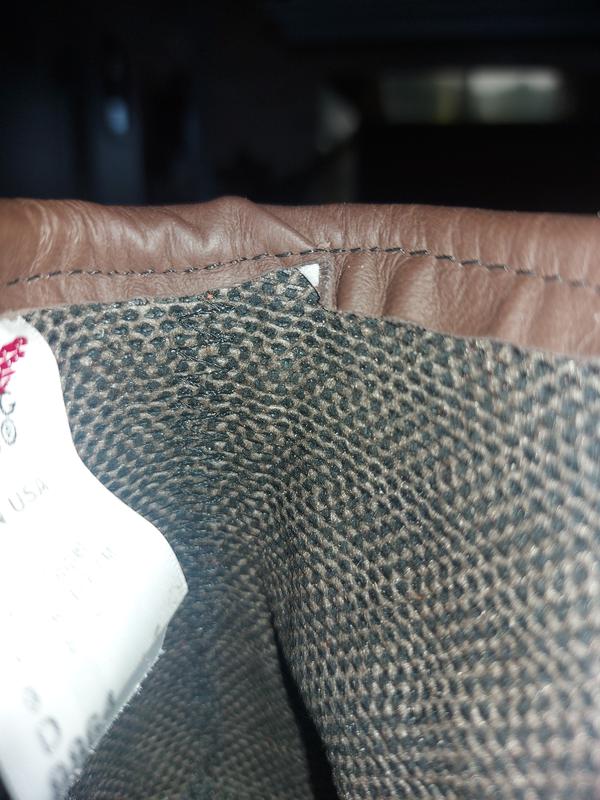 Originally reviewed on redwingheritage.com
5 out of 5 stars
December 18, 2022
Excellent Winter boot
Really love these boots. I've worn them for the last 2 years as a farm boot. I use these around water everyday and They've always kept my feet dry and surprisingly warm also. Very comfortable too, right out of the box. I'm putting them to the test everyday , so I'm curious as too how long they will last me...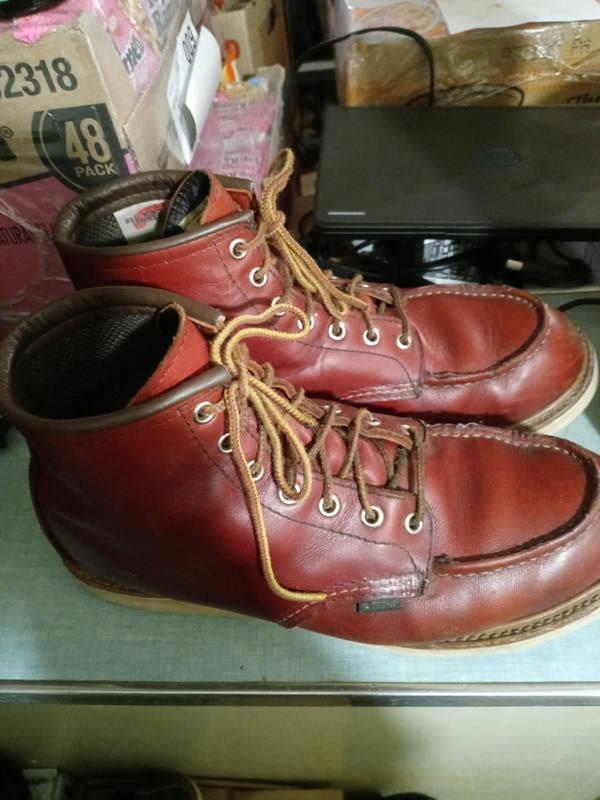 Originally reviewed on redwingheritage.com
5 out of 5 stars
December 10, 2022
Fantastic Boot
I got these boots last winter and have pretty much worn them every day that's below like 50 degrees. Any excusable weather for boots. They keep my feet super warm and dry, and they've been put through the wringer and held up perfectly. Fantastic quality and weight. They're incredibly comfortable, like someone is just hugging my feet all day lol. And they look and feel even better with age.. So yea. Not bad

Originally reviewed on redwingheritage.com
5 out of 5 stars
November 20, 2022
Better than I expected!
I picked these up over the summer at the flagship store. I was looking for an outdoor boot for some light hiking, and ice fishing this winter. I was a bit skeptical of a big workboot as a hiking boot, but they delivered. The traction tred really did its job on the slippery rocks and the boot has great ankle support. They were awesome for exploring the trails in the north woods by Ely. I have been wearing Red Wing boots for work for 15 years. This was the first pair I have ever bought for fun. They look great with that classic moc toe. Only con is that they take a bit to break in and they are heavy compared to other gore-tex hiking boots out there. If they are anything like my work boots they should last for many more years to come.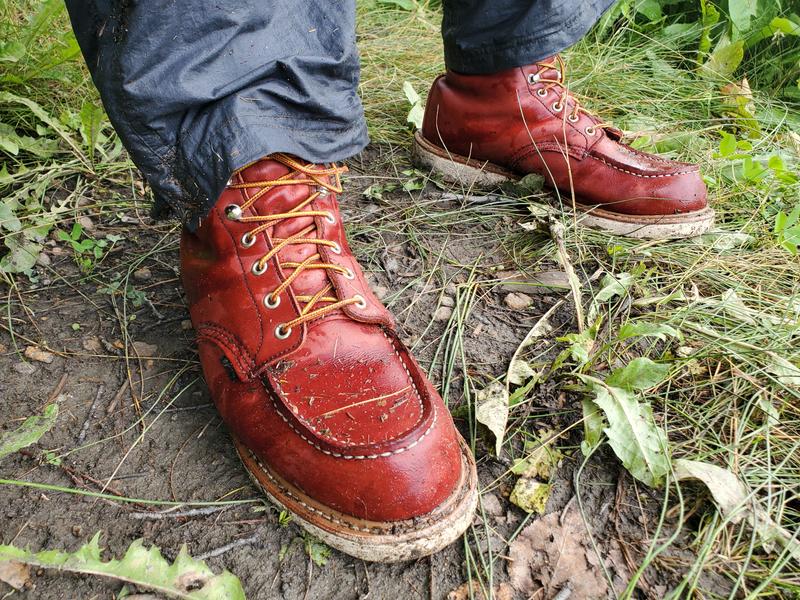 Originally reviewed on redwingheritage.com
5 out of 5 stars
March 4, 2022
Excellent Investment
I used to wear the traction tread 6" Mocs that were made in Vietnam. Great shoe. Lasted a long time. However, this heritage shoe is a whole other animal. The break I'm period can be a shock to those who have never owned a full/thick leather shoe like this one. It takes a minute to break in. I am on my feet for 10 hours at a time and my feet feel just fine at the end of the day. It will fit your feet like a glove and will last many years(as long as you take care of them). They are an investment and will pay off in the long(and short) term.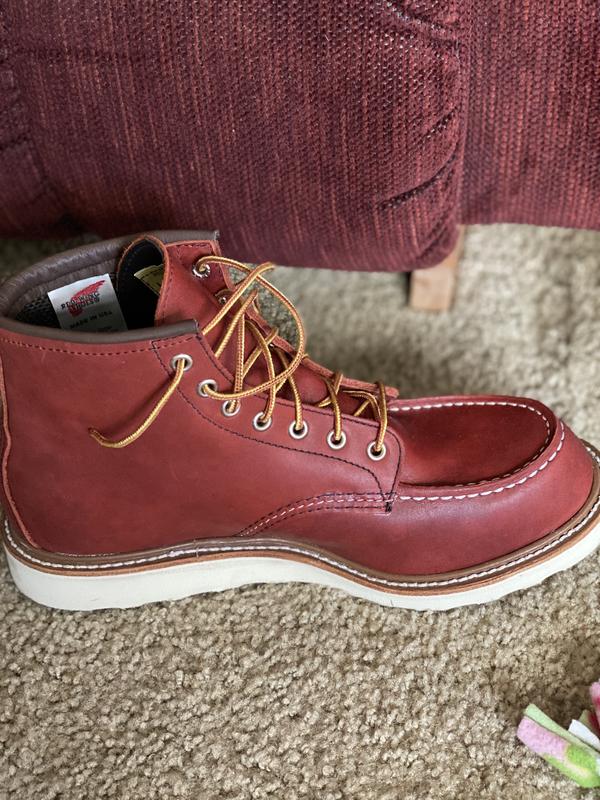 Originally reviewed on redwingheritage.com
5 out of 5 stars
February 22, 2022
Awesome Boot!
My parents bought these for my birthday in December, best boot i have ever gotten. Most comfort i have ever felt on any type of footwear. The sole is bouncy and the support is amazing for a Moc toe. So happy with the Red Wings, would 100% get another pair. Not to mention that amazing. colour!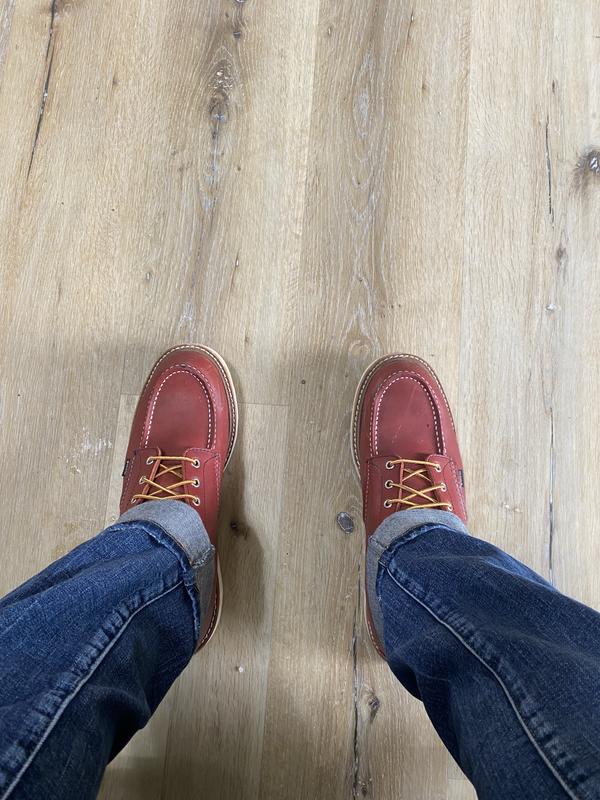 Originally reviewed on redwingheritage.com
Need Expert Advice?
Our Gearheads Can Help