---
Why We Like The Nimbus UL 2 Tent
To shed weight and up durability for our backcountry adventure, we pack our Nimbus UL 2 Tent. Roomy architecture lets us sprawl out after a grueling day on the trail. We watch the storm roll by through the waterproof, translucent fly that skipped the unnecessary dyeing process to save water and reduce chemicals.
Details
High-value, durable, yet ultralight, backpacking tent for two
Pre-bent pole design increases livable space
Lightest, most durable in-class tent by Mountain Hardware
Undyed, translucent fly is eco-friendly and won't yellow over time
Front vestibule keeps gear out of the rain and rain out of the tent
Reinforced corner webbing reduces weight without reducing durability
Fabrics are completely free of flame-retardant chemicals
Rugged, lightweight DAC J-stakes included
Item #MHWZ9HZ
Material

[canopy] 15D nylon mesh, 15D ripstop nylon [floor] 30D ripstop nylon, silicone coated both sides (1500mm) [fly] 15D nylon, silicone coated both sides (1200mm)

Capacity

2

Season

3

Wall Type

double

Freestanding

freestanding

Poles

DAC Featherlite NFL

Pole Attachment

G-hooks

Number of Doors

1

Number of Vestibules

1

Vestibule Space

[length x width] 27 x 30-52in, trapezoidal

Ventilation

Dual-slidder vestibule zipper for ventilation

Interior Height

[peak] 41in

Floor Dimensions

[length x width] 86 x 42-52in, trapezoidal

Floor Space

28.1ft², trapezoidal

Packed Size

[body] 11 x 5 x 4in, [poles] 15 x 2 x 2in

Trail Weight

1lb 15.1oz

Manufacturer Warranty

limited lifetime
Reviews
Q&A
Overall Rating
4.5 based on 26 ratings
What do you think about this product?
View
Selecting an option will reload the available reviews on the page
5 out of 5 stars
August 5, 2023
Nimbus 2 tent
Extremely light! I've only used it for a few nights, but so far it's held up to some big winds, and has held it's shape without having to retention the stakes.

Originally reviewed on mountainhardwear.com
5 out of 5 stars
July 18, 2023
LIGHTEST I COULD FIND!
MUCH lighter than other tents on the market, and I looked for months. Much more expensive name-brand tents were over 6 lbs. My existing tent is 35 years old and only 5 lbs, so the whole goal of buying a new one was to save weight for long bike tours. The UL2 fit that bill perfectly and is a breeze to set up.

Originally reviewed on mountainhardwear.com
5 out of 5 stars
June 30, 2023
Awesome ultralight backpacking tent
Love how ultralight and compact this tent is, and super easy set up. Used on my first ever backpacking trip, and looking forward to using on future trips. The 2P size was perfect for 1 person, but could snuggly fit 2. Didn't have a chance to test it in rain/wind/snow, so no impression there.

Originally reviewed on mountainhardwear.com
5 out of 5 stars
June 27, 2023
Great lightweight tent
It was pretty fantastic the one time I've used it. I used it once and it held up well to probably about 20 mph gusts all afternoon and night. It did flap a fair bit in the night, but guying it out could have helped. The stakes worked well to keep it in place. The rain fly seemed like it got a little stained from campfire ash, but nothing too bad. Definitely on the snug end of 2 person tents but still comfortable.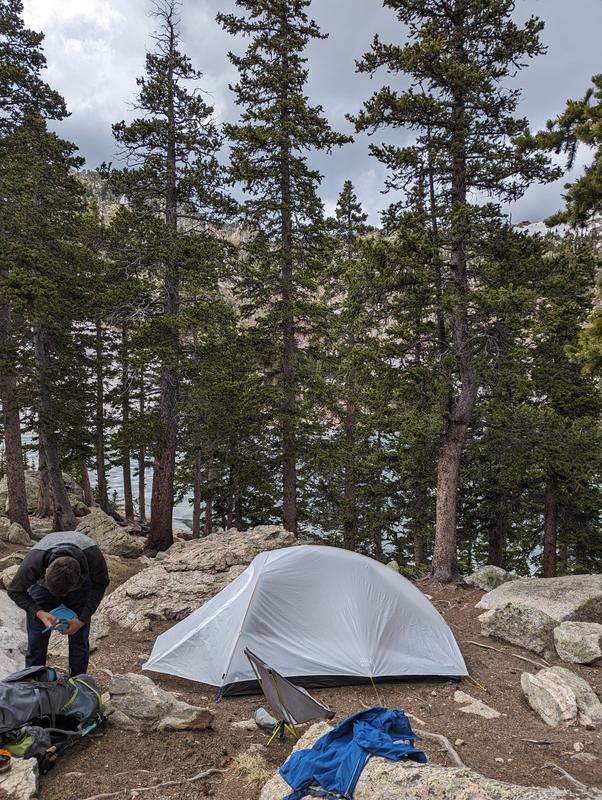 Originally reviewed on mountainhardwear.com
5 out of 5 stars
June 7, 2023
Great backpacking tent
Every detail is well considered and the size:weight ratio is excellent. Very happy with this one. And, the storage sack is not tight, so you don't have to fight to get the tent in! Don't forget to buy the footprint (sold separately).

Originally reviewed on mountainhardwear.com
4 out of 5 stars
May 30, 2023
Tent withstood a heavy storm
Great material, so so light. Camped in pouring rain and 20-25 mph winds. Tent stayed pretty dry despite some ground flooding (!) though there was a light misting coming through the rain fly. I'm not sure if it was the force of the rain hitting condensation off of the inside of the rain fly... I know other reviews have criticized the rain fly, so more time will tell! Overall, very impressed with the performance and happy with my purchase.

Originally reviewed on mountainhardwear.com
4 out of 5 stars
April 26, 2023
Perfect for Backpacking
I love this tent! It is super lightweight and perfect for the summer. Gave it 4 stars only because securing the back corners can be a little tricky with the way it is designed and sometimes the back of the tent feels almost like it is collapsing in. Regardless, I love the ease of putting up the tent and the weight savings.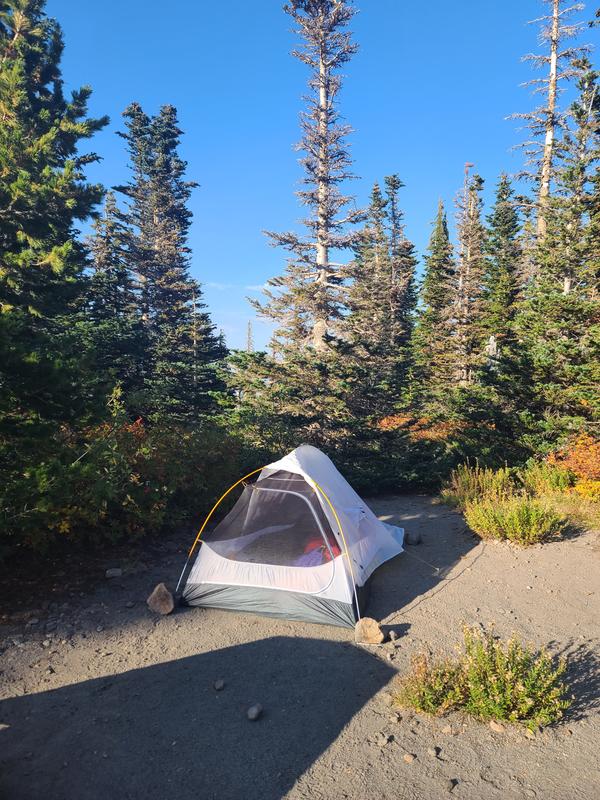 Originally reviewed on mountainhardwear.com
3 out of 5 stars
December 5, 2022
Not ready for use out of the box.
Haven't used the tent yet, as it does not come ready for use. You must purchase other items to be able to effectively use it. The worst part is Mountain Hardwear won't sell you the required additional items. Those will have to be sourced elsewhere. As for the tent, I was able to set up just the tent body. It is very similar sized to my old tent, which I consider a 1-person tent. The tent is very light and packs small! I think I will really like it and it should work well for my adventures. Main issue: Tent has 3 guyline points, but only 2 guylines are provided. There are only enough stakes to set up the tent. So even though 2 guylines are provided, you can't use them anyway as there are no stakes for them. So out of the box, just don't camp in the wind!

Originally reviewed on mountainhardwear.com
1 out of 5 stars
October 22, 2022
No Warranty
Do not buy Mountain Hardwear tents, my seams came unglued and they refused to repair them stating natural wear and tear and only a "limited" lifetime warranty. Purchase a North Face tent if you want a full warranty
5 out of 5 stars
October 3, 2022
28 days one tent
I've used this tent 28 days on a section hike of the Pacific Crest Trail in Washington State, USA. I don't think there is a better tent for one person. You *can* fit two but I wouldn't plan to do that. I would be willing to cram someone else in if there's an emergency. But it doesn't fit two 25" wide pads side by side, which is my measure for a true 2p tent vs a 1+p masquerading as a 2p. It performed very well as a 2lb tent for 1++. I could sit up fully while facing my pad in either direction and not worry about bumping my tent mesh into the fly. I will continue to use this as my primary tent when backpacking alone and I don't really see myself changing anytime soon. That being said, I do see some room for improvement. First, the semi-freestanding tent needs 8-9 stakes without guylines. If you staked out all three guylines, you'd have to use 12 stakes. Whoa! for 1/2 oz stakes, like MSR groundhogs, that adds 6 oz. However, I usually only use 8, leaving the center foot unstaked. The tent comes with 9 DAC j-type, which work well and are lightweight. I use them for the rainfly sides. Also, the interior pocket opening is at a 45 deg angle and stuff just falls out. Suff also falls out of the headliner pocket. I'm not sure why they couldn't make a pocket more upright or with a tighter opening. The mesh door when opened will supposedly be held by the pocket, but doesn't. It'll fall down at the slightest puff of wind or light tap. Furthermore, the undyed rainfly is a problem as it shows all mud or dirt immediately and doesn't wash out. So you end up with a dirty wash water colored fly. Additionally, the fly has zero vents and I had huge amounts of condensation pretty much every single day. However, it did not get inside the double wall design most of the time. The nylon fly did sag a lot with either condensation or rain and rarely touched the tent. I will not be buying another tent with a nylon rainfly. Sil-poly is the future for me. I would have appreciated vents to prevent the sagging and also because drying it out before packing it up was a pain and sometimes impossible. The loop-onto-pole clip design was interesting but required great dexterity, which could be difficult in cold weather. However, this design also allowed better packing of the tent if you store your poles separately as you could be pretty aggressive with your flattening of the fly and tent as there is no hardware other than a single zipper. Most of this is nitpicking a very good design. The only design problem that gives me pause in repurchasing is the 9-12 stake design. It not only adds extra weight but has a fairly complicated and long setup process similar to some trekking pole tents. I'm used to it now, but it is still fiddly, especially in cold or wet weather, and doesn't have a fly-first set-up option. That being said my tent is still in perfect working order after basically living in it for a month while moving every day. It packs down easily and I'm extremely comfortable in my roomy palace compared to a lot of other hikers with 1p tents weighing a similar amount. I expect that it will continue to be my favorite tent for solo backpacking for a few years.

Originally reviewed on mountainhardwear.com
Need Expert Advice?
Our Gearheads Can Help
Does this come seam sealed?