Amber 55L Backpack - Women's
---
Why We Like The Amber 55L Backpack
Whether we're heading into the backcountry for a few days or a full week, we pack our gear in the Amber 55L Backpack. Gregory offers us customizable torso and hip belt lengths, letting us dial in the fit for a variety of feminine body types. With a breathable back panel that extends to all contact points, we keep cool on even the hottest days of our trek. This pack comes with its own rain cover, so if the weather takes a turn for the worst, we can trust that our gear will be protected.
Details
Pack with adjustable torso and hip belt to fit many body shapes
55L size appropriate for long weekends and multiday excursions
Internal alloy frame provides lightweight, stable load management
Airy back panel perforations extend to shoulder harness and hip belt
Internal hydration sleeve with a universal hanger and exit port
Rain cover included with a dedicated zippered pocket
Loops with bungee closure ideal as hiking pole or ice ax attachment
Bottom-zippered sleeping bag compartment offers easy-access
Item #GREZ05N
Responsible Collection

Recycled/Repurposed

Material

[body] 210D nylon, 420D HD nylon, [bottom] 840D ballistic polyester, [lining] 135D polyester (40% recycled)

Volume

55L (3356cu in)

Support/Suspension

Wishbone alloy frame, 3D Foam breathable backpanel

Shoulder Straps

padded, adjustable

Waist Belt

padded, adjustable

Hydration Compatible

internal sleeve

Access

top, bottom

Pockets

2 stretch mesh side, 1 stretch mesh front, 2 zippered hipbelt, 1 zippered lid

Ice Axe Carry

yes

Trekking Pole Carry

yes

Sleeping Bag Compartment

yes, removable divider

Rain Cover

included

Compression

side straps

Weight Capacity

50lb

Dimensions

29.5 x 13.0 x 11.0in, [adjustable torso] 14 - 19in

Claimed Weight

3lb 6.4oz

Activity

backpacking

Manufacturer Warranty

limited lifetime
Reviews
Q&A
Overall Rating
4.5 based on 19 ratings
What do you think about this product?
View
Selecting an option will reload the available reviews on the page
5 out of 5 stars
September 18, 2023
Super comfortable backpack , took on 2 day backpacking trip and was able to pack everything I needed and more!
Originally reviewed on ExpertVoice.com
5 out of 5 stars
August 17, 2023
Great weekend backpacking pack!
Pockets are great and the frame is well ventilated.
Originally reviewed on ExpertVoice.com
5 out of 5 stars
February 12, 2023
Excellent
just what I needed. Great size, lots o straps, great adjustability
Originally reviewed on ExpertVoice.com
5 out of 5 stars
September 24, 2022
I guess we were meant for each other ;)
I rarely write reviews but I really appreciate this pack. I was nervous about buying such a large pack and I've tried on at least a dozen packs with weights at different stores because I want to go overnight backpacking for the first time next weekend. Other packs, even though fitted correctly, were very uncomfortable and pressed down too hard at the edges of my collar bone and pinched the nerves as they went down my arms; I also could never reach side water bottle holders due to limited range of motion in my arms. I tried on this pack and it didn't press down on my chest/thoracic outlet area, AND I can reach the side water bottles for the first time. Also, I packed too much weight for a day hike a couple days ago because I didn't realize how strenuous the hike really was and that I would have no use for extra items like a book, my journal, two jackets, and the ten hiking essentials. This trail was packed with people (Angel's Landing in Zion), and I packed way too much for that strenuous-for-me stretch of switchbacks. I was focusing so much on the hike and pace that I never felt the bag and didn't really realize until I got to the top that I was carrying about ten pounds of unnecessary stuff in my brand new bag. I left a bit of the extra weight with a friend who wanted to stay at Scout Lookout while I went the rest of the way to Angel's Landing with the pack. I'm very happy with this pack so far and I'm looking forward to using it for my first overnight backpacking trip soon. I still don't really know how or where to utilize all the straps/loops/buckles that come on a pack like this vs lightweight/ultralight packs that are basically a sack with a roll top, but I will figure it out eventually.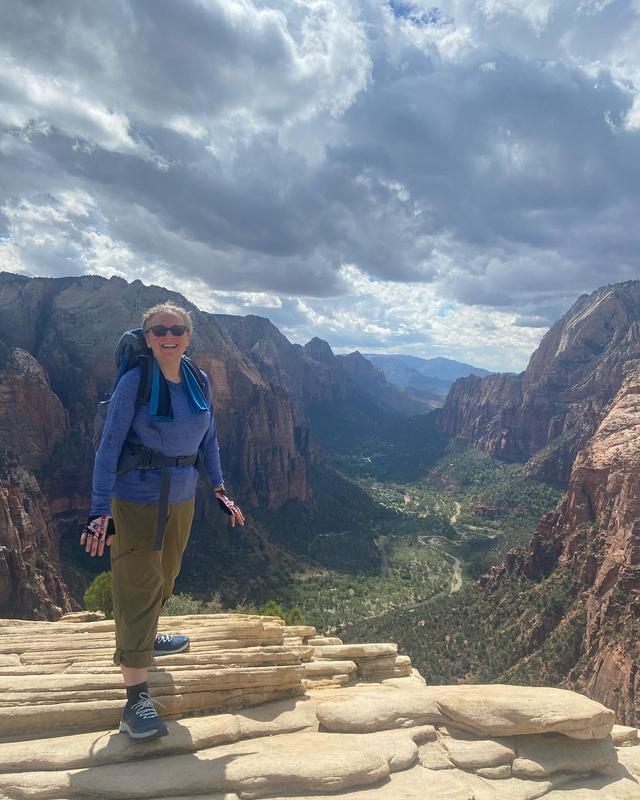 Originally reviewed on Gregory
1 out of 5 stars
August 14, 2022
Don't Purchase this. Straps don't stay tight.
I purchased this backpack to use on a backcountry, multi-day trip on the West Coast Trail. This pack was such a pain throughout the duration of my hike. The top shoulder straps which pull the pack tighter at the top and bottom arm straps kept loosening up. Whenever I had a big step down, step up, climbing ladders or any bigger movement shift, these straps always loosened on me. Very frustrating and VERY dangerous. As I was climbing on the boulder section of this hike, my foot slipped and I fell to my right side ... What made this worse, is the straps loosened and my pack fell to the side, causing me to fall more. So maddening and sooooo dangerous. Coincidentally enough, I ran into another hiker on this same trail. She had the exact same backpack and was suffering from the exact same issues I was. Poorly made system and I DO NOT recommend this pack. It's going to cause people to suffer further injuries out on the trails. And I'm stuck with it collecting dust as I just can't in good faith, sell this to somebody else. It's just unsafe.

Originally reviewed on Gregory
5 out of 5 stars
July 17, 2022
Fantastic Pack
This pack is the perfect size for hiking and backpacking. It has all the bells and whistles. Plus it fits my curvy shape perfectly.
Originally reviewed on ExpertVoice.com
4 out of 5 stars
January 7, 2022
Color
The technical part of the backpack is great and exactly what I needed. Taking off a star because the color is not what I expected. I ordered the "dark teal" and wanted it to be blueish like the picture, but it was more of a forest green.

Originally reviewed on Gregory
3 out of 5 stars
December 7, 2021
Color
Is not the colour as described I will be returning

Originally reviewed on Gregory
5 out of 5 stars
July 26, 2021
Very Spacious!
I used this pack this summer on a group backpacking trip and I was pleasantly surprised at how much I could fit in it for a week of travel. One of the features I found most useful was the ability to access the main compartment of the pack from both the top and bottom. The straps were all adjustable and shoulders padded making it comfortable to carry when walking. Although I don't have much experience using other packs I had a great experience using this one and would definitely purchase it again.

Originally reviewed on Gregory
5 out of 5 stars
July 24, 2021
New BFF
I got this Amber55L pack at the beginning of the summer and truly love it. I've used multiple packs similar to this one in different brands and this one is my favorite for many reasons. 1) The color, it is hard to find green packs for a female and it is my favorite color so I love this teal option! 2) 2 hip pockets, some only have one so this is a very useful feature 3) the side water bottle pockets are mesh and have two access points (3rd photo) which make accessing my nalgenes on the trail much easier. I have another pack with a fixed more traditional pocket and putting my nalgene back in the pocket is harder, this is a problem I didn't know I could fix until I used this Gregory! 5) I've taken it through the airport and it fit on multiple planes with different overhead bin sizes so it's a great size for backpacking and traveling! 6) It has an XS option which is great for me and another feature not all packs have 7) I love the versatility of the bottom storage compartment (included in second photo) Overall, I love everything about this pack! The materials used are easy to clean, lightweight, durable, and flexible. I would recommend this pack to anyone even if you're ordering it online, I also did not try this on in store first and I am so happy with it.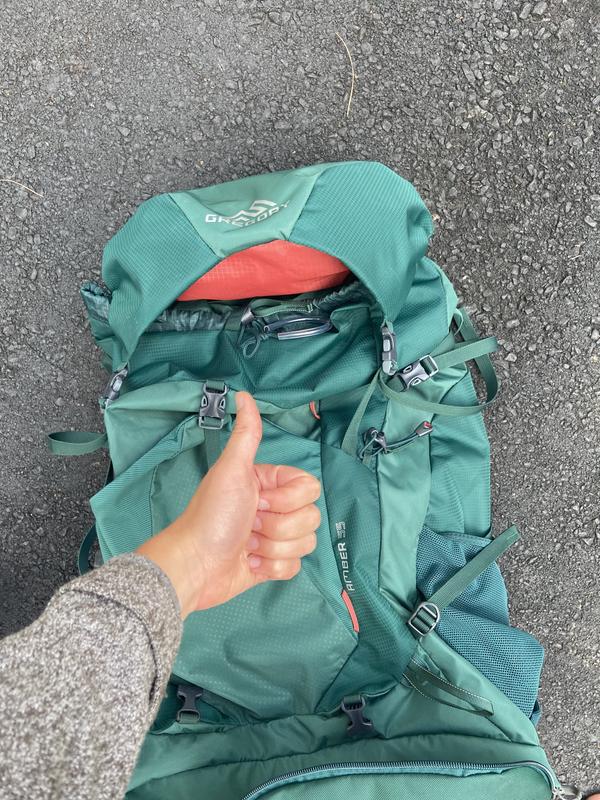 Originally reviewed on Gregory
Need Expert Advice?
Our Gearheads Can Help