Olympus 5.0 Trail Running Shoe - Men's
Current price:

$119.00

Original price:

$170.00
---
Why We Like The Altra Olympus 5.0 Trail Running Shoe
With nothing but miles upon miles of singletrack on the agenda, we lace into the Olympus 5.0 Trail Running Shoe. The cushiest in Altra's trail line, this pair softens rock gardens and scree fields, while the grooved midsole flexes with our feet affording them natural movement atop technical terrain.
Details
Plush running shoe for distance runs on trail
Engineered mesh upper provides breathability and durability
Original FootShape Fit gives room for toe splay and long-run swell
0mm drop promotes a midfoot strike and natural stride
Lightweight foam provides lasting shock absorption
Sticky Vibram rubber grips both wet and dry ground
Multi-directional lugs deliver reliable, stabilizing traction
Item #ATRQ03L
Upper Material

engineered mesh

Lining

synthetic

Closure

lace

Footbed

removable

Midsole

Innerflex tech, compression-molded EVA

Sole

Trailclaw lugs, Vibram Megagrip rubber

Last

straight

Support Type

neutral

Cushion

maximum

Heel / Forefoot Height

33 / 33mm

Drop

0mm

Claimed Weight

12.3oz

Manufacturer Warranty

300 - 500 miles

Activity

trail running
Reviews
Q&A
Overall Rating
3.5 based on 239 ratings
What do you think about this product?
View
Selecting an option will reload the available reviews on the page
2 out of 5 stars
December 1, 2023
Changes for this version not good
Not happy with the changes for this version. I was a die-hard Altra fan, but like others, the changes for this version resulted in the shoe feeling to narrow/tight and a 1/2 size too small. I appreciate Altra's decision to try and improve the shoe like by adding cushioning around the heel cup, but it was too much and I felt immediate abrasion and pain around my heel just walking around the house. And to top it off, shoelaces are too short. I prefer to create the little loop to help tight the shoe and when doing that, I could barely tie the shoes. I would never be able to double knot it if I wanted too. And frustrated because I can't really go to the other styles because I like to have the extra cushion. I really hope Altra goes back to their roots for runners like me that have for years enjoyed the wide toe box, roomy comfortable feel, nice cushioning and shoelaces that are useable.

Originally reviewed on altrafootwear.com
3 out of 5 stars
November 30, 2023
The 5's are Narrower!
The toebox of the Olympus 5 is 1/4" narrower then the Olympus 4. I used a pair of calipers to verify this difference. Both are 12 Wide sizes. The Wide is now just Regular so if you want to stick with these shoes order a 1/2" larger to get that great fit of the 4's. Also the length of the shoe laces are shorter by 3"....cutting corners but consumers do notice.

Originally reviewed on altrafootwear.com
2 out of 5 stars
November 28, 2023
Not durable
I am a an avid hiker. When not thru hiking, I average 6-8 miles a day on a mixture of dirt and rock trails and paved paths. I love the Olympus 5. I hiked the AT in Olympus 4. The show is a perfect fit for me, but, like these other reviews, the quality just isn't there. The vibrant outsole needs to cover more of the bottom of the shoe. The mid sole spongy material wears out way too quick. The lining of the heel has worn out and has holes at about 200 miles. Great shoe Altra but tou need to improve the quality and longevity. Way to expensive for a 200 mile shoe.

Originally reviewed on altrafootwear.com
5 out of 5 stars
November 28, 2023
Great shoe
Best hiking shoe I ever had. Great traction & very comfortable.

Originally reviewed on altrafootwear.com
1 out of 5 stars
November 24, 2023
Ruined the toe box, hope 8 is more like 6
In redesigning the 7, they made the toe box shorter. Now my big toe rubs the top of the shoe. Between the quality issues reported and this fit, I hope the 8 goes back to what was good on the 6.

Originally reviewed on altrafootwear.com
1 out of 5 stars
November 22, 2023
Very disappointed!!
Long time altra fan, but these are the worst altras I have worn. Too narrow, they cut in to my ankles no matter how loose I lace them, and the cushioning does not compare at all to prior versions. I wouldn't recommend these to any runner or walker.

Originally reviewed on altrafootwear.com
5 out of 5 stars
November 19, 2023
Great shoe
Broke my ankle needed a more comfortable & better fitting shoe for hiking. These are very lightweight & have great grip. Dries quick when wet. No problems are 5-6 hrs of hiking. Dries quick

Originally reviewed on altrafootwear.com
1 out of 5 stars
November 11, 2023
They are not the same
I have been a big fan of ultra since I bought my first pair of Olympus a year back .. however , this new pair is different and quite heavy and not at all comfortable compared to what I have been used to with altra ...

Originally reviewed on altrafootwear.com
2 out of 5 stars
November 9, 2023
Do not waste your money!!
While the shoe is great in many ways, the inside material in the heel region blew out after 4 months!! That included only one decent 3 day hike!! When I complained to the shop....bad luck! DON'T BUY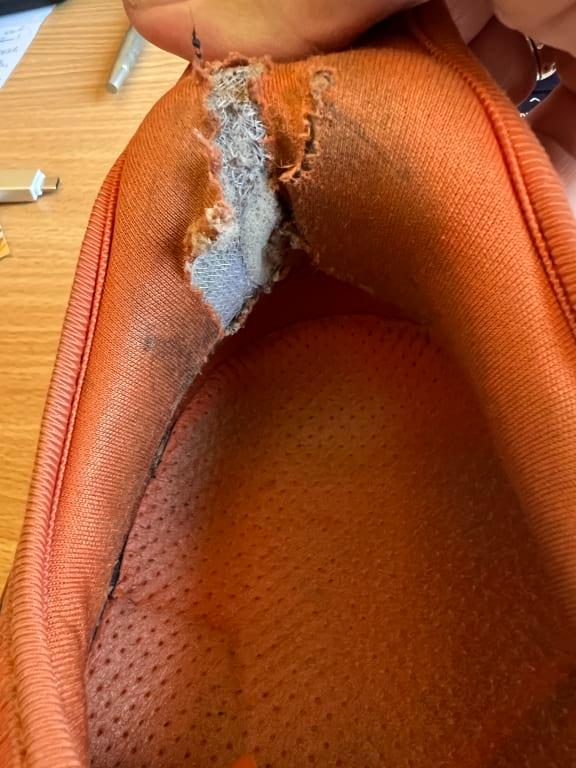 Originally reviewed on altrafootwear.com
3 out of 5 stars
November 3, 2023
So close, but not durable in the slightest.
I am writing this review because I want Altra to know that they have some huge potential here for an amazing trail shoe. I put two big 15mile + days on this scrambling and trailrunning some peaks in the PNW and was amazed by how supported and injury free my feet felt at the end of the day. That said, after those 30 some odd miles on rocky terrain the outsole of my shoes were already completely destroyed. First of all, the oddest part about the shoe is that the midsole material actually makes up most of the bottom (there is barely any true outsole)- You can see this in the photos if you look. The Vibram strips that are far more durable seem to be weakly glued on as I had a few of the strips start to rip off after only two outings. The midsole material wears away super quick and is not grippy at all. It has since turned to round nubs after only a few more outings. I am quickly noticing that amazing grip vanish. On top of that, the mesh around the sides and front of the fore foot rip and wear pretty easily when rubbed against any sort of terrain making them not the best for scrambles. I bought these giving Altra the benefit of the doubt after reading reviews. Unfortunately everyone hit the nail on the head. It is an incredibly comfortable and performance focused shoe but the durability for the price is just not there. Again, I would love to purchase a reiteration of this shoe. But I only will if they spend some money on improving the outsole - (extending durable Vibram or other material instead of trying to disguise the soft plushy midsole material as the outsole). Please take this comments into consideration. You all are on to something! In the meantime I'll probably send to warranty and trade out for something different.

Originally reviewed on altrafootwear.com
Need Expert Advice?
Our Gearheads Can Help