Camping Checklist
Essential Gear For Hitting The Road
Camping Checklist
Essential Gear For Hitting The Road
With summer steadily approaching, we've got our mind on one thing: camping season. As an affordable and endlessly variable activity, it's our go-to for getting out in the warmer weather with friends and family. Camping out of the car allows us to pack more creature comforts and be more adaptable to pursuing different activities. It's fairly straightforward, too: drive to a designated camping area or dispersed camping zone, park, hang out, eat, observe the natural world, and sleep!  
This packing list is specifically for warm-weather adventures (temperatures around 50 degrees F and above), but it can easily be adapted to cooler or wetter weather. If you're planning some fun daytime activities while car camping, make sure to pack any equipment needed for those as well. Popular camping areas are often naturally situated near paddling, climbing, biking, and hiking destinations.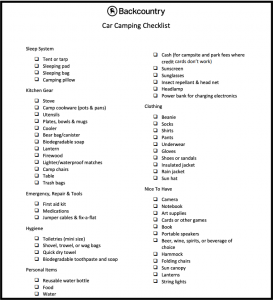 If you'll be exclusively car camping (not backpacking), a heavier tent will save you some money. 

 

Backpacking tents are generally much lighter for fast and light pursuits but are expensive and not as durable as heavier car camping tents. 

 

While a three-person tent can fit three average-sized people lying like sardines next to one another, bringing the same size tent for two people provides room to change, hang out, or finish the card game tournament when the bugs come out.

 

If you're camping with a dog, plan for an extra person's worth of space because they often sprawl.

 

Some cars are large or versatile enough to make good shelters. In some vehicles, you can fold the back seats flat to make a sufficient sleeping area. There are numerous tutorials online for creating bed platforms and storage solutions if you intend to car camp often and want to turn your everyday car into your shelter.

 
There are numerous different sleeping bag temperature ratings, weights, and insulation types to choose from. Pick one based on your body shape and size and the temperatures in which you'll be sleeping. 
Synthetic fill bags

are good for car camping because they are inexpensive. They're less packable than down, but that's generally all right for car camping where space is less a concern. Synthetic insulation can pack out in just a few years, however, so it's not the most durable choice. 

 

Down fill bags

are more expensive but longer lasting than synthetic bags. A

quality down bag

will be light, pack small, and last more than 20 years. 

 

Temperature ratings on sleeping bags usually refer to survival, not comfort, so aim for a bag with a lower rating than the temperature in which you'll be camping.

 

A 30-degree bag is great for general summer use. 

 

A 20- or 15-degree bag works well for three-season use. If you're unsure of the weather, it's always worth adding a few blankets or quilts to the car just in case.

 

Because all bodies are different, it can be challenging to find a bag that fits just right for you. If you're small, for example, make sure your bag is small too. A too-big sleeping bag will not be thermally efficient if you are unable to heat up all the air space around your body. 

 
Sleeping pads provide comfort on lumpy ground and insulate to keep you warm. Consider the weather in which you'll be camping when shopping for a sleeping pad.  
Check the R-value of sleeping pads: the higher the number the more insulating it will be. 

 

There are two primary types of sleeping pads: foam and inflatable.

 

Choose foam for utmost durability and least expense.

 

Choose inflatable for more comfort.

 

There are also some great options for

double sleeping pads

, so you can avoid the dreaded gap in the middle of a tent between two pads. 

 
Even if you plan to have a campfire, a portable camp stove will make car camping simpler, more efficient, and more comfortable.  
A stove will boil water quickly, a necessity for those who require morning coffee.

 

Stoves can simply be turned off, so you don't have to worry about putting the fire out before you set off for the day's adventure.

 

Single- or double-burner stoves come in all shapes and sizes. Depending on the complexity of meals you have planned, a wider base can better support larger pots or frying pans.

 

Larger stoves may require a good table on which to set them.

 

The option to simmer is great for cooking more complex meals. 

 
While disposable plates and silverware can seem like a simple solution, they'll generate lots of waste to pack out from your campsite.

 

Most of the same things in your home kitchen can do dual duty camping, like that small frying pan, spatula, and plastic plates. 

 
A cooler will allow you to stay out in nature longer because it will keep all your food fresh and safe to eat. This is one of the most essential pieces of car camping equipment. 
For food storage and cooking, we recommend freezing anything that can be frozen before you go. This way everything will stay fresher longer.

 

Pack your

cooler

tightly, and try to minimize how often it's opened while at the campsite to keep items cooler longer.  

 

Packing in reverse order of use can help keep things cold: the last night's dinner packed on the bottom of the cooler, with the first day's food on top.

 

You can do a lot of prep ahead of time, too so that cooking in camp goes more quickly. Having pre-chopped veggies or even pre-made meals to heat up can be a great time-saver after a day outside.

 

Some coolers are sturdy enough to protect your food from rodents or even bears. 

 
A warm beverage is a great addition to a morning spent at camp. 
Food
Bring along all your favorite camping meals. Stick to simple items or get bold with your recipes! 
Water
Some campgrounds offer drinking water on site, and others do not. Check in advance, so you're prepared. 
Bear Bag/Canister
Firewood
Sometimes, firewood is for sale at the campground or nearby grocery stores. 
Lighter/Waterproof Matches
Many campground spots include a picnic table, so you may not need to bring your own table. 
Trash Bags
Accidents happen, so it's best to be prepared. Take along a First aid kit including band aids, gauze, antiseptic wipes, antibacterial ointment, painkillers, tweezers, insect sting treatment, and medical tape. 
Medications
Bring whatever medications you usually take at home. 
Emergency Vehicle Kit
Don't forget to equip your car with an emergency vehicle kit, including a flashlight, jumper cables, and fix-a-flat. 
Toiletries
A little dirt on your face and under your fingernails is part of the deal, but it's still possible to maintain a feeling of cleanliness while car camping.  
Shovel, Trowel, or Wag Bags
Biodegradable Toothpaste & Soap
Cash
Bring some cash for campsite and park fees where credit cards don't work. 
Sunscreen
Clothing
It's often colder than you expect, so bring warm layers. For trips at higher elevations than you're used to, a beanie, wool socks, and puffy jacket will keep you toasty after the sun sets. For footwear, we like having some slip-on shoes for hanging around camp, in addition to any activity-specific footwear you have for the trip. 
Other Nice-to-Have Items
The items on this packing list aren't required but can make your trip more comfortable or just more fun! Solar-powered lanterns or string lights provide ambient light for cooking or hanging out after dark, without the hazard of headlamp beams.  
 A couple folding chairs keep you from sitting in the dirt and save the cooler from being used as a bench. If you're headed someplace either prone to rain or very exposed sun, a canopy adds protection from the elements. Whether it's pop-up tent style or a tarp hung between cars, a little shelter can add important comfort. 
Getting Ready to Go Camping 
These lists aren't exhaustive, and there may be some items that you won't need based on your camping style, location, or nearby amenities—so do plenty of research on your destination prior to setting out. Safety and first aid kits are a priority, along with water, food, layers, and bathroom essentials (like toilet paper and a shovel if you're not camping at an established campground with bathrooms).  
 Do you know the 7 Leave No Trace Principles? If you're new to camping, brush up on these easy principles to minimize your impact, preserve our outdoor spaces for generations to come, and stay safe while you're at it.  
 Finally, research the best campsites in your area, whatever that means to you. Read more on how to find places to camp in our article on Car Camping. Then, round up all your gear, pack the car, and head off to your next camping adventure! 
Where To Go Camping
First, ask yourself what level of amenities you prefer. Do you want access to a bathroom, firepit, and picnic table? If so, you may want to stay at a designated campground, which often needs to be booked ahead of time.  
Traditional Campgrounds 
Reserve America handles bookings for many campgrounds on state and federal lands. However, some National Park Service (NPS), Bureau of Land Management (BLM), Fish and Wildlife Service (USFWS), and Forest Services (USFS) campgrounds need to be booked directly through the agencies' websites. HipCamp has also built an impressive catalog of campsites on private lands, particularly on the west coast. 
Using one of the above booking sites is as easy as reserving a hotel room. Plus, you can usually enter the campground's name into your navigation app of choice and let it guide you there the same way you'd find your hotel. Expect to find lots of people in designated campgrounds, sharing nature with you.   
Dispersed Camping for More Privacy 
If you're looking to ditch the crowds, dispersed camping is your best bet. Dispersed camping refers to camping outside of designated sites in undeveloped, free areas. Most dispersed camping will be found on federal (USFS, BLM, USFWS, or NPS) land. It's uncommon, but some state parks also have dispersed camping areas. Policies and best practices vary by region—the Leave No Trace (LNT) practices may differ between the desert of Utah and the forests of the Midwest, for example. Check with the federal agency managing your destination of choice for specific information about the region.  
While navigating to a campground is generally easy, finding a dispersed campsite is a bit more complicated. Fortunately, you'll get better at it the more you do it.  
When seeking out a dispersed camping area for the first night of your trip, add in some buffer time. You could get lucky and find a beautiful spot just off the highway, or you may have to zigzag through the forest to find that just-right solitude.  
Dispersed doesn't mean you can camp anywhere you'd like. Ensure that you're camping in well-used sites so that you don't unnecessarily impact the land. Evidence of well-used sites can include fire rings, tent pads, and unfortunately, trash. Satellite view on a mapping app will help you home in on zones where people have previously camped. While satellite view can help locate well-used sites, it won't reveal actual road conditions leading to that perfect spot. Use caution when navigating rough roads and err on the side of caution if a road looks too sketchy for your vehicle. 
Informative Links
FAQ
What are the car camping essentials?
What are the pros of car camping?
It's an accessible way to experience the outdoors because it doesn't require a high amount of mobility.

 

It's an excellent option for trying out camping for the first time.

 

Car camping is the best way to get your friends and family into camping if they haven't done it before.

 

Having your car close by means it's easy to make a supply run

 

It's easy to take care of emergencies.

 

If you want to head back to civilization you always have the option to drive home or to a nearby hotel.

 

Car camping is also a good method for testing out gear because you can store superfluous items in your car.

 

Camping near other people can provide a sense of security for first time campers.

 
What are the cons of car camping?
Lack of solitude. You may need to camp in close proximity to other people, especially if you're at a popular destination during the summer. Evenings can be noisy and although many campgrounds have curfews, they're not always strictly enforced, which means you could be dealing with loud neighbors. For a more private experience, you might enjoy backpacking. 
Is car camping safe?
Car camping is perfectly safe as long as you are prepared with gear, food, and water and make careful decisions when you're out there. It's also a good idea to research your destination thoroughly ahead of time and always let someone know where you're going and when you plan to return home.