How to Choose a Mountain Bike
Hero Dirt: when the earth has the ideal moisture content for enhanced traction, and mountain bike tires grip the ground with extra ferocity.
These perfect conditions—not wet and sloppy, not dry and dusty—allow you to angle your bike through any corner, climb any slope, and fly down a trail at unmatched speeds. Like skiers chase storms for powder, mountain bikers wait for the right forecast to transform their trails to velvet.
I was fortunate enough to encounter "hero dirt" on my recent road trip to California in Montaña de Oro State Park. After four straight days of rain we found ourselves on the coast outside of San Luis Obispo on an idyllic sunny day, equipped with a fleet of new bikes. What ensued was one of the best riding days in recent memory.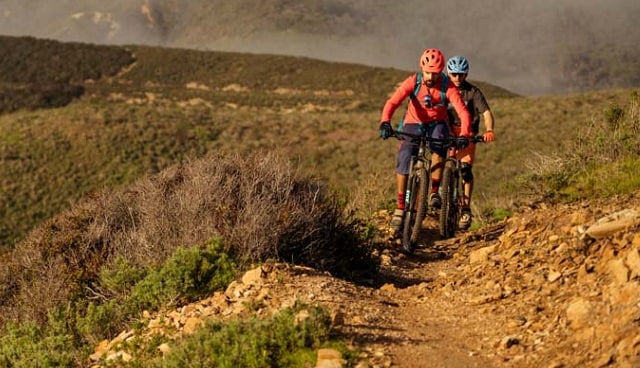 See more about our experience in San Luis Obispo
Whether you are new to mountain biking or an experienced rider, there is a lot to consider when choosing the right bike for your needs. Cross country, downhill, trail, enduro…what does it all mean? Not to mention that bike manufacturers are pushing the technology further with ever-evolving components, geometry, hub spacing, gear ratios and tire sizes.
Possibly the most important consideration when buying a new bike is where you will be riding it. Check out "Seven Things To Know When Buying A New Mountain Bike" as an initial guide. Once you have grasped the basics, the following will help you understand the important features of different types of mountain bikes, and you will be well on your way to finding your own "hero dirt."
MOUNTAIN BIKE FEATURES
Like all bikes, mountain bikes differ from one another in materials, components, and weight. They also vary in wheel size, geometry, and suspension travel. Backcountry.com offers nearly every type of mountain bike at many different price points. For the purpose of this article, we're omitting a few niche categories to focus on bikes you might want to ride on your local trails. A full-suspension enduro bike with a carbon frame, carbon wheels and top-level components can easily top $10K (see the Yeti SB5 Turq XX1 Eagle Complete Mountain Bike). You don't have to spend your whole savings, however, just to get out on your local singletrack. Many manufacturers are offering alloy frames, heavier carbon frames, and basic component options to keep the prices more affordable and get more people riding dirt.
What's Changed
If it's been a few years since you last looked at mountain bikes, you'll notice that a lot has changed. While 26-inch wheels were once synonymous with singletrack, modern mountain bikes almost universally roll on 27.5- or 29-inch wheels, with fat bikes being the one notable exception. The customary triple front chainrings have been replaced by one-by drivetrains, in many cases offering a similar gear range without the complication of a front derailleur. With a few exceptions, hardtail bikes have largely been relegated to cross country racers and entry level models. Stems are shorter, handlebars are wider, and the geometry of a modern bike looks radically different than bikes from bikes a few years old. What gives?
The past few years have accelerated the pace of mountain bike development. Modern bikes are orders of magnitude more capable in technical terrain, without coming at the cost of efficiency. Across categories, head tube angles have gotten raked out (typically referred to as "slack" geometry) to maximize descending confidence, and seat tube angles have gotten steeper to achieve a balanced position for climbing. Bigger wheels offer improved handling, giving riders the option of quicker-handling 27.5-inch bikes, or more stable 29- inch rides (more on that here), while the emerging category of mountain bikes with wider Plus tires are finding traction with riders who want a more surefooted feel. Wider BOOST hub spacing has allowed for stiffer frames, better tire clearance, and in some cases, frame geometry that would have been impossible to achieve with the older standards. Many of these changes have come from the pursuit of speed, but you don't have to be a racer to appreciate them. Basically, mountain bikes are more fun to ride, no matter your experience level.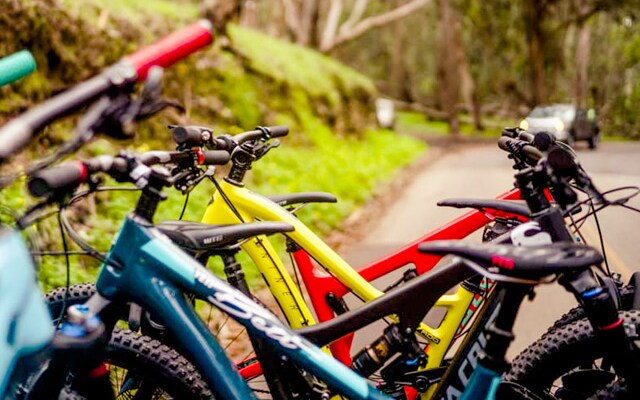 MOUNTAIN BIKE CLASSIFICATION
CROSS-COUNTRY (XC)
Do you want to Strava your climbs and crush your buddies' uphill times? You should be looking at bikes with lower amounts of suspension, larger wheels, pedaling efficiency and lighter weight. If you are riding long mileage or flowy, smoother terrain you may want to forgo rear suspension altogether and buy a hardtail. Depending on your size, 29 inch wheels generally make sense for most XC bikes. Smaller riders may want to choose 27.5 inch wheels in order to have a correct fit and more control, particularly for cornering and descending. If your main objective is being fast uphill and maximizing your pedal strokes, then a cross-country bike is right for you.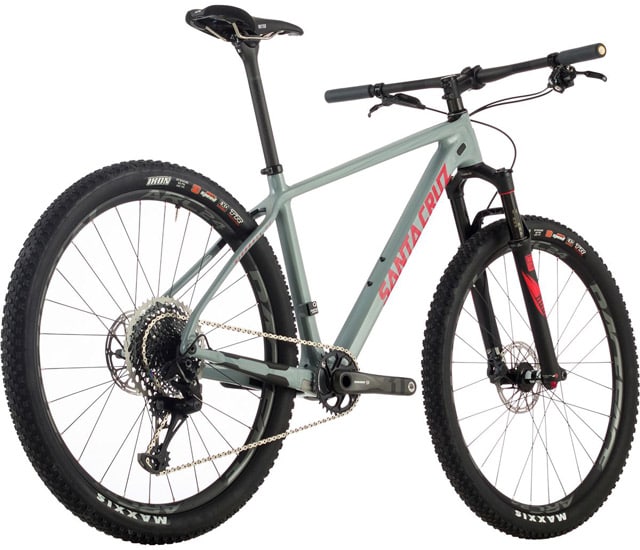 The Santa Cruz Highball Carbon CC is a purebred XC racer that's quick, nimble, and lightweight.
XC Bike Key Features
Front Suspension: 100-120mm (4-4.7in)
Rear Suspension: Hardtail up to 100mm (4in)
Weight: ~25 lbs. and below
My picks:
Santa Cruz Highball Carbon CC 27.5 X01 Eagle Complete Mountain Bike – 2017
Yeti Cycles ASR Carbon Eagle Complete Mountain Bike – 2017
TRAIL
Are you looking to cruise uphill but still survive the white-knuckle descent? A trail bike may be your next ride. Trail bikes have a bit more front and rear suspension. Their geometry lends to quick and nimble climbing but they are still capable on the downhill. Many models of front forks and rear shocks have travel adjustment, particularly a lock-out mode, to better optimize the up and down (see Fox Racing's FIT4 Forks). Not surprisingly, trail bikes are the most versatile choice out there and will allow you to tackle a variety of trails and riding conditions. Welcome to the Swiss Army knife of mountain bikes.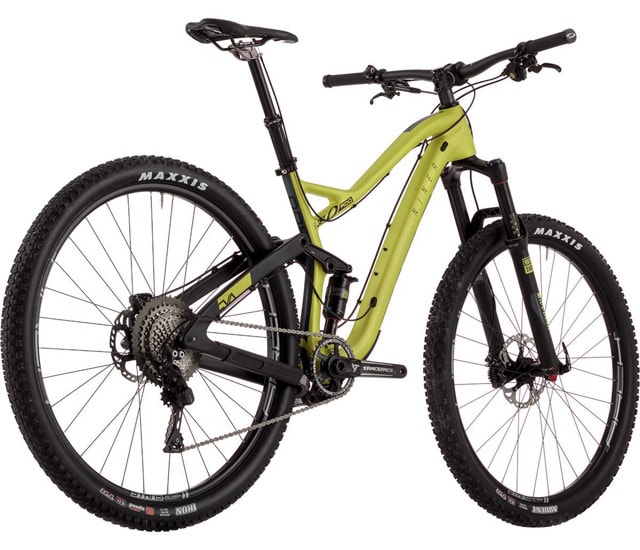 The Niner JET 9 RDO has the travel to tackle challenging trails, and it's an efficient climber as well.
Trail Bike Key Features
Front: 120-140mm (4.7-5.5in)
Rear: 100-140mm (4-5.5in)
Weight: 25-27 lbs.
My picks:
Niner Jet 9 RDO 5-Star Eagle X01 Complete Mountain Bike – 2017
Santa Cruz 5010 2.0 Carbon CC X01 Eagle Complete Mountain Bike – 2017
ALL-MOUNTAIN
Are you willing to earn your way up but want to clear all those water bars on the way down? Maybe you like rock gardens, drops, and adventure riding in unexplored terrain? Sounds like you need an all-mountain bike. Focus on options with a nimbler wheel size (27.5in is more common but lots to choose from with 27.5 Plus and 29in wheels) and a larger amount of travel in the front and rear. And don't forget a dropper seatpost that will adjust the height of the seat on the fly so you can maximize control on the descents. There are a lot of options in this particular category so pay attention to the frame material, wheelset, and components.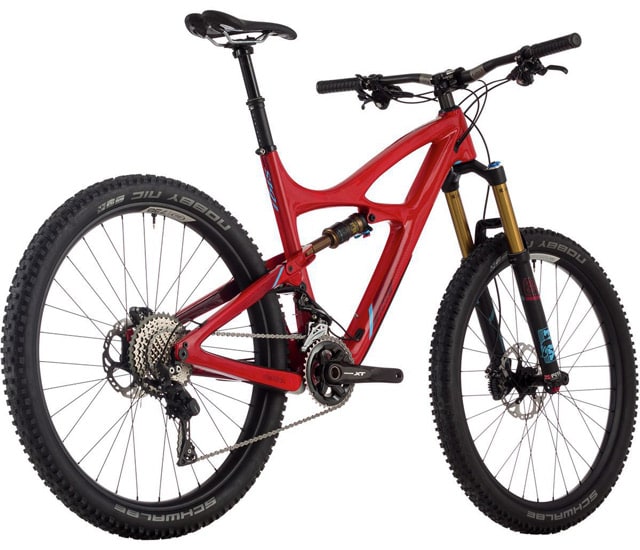 The Ibis Mojo 3 offers outstanding power transfer, and serious poise when the trail gets technical.
All-Mountain Bike Key Features:
Front Suspension: 140-160 mm (5.5-6.3in)
Rear Suspension: 140-160 mm
Weight: 25-29 lbs
My picks:
Santa Cruz Hightower Carbon 27.5+ S Complete Mountain Bike – 2017
Evil Bikes The Insurgent XTR Complete Mountain Bike – 2016
ENDURO
Want to climb like a goat and descend like a falcon? Enduro bikes feature plush rear suspension to soften rough descents and sporty handling to angulate around corners and berms. Although they're designed for the hard-hitting discipline of enduro racing, the combination of incredible descending abilities and surprising climbing efficiency have made enduro bikes very popular with riders who seek out the most challenging trails around. The most aggressive bikes in this category approach the technical chops of a true chairlift-only downhill bike, making them the best choice for riders who spend a significant amount of time riding lift-accessed bike parks, and still want to ride trails that are pedaling access-only. They feature a high amount of travel, slack front angles, and can take your riding to the next level. Charge hard, get airborne, pin that switchback and do it again as fast as you can.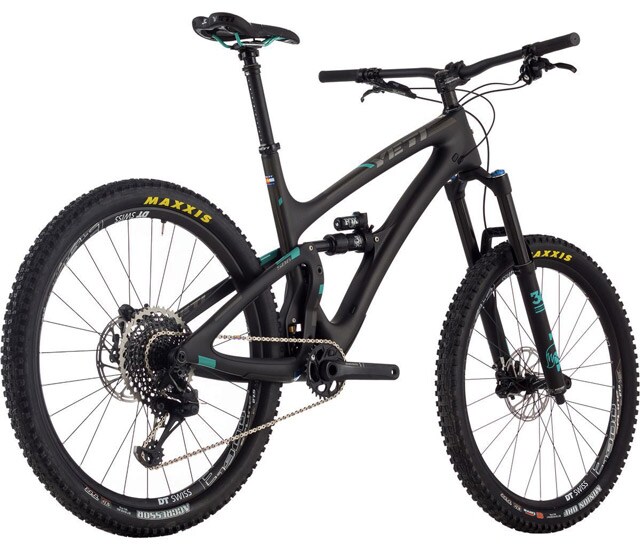 The Yeti SB5.5c is built for the hardest trails around, and only gets better as speeds increase.
Features:
Front Suspension: 150-170 mm (5.9-6.7in)
Rear Suspension: 140-165 mm (5.5-6.5in)
Weight: 27-30 lbs
My picks:
Yeti Cycles SB5.5 Carbon Eagle Complete Mountain Bike – 2017
Ibis Mojo HD3 Carbon Special Blend Complete Mountain Bike – 2017
Shop All-Mountain/Enduro Bikes
FAT BIKES
Dreading the cold, snowy days of winter? Constantly losing traction on the sandy trails of the desert or coast? Invest in a new fat bike and you can ride year-round no matter what the temperature or composition of the trail: sand, snow, ice, or dirt. The defining feature of a fat bike is oversized tires, typically 3.6 to 5 inches wide. More rubber on the ground means more traction, which is why these bikes excel in sand and snow. Beginners also like fat bikes because of the added traction, stability, and forgiveness offered by wider tires run at a lower air pressure. If you want a bike for the off-season or suited to the unique conditions of your local trails, then a fat bike may be the ideal choice.
The Borealis Flume GX, the aluminum counterpart to the Borealis Crestone, offers
year-round riding at a fraction of the cost for a full-carbon frame.

Features:
Front Suspension: Rigid fork up to 120mm
Rear Suspension: Usually Hardtail or minimal suspension
Weight: 25 lbs. and above
My picks:
Borealis Bikes Echo X01 Complete Fat Bike – 2016
Diamondback El Oso SLX Complete Fat Bike – 2016
IN CONCLUSION
When we finally got down to parking lot in the waning light and drifting fog, we started talking to some locals who were also finishing their ride. These students from Cal Poly were equally amped due to the fantastic trail conditions offered up that day by Montaña de Oro State Park. Before long, we were high-fiving these total strangers and exchanging tales of our favorite trail sections. Like a big powder day for skiers, hero dirt brings mountain bikers together with stoke and adrenaline.
Have you figured out what your new dream bike will be? Probably not, but hopefully you know where to start your search. It is always good to try to attend a bike demo so check around to see if any are offered in your area, or, even better, while you're on vacation in a mountain biking destination. When you are tired of reading specs and ready to take the plunge, contact me or another bike-certified Gearhead and we can help you with all the details. Whether you want a "bike-in-a-box" or to custom build your next bike from the frame up, we are here to guide you with the best industry knowledge and expertise available.
See you out on the trails.
You can contact Kyle by calling 801-736-4337 or emailing him at klivingston@backcountry.com. Follow him on Instagram: @kandkoffroad.  To contact any other Bike Gearhead at Backcountry, call 877-550-2639.
Related
Shop