5 Best Mountain Bike Shoes For 2022
Our Top Picks From The Park To The Trails
5 Best Mountain Bike Shoes For 2022
Our Top Picks From The Park To The Trails
Looking for the best shoe to ride the trails with? We're here to help. Whether you're just starting out, love the versatility flats have to offer, or are looking to find the best clipless for those long climbs, our Gearheads have compiled their list of the 5 best mountain bike shoes for the 2022 season so you can feel confident heading out for your next ride. 
Our Gearheads' Top Five Mountain Bike Shoes:
The Specs: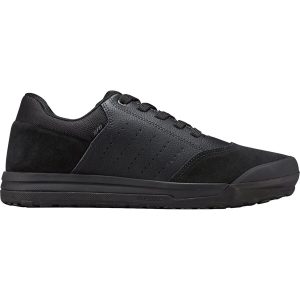 Upper Material: Leather, textile
Closure: lace
Pedal/Cleat Compatibility: flat pedals
Price: $119.99
What We Love:
2FO is a go-to when you're ready to hit the trail, but also throw back a few post-rides beverages.

 

The durable upper protects on the roughest of trails.

 

The redesigned sole holds tight to pedals with a confident grip.

 

The relaxed fit finds balance on flat pedals for comfort up and down the singletrack. 

 
The Cons: 
Suede sections of the upper may collect more dirt and be harder to clean
Gearhead's Take: This casually styled platform shoe excels on the rough and rowdy trails and then kicks back for the recovery sessions back in town. With the Specialized Body Geometry technology, the 2FO is roomy enough for comfort up and down the trail while offering the tension and support you need for aggressive missions and racing. A durable leather and textile upper meets a brand new SlipNot ST rubber sole that connects for inspired grip on platform pedals in unruly terrain and over challenging downhill obstacles.
Best Clipless Shoes For Mountain Biking: Giro Rincon
The Specs: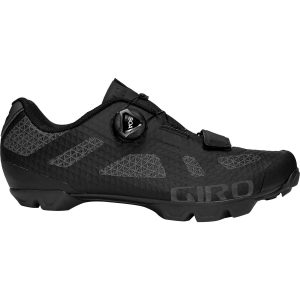 Upper Material: Thermo-bonded synchwire
Closure: Boa L6 dial, hook-and-loop strap
Pedal/Cleat Compatibility: 2-bolt cleats
Price: $164.95
What We Love:
Budget-friendly with elite performance characteristics.

 

Nylon-composite and rubber outsole provides off-road stability.

 

Synchwire mesh upper offers strength and breathability.

 

Anti-odor Aegis treatment encourages marathon distances and creek crossings.

 

BOA dial for 1mm incremental support and standard strap for toe box compression

 
Cons:
Sole stiffness makes any walking sections more difficult
Gearhead's Take: The mid-level Rincon is destined to become a favorite for off-road riders who don't need dual-dials and full-carbon outsoles to have a full adventure. In a body and design that is essentially the Sector-lite, the Rincon receives the trickle-down of the Synchwire upper for enhanced strength and reinforced toe and heel cups to protect against harder trail hits. However, differing from the upper-tier Sector is the single BOA L6 dial at the upper collar, compared to dual on the Sector, and a less stiff nylon-composite outsole. While these might seem like sacrifices, the Rincon offers toe box compression with a hook-and-loop strap for manual adjustments. And the nylon sole will still see you powerfully over trail obstacles with ease, without leaving you longing for a higher-priced carbon sole.
Giro Rincon Men's Mountain Bike Shoe
Best Bang For Your Buck: Shimano XC3
The Specs: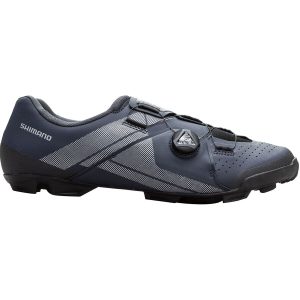 Upper Material: Synthetic leather
Closure: Boa L6 dial
Pedal/Cleat Compatibility: 2-bolt cleats
Price: $125.00
What We Love:
XC-focused mountain bike shoe does the job whether you're riding or racing.

Fiberglass reinforced nylon sole efficiently transfers power while an integrated midsole and upper construction provides high-level comfort.
The Boa dial cinches down to perfect fitting whether heading out for chill rides or diving into intervals.
A low-profile design reduces bulk and keeps stack height low.
A perforated toe box keeps things cool on warmer summer rides.

 
Cons:
Softer sole won't be the best match for those looking for optimal power transfer
Gearhead's Take: The high-energy and high-speed demands of cross-country racing require purpose-built equipment that carries no extra fluff, and the low-profile, single Boa design of the Shimano XC3 Mountain Bike Shoe is the tool of the trade. Starting with an integrated upper and midsole that sees synthetic leather wrapping around your feet with superior fit and comfort, the XC3 sets a no-frills image of performance-first design. The stand-alone Boa L6 dial cinches down the upper to precision comfort on your trail riding or race-pace interval sessions. With a low stack height, the XC3 reduces energy loss while pedaling, and the fiberglass-reinforced nylon sole transfers watts into the pedals to keep you in the hunt for the win. 
Shimano XC3 Men's Mountain Bike Shoe
Best Shoes For Long Rides: Lake MX238
The Specs: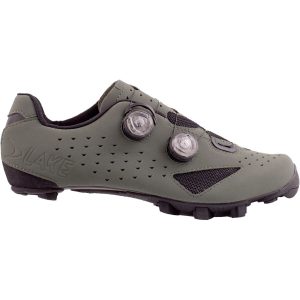 Upper Material: Synthetic leather
Closure: Dual Boa dials
Pedal/Cleat Compatibility: 2-bolt cleats
Price: $339.00
What We Love:
This high-performance cycling shoe is ready for adventure rides and races

 

A carbon sole delivers lightness and efficiency even on the longest rides

 

Full-grain leather uppers mold to our feet for optimal comfort

 

The dual BOA dial closure provides quick micro-adjustments

 

The aggressive rubber outsole helps navigate any hike-a-bike sections

 

This shoe has more volume than Lake's sport fit, less volume than their Comfort fit

 
Cons: 
Fits looser in the heel than some other models, which may not be the best fit for some riders
Gearhead's Take: This is the shoe for everything from rocky descents to hike-a-bikes, grueling climbs, and sandy stretches. The versatility that Lake's MX238 Gravel Cycling Shoe provides is second to none. It's exceptionally secure for tough rides and races, and it features enough room in the toe box to prevent binding when booking it uphill or maneuvering through awkward sections. It's designed to offer quality performance, and it's highly durable to boot.
The Specs: 
Upper Material: PU-coated leather
Closure: Lace
Pedal/Cleat Compatibility: Flat pedals
Price: $129.95
What We Love:
A synthetic upper receives a DWR treatment to repel water.

 

Stealth S1 rubber soles offer reliable grip through mud.

 

High-friction tread absorbs shock over roots and rocks.

 

A molded EVA midsole soaks up heavy landings.

 
Cons:
Not as stiff as other shoes, so folks riding for long distances may notice more fatigue
Gearhead's Take: Your favorite off-road shoes have proven their worth time and again, but can they keep up when you take to the streets? If a slim profile and clipless equipment can't handle life beyond the trail, throw on the Five Ten Freerider DLX Cycling Shoe. Its durable rubber outsole offers superior traction through the mud and grips the sidewalk for a post-ride drink with friends. The synthetic upper is treated with a DWR finish to repel rain and moisture and offers sleek styling for smooth transitions from the peaks to the pavement.