First Impressions: Burton Step On Binding System and New Boards
The step-in snowboard binding is back.
"Not again!" I thought. The first round of step-in bindings for snowboards left a lot to be desired. High off the board and super stiff, they never caught on, for good reason. And I just had visions of ejecting out of the bindings and having to search around in the snow for my board, just like a skier. So when I heard Burton had created a new Step On system, I was kind of skeptical.
Burton's been previewing the new Step-On bindings/boot system in advance of next fall's debut, and since Backcountry will be one of the retailers carrying the system, we got to take a look. Along with a couple of fellow Backcountry Gearheads and a few of our favorite customers, we went to Brighton to check them out. We also got a chance to demo some of the new boards in Burton's 2018 lineup.
The location: Brighton resort in Big Cottonwood Canyon, Utah.
The conditions: Six or so inches of new, granular snow, with temperatures in the 30s.
The testers: me (Eli Harrison), Gearheads Aleshia DiBella, Patrick Waddell, and Travis Bivins, customers each of us invited along, plus a couple people in the Backcountry Marketing department.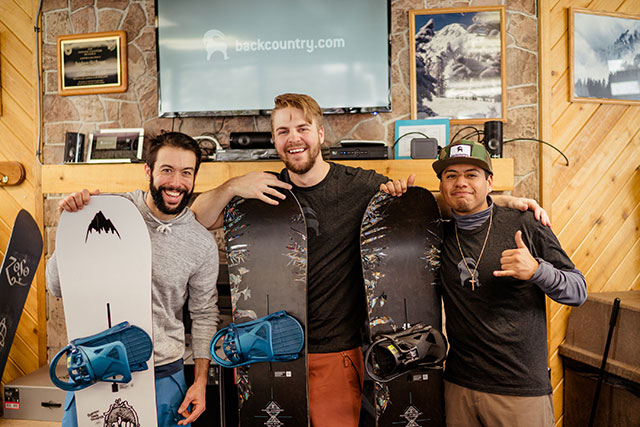 Me and my customers, Edward (left), and Cesar (right), getting stoked to try out new gear.
But First, a Little Background
Before we headed out on the slopes, we got a little background on how the Step On came about. Basically, Jake Burton was tired of having to bend over or sit down to strap in, and figured that he wasn't the only one. Who hasn't been frustrated when skiers rush past them to get to fresh snow, groups leave them behind, or their rear ends got wet while strapping in? The way he saw it, there just had to be a better way—after all, strap bindings haven't changed a whole lot in more than ten years.
What Jake wants, Jake gets, and a group of engineers at Burton was rounded up and walled away (literally) in a section of Craig's, which is Burton's R&D and prototyping facility. The goal was to create an entirely new system that was faster and easier than straps, and held up to Burton's standards for quality, durability, and performance. Working with a rapid prototype machine that let them test designs right away, the engineers worked for more than six years before settling on the present design. The biggest challenges were to ensure a close connection to the board, without completely eliminating natural play between the binding and boot.
Since then, the system's been tested for over 6000 hours on the snow, on four continents and seven countries, by more than 300 people of all abilities. And now it was our turn!
The Boot
The test boots were the men's Photon and women's Felix. These Step-On versions are different from the regular ones in that they have three built-in Step-On connection points—one in the heel and two at the sides, around the ball of the foot. These Step On boots also have a 'snugger strap' that wraps around the instep more or less where a regular binding's ankle strap would be. The other Step On boots, the Ruler and the Limelight, won't come with the straps.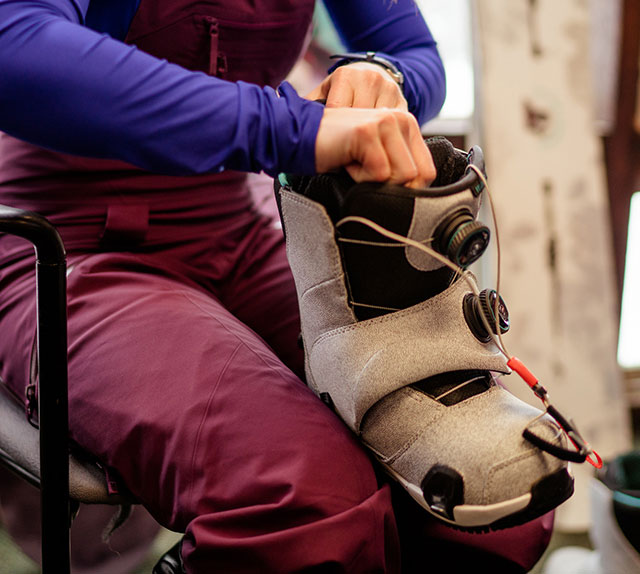 Aleshia checking out the Felix Step On boot.
I have pretty wide feet and normally wear an 11.5 in most boots. I was told the sample versions of the Step On boots ran a little small and Burton only had up to a size 11 for me to demo. They recommended I take the insole that comes with them out for some extra space. Once I did that, they fit great! Even with the soles in they only felt slightly snug. Overall the sizing and comfort of the boots were great. They offered a lot of response and a great medium flex, something anyone who has tried the old-style "clip in" boots knows is usually nonexistent.
It's a solid performing boot, in my opinion. I rode the same pair all day and I really don't have anything to complain about. They clip in fast and feel secure throughout the whole run. I notice a little bit of pressure on the outsides of my feet around where the metal clip is, but this is kind of normal for me after a long day of riding. Honestly, I'd wear these boots with normal strapped bindings. They are solid boots, plain and simple.
Travis says:
The boots seemed to run little bit small. My right foot is a big bigger and my toes starting going numb. I took the insole out and it was perfect then. Left foot was fine out of the box. Their performance was great, had no issues at all. Overall, I liked the boots a lot. I was nervous it would be similar to OG step-ins and not a natural boot feel, but that was not the case.
Aleshia says:
I have small, narrow feet; I normally wear a size 6 boot in almost all snowboard boots and street shoes, but I sized up to a 7 and they fit perfectly. They were definitely different and more stiff than my Salomon boots but the comfort right out of the box was really nice. I did notice a slight hump under the metatarsals but it was not discomforting to me. My male customer, Noah, who usually wears a size 9 snowboard boot went up a size and still had bad pressure points on the outer side of his metatarsals.
The boots performed like expected. I had no heel lift or issue with the laces since they were Boa. I would have to say they kept my feet very toasty; I get numb toes/feet very easily and my feet were not cold once in these boots.
Overall, there was some difference as to whether people thought the boots ran big or small, but everyone seemed to agree the boots offer incredible comfort right out of the box, and a good fit thanks to the snugger strap. Some testers said that over time they felt some hot spots, especially around the pinkie toe in the front foot next to the leading toe clip.
The Binding
The binding is made up of a baseplate with toe hooks on the sides, and a highback with a built-in heel hook and release lever. The feel was definitely a little beefier than regular bindings, but the lack of straps probably balances out the heavier base weight.
It was a little shocking how well the boots work with the binding system. To get into the binding, you just slide the heel of the boot along the highback to engage the heel hook, and then press down HARD on the toe to click in the toe hooks on the sides. To get out, you lift the lever on the outside of the heel hook and lean forward to pop out; sometimes a slight twist, like you'd use to release from SPD bike cleats, made it faster.
The first few times off the chair, people stopped to click in, but by the end of the day, most people were beginning to feel comfortable with clicking in on the move without having to stop and look at what they were doing. Just for fun, we set our boards on the ground and jumped into the bindings, that's how easy it is. When riding the lift up, you can position your back boot and binding so that when you stand up to offload, your back foot clicks and you just ride off the lift at the same speed as a skier, ready to ride.
The performance was so solid. Once you are clicked in, you aren't going anywhere. The bindings are designed to continually tighten throughout your run, if there is loose snow in the binding when you step in. Because the retention and most secure point mainly comes from the boot's back hook latched into the highback, it does feel a little odd at first going from heelside to toeside because you aren't using the pressure of the front straps to switch edges. It only took one lap to get used to the feel though, nothing major.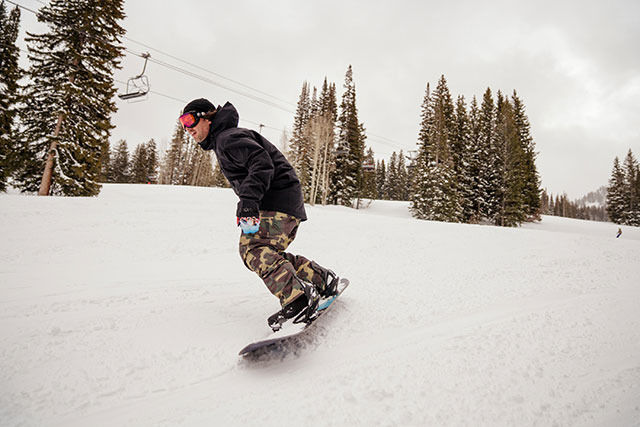 Some of the testers commented on how nice it was to be locked into the base and
not pushing up against straps on toeside carves.
I put the Step Ons through the wringer to see if they would release, pressing boxes and rails as hard as I could, landing in the back seat on purpose, jumping from nose to tail violently with all my weight. But no matter what I did, or how hard I tried, I couldn't get my boot to even budge, let alone pop out. That's what sold me on the system.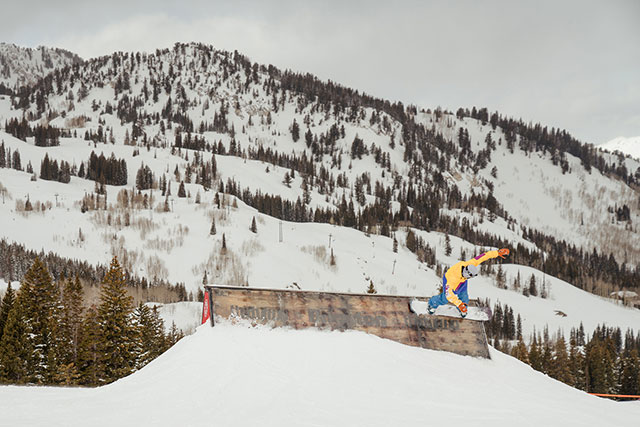 Edward and I hit a bunch of features and were impressed.
Travis says:
It does take 2-3 times to get the hang of clicking in, but it was simple after that. I was stepping in on the move after a few runs. Performance was actually very good. I thought it was pretty responsive and good support. I did notice some clicking while riding. Sounding like it was coming from the toe clips, I mentioned it to the rep and he said that was being worked on by the engineers. Overall I would definitely Step On.
Aleshia says:
Very easy to learn the concept—basically, heel, toe, go! I did have a problem occasionally when I got off the lift and tried to step in. I would think I was in but when I raised my heel it would come up a half inch. I learned that it was better to stomp the boot in hard; when I did that it was securely in. I honestly forgot I was riding the Step On bindings during the day. They performed like any other binding would. I could carve on my toe side as hard as I wanted with no issue. One other thing that bothered me was a clicking noise they made occasionally when riding down; The next day I rode with my customer, Michaela, again at Park City. As soon as I met up with her she said "I actually miss those boots and bindings today." She said she could tell a huge difference in her riding compared to her older board and bindings she is currently riding. It was great to hear.
Did I mention jumping into the bindings with two feet? Edward is a gymnast and decided to try backflipping into the bindings: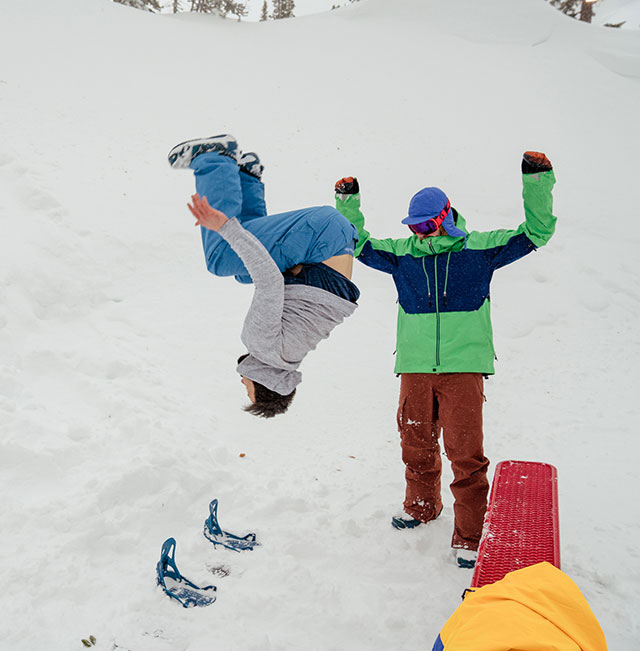 He came close, but never quite stuck the landing.
Overall, we agreed that for anyone who rides with their families, or with mixed groups of skiers and snowboarders, or who is just tired of sitting down to strap in, the speed and convenience of the Step On were a big plus. When you factor in the performance that's as good as (or some felt better) than strap bindings, it looked ever better.
Burton Step On bindings will be available in limited quantities in October-November 2017. Keep an eye on the site, and don't sleep on these if you're interested!
New Burton Boards for 2018
Along with trying out the Step On technology, we got to check out some of Burton's new boards for the 2018 season. Here's a rundown of our favorites:
Deep Thinker/Free Thinker
Everyone's favorites were without a doubt this duo from Danny Davis—the Deep Thinker being the directional pow-friendly model, while the Free Thinker is the twin version.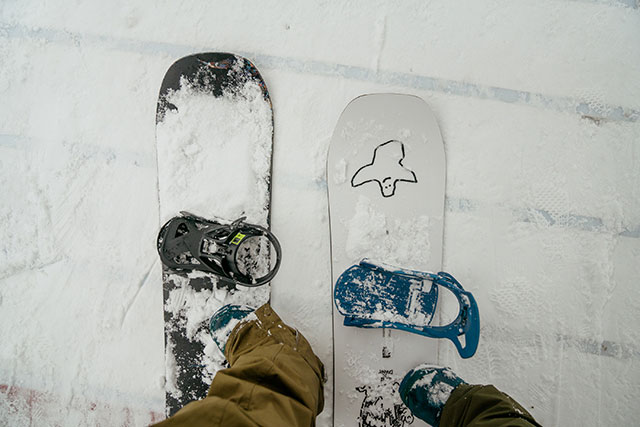 The Deep Thinker is probably the best directional all mountain board I've ever ridden. It's a light, medium-flex floater that will go and perform anywhere you take it. From charging choppy groomers, to getting playful in the trees, this board's edge hold and responsive feel won't upset any rider. The shape and nose of this board keeps it floating on deeper snow, but isn't so crazy that you couldn't ride out of something switch if needed. I took it for a couple park laps and was still able to butter some boxes and send the hard-packed jumps.
The Free Thinker is basically everything the Deep Thinker is, but with a twin shape and more freestyle/flexible feel. It's more of the all mountain/freestyle park board everyone should have. It's super responsive underfoot. When going into a press, this board's core doesn't want to immediately snap back at you, but instead lets you maintain the pressure you need to finish out your press, and guide you into the end of your trick.
Panhandler
The followup to the Skipjack, this super directional board with a flat profile and wide, low-rise nose is the perfect low-angle pow board. Sizing down is definitely recommended.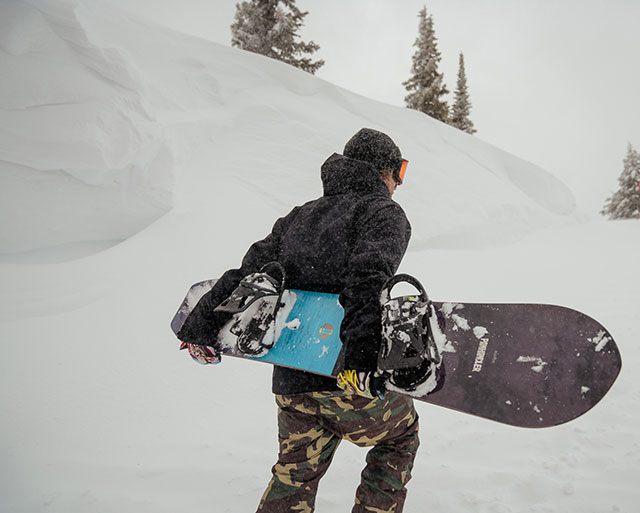 Patrick says:
I had so much fun on this board (156). Being short and wide, the Panhandler is easy to maneuver in fresh snow or on hard pack. The base has enough surface for floating and surfing in any amount of deep snow. I felt the Panhandler to be on the soft side of the flex scale. That being said the board was super snappy and responsive and could turn on a dime. Ideal conditions for this board: pow/wind drifted trees. (it passed the front board test on the 20ft down bar)
Working Stiff
This unusual-looking board is super stiff and thick in the nose to plow through chop, and softer between the bindings. The board's milled out in the center under the back foot for a swallowtail feel in deep snow.
Travis says:
Wild ride! Super stiff nose with tons of flex in the tail. Took it on a few fresh powder runs and felt like Kelly Slater on a wave. Felt like I could plow through anything with the sidecut of the nose, and while on harder pack, I had no issues ripping around either.
Storyboard – Women's
It's a good thing that there were several of this board—the only all-new board in the women's lineup—to go around at the demo, because every woman wanted to ride this fun, do-it-all board. The directional shape made for easy turning in deep snow and solid carves on hardpack.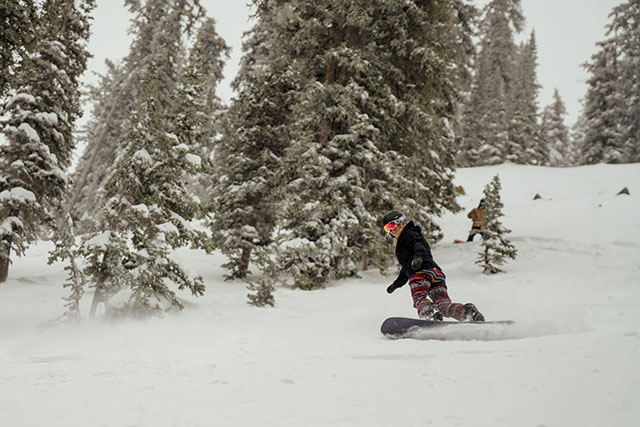 Jessica, the Backcountry social media coordinator, says:
This is a hard charger that's solid enough to blast through chop like nothing else, but with a super-playful feel at the same time; really easy to maneuver, even in tight spaces. Felt right at home on this board from the first turn.

These boards and others will be in stock in early fall, and a limited run of the Burton Step On boots and bindings will be coming out in November, so keep an eye out for them!
Follow Eli on Instagram @elijahson
Shop
Burton Gear
Burton Apparel
All Snowboard
Related