Top 5 Gear Trends At The Big Gear Show
From Car Camping Upgrades To Bike Tech Gold
Top 5 Gear Trends At The Big Gear Show
From Car Camping Upgrades To Bike Tech Gold
The Big Gear Show hit Deer Valley Resort in Park City, UT this August with over 100 outdoor brands and the best new gear for summer—from camp to bike, paddle, and beyond. We've rounded up our favorite gear and the top outdoor trends we saw at the show—from our new favorite beer/burrito holder to a 6lb backpacking raft for those high-alpine lakes. 
1. Planet-Friendly Gear Takes Center Stage
From 100% biodegradable shoes with major style to climbing ropes made from excess yarn, brands are getting creative to maximize sustainability. We discovered a plant-based shoe from Scarpa: the Mojito Bio is 100% biodegradable, from the laces to the natural rubber outsole. On the upcycled front, Mammut is making its Crag We Care Classic Rope from 100% residual yarn sheath, sporting the same safety standards as their original ropes (and the same price tag).
And Brooks took their top-selling shoe—the Ghost 14— and redesigned it with carbon neutrality over the entire lifecycle of the shoe.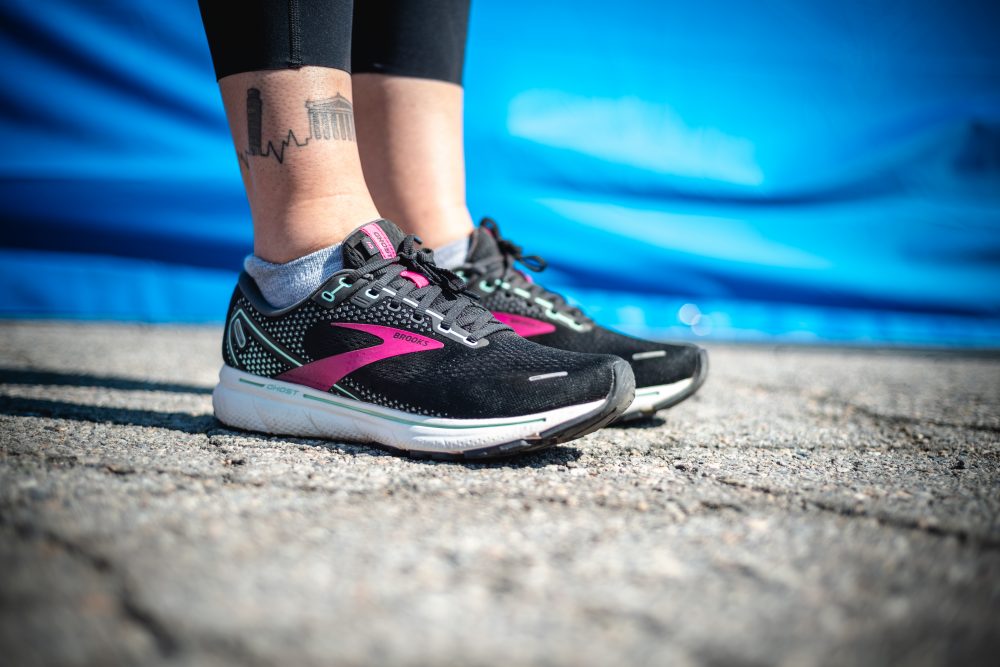 2. Ghost Ride The Kayak?
Arguably niche, but cool nonetheless, the Old Town Sportsman Autopilot 120 was a group favorite with a remote control motor complete with features that remind us of a self-driving car. Use Spot-Lock technology to "anchor" the boat on the honeyhole despite wind and current changes while you reel in the big ones. 
The tech keeps going with GPS pin drop so you can motor hands-free to your favorite fishing holes while you organize your tackle or fly box, set and hold a direction on the motor across big lakes, then change direction and speed with the press of a button.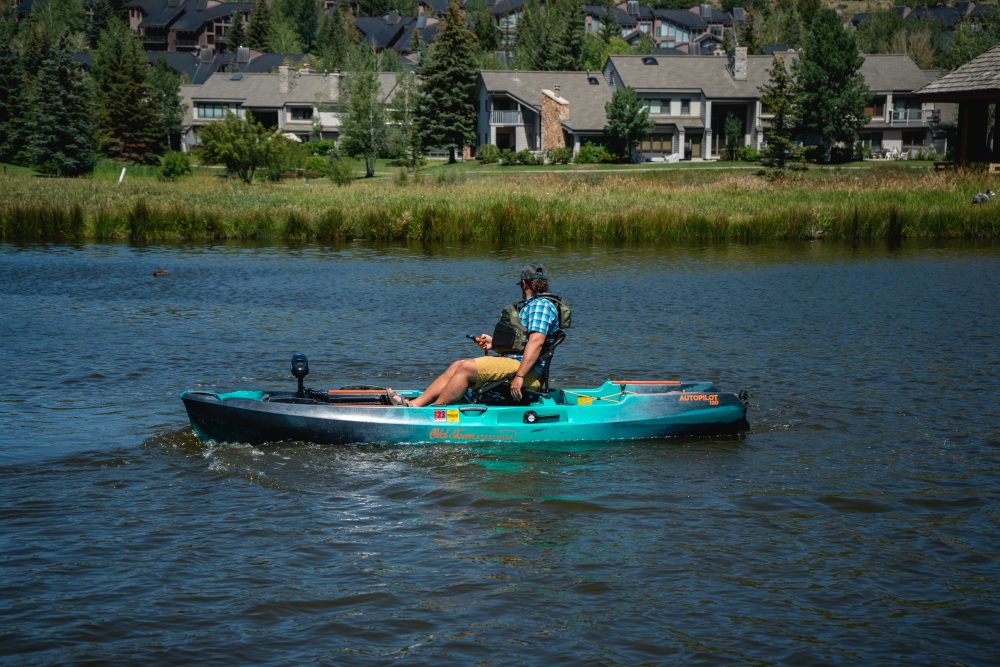 3. Bike Tech Gold
When you have Pinarello's Gold-winning road bike from the Tokyo Games and their up-and-coming gravel slayer under one tent, without hesitation, you ask for test rides. Pinarello's all-new Dogma F blew a high-speed, new-bike-day smile on our faces on our test ride in Park City's hills, while the Grevil gave us a new level of off-road drop-bar stoke. Both rides are Pinarello from forks to stays, with aerodynamics and ride quality in perfect balance to provide the fastest and most confident ride characteristics available in drop-bar frames.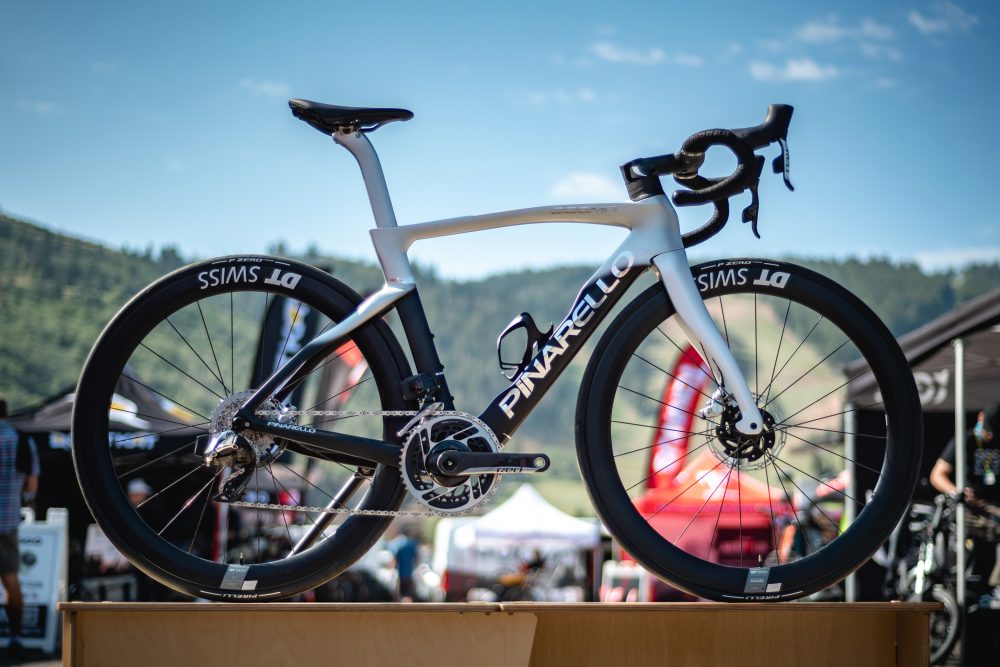 After we got our bike fix, we stopped by the POC booth. New to their mountain line is the top-tier, open-faced Kortal Race MIPS MTB helmet. Packed with the traditional on-bike comforts characteristic of POC, the Kortal also protects you off-the-bike with included RECCO Reflector and twlCEme® NFC Medical ID technology in case your ride doesn't go as planned.
4. Really Get Out There
Brands are determined to help you break away from the pack with gear designed for epic adventures and multi-sport days, along with tools that help you stay out longer. The CamelBak x LifeStraw partnership coming in 2022 does just that, with a LifeStraw filter that attaches to CamelBak reservoirs, gravity kit, and new collab water bottles so you can readily filter surface water (and store in the 30% lighter Fusion Group Reservoirs).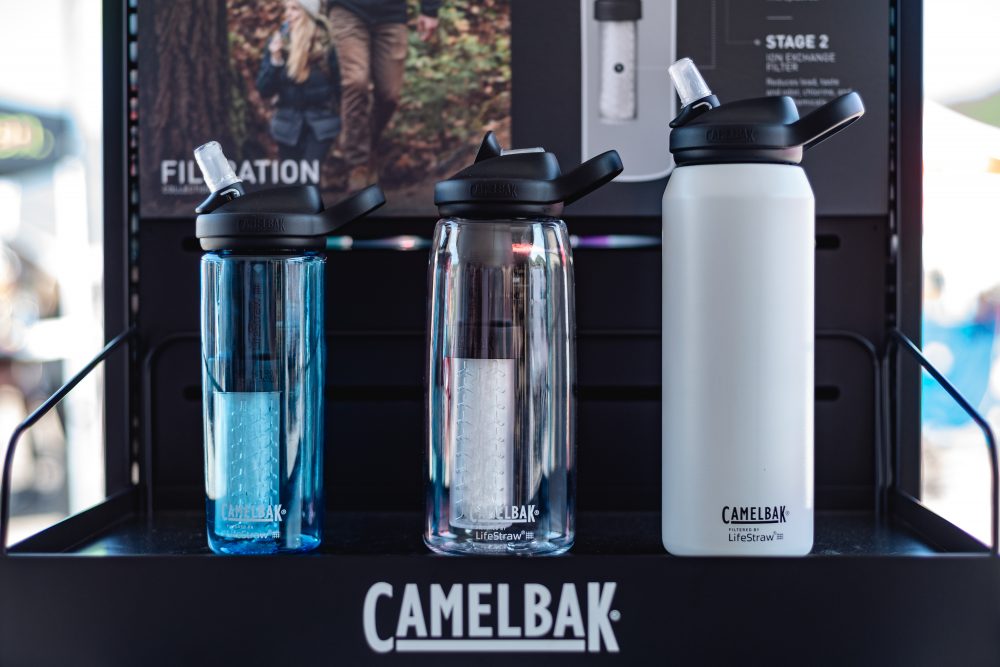 If water isn't just about drinking for you, your omniventurous dreams will come true with the Aquaglide Backwoods Ultralight Kayak. Ranging from 6-11lbs, these inflatable boats are perfect for backpacking into high alpine lakes for fly fishing. The honorable mention in the "boats that get out there" category is the Aire Tater, a beginner-friendly inflatable kayak that our Gearhead Jeremiah says is "stupidly fun." Developed from the Spud, a single-person kayak made for kids, this vessel was revamped for the adults that kept stealing the kids' boat.
5. Car Camping & Lotprès Gear Gets An Upgrade
Say goodbye to bulky, heavy gear, and hello to maximizing space. With the latest camp upgrades, you'll no longer have to sacrifice equipment or space for the pups in the car. Speaking of your pooch, Kelty took its most popular loveseat camp chair and added a spot for you, a friend, and Fido with the 3-seater Lowdown Couch. As with the 2-seater, this couch is easy to set up, comes with a multi-use carrying sling that doubles as a changing pad for the little campers or a catch-all for hauling camp gear.
And you'll save room for the Lowdown Couch when you get the Pinnacle Pro Stove from GSI Outdoors. This seriously slim, rugged, and high-performance stove boasts the thinnest design for dual-burner stoves on the market. Honorable mention in the car camping and everything in between category is the GSI Outdoors Two Can Cooler, an insulated double can cooler (similar to a steel koozie) that keeps your brews icy cold—or your breakfast burrito hot—fo 18 hours. Perfect for mountain summits, chairlift burritos, mid-ride cold snacks, and many other things that require no ice, minimal space, cold drinks, and hot burritos.