Our July Roundup
Explore The Latest Must-Read Stories
Our July Roundup
Explore The Latest Must-Read Stories
Our latest roundup of the best from the backcountry and beyond. 
First-ever adaptive descent of Denali
Adaptive athletes have reached Denali's peak before, but this is the first time two have summited, then descended on skis. Vasu Sojitra and Pete McAfee made ski mountaineering history on June 20, 2021—and they've got their sights set on a few more peaks.
Oregon Bootleg fire is so big it's creating its own weather
Growing in size to an area larger than Los Angeles, Oregon's Bootleg fire has consumed over 350,000 acres of the Pacific Northwest. It's currently the largest fire burning in the U.S. and is so massive, that it's producing pyrocumulus clouds.
Gearhead Take: Nothing rounds out a solid night under the stars like a crackling fire, but it's important to know and follow local fire restrictions and campfire safety before you go. Check out our tips here.
Speedy Spotz sets new Guinness World Record: 11 ultras in 11 days
Earlier this month, American ultrarunner Katie Spotz knocked out 11 back-to-back 50Ks across Ohio, setting a new world record. Katie, who encountered temps as high as 100F (38C), used her ultra project to raise awareness and funds—nearly $40k—for clean water initiatives.
The HOKA ONE ONE Clifton 8 has us running back for more 
Flotation-level cushioning in a road runner is something we covet, and HOKA delivers, with a midsole that's lighter and even more responsive in the latest iteration of its award-winning Clifton series.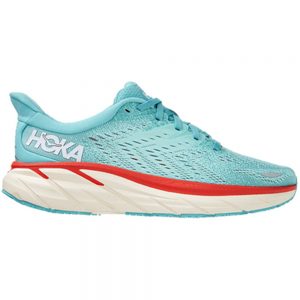 Florida man bit by gator while mountain biking
Worried about pedal strikes? What about gator strikes? One Florida man found himself foot to mouth with a gator after taking a fall at Halpatiokee Regional Park. Something to think about the next time your singletrack takes you through a swamp.
DIY: A ski pole plunger
Break a ski pole recently? Happens to the sendiest of us sooner or later. Steamboat Springs' Grass Sticks makes bamboo ski poles as well as SUP and canoe paddles, and they've recently entered the bath and shower market with plungers made from ski poles. Next time you snap one of your retro sticks, don't cry—consider upcycling it instead of tossing it into the trash.
Colorado's Hardrock Endurance Run is back & even faster 
Canceled in 2019 for snow conditions, and then again in 2020 due to COVID restrictions, the Hardrock Hundred Mile Endurance Run just made a triumphant return this year. French ultratrail superstar François D'haene set a new record onfinished the loop, which includes 33,000 feet of elevation gain and descent, with the fastest time ever, while defending champion Sabrina Stanley won the women's race with the second best time.
Get your char on
This week, we're cooking our mac 'n' cheese over some hot coals with pro tips from Backcountry Trail Snacks Chef-In-Chief Lentine Alexis. Since it's always good to eat your veggies, she's adding charred broccoli to the mix. It's cheesy, it's peppery, it's broccoli, and it tastes best outside.
Gearhead Take: If you're craving fancy camp meals without the fuss, do your prep before you head out. Chop those veggies at home, skewer what you want to grill ahead of time, and pre-mix any sauces you'll need into a couple Mason jars.
Quote of the month: "Backpacking is the art of knowing what not to take."
—Sheridan Anderson, Baron Von Mabel's Backpacking, 1980
What we're reading: Great Circle
Many of us here at Backcountry are familiar with a hunger for what's over the next horizon, whether we're backpacking, trail running, or putting tires to gravel. In this new-ish generation-spawning historical novel about flight, Maggie Shipstead captures the insatiable quest to see what else is out there.
Dog of the Week:
"SUP?"
Gilligan: https://www.instagram.com/p/CReQk-WB43I/