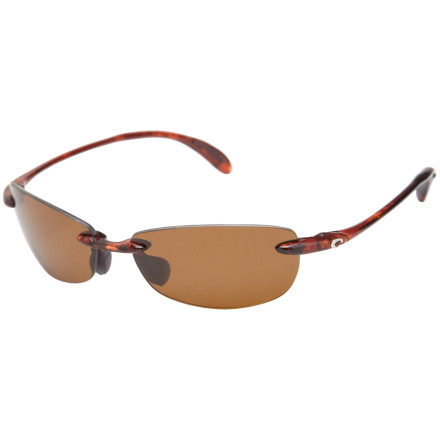 Detail Images
The Costa Del Mar Filament Polarized Sunglasses cut through the glare to allow clear vision into the water, so you can see the 60-pound halibut on your line even before it hits the surface. Your whole body will be tired after a half hour of reeling in line and fighting the pole from the chest harness, but your eyes will be comfortable and protected behind the polarized lenses. Costa Del Mar gave the Filament Sunglasses lightweight nylon frames with arm pads to keep these shades from joining the fish when you lean over the boat to net your friend's catch.
Bought these as a gift for my fiancé. He loves them. They fit just right even though he has a large head. I would definitely recommend them.
These sunglasses are so great. I have been wearing Rayban's for years, NOT ANYMORE!
Very pleased with comfort in terms of clarity and comfort. Awesome buying experience with friendly customer service, prompt shipping and an awesome price.
These are real lite and comfortable. They seem to really cut through glare real nice. The frame is a little small, but they still fit well. I haven't had a chance to try them out on the lake yet but from what I hear the polarized lenses are great. I fish a lot so that was the main reason that I got these. For the money there a great pare of shades.
Everything was easy about this purchase. Thanks.