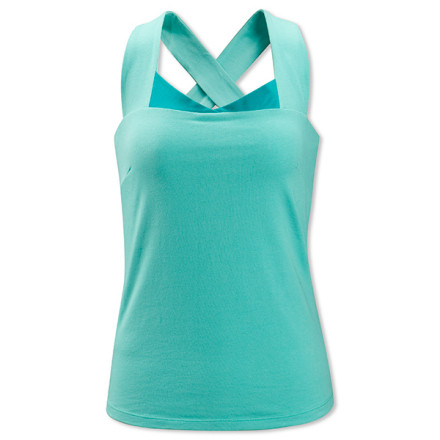 This top will strangle your lats if you are a 34 or or more in the bust. It's not an issue of breast size per se because the shelf is large enough to accommodate a large c. I tried a small and medium, and the shelf bra band was the same size in both, which for the sizes was way too small, or the elastic does not stretch enough. So unfortunate because this is a beautiful top.
I really like this top. it was true to size and has a very soft comfortable fabric that allows it to not chaff. I wear a 34D cup so I wouldn't say that it would be supportive enough to run in or anything.. but it is great for low impact stuff like yoga, weight lifting, rafting etc....
love this tank! Fit was very accurate did gap a little in the front otherwise comfortable for yoga
What does the Orchid color actually look...
What does the Orchid color actually look like in reality? I like this version of the color, but I've seen it on other websites where the color is less muted and way more green and bright.
take a look at www.arcteryx.com that will be the most accurate. I'd say it's just a touch brighter than that pic, but not too much green.
I don't know why I am the only one that doesn't really like this top, but I found the cut really bizarre. I am 5'10" 140lbs and this was long and baggy in strange places (like the arm pits). The built-in bra was not supportive at ALL and kind of pushed my boobs down--not attractive. I saw pictures of myself in this top over the summer and realized this much too late. Not for tall girls I guess. (oh and I got a medium)
I love this top and want to order it, but...
I love this top and want to order it, but I need size small or extra small since I am petite (5'3", 105LB). Do you have smaller size in stock?
Typically, what you see is what you get on backcountry.com. Stock is frequently updated, so it's rarely wrong.You may be able to find this shirt on a different website.
A bit long for someone w/a short torso
I liked the tank and agree with most of the other reviewers. However, I'm 5 '2'' and ordered a small.. I had to return it b/c it was very, very long on me. I agree it would be better for casual wear/exercise as opposed to something more intense (since it's cotton). Definitely nice quality.
very comfortable, well made tank with good quality fabric. slim fit, hugs your body
I love this tank top. It fits well, especially under the arms where sometimes other brands (Prana, especially) really cut into me.
Nice fabric and I feel comfortable with the shelf bra, which sometimes are more of a pain in the butt than anything.
I love this top. Fits comfortably and looks great. I wish it were available in more colors.
, ☃bcs_badge_alumni_label☃
So Cute
I absolutely love this shirt.
I am usually hesitant about buying tank tops online but I was pleased with this purchase. It's super comfortable and fits great. It also seems pretty durable.