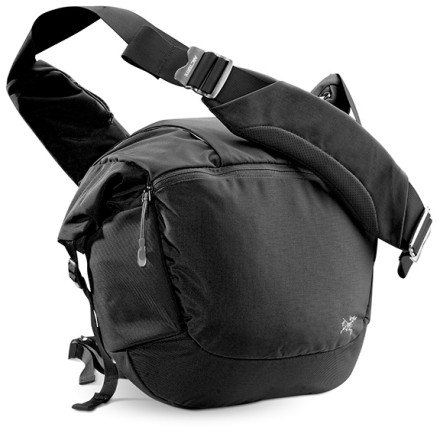 Detail Images
Gym bag, work bag, school bag, bouldering bag—the Arc'teryx Mistral 16 Shoulder Bag can be just about whatever you want it to be. A roll-top closure keeps water out during the rainy commute, and two front pockets keep smaller stuff like your cell phone and MP3 player separated. Arc'teryx added a plush shoulder strap to help you carry heavy loads when you need to bring along more than normal.
Arc'teryx Mistral 16 Shoulder Bag
Gender:

Male

Familiarity:

I've put it through the wringer
I LOVE THIS BAG!!!!!! I have owned a ton of messenger style bags, but this is by far the best one yet. The fit is very comfortable and the size is perfect. I would purchase this bag again!!!!
Will it fit the new MacBook pro 15.4"? I...
Will it fit the new MacBook pro 15.4"? I need it to comfortably slide into the laptop sleeve and not be a struggle to get in and out everytime since I will use it frequently.
Hey Riley,

It will fit just fine but it will be a little snug so you may not like it. You can always return it though!
Will it fit a macbook pro? Also I like...
Will it fit a macbook pro?
Also I like to wear my messenger bag high on my back can the shoulder pad shift enough to accommodate this?
No problem for your laptop to fit. The Strap is super adjustable, you can make the pad fit just right.
I have a lot of Arcteryx gear. I like most of it but often slight details are off. With the Mistral bag, they got most of it right with an insightful design but one simple blooper. The handle strap on the bag that you are going to be using when it's not on your shoulder is not padded and when the bag is full and heavy, the strap is not comfortable. Come on Arcteryx, for the price of this thing, pad up the handle strap.
Just bought this thing. It took me half a day to figure it out, the design is so unique. Let me tell you, this thing is the coolest bag I have ever owned. I am not sure why this isn't getting rave reviews. The quality is top notch, looks overbuilt, which I like. The closing mechanism is super cool, as it opens up super big, but allows you to cinch it down on the sides with the two side straps. This helps the bag not be big and unwieldy, but streamlined. It also fits on the shoulder like a glove. I am going to use it as a gym bag, overnight bag, and a travel bag (flying) to hold books, headphones, ipod, laptop. I personally think this thing is fine for a laptop, so I don't understand the bellyaching here. I have always hated it that bags never quite fit properly over my shoulder, and that things can fall out the top. Both of these problems are fixed with this thing. I got the red and it looks really cool. It is not as red as what is in the image. It is so stylish looking my wife is actually pissed I got it.
Pros: many pockets…I mean everywhere, outstanding craftsmanship, organization.
Cons: lack of padding (there are some padding at the bottom and back, but no frontal or size impact protection), shoulder strap is not well padded, and 15" laptop barely fits.

The design is really genius, fold down closure is really nice to protect the contents from element, HOWEVER, it's so slow to open it and takes two hands. I would prefer zipper opening for computer bag. Also size is somewhat not- so-perfect. I tried Mitral21 and it was waaaay too big for my 15" laptop and a few files that I'd normally carry on business travel. Mistral16 can take my 15" laptop barely (with PC sleeve on), then only one file can be stored. There's a vertical pocket in main compartment, but if you intend to store a laptop, chances are you won't put anything in there. If you have those mini-laptop this bag is for you.

Overall I'm skeptical about this bag series. Call me an old fashion, but I still prefer a messenger bag with big flap and zipper opening (But that's not Arcteryx…I know)