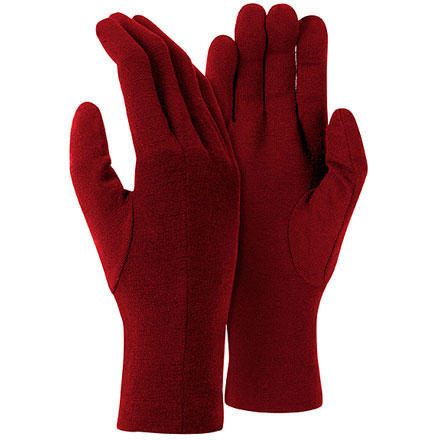 Arc'teryx made their Gothic Lightweight Gloves with itch- and stink-free Merino wool to ensure excellent warmth and comfort. These lightweight gloves are ideal for wearing inside a waterproof shell during nasty weather or alone on bluebird ski days. The Gothic Gloves are just like the old wool gloves you loved—except lighter, more comfortable, and completely itch-free.
2014 Gothic glove
Familiarity:

I returned this product before using it

Fit:

True to size
I recently bought both this pair (because it was significantly cheaper than the current model out) and also bought the 2015 model to compare. They are both made with merino wool that is tightly knitted to hold in warmth. Merino wool is kind of one of those wonder materials that isn't itchy, is antimicrobial and super warm. The only difference between the two, is the 2015 model has the e-touch fingertips. I wanted to use these gloves more as an everyday glove. Although I know merino is a very warm fiber, I felt like these were a little bit too thin for my liking. These would be a phenomenal liner though!
I was also surprised that I fit perfectly in a size Small. I have very long fingers. I measured my hand and compared it to the size chart and a small was recommended. It was a perfect fit!
Great Liner
Familiarity:

I've used it several times

Fit:

True to size
Like these liners a lot. Much better than my Phase liners. I use them with the Alpha SV glove and they add an extra 10degrees of warmth. Have been very durable for merino so far.
Great for runs on cold mornings
Familiarity:

I've used it several times

Fit:

True to size
So far this fall/winter I have taken these liners on several cold morning runs. Temperatures ranged between 20 and 40 degrees F, and so long as I keep moving, these keep my hands perfectly comfortable all on their own. If it gets colder I'll layer them up with the Delta AR glove from Arc'teryx if it's dry, or the Mountain Hardwear Torsion softshell glove if we get a bit of snow. For colder or wetter stuff, these go great inside of my Backcountry.com Cottonwood gloves.



Thin, light, just warm enough, and have proved to be pretty durable in my experience over the last few months in the woods.
Awesome Glove Liners
Familiarity:

I've put it through the wringer

Fit:

True to size
These are glove liners if anyone is confused. They should not be worn outside another glove. They are thin and delicate by design and their job is to do only one thing: increase warmth in gloves. I wear a size M under Hestra's (size 9) for super cold ski days and they give them a heat boost. Really high quality, fine knit, merino wool.



This is one of my favorite pieces of gear. The knit on the liner is really high quality and there are no awkward seams on the fingertips or palm. If you are looking for a high performance liner that integrates well with your gloves for a precise fit, high finger mobility and articulation, and boosted warmth, try these out.
Both gloves ripped first weekend
Familiarity:

I've used it once or twice and have initial impressions

Fit:

True to size
First, I will provide my short review of my own experience with these, then I want to address what I observe as some other reviewers missing the purpose of these gloves. These gloves fit nicely on my hand, and are a soft, thin merino that was very comfortable to wear as a glove liner beneath other gloves or mittens (I wore them under both this past weekend). I wore these for the first time this past weekend while hunting, and just noticed that there were tears in the stitching on BOTH of the gloves! I wore these for their intended purpose, as liners, not as outer layer gloves, so they were not expose to any harsh use at all. Of course, Backcountry.com was EXCELLENT in dealing with this problem--took them back, and are sending another pair because I decided to give this product one more try before I move on to another brand of merino glove liner. If they keep tearing like this along the seams, it will be unacceptable to me. Arc'teryx has always made EXTREMELY high quality gear, so this surprised me, and I'd like to give another pair a try. Will certainly update my review



Now, I wanted to secondly address what I observe to perhaps be a misunderstanding as to the purpose of these gloves. I do not think these are designed to be worn as only a glove with nothing over them. I think these gloves are designed to be liners, and that is why they are thin and free of reinforcement material, have extended wrist coverings, etc. I wore them only as liners, not as gloves, and they fit comfortably under a mid-weight pair of windstopper gloves and also fit nicely under a pair of heavy duty mittens.
Great liner
Gender:

Male

Familiarity:

I've put it through the wringer
They work on my iphone, no need for special liners for that! I use them as liners in my Hestras, and they are great just as a very light glove as well.
Cold oven-mittens
Gender:

Male

Familiarity:

I've used it several times
Arc'teryx is a great brand for gore-tex equipment and backpacks, but these gloves just bear the brand without living up to it.



They are thin, light and of wool, so far, so good.



However, Arc'teryx have somehow managed to waste the advantage a thin glove should have, namely precision and delicacy. As other people have mentioned the stitching in these liners have been put directly on the fingertip. I second that observation and it was much worse than I thought. It's just pure stupidity, and makes these a thin liner with an oven mitten's precision. I doubt these would even be sold without the little avian fossil. I'm returning these. I recommend you go for something else. I've had good experience with sealskin in the past.
worth it
Gender:

Male

Familiarity:

I've put it through the wringer
incredible warmth-to-weight ratio. keep my wrists warm too, since the gloves go about 2 inches past the base of my palm. It's easy to pick things up such as coins and credit cards off tables. They are somewhat delicate, but I have had them for a year or so and they look and feel brand new. I might buy another pair just in case they stop making them. I primarily use them as liner gloves for cold-weather biking, and along with some cheap-o heavier gloves my hands stay toasty.
A couple of daft design features
Although they are pretty warm for their thin nature, there are a couple of annoying aspects of these gloves that are very disappointing fr their price and the normally good name of Arc'teryx. Firstly, the seams are sewn together very thickly and come together right at your fingertips, meaning that most dextrous activities that would normally be the advantage of thinner gloves (e.g. tying shoelaces) become no easier than with thick gloves. Secondly, there is an unnecessarily huge information tag in one of the gloves, which I picked the stitching out of as I always so with these things. Oops! It used the same stitching as the glove itself, so now I have a big hole I need to sew up. What a tremendous pain in the donkey.
I wanted a pair of really thin inner gloves to use inside big winter mitts, and these ones are perfect. They are super thin and so far quite durable, the extra insulation they provide in combination with my MH washerbaums guarantee to keep your hands warm in the most harsh conditions. They are real nice for sports activities on chilly days as well. Bonus: I kinda feel like a cat burglar whenever I put em on :)
Hi, Would these work well under the...
Hi,
Would these work well under the Sigma AR gloves for extra insulation when really cold on the slopes?
Indeed, these would be perfect for that. It's gotta be bitter....
Not sure what those gloves you have are, but they fit quite nicely under several pairs of my gloves and mittens. Very thin merino wool takes up very little room, but keeps you quite warm.
I'm 50 and have hated wearing gloves since -- well I was probable pitching them out of my stroller. I need some insulation for running in sub 20 degree mornings but my regular gloves are too heavy and soon soak with sweat. These are light, breathable and provide just enough insulation on cold mornings. I use these without an outer glove, and with their very light weight I could see the possibility of durability issues if used them differently but for keeping hand warm while running they're great.
Great kayaking and cycling gloves
These gloves are NOT waterproof or windproof. But they tolerate being wet in a way that's hard to believe until you get soaked in them.

These are glove liners, like a base layer for your hands. The amount of warmth is just right for aerobic activity, which means they'll be cold watching the sun set at the beach in northern latitudes. They wick beautifully, and the wind they let through is perfect for cycling. The warm-when-wet quality is ideal for kayaking, and unless the wind is howling, I don't wear other gloves over these.

I've had mine for about a month and a half. Many of the reviews here complain about shoddy stitching, but the two pairs* I've had have held up well in this regard. Mine are pilling a bit, though, from layering them under gloves on very cold or windy nights and using my hands.

Because they're so thin, these gloves are not at all restrictive. I can pick up an ID card from a table, and I don't give much tactile sensation up wearing them.

They seem to run small, though. While there isn't a sizing chart, it was suggested to go with XL based on the size of my hand, but these were small for me. A friend took them off my hands, I got XXL, and I've worn them every day since, in the Seattle cold.
This is an addition to my previous review entitled "exactly what I was looking for". While I still feel that these provide and awesome amount of insulation for their low weight and bulk, I'm extremely disappointed with the durability. I have had to stitch up holes in almost all of the fingers, and I've been wearing these for only a couple of months. Good warmth and fit, poor longevity. When it's time to replace these (after I can no longer stitch the fingers) I will not buy Arc'teryx. For reference I am using these strictly as a liner underneath an insulated leather ski glove, not as a contact glove.
, ☃bcs_badge_alumni_label☃
Awesome Liner
These things are great, merino wool to keep them toasty warm on you, and not have you get stinky or sweaty. I would suggest making sure that you really measure your hand correctly with the sizing chart, because these things fit exact. I got the M, and I love them
the glove for cold fingers!
These are just awesome, I tend to freeze a lot and these were wonderful. They fit really perfect, perfect to wear under another pair giving you that extra airspace and the wool i superb with the thinsulate extra thing in them, remember wool detergent. They are not to be worn alone, but underneath another pair. Used them while away skiing and they were perfect for cold weather.
Exactly what I was looking for
This is a great liner glove. Merino wool is the future, tell your friends. It's warm, it breathes, and its soft on the skin. These liners are very thin, they fit under my outer gloves perfectly, but they provide an astonishing amount of insulation. For comparison, these are about as thick as an Icebreaker 190 weight shirt. Highly recommended.
Picked up these Arc'teryx Gothic Lightweight Gloves a couple months ago. They're a great base layer when you're on the hill. No clamminess or sweating. They would be useless on their own though, unless you're walking around the house. Not remotely windproof - not that I was expecting this. Just making sure folks know.
I wore these gloves for one day after I received them and there's already a hole near the thumb of one of them. Seems like it's a manufacturing defect considering the reviews before me. They are very thin, much thinner than I had expected, and somewhat warm. Not bulky at all... Overall, I think they're just okay.