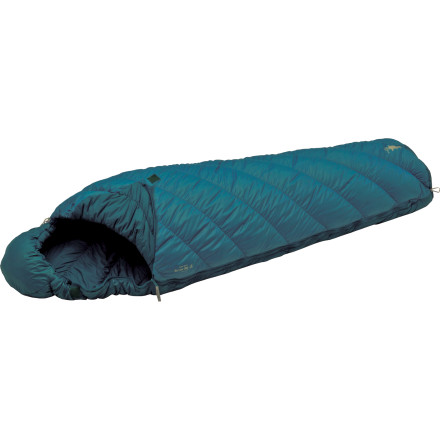 Spring storms and summer river trips might be too wet for a down bag, but the 30-degree synthetic MontBell Super Spiral Burrow #3 Sleeping Bag ensures a warm night after a cold rainstorm interrupts your trip. Thanks to the quick-drying Exceloft synthetic insulation and shingle construction, even the cold, damp mornings won't chill you to the bone.
Rated down to 30F, this bag is best suited for most spring through fall camping and mild-to-cool nights in the mountains
Exceloft synthetic insulation works best in rainy, muggy or wet conditions like a river trip or rainy Appalachian excursion
Tough nylon outer shell withstands trail abuse and a DWR coating prevents moisture from seeping inside
A draft tube inside the zipper and adjustable hood seal you off from exceptionally cold air
Super Spiral-Stretch System uses a biased cut fabric, elastic stitch, and gathers in the quilting so the bag stretches with your movements, keeps the down close to your skin, and eliminates dead airspace
Auto-locking zipper doesn't move during the night and joins your bag with another MontBell bag; left and right zippers available (depending on inventory)
Compression stuff sack packs the bag down to its 7.5 x 14.8in size (regular)
Available for shipping only to US and Canadian addresses
What do you think about this product?
Have questions about this product?
WOW! So many positives........I was back and forth between this bag and the Sierra Designs Utoia and after trying them both out, I am definitely glad that I chose the Montbell. Better stitching, zipper is much smoother, softer feel, EN tested, and it's 4-5oz. lighter!

Weight rating seems to be accurate. Very light for a syn. bag.

Included stuff sack has two drawstrings. 1 to close up the bag and second to condense the sack down. It's not a compression sack, but the second draw string cuts the stuff size to about 14" x 7" (not bad at all for a synthetic).

I've only had it for a day so I can't speak to temp. rating, but I did sleep with it as a top quilt last night in bed and this bag is VERY soft and comfortable.

I will be using this as a TQ and sleeping bag in my hammock for 3 season camping. Footbox is roomy and has enough coverage for a comfortable hammock lay.

I am 5'9 and bought the regular. I would recommend the long for anyone taller. This is the first bag I've ever used that my feet touched the end when my head was in the hood.

I am a wide man and bag fit me very well. I love the stretch that this bag affords.

Hopefully I will have it in the woods in the next few weeks and can provide a field experience review.
I've only used this bag a few times, but excited to use it more. I think '30 degree' rating is sort of pushing it (I spent two 40 degree nights in Big Sur and found myself shivering a points, but don't plan on using the bag in much colder situations than that. Its cool and light and packs pretty small. Color is great (was definitely a factor in my purchase), though the finish is much more fake rubber / plastic baggy than it looks in the pictures.