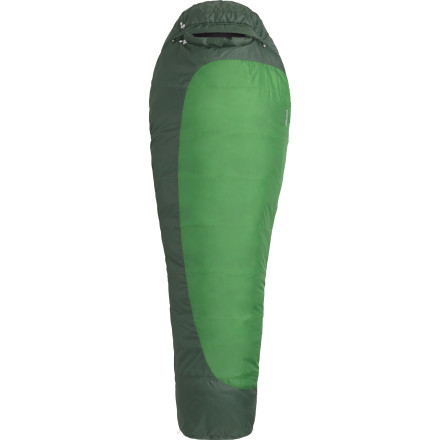 Detail Images

Community Images
Description
Your new best friend for three-season road trips.
The Marmot Trestles 30 Synthetic Sleeping Bag is a staple for summer surf trips, three-season backpacking, and overnight forays into climates. The Trestles' synthetic Spirafil insulation and wave construction provide protection from cool temps and retains its loft even if it gets slightly wet.
Rated to 30F, this bag is ideal for spring through fall backpacking trips
Lofty SpiraFil insulation combines hollow fibers and denser, solid synthetic fibers in order to offer a balance of warmth, softness, and compressibility
DWR-coated shell material fends off light rain and moisture so your bag and insulation stay drier in inclement weather
An overlapping series of internal insulation shingles creates the Wave Construction which allows for more efficient use of insulation so you stay warmer without needed additional insulation or weight
Nautilus Hood shares the same construction as Marmot's expedition-worthy 8000m jacket so your head strays nice and toasty
Easy to reach draw cords make adjustments easy when you're bundled up
Trapezoidal foot box matches the shape of your feet, wider in the toe area and narrower in the heel so you have more foot room and warmer feet
Zipper garages cover up the two-way sliders from the elements so they operate smoothly every time
Two hang loops make storage a cinch
Included stuff sack
great bag, no complaints
Familiarity:

I gave it as a gift but have feedback to share
I gave this as a gift but it works great with zero issues
Great bag, solid price.
Gender:

Male

Familiarity:

I've used it several times
I bought this bag to take camping in the mountains of North Carolina and Virginia this summer and couldn't be more pleased with the product. Super comfortable, relatively compressible, and well ventilated; the bag packs a lot of use.

Bear in mind this is a synthetic bag, so it won't compress super small (not great for long backpacking trips), but it definitely will work for a few nights out in the woods. It kept me warm when I needed it, and the ventilation openings made sure I never overheated.

All-in-all, a very good bag for the money--and, it actually gets pretty small if you use the stuff (which is included). Recommended!
I love this bag.
Familiarity:

I've put it through the wringer
I've shivered in it at 10deg, sweated in it at 70deg, packed it for miles and never regretted it. For someone too stubborn to buy a bag for every season, it's perfect. I glance at the lighter and easier to pack down bags, and the image of falling into a river or hiking through a storm stops me every time. I've been told by backpacking snobs that 3lbs is too heavy for a bag, but I'll hike happy knowing from experience that it keeps me warm when rained on.
Plus, there's a nifty stash pocket for condoms or medicine.
Nice bag - doesn't fit!
Familiarity:

I returned this product before using it
The long version comes with a pack too small to fit the bag. Spent an hour trying to get it to fit in, and the pack is about to burst at the seams.

That aside, it seems like a very comfortable and light sleeping bag. Just not ideal for backpacking trips or light travel of any kind.
I just received this bag and spent 3 nights on the San Joaquin River at Millers Crossing in the Ansel Adams Wilderness. The bag kept me warm, it was down into the high 30s, Lows 40s. I'd say the bag is rated appropriately. The bag was also roomy and super comfortable , being 6'3 I ordered the long version and had a ton of room. Looking forward to many more nights in that bag.
Great bag
Familiarity:

I've used it once or twice and have initial impressions
This is a great bag, especially at the price point(on sale my total purchase came out to $87 dollars including tax and shipping which was free) and I received the shipment within a couple days. The first trip I took it on was in Lake Tahoe where temperatures dropped to 30 in the early hours of the morning...I was warm enough to be comfortable all be it I had to wear a good amount of clothes underneath, but that is to be expected with a bag rated for 30 degree temperatures in weather that actually drops to 30 degrees. I decided to go with the long-I am about half inch over 6 ft and I would recommend this to anyone in this height range as it also means shoulder clearance will be slightly larger as well. The Camo color scheme is bad ass as an added bonus.
Got me through nigh time on the trail.
Familiarity:

I've used it several times
I brought this with me on a three day hike in Monongahela National Forest and it suited me well. Nigh time temperatures never dropped below 60 F, so I was well covered in the temperature department. Overall durability is nice, and it is comfortable. I just wish it packed down smaller but it was still small/light enough for backpacking. I also love the green color! All in all this is a must have sleeping bag for a backpacker who isn't going to be hiking in the winter.
Why should I consider right zip vs left...
Why should I consider right zip vs left zip? Why does this matter?
It's just a matter of preference. Might be to do with which side of the tent you sleep on, maybe with which is your dominant hand, etc. It doesn't make a difference to the performance of the bag, it's just which side you're more comfortable using.
Best Answer
I am right handed and I prefer the left zip. Its easier to reach across your body and grab the zipper then bend your hand to your shoulder and try to move the zipper down, easier for me at least.
Also, with some bags offered in a right and left zip you can sometimes zip them together for a little snuggle time.



The Trestles is one of those bags that does have mateable zippers.
Versatile multi season bag
Familiarity:

I've put it through the wringer
I've used mine in many conditions. Obviously sometimes I fared better than others. From nights in the 80s in the summer to nights in the high 20s. It is my go-to summer bag while sleeping on the trail in a hammock. In the late fall or early winter if I'm in a tent I pair it with a Sea to Summit liner for added warmth and it's super cozy and comfortable. Much colder than that though and I'll opt for my warmer down bag. Mine has a quarter zip on the left side which I find really handy as well as a full zip on the right. Draw cords work well and are easily accessible. Haven't had any trouble with the included stuff sack. With it sinched down pretty tight it fits nicely into the bottom of my 65L bag. Good bag, good value, not too heavy.
I have used this bag just crashing at a friends houses and its perfect. I took it out for the first time hiking Mt. Shasta this weekend. I stayed at Horse Camp at 7,000ft. The bag kept me really warm the first night. Almost to warm. Not exactly sure what the temp was but when I first crawled in, im guessing it was around 60. Once it cooled down into the mid to upper 40's it was perfect.
Does anyone recommend a better compression...
Does anyone recommend a better compression sack for this bag? I have had zero luck getting it to fit into the stuff sack it came with.
Summer Bag
Familiarity:

I've put it through the wringer
I am a river guide in Oregon. This is my summer bag. I'm not back packing so it doesn't need to be feather light. I like the material, it feels soft against my skin but isnt so slick i think im gonna fall off my pad. The zipper is super easy to use, and rarely gets snagged, unlike my zero degree mountain hardware. I sleep confortably in 40-50 degree nights, and if it drops i add my bivy. I am surprised how much i have liked this bag, ive had it for two years and i sleep in my sleeping bag more than my bed. Two thumbs up.
I purchased this bag right before a trip to Manistee river loop. The first night, I got in it, I was impressed. With just some compression shorts and a shirt, I fell right asleep. I woke up the next morning to find my friend freezing her behind off. I hadn't even noticed that the temperature had drooped to about 45 degrees. I ended up tossing the bag over here while I made some breakfast. She finally fell asleep. The next night, we opened up my Trestles bag, and both slept warm.
How small will this compress to? Also what...
How small will this compress to? Also what is a good compression sack if I get this?
Best Answer
It compresses to 18" x 8.5" with the included stuff sack. You could get it a bit smaller with an aftermarket sack (Granite Gear makes some really nice one).
Great!
Gender:

Female

Familiarity:

I've used it once or twice and have initial impressions
I used this back in a three-day/two-night hiking trip and was just fine. not too heavy, packed small enough (with ALPS compression sack) and was plenty warm for fall camping.
I recently got this bag and I must say say it is very great. I have not used this bag in any trips yet but i layed down in my living room with the air conditioner at its coldest temperature then got snuggled in my Marmot Trestles 30 and was very warm. Overall it is a great bag. :)