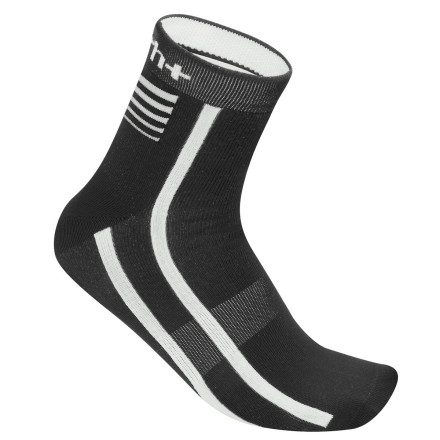 Wouldn't it be nice if there were socks that actually did what they promise? Seriously though, we're not asking for much -- don't drown us in sweat and reduce abrasion instead of adding it. A cool design is simply icing on the cake, but luckily enough, the Italian titan, Zero RH+ has answered our calls with the Dynamic 9 Socks. Sleek design, svelte construction, and as technical as socks can be, the Dynamic 9 is the above-ankle sock that we've been dreaming of.
Zero RH+'s Dynamic 9 Socks are made from the exclusive Firedry Gold 100 fabric. This mid-weight material is renowned for its smooth construction and moisture moving properties. In a nutshell, the fabric directly equates to comfort. This means that your feet are going to stay dry throughout a century, and even better, due to its variable density construction, you won't experience any bunching in the shoe. The reinforced heel and toe of the sock also provide a shield against hot-spots at the most susceptible points of abrasion.
The Zero RH+ Dynamic 9 Socks are available in sizes Small/Medium, Large/X-Large, and XX-Large. The socks come in the colors Black/white, Red/white, White/red, and White/blue surf.