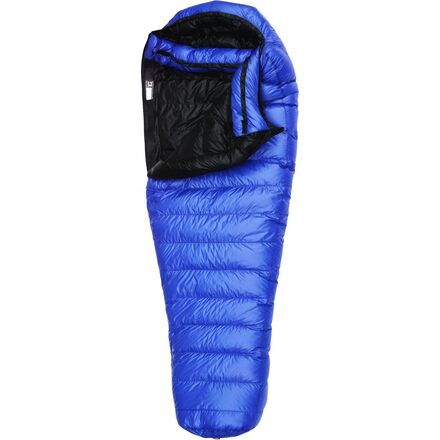 Videos
Description
Ultralight and ultra lofty.
The Western Mountaineering UltraLite Sleeping Bag lives up to its name by keeping your load manageable while still packing in a hefty dose of premium 850-fill down for those chilly nights. A soft taffeta lining caresses trail-weary skin and, thanks to the Pertex shell's breathability, the climate inside of the bag stays comfortable on balmier nights.
Highly breathable, water-resistant Pertex shell protects the down insulation from frost, condensation, and spindrift
Packs 16 ounces of ultra-premium, 850-fill down insulation to retain your body's warmth and maintain a super-high warmth-to-weight ratio
Interlocking draft tubes and a down-filled collar prevent energy-sucking drafts from zapping your slumber
Slightly narrower shoulder girth helps eliminate pockets of dead air for improved warmth retention
Western Mountaineering bags are made in the USA
Would this bag work in summer as well as winter? Also, is it waterproof or would I need a waterproof bag to put it in?

Hi Sharon, thanks for writing. The Ultralite is awesome! 20 degree is a great temp for most seasons, but the great thing about this bag, and other all other bags from Western Mountaineering that are greater than zero degree in their temperature: It has continuous baffles. What does that mean? Well, you can move the down from the top of the bag to the bottom of the bag by sliding it around to the bottom. This will give you less down on the top for when the temperature is warmer outside and you do not want to over heat. Does this make sense? Very cool design.



Now, about the ultralite: It is a narrow and efficient bag. "Efficient" in that you are not wasting energy heating up dead space in the bag. BUT... it's too narrow for me. I love the 20 degree option, but for something more roomy and comfortable to move in, please consider the Alpinlite or Terralite from Western Mountaineering. Those are 20 and 25 degrees respectively, and have a bit more room, if you would like this.



About waterproof, no. Are you sleeping without a tent? If you are out in the elements in this bag, it will get wet. So you need to have a tent or a bivy sack. Most important for us in this bag is your comfort. Your body needs to "breathe" and when you have a waterproof barrier to the bag, not only is it far more expensive, but it is clamier (is that a word?), and hotter. We do make bags in Gore Windstopper, not technically waterproof, but very close to that. Those bags are best for cold wet environments. What is your situation where you will use the bag? Where do you live?



I hope this was helpful. Please reach out to me in the Backcountry Community if you have any other questions!



Leta

Western Mountaineering Rep
This Bag is WARM
Familiarity:

I've used it once or twice and have initial impressions
I'll start by saying I run very very cold. I was using a 3.7 lb. zero deg bag year round (except for hot desert camping) for the last 7 yrs and I have no problem sacrificing weight for comfort. I was concerned with the continuous baffles on this bag and losing the heat underneath me since I toss and turn a lot but as it turned out it was never an issue. I did a 5 night 6 day Sierra trip at the beginning of August (warm for some, cold for me) and would normally take the zero but I was on a mission to drop weight so after reading the incredible reviews I bit the bullet and spent some money on this bag and it's one of the best purchases I've ever made.
It's so light, it definitely helped me get to my goal pack weight and it packs so small it's hard to believe how warm it kept me and how well it lofts. I slept with a light base pant and shirt, no socks and when we had a couple of really clear, cool and very windy nights and I got chilled, I tightened the collar a bit and like magic the heat was instantaneous. The pull ties were easy to work with on the hood and around the neck and I was able to find the perfect combo. Another plus is my zero zipper ALWAYS snags, every time, and this one didn't snag once, even from an opposite pull across my back.
This bag blew me away. Based on the reviews I knew it was a good bag but I didn't expect it to perform as well as it did for me and I see many years of use in it's future. I would highly recommend it to anyone looking for warmth and to save weight.

Anyone have thoughts on AlpinLite vs UltraLite for a 5-6 ~130lbs female, side sleeper? Do girls find the UltraLite too snug because the're not shaped like a carrot?

Anyone have issues with dampness/wetness with this bag?
YES!!! I am NOT shaped like a carrot! It was too snug for me. For a side sleeper, I would definitely go AlpinLite.



Thanks for the question!

Leta

Western Mountaineering Rep
Fantastic bag
Familiarity:

I've put it through the wringer
This is an amazing bag. Super warm, super lofty, and super lightweight. You usually don't get all that in a single package. Western Mountaineering makes lifelong bags. I have several of their bags and they're all amazing; this one is no different. I have buddies that have over 20 years with their WM bags. This is a fantastic spring, summer, and early fall bag. It's true to its 20* rating.
The degree is 20F. What does that mean? Feedback much appreciated!
Kun,



The 20F temp rating means that Western Mountaineering has built this bag to perform down to that temperature.



Shoot me an email anytime you have questions!



Jared D.

Expert Gearhead

801.736.4336

jdowns@backcountry.com
Why do you not show normal metric weights and measures. They would be a help for anyone outside America as that is the only place using old measures these days. The vast majority of UL hikers are metric familiar as "gram counters".
High Quality, Lightweight but lofty
Familiarity:

I've used it once or twice and have initial impressions
I agonized over the Ultralite and Alpinlite sleeping bags. I am a side sleeper and initially went for the Alpinlite. I tried it out, and this bag is perfect for bigger people. I am 6'1" and 175 lbs. This bag is too big for me. It packs into a small stuff sack, but not small enough for me. I returned it and went for the Ultralite. This bag is just as "thick" feeling (quality), fits me side sleeping and packs much smaller than the Alpinlite. I ordered a sea to summit 10 L bag to compress it even further.
Trying to decide between this or the WM Alpinelite 20 degree bag. Can't really tell what's different. Looking for something that's 3 season, light/ultralight and good for back AND side sleeping as I sometimes roll around. Is the only difference that the Alpinelite is a little roomier? Feedback much appreciated!
Best Answer
Hey Cri,



You nailed it! The two bags are pretty much identical except that the Alpinelite is a roomier cut.



Feel free to hit me up with any questions or if you'd like to place an order.



Ben

brabinowitz@backcountry.com

801-746-7564
Unanswered Question
which outer material is used on this bag? on web page it says Extremelite but i can not get any info how water resistant is this fabric. How does it compare to Pertex Endurance? Can you tell me how much g/sm? Thx
Does "right zip" mean the zipper is on my right hand side as I'm laying in the bag?
Hey Robert, Leta here with Western Mountaineering. It does eaxctly. Some people don't care which way, but if you are right handed, it's a bit easier to zip up and down when the zipper is on your left side, as you reach across your body.



Hope this was helpful!



Leta
Unanswered Question
Can someone please post a picture of this bag compressed next to a Nalgene for comparison?
Will a 6' left zip together with a 5' 6"...
Will a 6' left zip together with a 5' 6" right? If so how does that work? Are the zippers actually the same length and only the tail of the one bag longer? Thanks
Howard,

My wife and I try that same setup, but with a regular right and a long left zip configuration. The bags mate well (assuming similar zipper size and type), but there's a large gap between our shoulders where her zipper ends and my bag extends a few extra inches. This creates a bad draft, and cold spots. The foot of my bag also reaches a little farther than hers, which is expected. The positive side is that it gives both of you a little more room to move around, and keeps the bags in place if you turn in your sleep. It isn't advisable on nights getting down to the bag's rating though, because of the mismatch.
awesome bag
Familiarity:

I've used it several times
Really great sleeping bag; lightweight and warm for the rating.
Can't decide on the ultralight or the...
Can't decide on the ultralight or the alpinlight. I am skinny - 6-2 150 pounds and am worried the girth of the alpinlight might be too much. However the extra room may be nice for layering and room to move around. Any suggestions?
Your worry is well founded. If the bag is too big you will have dead space that needs to be warmed. On the other hand, if you feel like you prefer to layer and have room to move around and can live with the extra space, the the Alpinlite might be a good way to go. Best of luck!
I am in the same boat. I am just under 6 feet tall and my current bag claims to be 62 in shoulder circumference and I am worried about the ultralite bag being to tight.
Excellent & light weight
Gender:

Male

Familiarity:

I've put it through the wringer
Really warm for a bag that packs down so small. Weighs almost nothing, but is warm enough for late fall/early winter. Comfy down to -10 C if you wear a wool shirt :-)
Amazing Bag- Bag For Life
Gender:

Male

Familiarity:

I've used it several times
I first bought the HighLite 35 degree bag, slept out in New York in November and was a bit cold, so I returned it and got the UltraLite. The bag is incredible- super warm, great construction, packs down very small. Expensive, but I expect it will last for decades.
Like it but may be too small
Gender:

Male

Familiarity:

I've used it once or twice and have initial impressions
I bought the Ultralite and the Alpinlite to see which fit me better. Both bags are very well made and both are the long (6'6") size. The stitching is perfect, the zippers work great without snagging although I am careful with them just to be safe. The problem for me is determining which one to keep. I think this is a fairly common occurrence, so I thought I?d try to provide some information for anyone trying to make the decision.



I think I've read every article on the internet about both bags and am really sold on staying with WM. I'm 6'1.5" and fluctuate between 170 and 180 lbs. My chest measurement is 42.



It seems like the Ultralite's shoulders are fine at 60"but the hip measurement feels fairly tight. I think the foot measurement is fine, although I can notice the inch difference on the Alpinlite in that area.

As far as the Alpinelite...I really like the foot measurement of 39". I also like the hip measurement of 56" a lot more that the Ultralite's 52". It doesn't seem like a lot, but it is to me. I'm mostly a side sleeper in case you were wondering. The Alpinlite?s should measurement is what makes me wonder which one to keep. It?s really large at 65?. There is considerable difference between the two and it?s almost as if I need the Alpinlite?s hip and foot measurements with the Ultralite?s shoulder measurements. The bags are so similar with respect to function, that it doesn?t make sense to keep both. I may end up keeping the Alpinlite because I flop around a lot at night. The perfect WM bag for me would be a 20 degree bag with the following measurements ? 60-62?shoulder, 56? hip, 39? foot.

I give the bag 5 starts because the fit and finish is immaculate and everything works as it should.

One more note - If you are over 6 feet tall go ahead and get the long. It will be perfect once you extend your toes.
Western Mountaineering Ultralite
I am 5'7 could i fit into the 5'6 bag or...
I am 5'7 could i fit into the 5'6 bag or should i just go with a 6 and put some clothing at the bottom to fill in the gap?
Best Answer
Go with the 6'. If you are too big for a bag, you will over-compress the insulation and lower the temp rating.