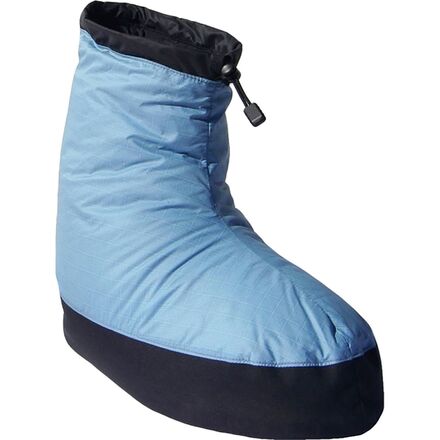 Videos

Community Images
Description
Like a sleeping bag for your toes.
Say goodbye to cold toes. The Western Mountaineering Down Bootie provides superior insulation with 800-fill European goose down for cold-weather camping and lounging around the house. The nylon shell features a water-repellent finish to keep out moisture, and an elastic heel band inside the bootie helps to keep the heat from leaking out. Toughtek material on the bottom of the bootie prevents slipping, so you can try to slide across wood floors wearing nothing but tighty-whities and a button-up shirt, but it won???t work.
Foot Heaters
Familiarity:

I've used it several times

Fit:

Runs large
Used these while in Baxter State Park last January and they were one of my top two favorite items for the trip (the other was a Nano Air Hoody). I really looked forward to getting these on at the end of each day, just so darn cozy. Extremely lightweight for how warm they are. When I first got them I was a little concerned about the durability, but they stood up to a decent amount of abuse traipsing around outside going to get water, going to the bathroom, etc. I'm a size 11 in street shoes and the L is perfect for me. I'm looking forward to using them again this winter.
Unanswered Question
Do these booties have a removable outer shell like the "feathered friends booties", or are they a one-piece unit?
Toasty Goodness
Familiarity:

I've used it several times

Fit:

Runs large
Ultimately choose these over the flash bootie. They have a bit more foam in the footbed and seem a tad more durable all around. The slight weight gain in these is worth it for me for the extra toughness and warmth. There is also more grip with these over the flash booties. My shoe size is a 10.5 so I should ideally fit perfectly in the Large. I didn't find this to be the case, they were too big and felt sloppy because of this. After sizing down I am very happy.
The best ride
Familiarity:

I've used it several times

Fit:

True to size
Took these on a trip to alaska last month and they were perfect for around base camp. It wasn't really all that cold maybe -10 at night, but these kept me warm enough to not really notice. I supper from exposure at a younger age so my circulation is not the best in my toes. I had no problem in these. I usually wear a 10.5 in shoes and the large was perfect for me with a little extra room for added warmth.
Western Mountaineering Down Bootie
2 days of cozy feet
Gender:

Male

Familiarity:

I've used it several times

Fit:

True to size
I just got back from snow camping and tried out the new booties. They are really great, especially if you use AT boots. Slipping these babies on after a long day of hiking and building a snow cave was really great. They are durable and warm. The second day cooking breakfast i was too warm in them.
With 800 down fill these booties provide superb heat. I also have a pair of sierra designs which are 800 fill and they just dont have the same warmth that these have. I have been turned on to western mountaineering ever since I tried their down bibs they just don't disappoint. I usually buy a size 10.5 and bought these in a L and they fit great with a winter sock.
Deceptively warm, incredibly light, pack down to nothing.
So, we snowshoe into our camp, drop our packs and set up for the afternoon. When the sun begins to descend I start unpacking some things to help me stay warm. I pull off my Sorels (which are very warm and comfortable), and slip these on. The moment I had them on I remember thinking, 'These are not going to be warm enough.' I remember feeling a shred of disappointment. Regardless, I bought them so I was going to try them.

We set up dinner on our snow table, kick up our feet, and pour some drinks. It wasn't till about two hours later when I realized I hadn't even thought about my feet that it occurred to me how happy I was with these boots. They are so warm and light you won't even realize they are there. They are absolutely worth the price and space in your pack if you're going to be out in a really cold environment.

The only downside, which is really unavoidable, is that they don't have the best traction, and they fit loosely enough that they can sag around your heel when walking around, as you begin to kind of slip off the insole. Also, as a note on the insole, the bottom of my feet never once even felt a hint of the snow or cold. The insoles in these do a fantastic job of further insulating your feet.

All in all... they are a great purchase for anyone who is going to be doing some backcountry backpacking or camping out in the snow and cold. They'll definitely be in my pack on all my future trips.
Cozy- great for camping or for home
These booties are awesome! They're comfortable and warm, and reasonably durable. I regularly wear them camping, or just cruising around the house in the morning. Obviously they don't have the best ankle support, so be careful walking around on uneven ground. The soles are durable, I've never had a problem puncturing them- even on the most rugged terrain. Plus, they're super compact, taking up very little space in your pack. Throw them in for a backpacking trip, and you'll be thankful when you can cruise around your campsite in comfort, giving your feet a break from your hiking boots.
I bought these boots for a winter/spring yurt trip, and was thrilled with them. I have terrible circulation to my feet, and they are always cold. These booties were light and took up extremely little space in my pack. They were quite warm, and stayed dry in the damp spring snow. I walked around in them outside more than I thought I should have, and they seemed to stay perfectly dry. They also have a decent amount of grip in the sole, and was a bit tougher than others I've seen. There's also a good amount of insulation in the snow so that walking in snow you don't feel the cold in the soles of your feet.

Getting the right size was an issue for me. I'm a women's 8.5 to 9 shoe, and ended up being an XS in these. (According to the sizing chart, I should be a Medium, which was huge, and even the Small was too big.)
Sleeping Bags for your Feet
First, if you're between sizes, choose the smaller size. I ordered up and had to return them because they were huge! But now, I'm happy.

Super warm, like having sleeping bags on your feet. I learned that wearing socks also and wandering around a hilly little campsite doesn't work well because your foot slides around inside, but they're plenty warm without socks.

In same hilly campsite, crossed a little stream with rocks and slipped, so one Bootie was submerged almost up to the ankle for a moment, and no ill effects. Good as new! Totally happy with these, I'd buy 'em again in a heartbeat.
How do these compare in warmth to the...
How do these compare in warmth to the Feathered Friends down booties or the Forty Below synthetic booties? Wondering if anyone has any experience they could share. Also, is the shell tough enough where I can walk around a snowy campsite without worrying about the down getting wet?
Best Answer
In my opinion, these booties are quite warm. I'm not familiar with the other booties you mentioned, so I'm afraid I cannot make a comparison. I have walked around in these Western Mountaineering booties in damp snow, and they stayed dry. I wouldn't walk long distances or do so for extended periods of time, but a bathroom break or sit in the snow will be just fine in these. They also have a decent amount of insulation in the sole. At times a wore them with bare feet inside (as it's less slippery) and I did not feel much cold coming through considering I was walking on snow. I'd highly recommend these booties.
Just to let you know, Western Mountaineering and Feathered Friends buy their down from the same supplier. Not that that means equivalent products will be as warm as one another, but it is relevant. As for the shell, absolutely. I walk around the snow in these with no problem. The down stayed lofty and dry.

A heads up, though, my experience with Feathered Friends customer service is nothing short of egregious. Western Mountaineering is top notch for customer service and warranty claims.
I have the FF booties. They are great, and you can separate the shell from the down bootie so you're not putting something in your sleeping bag that you've been walking around outside in. But the FF booties are 9+ ounces, so they are heavier.